Healthy Key Lime Pie Popsicles
Vegan, sweetened with a little maple syrup, and packed with the goodness of avocado, these easy popsicles are the homemade frozen treat you need this summer. Healthy Key Lime Pie Popsicles are only 4 ingredients and so fun for kids to help make. Add everything to a blender then freeze! Crushed graham crackers make these pops taste just like classic key lime pie. However, the treats are just as delicious without them.
Do you need recommendations for popsicle molds or have other questions about making frozen treats at home? Check out this blog post, Healthy Homemade Popsicles For Toddlers and Kids.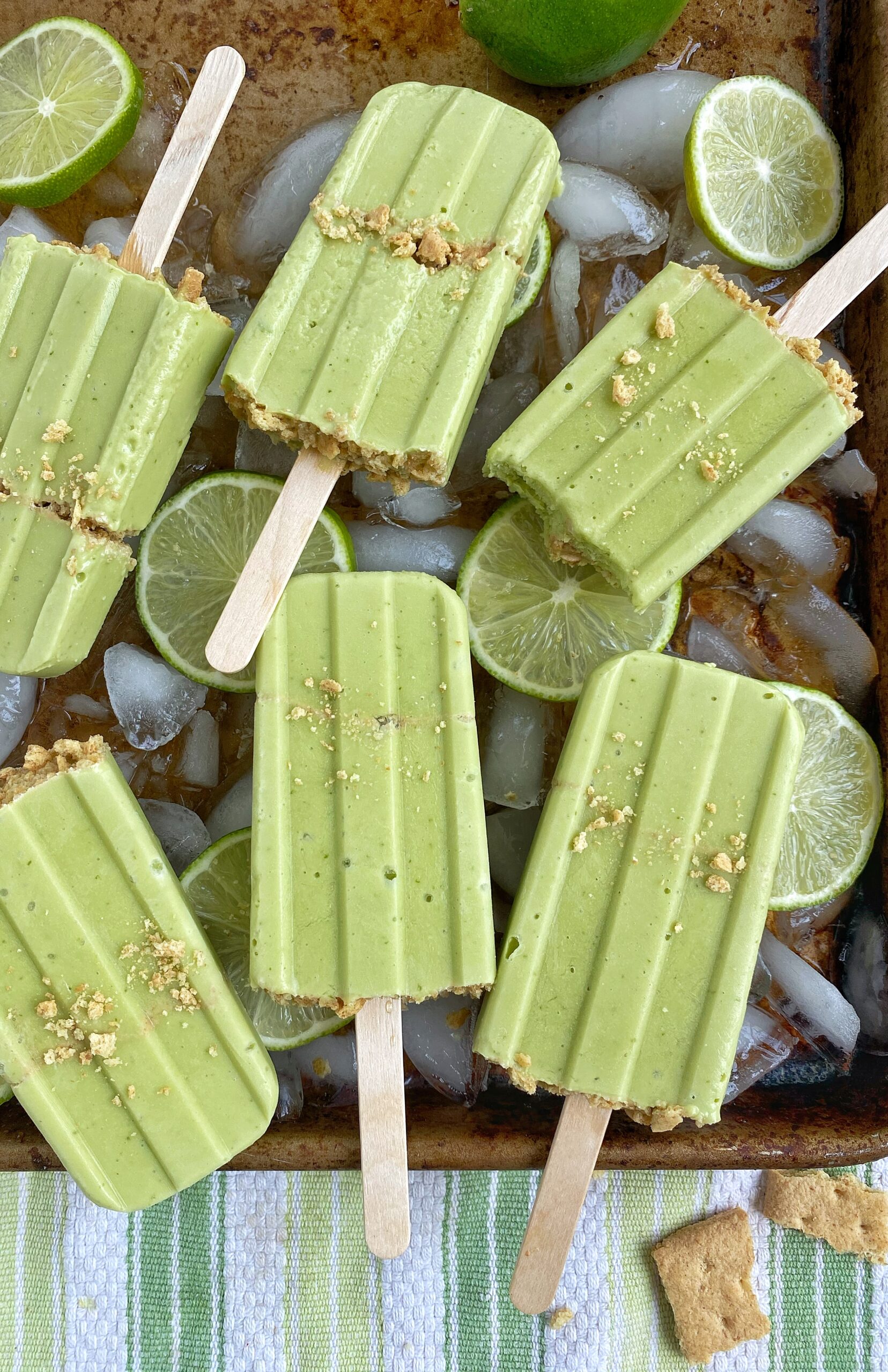 Kids in the Kitchen:
Crush: Crunching up the graham crackers is so fun for kids. Be sure to demonstrate how hard you want your child to smash with either hands or a utensil like a small rolling pin or cup to be sure he or she doesn't accidentally hit a finger or break something.
Zest and juice: this recipe is all about limes so make sure to show your little baker how to zest and juice. Hold the lime and microplane zester together. Show her how to get only the green part of the lime skin and not any of the bitter white pith. Juice the lime together then measure the juice for the recipe.
Scoop: You child can use a spoon to scoop the avocado flesh from the skin. Have him scoop it into a small bowl before adding to the blender. That way you can be sure no skin or the little thing at the top of the avocado doesn't accidentally get into the blender (Anyone know what that thing is called? haha). You can make sure to scape all the avocado out of the skin after you child takes a turn with it.
Blend: Working the buttons on the blender is an easy way kids can help with this recipe. Show your child how to make sure the top of the blender is closed tightly before turning it on.
Pour and sprinkle: Pouring the mixture can be a little tricky but you can work on it by holding the blender together. If you'd prefer to pour on your own (or your little one is refusing your help), have him or her be in charge of adding the graham cracker crumbs, if you are using those.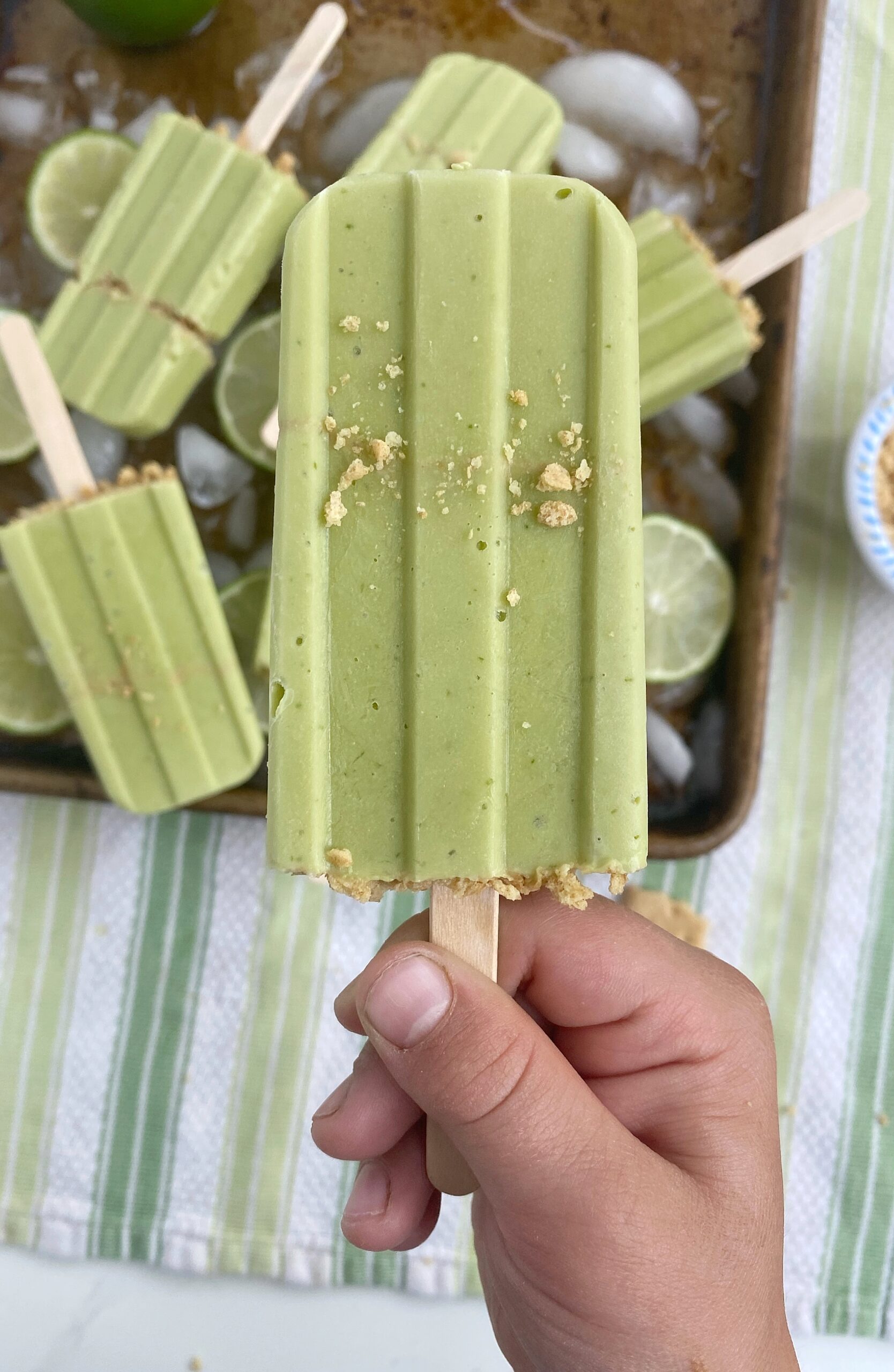 Subs and Tips for making Healthy Key Lime Pie Popsicles:
Milk types: I use an unsweetened almond milk for this recipe because that's always what I have on hand. However, you can really use any kind of milk you'd like. If you like coconut flavor, a canned coconut milk would be a great option and make the popsicles extra creamy.
Sweetener: The amount of sweetener you use depends on the level of sweetness you and your family is used to in desserts. I use about 4 tablespoons, maybe 5, but taste after adding some then you can always add more.
Popsicle molds: Click HERE for my list of popsicle mold on my Amazon store (affiliate links). I used the large molds seen in the picture below. This recipe made 6 in those. If you have toddlers or younger kids, I suggest you use a smaller mold since they probably won't eat a whole large pop.
Storage: You can store popsicles in the molds or take them all out once frozen and store them in freezer bags or containers with some parchment paper in between.
Helpful Tools: my favorite zester and citrus juicer are on my Amazon "kitchen essentials" list. Find those by clicking HERE (affiliate link).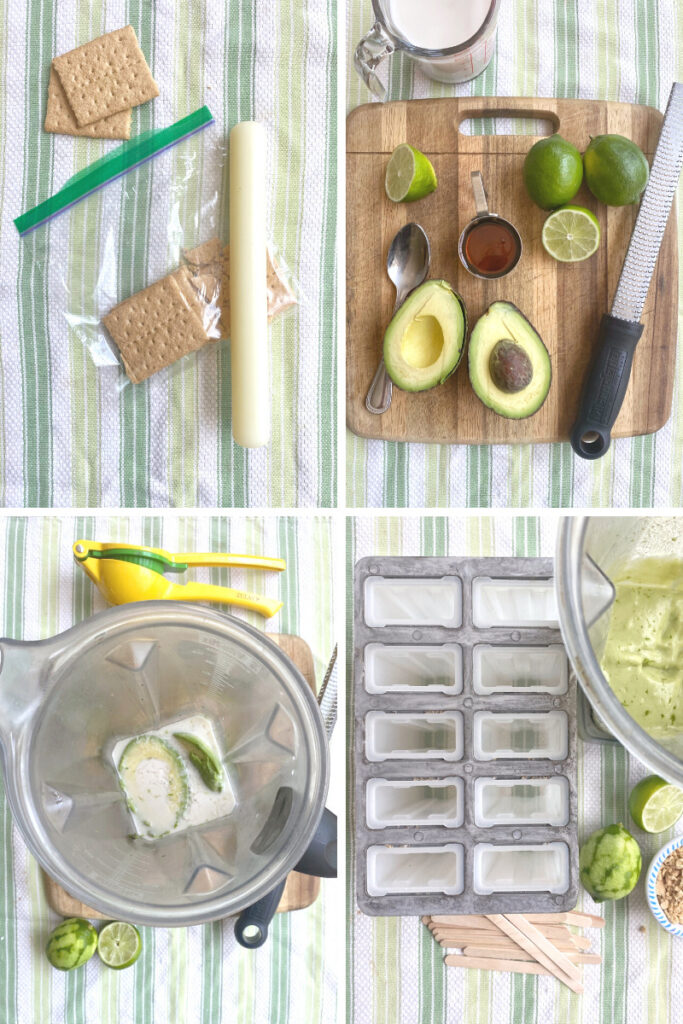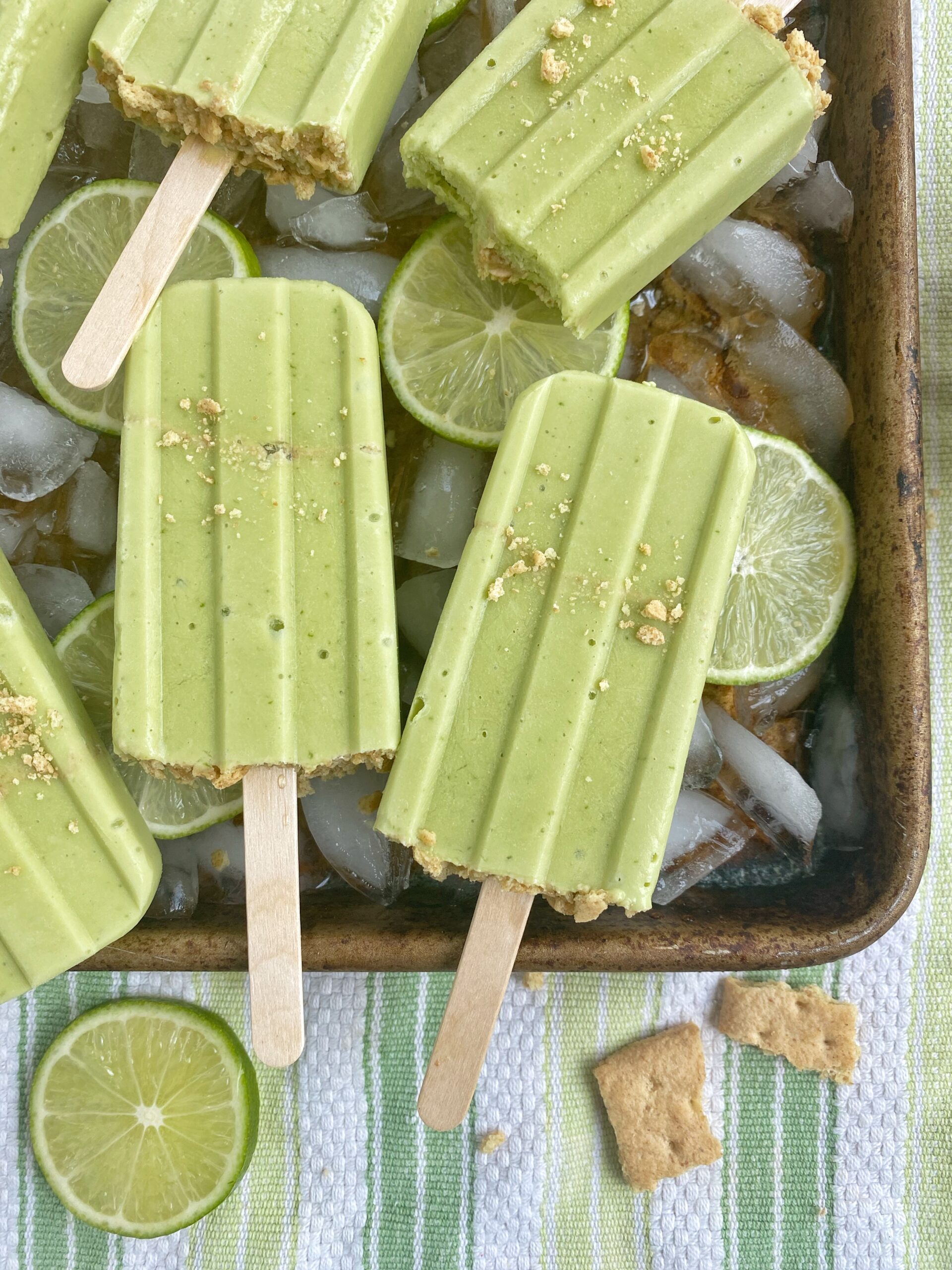 Healthy Key Lime Pie Popsicles
Vegan, low in sugar, and tastes just like the classic sweet and tart pie. You won't believe these delicous frozen treats have avocado in them.
Ingredients
2

sheets

graham crackers, optional

gluten-free if desired

1

lime

1

ripe large avocado

4 to 6

Tbsp

maple syrup or honey

1 1/4

cups

unsweetened almond milk

or any milk you prefer

1/2

tsp

vanilla extract

1

tiny pinch

salt
Instructions
To crush graham crackers, add them in a small zip-top bag and close it tightly. Smash the graham crackers in a small rolling pin or bottom of a measuring cup until no large pieces remain. Set aside.

Using a microplane or other zester, remove the bright green zest from the lime. Add to your blender. Roll lime on the counter, pressing firming, to release the juices inside. Cut lime in half then juice it into a small bowl. Measure 3 tablespoons of juice into the blender.

Cut avocado in half then use a spoon to remove the pit. Scoop the avocado flesh into the blender. Make sure to scrape the inside skin to get every bit off.

Add maple syrup, milk, vanilla, and pinch of salt (in brings out the flavors) to the blender then blend until completely smooth. Taste then add more sweetener, if desired.

Pour the avocado mixture into popsicle molds, sprinkling layers of graham cracker crumbs in between if you'd like. Tap your pop molds on the counter while filling to release some of the air bubbles. Once popsicle molds are full, sprinkle some graham cracker crumbs on the top, if desired.

Freeze until solid, at least 8 hours or overnight. To remove popsicles from the mold, run under very hot water for a few seconds. Store popsicles in the freezer, well covered, for up to 2 months.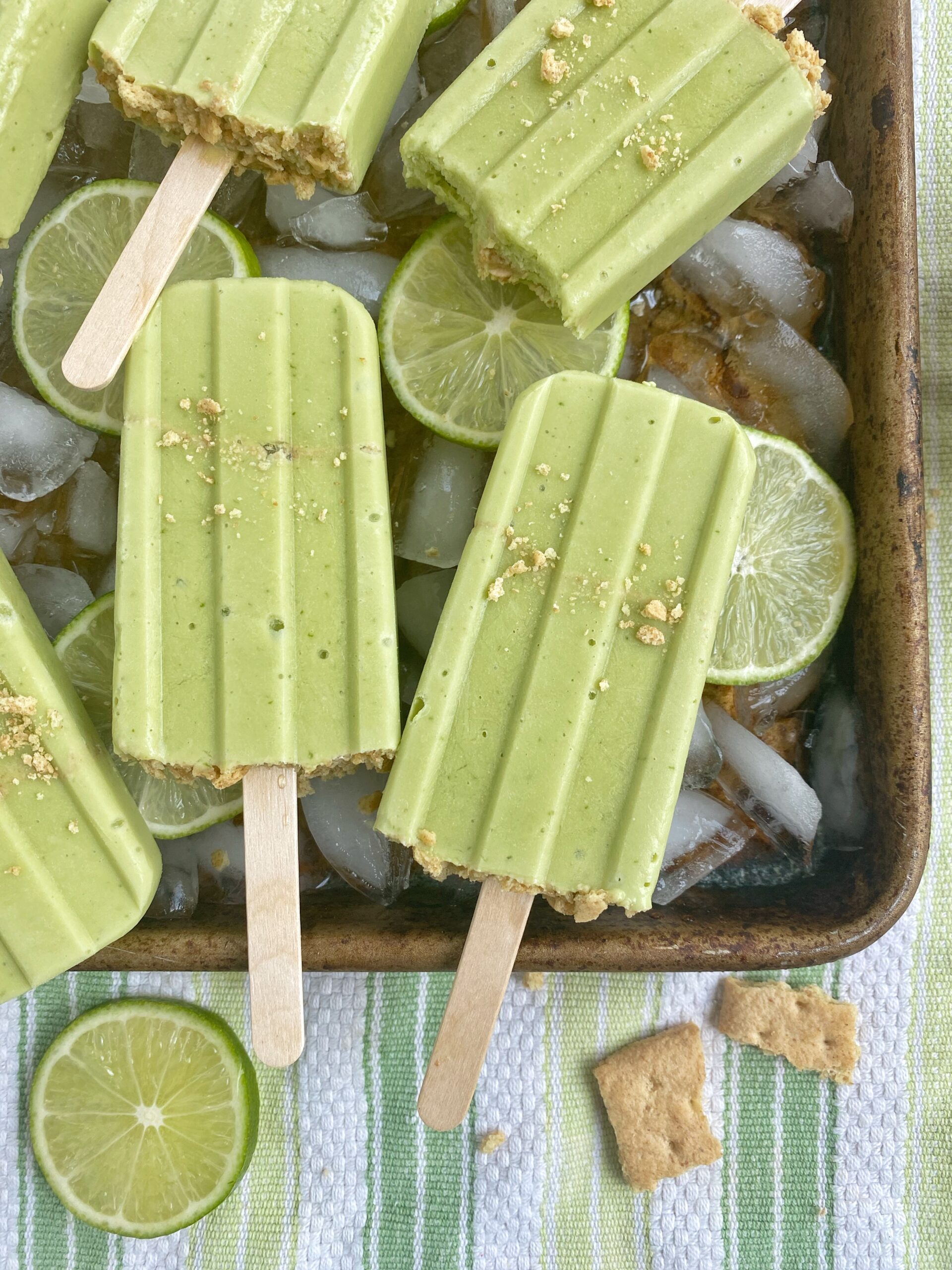 Save to Pinterest!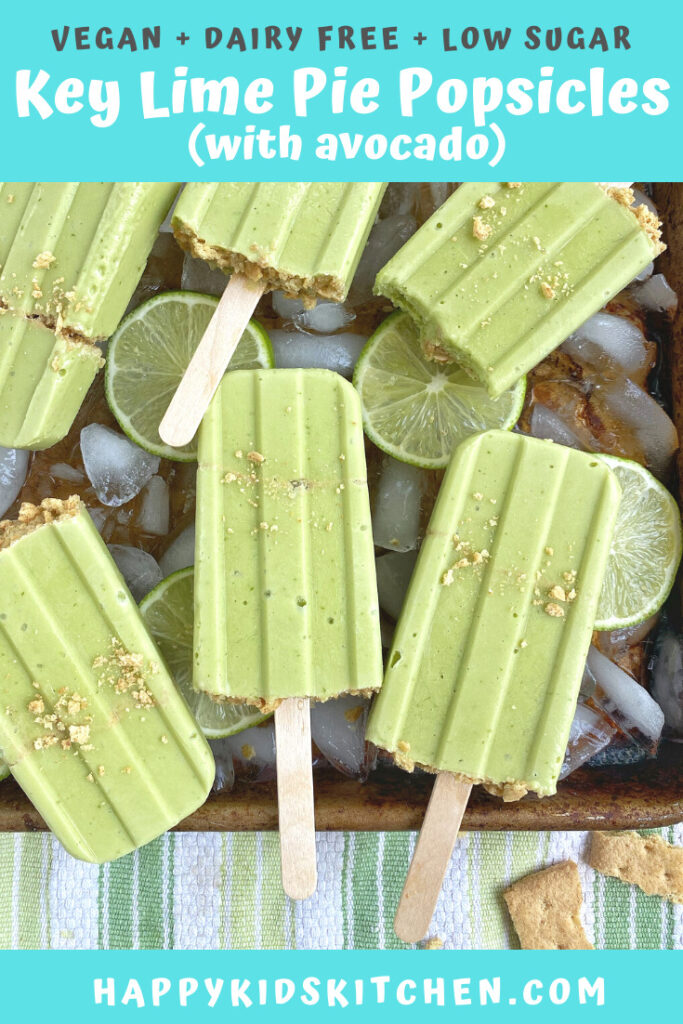 Other Healthy Dessert Recipes:
Healthy Homemade Popsicles for Toddlers and Kids
S'mores Pudding Cups (Vegan Chocolate Protein Pudding)