S'mores Pudding Cups (Vegan Chocolate Protein Pudding)
The vegan chocolate pudding in this fun dessert has a secret ingredient. Tofu! Yes, tofu is packed with plant-based protein and it's a great source calcium and iron too. However, the best part is that tofu makes this pudding super thick and creamy. Plus, you don't taste the tofu at all! Eat the healthier chocolate pudding on its own or take it to the next level and add in crushed graham crackers and toasted marshmallows. Kids will have the best time making these S'mores Pudding Cups!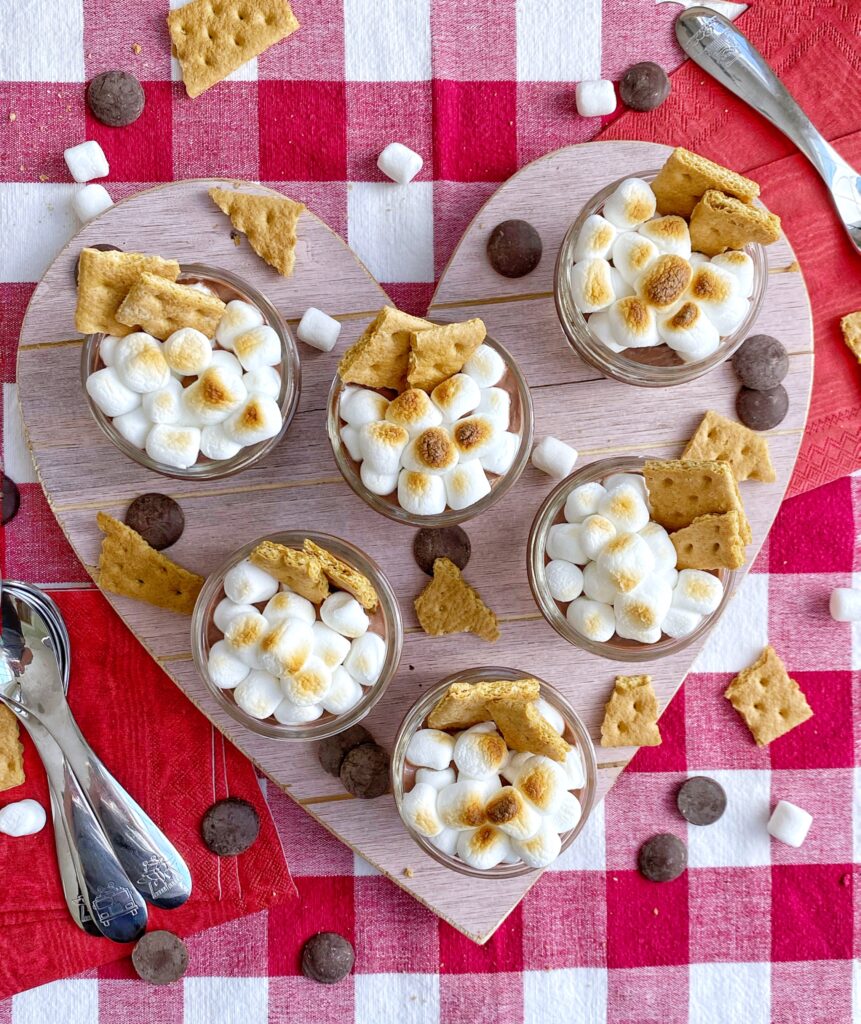 Kids in the Kitchen:
Bang! Crushing the graham crackers for the bottom of the cups might be the best part of making this recipe. Make sure your plastic bag is really well sealed and show your child how to firmly (but not too wildly) bag the graham crackers to break them up into crumbs. I find it helpful to put a kitchen towel underneath the bag so it's less harsh or loud when you bang on the table.
Dump and Blend: Kids can easily make this tofu chocolate pudding from start to finish. Since it's only 4 ingredients kids can help measure and add everything to the food processor or blender. Teach your child how to safely use the food processor and what the different buttons do.
Scoop and Divide: After the graham crackers and fully crushed, you child can spoon the crumbs (or dumb them) into the containers you're using. This part might get a little messy, but kids can help spoon the pudding on top of the graham cracker crumbs. You can always wipe the edges of the container after the pudding has been divided.
Top it off: Portion off the marshmallows that are going on top of the pudding cups and also set aside a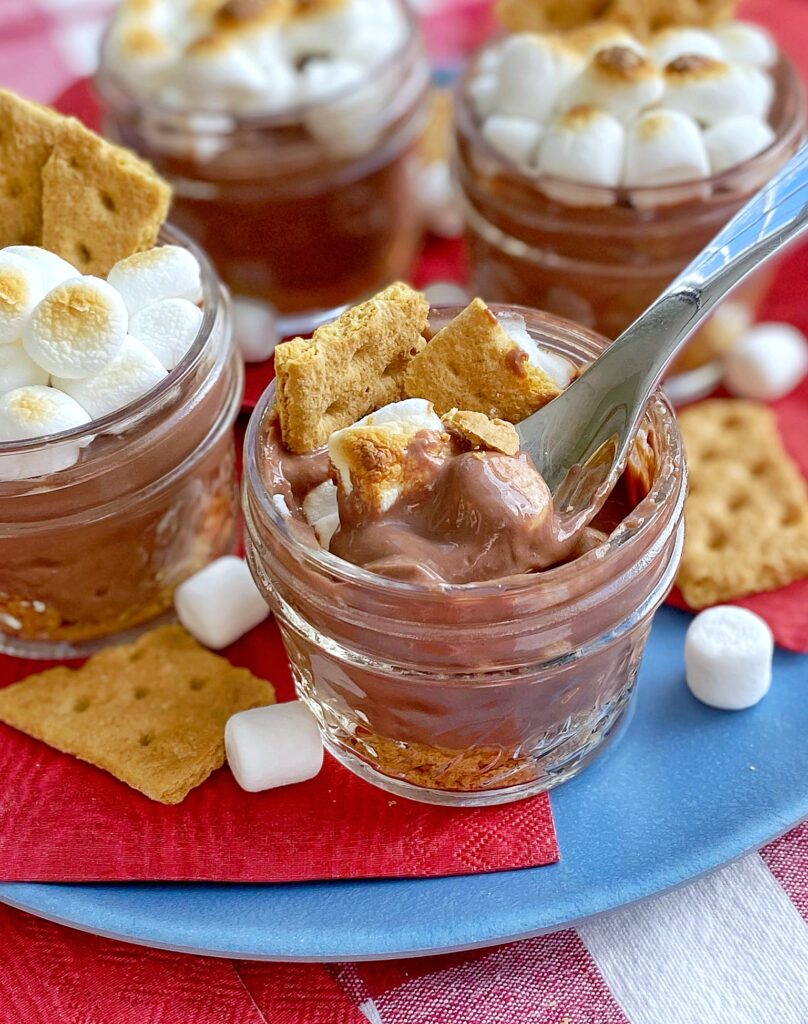 Subs and Tips for making S'mores Pudding Cups:
Gluten-free: You can buy gluten-free graham crackers at most grocery stores or buy them online if you'd prefer.
Vegan: The pudding recipe is 100 percent vegan. To ensure that the whole pudding cup is vegan, be sure to check the labels of your graham crackers and marshmallows as well.
Containers: I like to use 4 ounce mini mason jars for this, but any oven-safe container or ramekin will work. If you don't have any small containers on hand, you can make one large pudding. Layer everything in a pie pan or other 9-inch baking dish instead of small containers.
Toasting the marshmallows: It's important to use an oven-safe container for your pudding cups so you can broil and toast the marshmallows. Browning the marshmallows will give you that authentic s'mores taste. If you have a kitchen torch at home, you can you that to taste the marshmallows instead of broiling them in the oven. However, you can also skip the toasting part entirely if you'd prefer.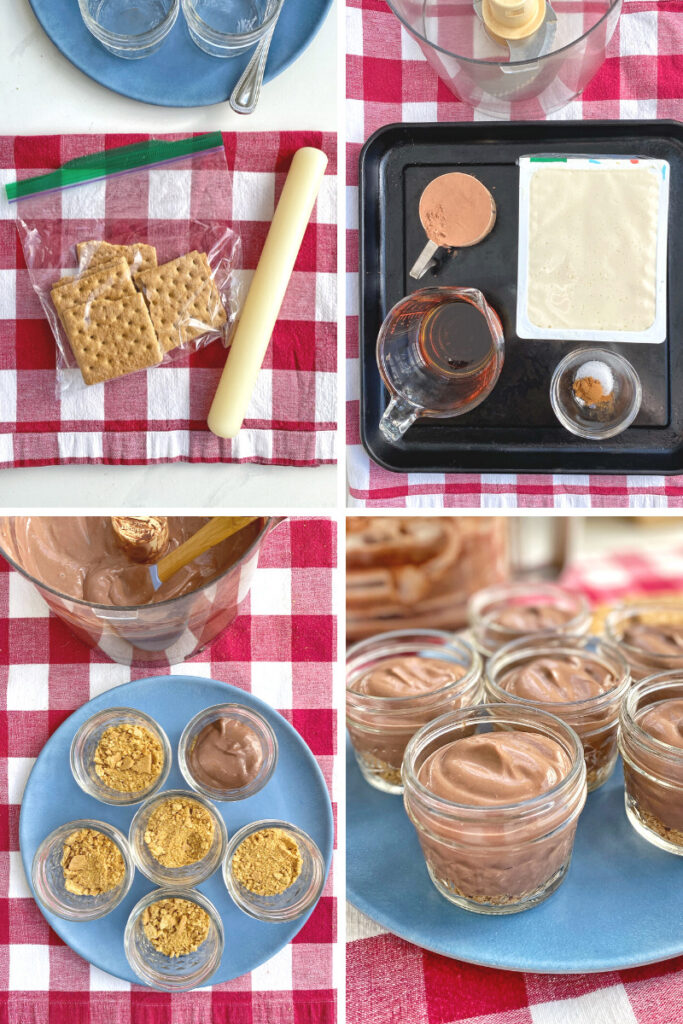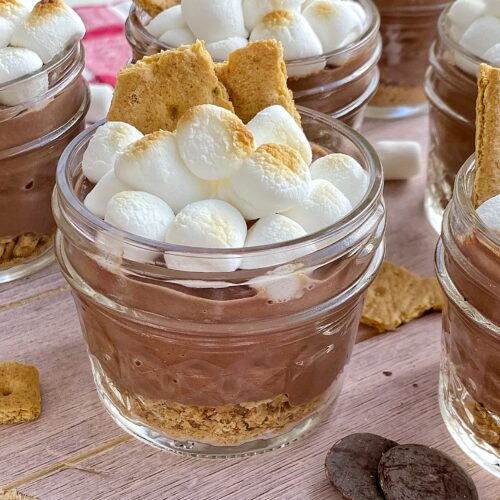 S'mores Pudding Cups
Vegan tofu chocolate pudding with fun additions kids will love!
Equipment
Food processor or blender
Ingredients
1

14-16 oz pkg

silken tofu

1/3

cup

unsweetened cocoa powder or raw cacao powder

1/2

cup

maple syrup or agave syrup

1/2

tsp

vanilla extract

1/4

tsp

fine salt

1/4

tsp

ground cinnamon (optional)

4

sheets

graham crackers

1

cup

mini marshmallows (vegan or regular)
Instructions
Add tofu, cocoa powder, maple syrup, vanilla, salt, and cinnamon to a food processor or blender. Blend until smooth, scraping the sides down once or twice to ensure everything is incorporated. The pudding can be made two days in advance and stored in the fridge until ready to serve.

To make S'mores Cups, Place 3 graham cracker sheets into a zip-top bag. Use a rolling pin or bottom of a cup to crush the graham crackers into crumbs.

Divide the graham cracker crumbs between 6 small, oven-safe jars or ramekins. Spoon the pudding on top, filling the cups almost to the top. Place cups in the fridge for 30 minute to an hour. (You can eat the pudding without chilling first, but I think it tastes better when cold.)

Preheat the broiler. Top the pudding cups with marshmallows then broil until lightly toasted. Watch them very carefully so they don't burn. Break the remaining sheet of graham crackers into small pieces and stick a couple into the top of the pudding cups. Enjoy within an hour of assembling (or the graham cracker crumbs will get a little soggy).
Save to Pinterest!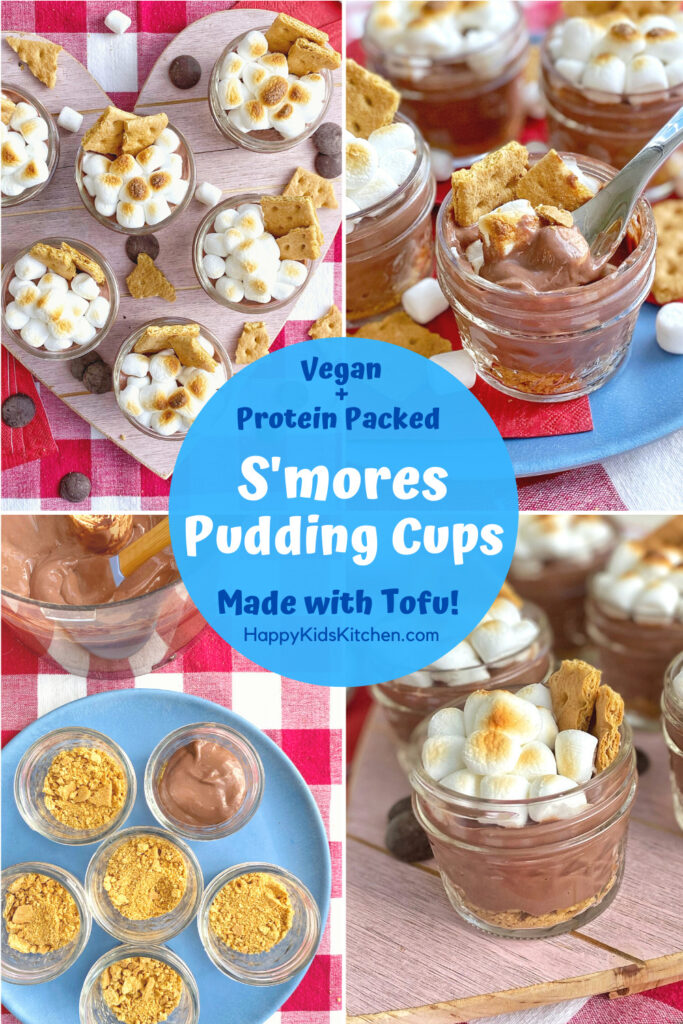 More DESSERT Ideas:
Healthy Chocolate Desserts to Cook with Kids
Chocolate Peanut Butter Rice Krispie Treats