2, simple ingredients…that's all it takes to make this super kid-friendly sweet treat! Healthy Homemade "Jello" is so fun to make this kids. Use whatever juice you like and either gelatin or agar agar (for a vegetarian version), mix together, then allow to set in the fridge for a few hours. Once set, use cookie cutters to make shapes or layer in a dish and top with whipped cream. It's such a nostalgic, yummy treat to make together!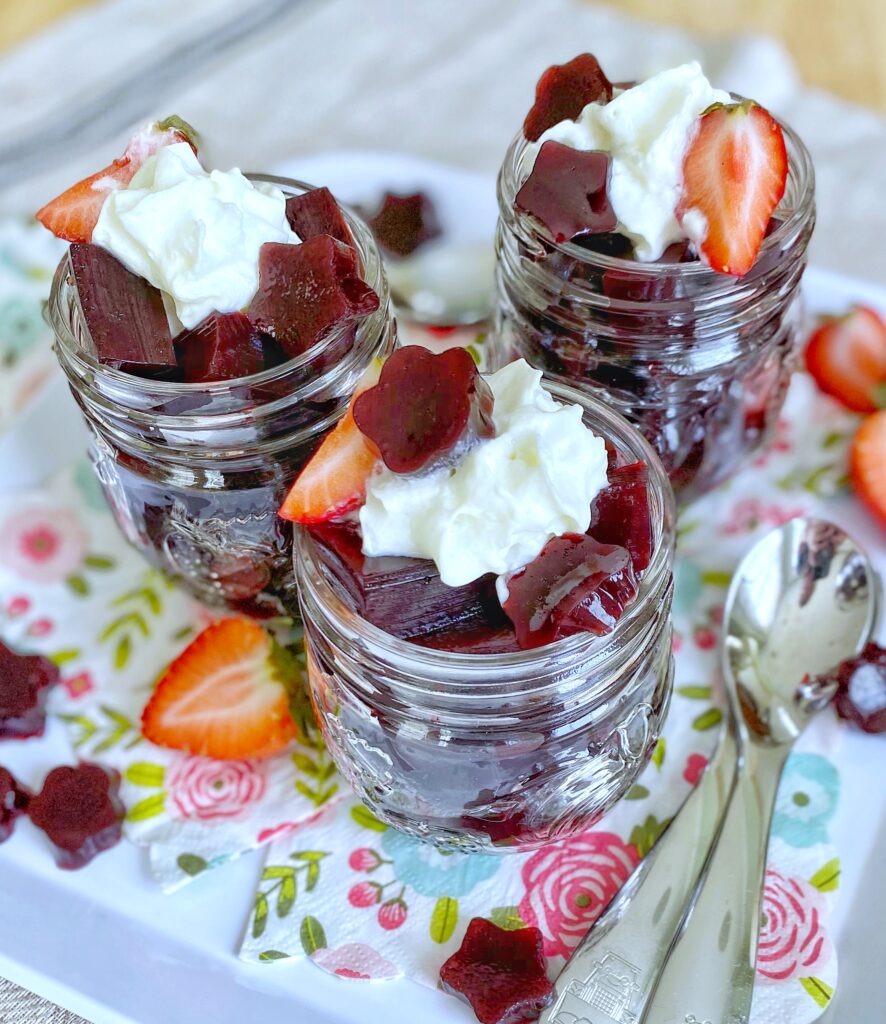 Kids in the Kitchen: Healthy Homemade "Jello"
Measure: place gelatin in a larger container or bowl so that "scooping and leveling" is easier and less messy for kids. Kids can help pour the cup of juice then measure the gelatin into the juice and stir.
Mix: kids can help stir the warmed juice and gelatin mixture into the remaining juice. Remind your child to stir slowly so the juice doesn't splash. "We need all the juice to make our yummy jello…let's really concentrate on keeping it all in the measuring cup/bowl."
Pour: hold the measuring cup or bowl together and slowly pour it into the center of the baking dish.
Cut and Serve: I find using small metal cookies cutters like THESE ones to be the easiest way to cut the set jello into shapes. Have kids cut shapes or cut jello into shapes then place it in cups/bowls then top with whipped topping if desired.

Subs and Tips:
Let's talk about gelatin: Unflavored, plain gelatin can be purchased at any grocery store (usually in the baking isle). There are also grass-fed pasture raised beef gelatin brands available at some stores and online. These have become quite popular over the past few years and are sourced more ethically. But honestly, I don't think you need to buy them to make jello with your kids. Regular Knox brand or whatever you find in the store will work just as well. There are a few different gelatin options listed on my Amazon store HERE (affiliate links).
Vegetarian/vegan version: Agar agar is a powder made from seaweed. It works just like animal gelatin to solidify liquid. I find that jello made with agar agar has a slightly less "bouncy" texture when solid but it still works well and adds no flavor at all. There is some in the 'Fav Ingredients' list on my Amazon store HERE (affiliate link).
Juice: we love using any kind of 100% fruit juice but you can get creative and use any kind of juice you'd like (I've even used green juice with veggies in it before).
Cutters: I find using small metal cookies cutters like THESE ones to be the easiest way to cut the set jello into shapes but you can use any cookie cutters that you have at home.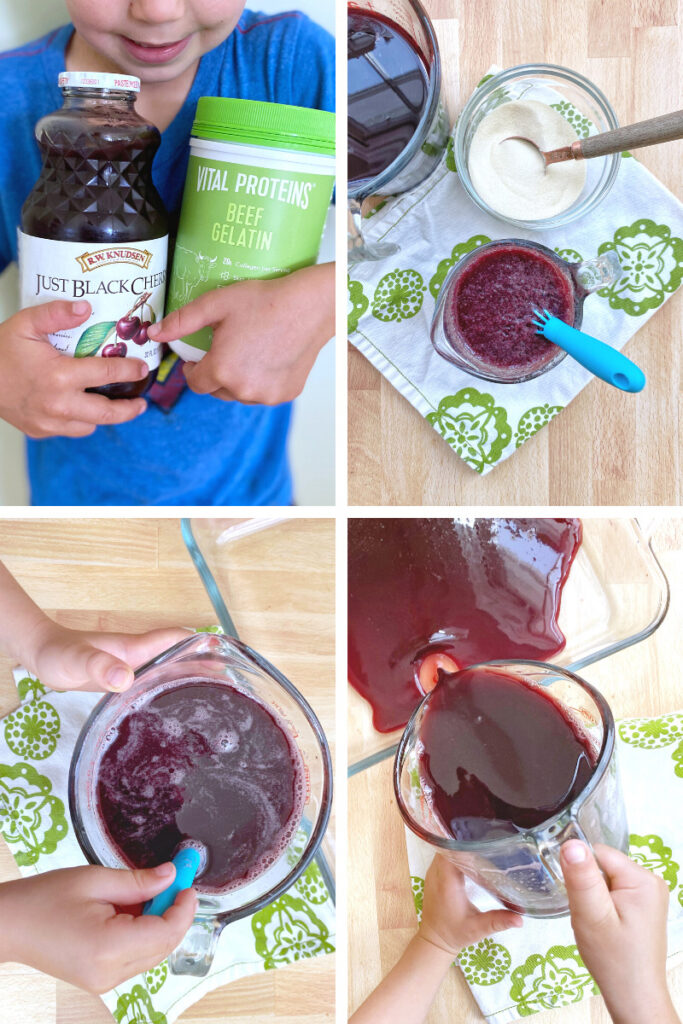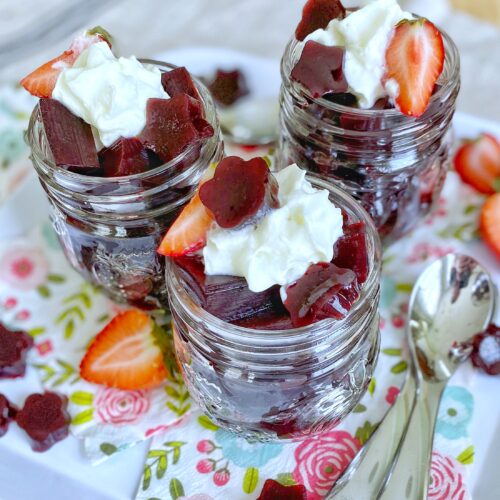 Healthy Homemade "Jello"
Just 2 ingredients to make this easy treat kid will love!
Ingredients
4

cups

fruit juice (no sugar added)

4

Tbsp

unflavored gelatin or agar agar powder

whipped cream/coconut cream, for serving (optional)
Instructions
Measure about 1 cup of the juice into a smaller liquid measuring cup or bowl. Measure gelatin or agar agar into the 1 cup of juice and stir to dissolve. Set aside for 5 minutes.

Once the gelatin in hydrated in the juice it should look like chunky applesauce. Heat the gelatin and juice mixture. I usually do this for 30 seconds in the microwave but you can heat it in a pot too. Stir the mixture to make sure it's smooth then pour it into the remaining 3 cups of juice and stir to combine.

Pour juice mixture into a 9-by-13 inch pan such as a glass pyrex baking dish. If you want to cut the jello into shapes later on, line a baking pan or small sheet pan with parchment paper so it will be easier to remove the whole sheet of jello after it hardens. Chill jello in the refrigerator until completely set, 3 to 4 hours.

Once jello is set, use small cookie cutter to cut into shapes or use a pairing knife to cut the jello into squares. Top bowls of jello squares with a little whipped cream/coconut cream, if desired. Keep jello covered in the fridge for up to a week
If using agar agar:
Add juice and agar agar to a small pot. Bring up to a simmer while whisking to combine. Simmer until powder is dissolved. Cool slightly then pour into pan. Continue as directed above.
Save to Pinterest!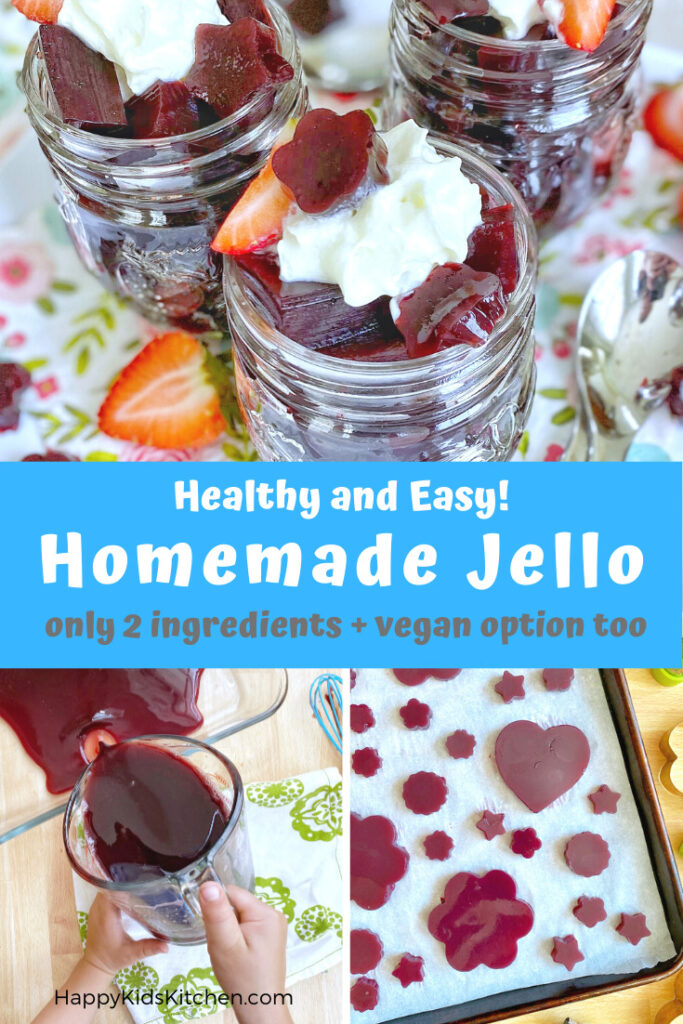 Other Fun Dessert recipes:
Chocolate Chip Banana Bread Cookies
Banana Beet Cupcakes with Berry Cream Cheese Frosting