Can chocolate be healthy? Sure! When you make desserts from scratch with wholesome ingredients and even added veggies! Of course any added sugar (even natural sweeteners like maple syrup and dates) should be eaten mindfully. Dessert is dessert. However, the recipes in this round up of over 25 Healthy Chocolate Desserts are ones you can feel good about feeding your family and cooking with your kids. I've divided the post into 4 sections: brownies, cookies and other baked goods, no-bake treats, and smoothies/drinks.

Including Veggies in Healthy Chocolate Desserts:
Why is it beneficial to add vegetables to desserts? It's not just about getting more greens into the day! Including veggies in sweet treats not only ups the nutritional value in the form of extra fiber and nutrients, but also helps kids be less intimidated by vegetables in general. Cooking brownies with spinach blended into the batter could lead to tasting spinach salad down the road. That's why we never want to hide veggies in any of the recipes we cook.
Need recipes for Healthy Chocolate Desserts only sweetened with fruit? I've got you covered!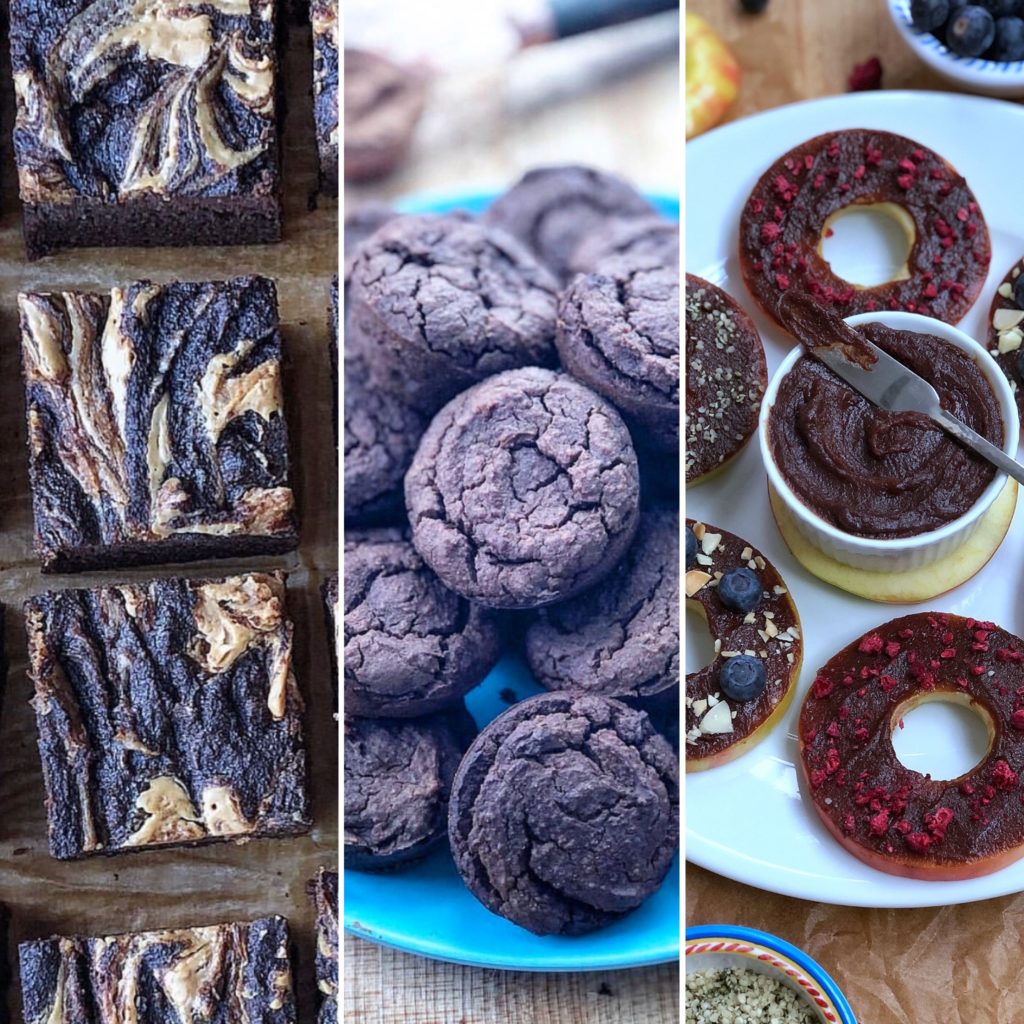 No Sugar, Still Sweet Ebook: The ebook full of over 20 naturally sweetened recipes includes 3 of my very favorite healthy chocolate desserts: Chocolate Banana Bread Bars with Peanut Butter Swirl, Two-Bite Brownies (sweetened with only dates), and Chocolate Date Spread. I think the book is worth buying to have these delicious treats at your finger tips, but the resource is also filled with valuable information about managing added sugar in our families' diets by Kacie Barnes of Mama Knows Nutrition. More information on the book HERE.
Healthier Brownies: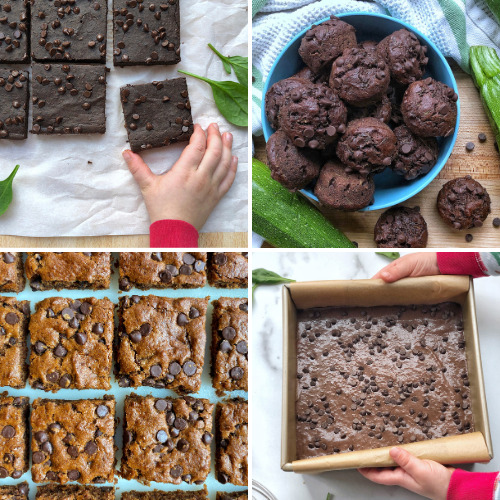 Sweet Potato Blondies: Mashed sweet potato adds moisture, sweetness, and tons of goodness to this classic baked good. This recipe also has almond butter and is vegan and gluten-free. Your kiddos will love to makes and eat these bars.
Double Chocolate Spinach Brownies : This recipe I created for the Veggie Buds Club blog not only contains spinach but get it's fudgy, rich texture from black beans. I promise you can't taste the beans or veggies, just the delicious chocolate flavor. Can be made dairy, egg, and gluten-free too!
Zucchini Brownie Bites: Also on the Veggie Buds Club blog. If you have zucchini, these are the perfect little treats to whip up!
Vegan Healthy Brownies (with veggies too!): This Yummy Toddler Food recipe has added spinach and wholesome oats. Such an easy recipe to make with kids!
S'mores Cakey Black Bean Brownies: this recipe killer chocolate recipe is on one of my very favorite blogs, Weelicious. Chocolate and marshmallow with the added goodness of black beans (that you can't even taste)!
Cookies and other Baked Goods: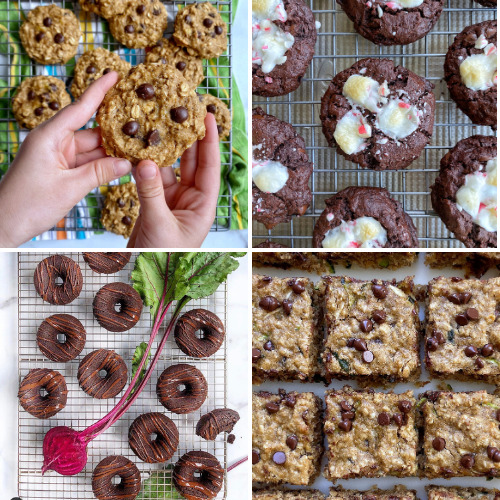 Banana Chocolate Chip Cookies: Wholesome cookies with yummy chocolate chips throughout. This one-bowl recipe is so easy to kids to make. You can make them vegan and gluten-free too.
Peppermint Hot Cocoa Cookies: The base for these cookies is like a chewy, dark chocolate brownie, but they have no flour at all! You can easily leave out the peppermint extract if you just want a hot chocolate cookie without the minty flavor.
Chocolate Chip Zucchini Bread Bars : Add some cocoa powder to make them double chocolate! This recipe is so easy and the best way to use up any brown banana on your counter.
 Chocolate Beet Baked Donuts (seen above): Beets can be a tricky veggie for kids and adults to love. But not when in these chocolate donuts! The donuts are super easy to make and look incredible with a little melted chocolate drizzled over the top. Yum!
Fudgy Chocolate Zucchini Cookies: Another awesome treat with a zucchini boost! These treats are flourless and made with almond butter so they are Paleo friendly and packed with goodness. This is a recipe I created for the awesome The Natural Nurturer Blog. Type 'chocolate' into the search bar on there and you will find a treasure trove of healthy chocolate desserts and treats.
Easy Chocolate Cupcakes: I love this recipe from Yummy Toddler Food. Lower in sugar and full of wholesome ingredients but still a treat that kids will love. These would be great for a birthday party or any celebration.
Pumpkin Chocolate Chip Cookies: these easy, egg-free treats are in my cookbook Little Helpers Toddler Cookbook. They are the perfect cookie to bake with first time cooks because the dough is safe to taste and super healthy.
Easy Chocolate Sugar Cookies: another great one by Yummy Toddler Food. This would be such a fun recipe to break out those cookie cutters and have fun in the kitchen with your little ones! Lower in sugar too!
No-Bake Healthy Chocolate Desserts: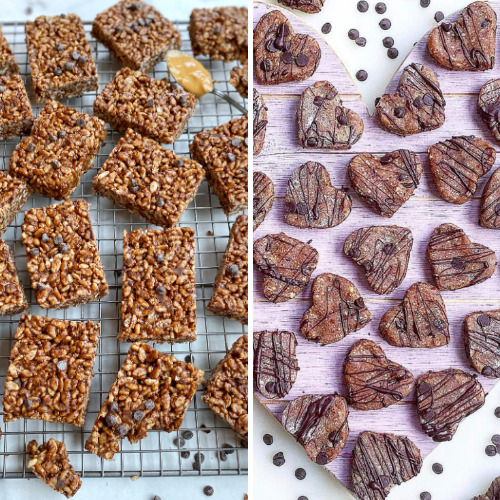 Peanut Butter Chocolate Chip Rice Krispie Treats: Sweetened with honey, these no-bake treats are a great addition to any occasion or just for an after school treat. Drizzle the finished bars with some melted chocolate and let the kiddos decorate with sprinkles or other toppings.
Cashew Cookie Dough Bites: Simply made of raw cashews and dates! You can roll the dough into balls or press into a pan and cut into shapes. We love doing little hearts for Valentine's Day and drizzling them with melted chocolate.
No-Bake Chocolate Avocado Bites: these babies are packed with healthy fats, protein from hemp seeds, and tons of chocolate flavor. Plus, only sweetened with dates! What a healthy treat to have on hand!
Four-Ingredients Homemade Samoas Bars: Coconut, oil, dates, and chocolate…that's it! These are a must-make healthier treat by my friend Leigh Ann of the My Diary of Us blog.
Chocolate Zucchini Fudgesicles: a dairy-free frozen chocolate treat low in sugar and with added veggies. This is a recipe I created for zucchini month at Veggie Buds Club. My kids love having these waiting for them in the freezer!
Healthy Buckeye Chocolate Peanut Butter Balls: OMG! If you like chocolate and peanut butter these no-bake treats are a must make! They are sweetened with maple syrup and have an added nutrition boost from chia seeds.
Chocolate Dipped Fruit Cones: dipping fruit in chocolate is always an easy and delicious treat. I love this idea from My Fussy Eater to dip an ice cream cone in chocolate and decorate it with whatever toppings you'd like. Fill with fruit and you've got the cutest treat that will make any kid happy!
Chocolate Drinks and Smoothies: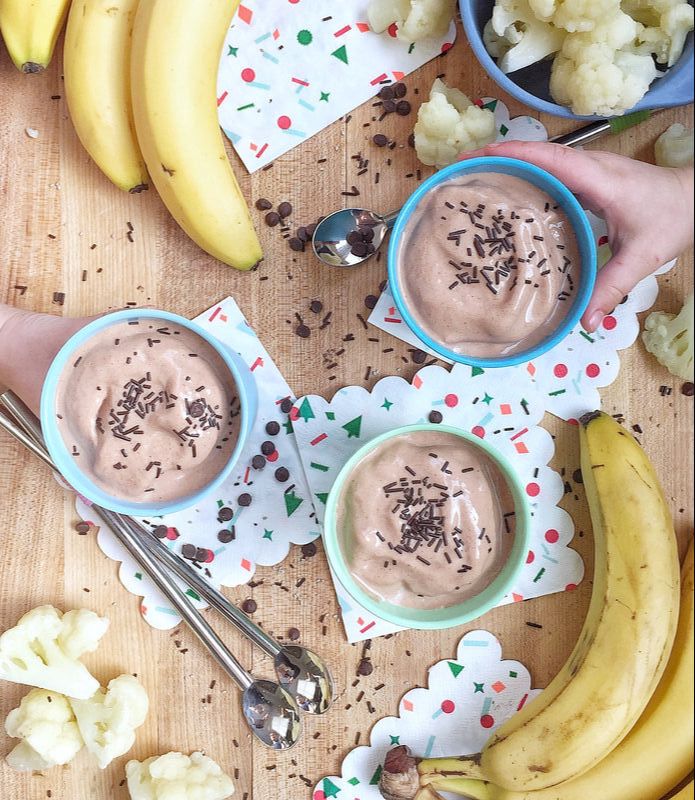 Healthy Chocolate Milkshake (with Cauliflower!): Another great Veggie Buds Club recipe. This is one you definitely need to make with your little one. So much goodness in this treat and you can't even taste the cauliflower.
Healthy Hot Chocolate (with veggies!): A seriously genius recipe by Taesha of The Natural Nurturer! Perfect for a warm and cozy winter treat with a little extra veggie boost.
Healthy Pumpkin Smoothie with Chocolate: pumpkin is such a great veggie to add to chocolate treats and smoothies because it's so easy to have a can on hand. Sounds like a great treat to make if you have any pumpkin leftover from making muffins or other baked goods.
Healthy Mint Chocolate Chip Smoothie: this recipe tastes just like the beloved ice cream flavor but is packed with lots of nutritious ingredients like spinach, avocado, and banana. The kids in my cooking classes always ask for seconds and thirds!
Healthy Chocolate Peanut Butter Smoothie: spinach, mango, banana, avocado…but all you taste is chocolate and peanut butter! Such a delicious smoothie that feels like dessert but healthy enough to eat for breakfast.
Happy Cooking!!!
Heather
Looking for some healthy treats without chocolate? Check these out:
Chewy Ginger Cookies (Gluten-free and Vegan)