Peppermint Hot Cocoa Cookies
The ultimate holiday cookie: dark chocolate, toasted marshmallows, and minty candy canes. Not only are these cookies packed with festive flavor, but they happen to also be gluten-free, dairy-free, and naturally sweetened. Peppermint Hot Cocoa Cookies are a must-make for your family Christmas party or any winter celebration. Pack some up in a tin or nice bag and you have a thoughtful homemade gift that anyone would enjoy. Not into mint flavor? Feel free to leave out the mint extract and the cookies are just as good.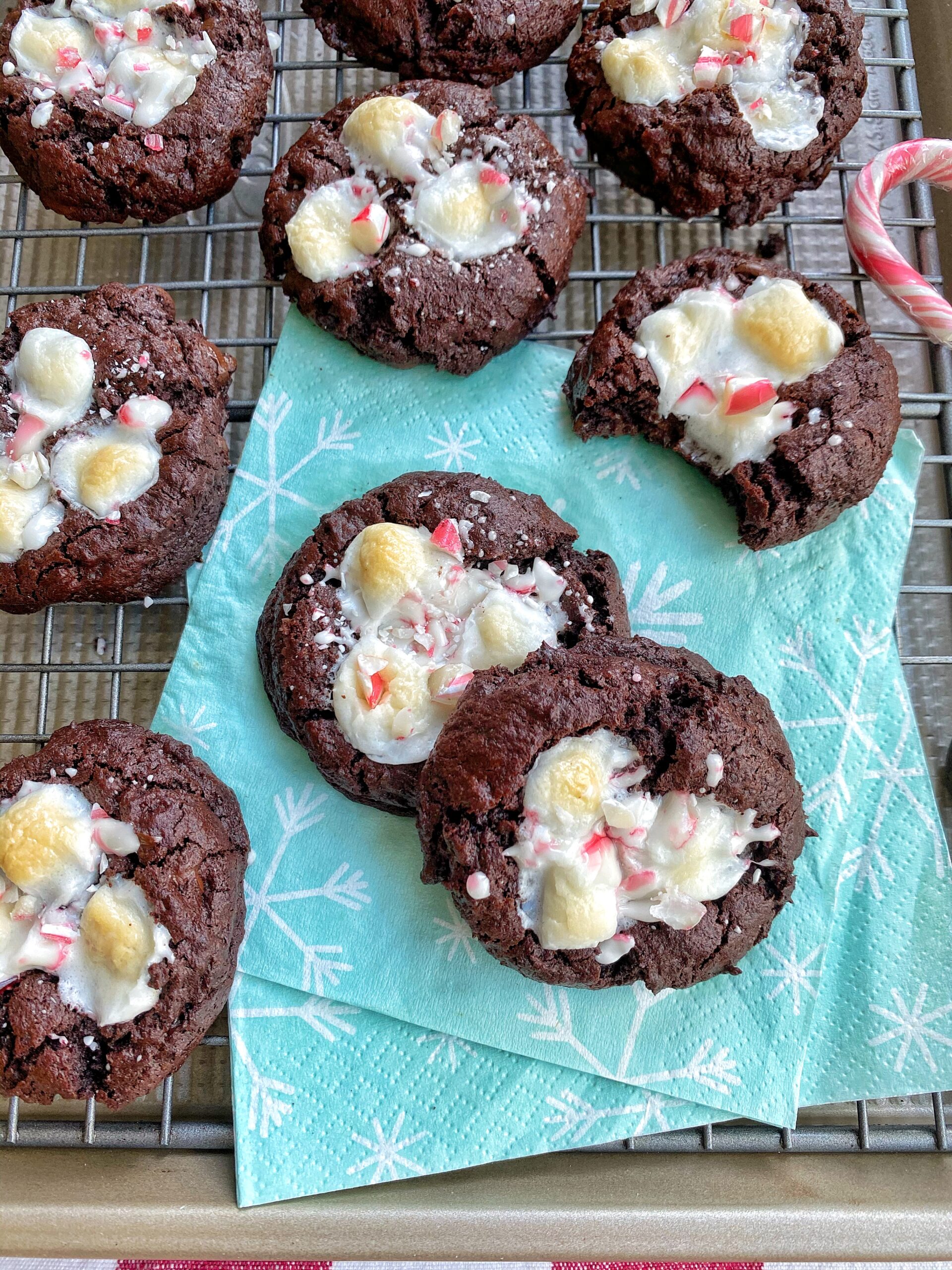 Kids in the Kitchen:
Measure! If you want to cut down on the amount of mess you make while cooking with kids (And it can be super messy, right?), pre-measure some ingredients before inviting your little one in the kitchen. Even measuring one or two ingredients together can be a great learning experience.
Dump! Adding the ingredients to a bowl is fun. Make sure to instruct your child to dump into the center, not on the edge, of the bowl to prevent any spills.
Crush the candy canes!: probably the best part of this recipe! See tips below for how I like to bash them up.
Scoop and Top! Scoop and roll the dough together. You child might not make perfectly rough balls of dough but you can always go back and make them rough after they have a turn. Kids will really love being able to top each cookie with 3 marshmallows and a sprinkle of crushed candy cane.
Give! Package them up as a gift! Giving what you bake is a great lesson about kindness. Cooking isn't always about eating but about sharing what you've made.
Subs and Tips for making Peppermint Hot Cocoa Cookies:
Gluten-free and grain-free: these cookies don't have any flour so no subs needed to make them gluten or grain-free.
Dairy-free: no dairy in the recipe, but be sure to use dairy-free chocolate chips.
Egg-free: I have not tried making this recipe without eggs, but let me know if you do, so I can add a suggested adaptation.
Paleo-friendly: The cookie base does not have any refined sugar and is paleo-friendly if you leave off the marshmallows and candy canes. You may be able to find naturally sweetened chocolate chips or bar chocolate to chop up online or at a grocery store. Lily's Chocolate is a great brand of sugar-free chocolate.
No mint?: leave out the peppermint extract and leave off the crushed candy cane. Tastes just as good as a classic hot cocoa cookie.
Cacoa or Cocoa Powder?: the kind of cocoa you use will very much impact the flavor of your cookies since there is so much in the recipe. Use as high quality of a Dutch-processed cocoa or raw cacao powder.
How do you crush the candy canes?: I like to unwrap them and place them into a small resealable plastic bag then bash them up with the bottom of a measuring cup or a small rolling pin.
Helpful tools: Unbleached parchment paper sheets, cookie scoops (in picture below), and my favorite baking supplies are listed in my Baking Essentials list on Amazon HERE.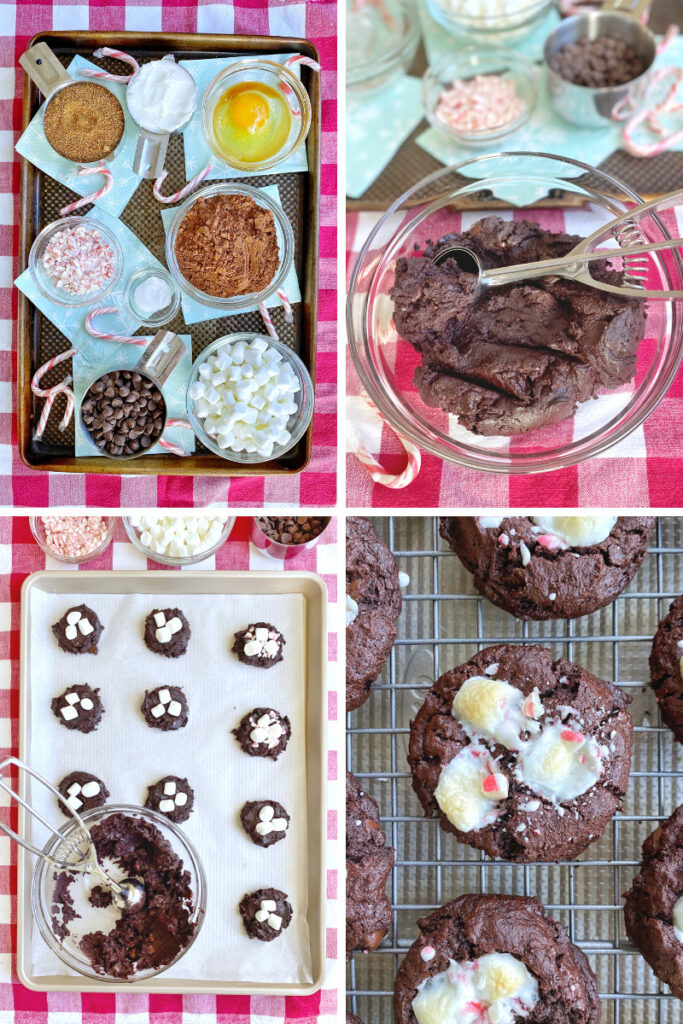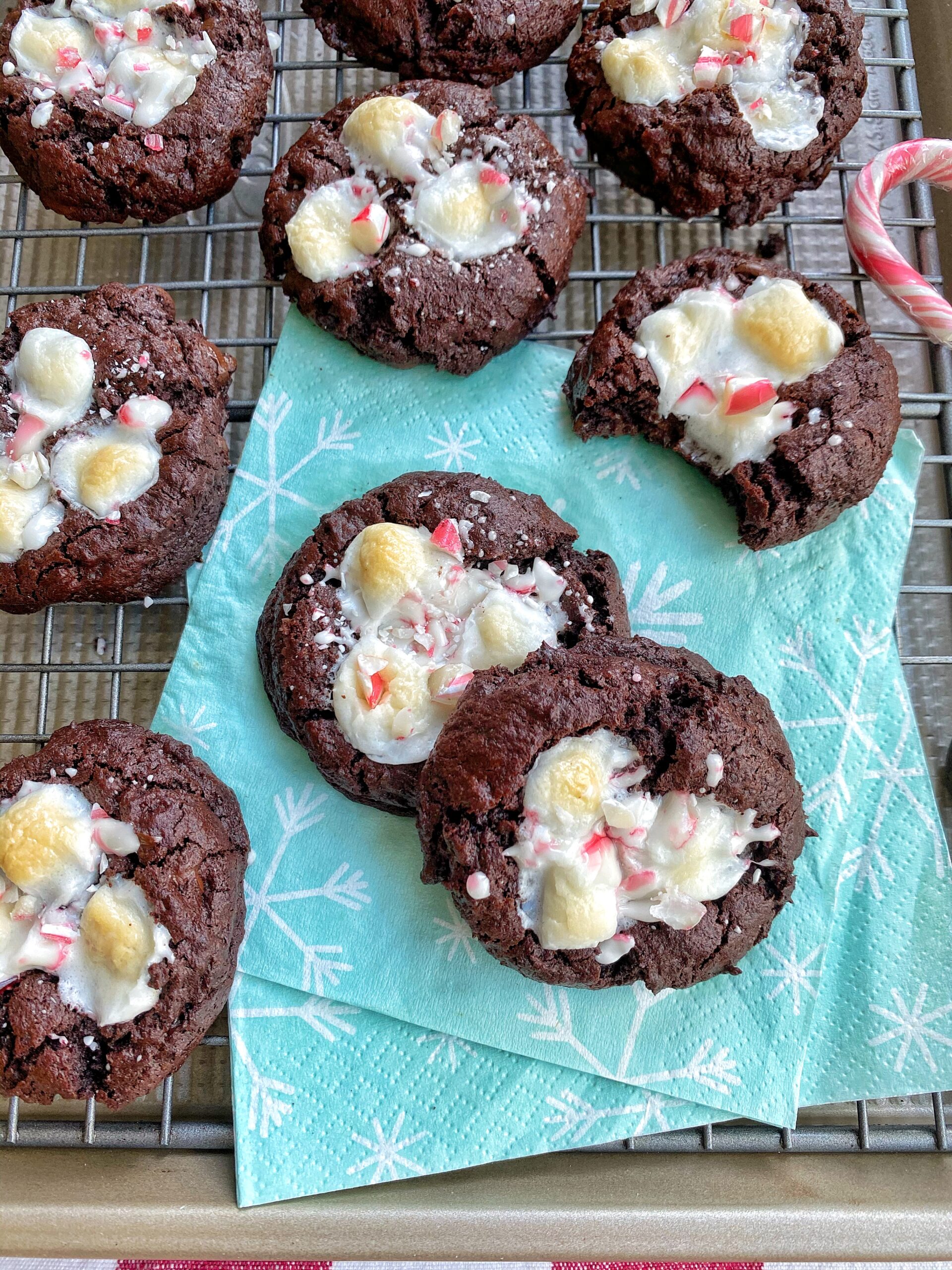 Peppermint Hot Cocoa Cookies
Gluten-free, grain-free, and dairy-free holiday delights.
Ingredients
1/2

cup

coconut oil, at room temperature

or 1 stick of softened butter

3/4

cup

coconut sugar

or 1/2 cup granulated sugar

2

Tbsp

maple syrup or honey

1

large egg

1

tsp

vanilla extract

1/2

tsp

peppermint extract

1/2

tsp

baking soda

1/4

tsp

fine salt

1

cup

cacao powder or dutch-processed cocoa powder

1/2

cup

chocolate chips

1

cup

mini marshmallows

2

candy canes, crushed into small pieces
Instructions
Preheat oven to 350 degrees and line a baking sheet with parchment paper or grease lightly with oil.

Beat oil and sugar together using the paddle attachment in a stand mixer or using a hand mixer until well combined. (You can also mix the ingredients by hand using a large spoon but this will take a lot more time and effort.) Add maple syrup, egg, vanilla, peppermint extract, baking soda, and salt and mix until fully combined. Add cocoa powder and mix slowly until incorporated. Scrape the sides of the bowl to make sure nothing is stuck to the sides and the dough is fully mixed.

Using a medium-sized cookie scoop or a spoon, scoop 2 tablespoons of dough to form each cookie. You can place the cookies pretty close together since they don't spread much during baking. Press 3 mini marshmallows into the top of each cookie then sprinkle with a pinch of crushed candy canes. If you want the marshmallows and candy to not fully melt during baking, place them on halfway through the baking process. (The cookies look prettier if you do this but they taste great either way.)

Bake cookies for 10 to 12 minutes. They will still be very soft and look slightly underbaked in the center. Allow cookies to cool on the baking sheet for 10 minutes then carefully transfer them to a cooling rack to cool completely. Store cookies at room temperature for 3 to 4 days.
Save to Pinterest!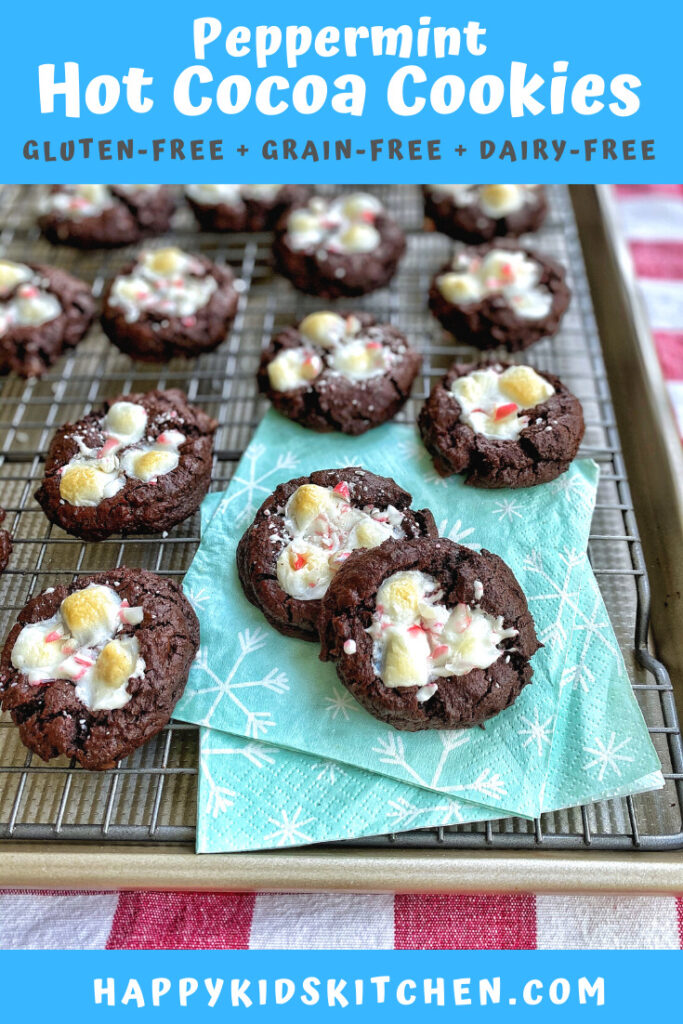 Other COOKIE recipes:
Chewy Ginger Cookies (Gluten-free and Vegan)
Healthy Pumpkin Cookies with Maple Glaze