Healthy Cookie Dough Bites
Perfect for toddler snacks and kids' lunch boxes, these Healthy Cookie Dough Bites are vegan, gluten-free, nut-free and packed with goodness. Oats, dates, and seeds make these bites high in fiber and antioxidants. Roll the dough into balls for an "energy ball" type snack or press the dough into a pan and cut into squares for a no-bake granola bar alternative. Either way, this super easy recipe is great to make with toddlers and kids of all ages. If you want the bites to be even lower in sugar and only fruit sweetened (dates), omit the chocolate chips and they will still be sweet and delicious.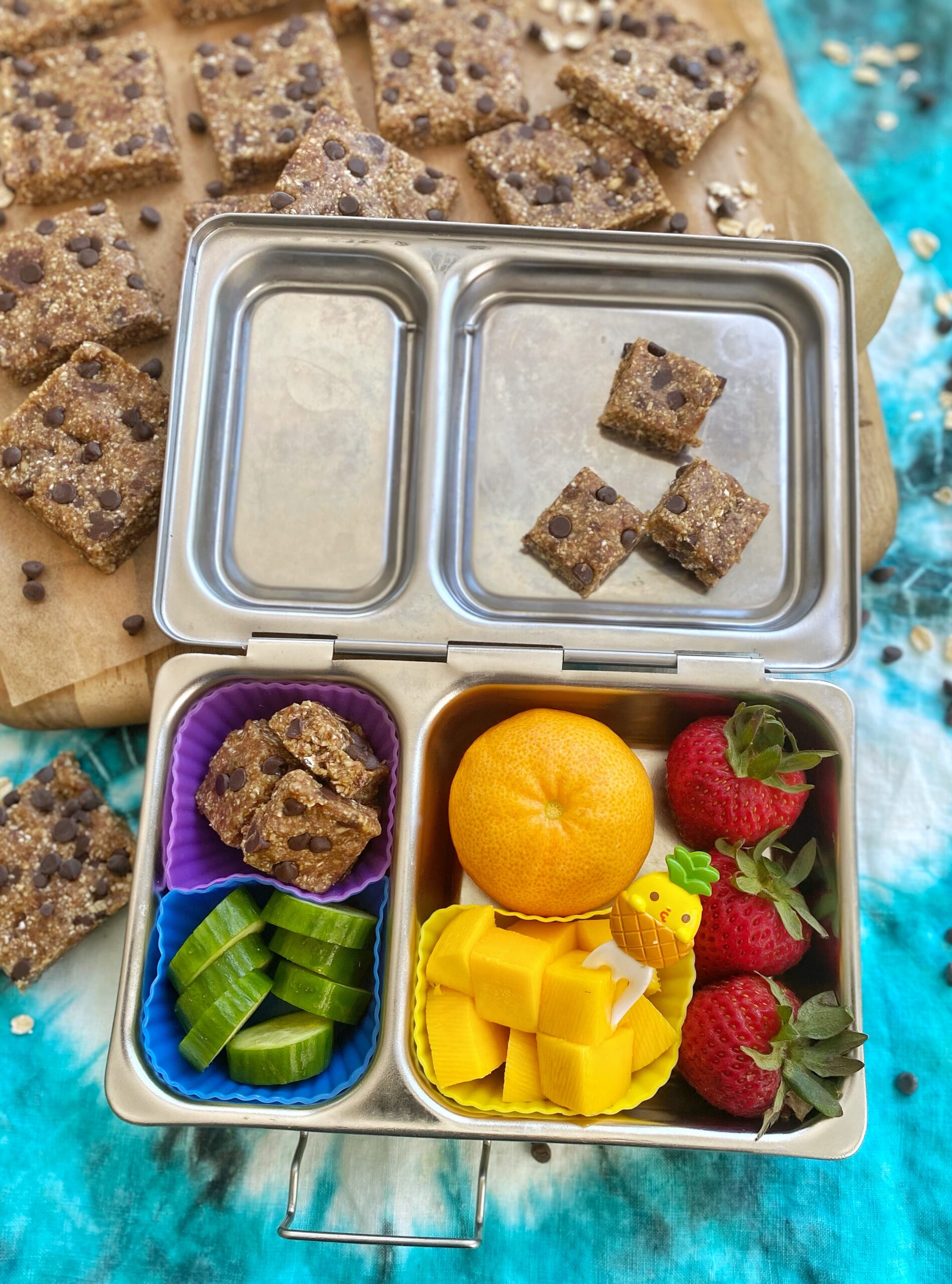 Kids in the Kitchen:
Measure: Since this recipe only has a handful of ingredients, it's great for kids to help from start to finish.
Buttons!: Teach your child how to safely use the food processor and what each of the buttons mean when you use them.
Cover those little ears! Sometimes younger children can get a little startled or scared by the noise of the food process, so talk about that before using it. The food processor can be pretty loud when it grinds the oat mixture, so just as a precaution, have your child step back after helping with the buttons or cover her ears.
Roll or press: Scoop or measure a piece of dough then give it to your child to roll into a ball. It probably won't be a perfect ball but you can always roll it again after. If making squares, have your child help use his hands to press the dough into the pan. Again, you can go back and even it out after.
Want to get kiddos excited about making this recipe with you? Or just want to visually see the steps? Check out my video on Instagram HERE.

Subs and Tips for Making Healthy Cookie Dough Bites:
Dates!: Medjool dates are naturally very sticky and perfect for making this recipe. I have not tested this recipe with any other variety of dates. I buy dates with the pits inside because pitted dates tend to dry out and get old much faster than the ones with the pits. Trader Joe's and Costco both have high quality Medjool dates at a great price.
Gluten-free: Make sure to use certified gluten-free rolled oats.
Additional nuts/seeds: You can use any combination of seeds you like in this recipe. Hemp seeds are a great addition and they are small so you can hardly tell they are in the cookie bites when blended with the oats. 3 tablespoons of hemp seeds has 10 grams of protein! If you don't need the bites to be nut free, you can also grind up almond, walnuts, or whatever nuts you like with the oats.
Too dry? (not rolling or sticky enough): Especially if you don't soak your dates in hot water beforehand, the dough will need some water. I add a tablespoon of water at a time then blend. Usually the dough only needs one or two tablespoons of water to form a sticky dough.
Too sticky? If you accidentally add too much water or your dough happens to be super sticky for another reason (like completely sticks to your hands), remove the dough from the food processor. Grind up some extra oats then add a little at a time to the dough until it's not too sticky to roll into balls.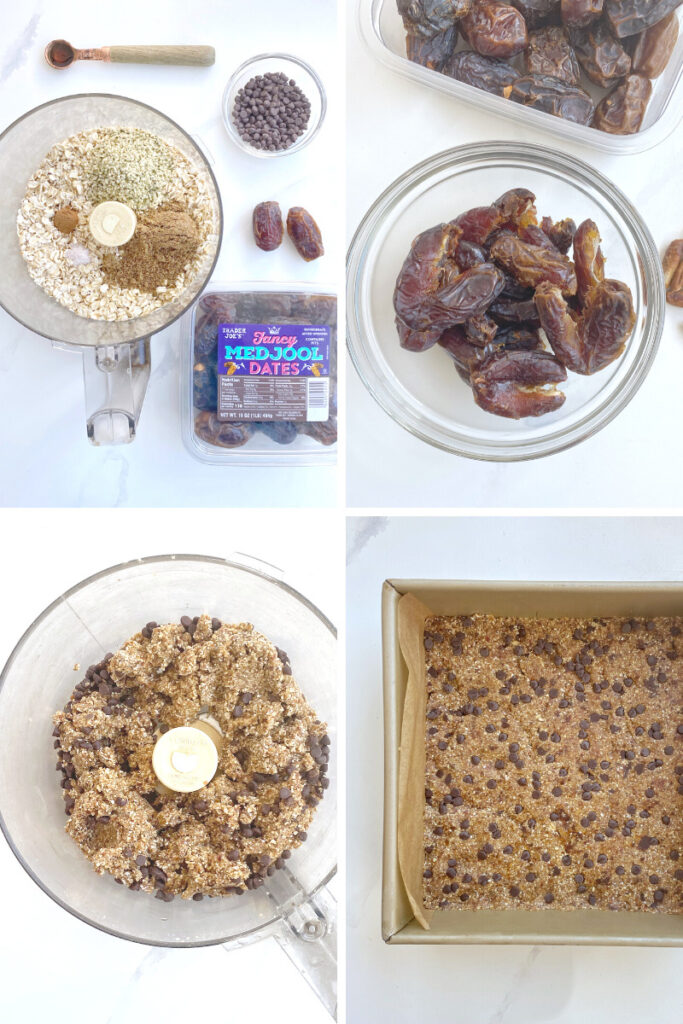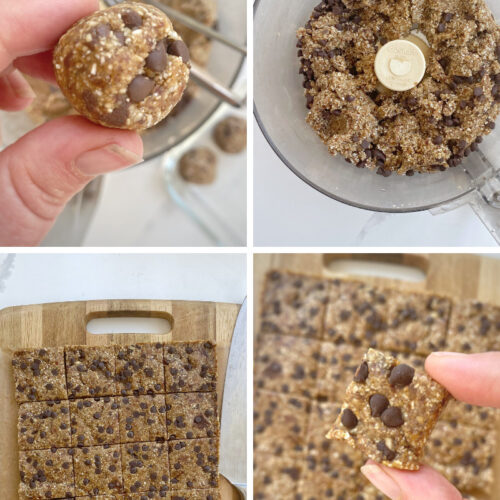 Healthy Cookie Dough Bites
Super nutritious, easy little treats for lunches, snacks, or dessert.
Ingredients
12 to 14

Medjool dates, pitted

2 cups

2

cups

rolled oats

gluten-free if desired

2

Tbsp

ground flax seed (flax meal)

optional

2

Tbsp

hemp seeds or chia seeds

optional

1/4

tsp

cinnamon

1/4

tsp

fine salt

1/2

tsp

vanilla extract

1/4

cup

mini chocolate chips
Instructions
If your dates are dried out (if they aren't super sticky when you press them between your fingers), place them in a bowl and cover them with very hot water. Allow to soak for 5 to 10 minutes then drain.

Add oats, flax, seeds, cinnamon, and salt to a bowl of a food processor filled with the metal blade. Grind into a fine powder.

Add dates and vanilla to the food processor. Process until a sticky dough forms. If the dough doesn't easily form a ball, drizzle 1 tablespoon of water over the dough and process again. If dough is still dry, repeat with an additional tablespoon of water. Once it's sticky enough, mix in the chocolate chips.

For balls, roll the dough into tablespoon-sized balls and place in an airtight container.

For squares or bars, press dough into an 8-inch square baking dish. I like to line the pan with a sheet of parchment so it's easy to pull the whole thing out of the pan. Place the pan in the freezer for 20 minutes or in the refigerator for an hour. Once the dough is hard, cut into squares or whatever sized bars you'd like. Store in an airtight container in the fridge or freeze for up to 3 months.
Save to Pinterest!
Oatmeal Raisin Cookie Dough Bites