Chocolate Peanut Butter Rice Krispie Treats
Chocolate and Peanut Butter are a match made in heaven, right? Add in some crunchy crispy rice cereal and you've got the yummiest dessert that's so easy to make at home. Chocolate Peanut Butter Rice Krispie Treats are gluten-free, lower in added sugar, and made from only a handful of simple ingredients. Want your cereal treats to be nut-free? Use sunflower seed butter or your favorite nut-free spread instead. They are also so easy to dress up for any holiday such as Halloween or Christmas.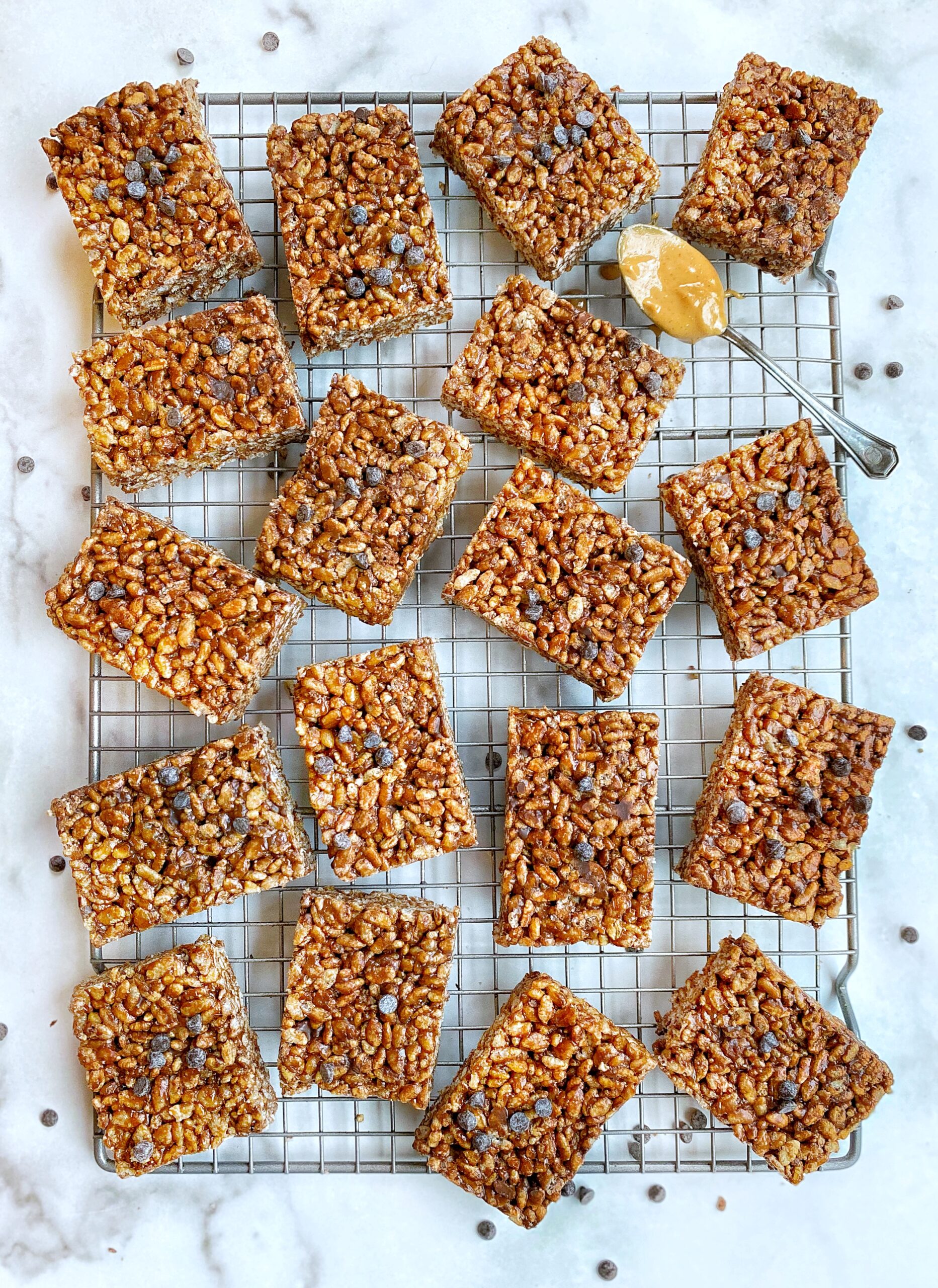 Kids in the Kitchen:
What kiddo wouldn't want to help make these treats, right? It can get a little messy so here are some tips:
Measuring the cereal: it can be tricky. I like to place a bunch of the rice cereal into a large bowl then have kids scoop and level the cereal then dump each cup into a second bowl. That way you get a more accurate measurement and make less of a mess.
Measure ahead: honey and peanut butter are sticky so feel free to measure it into a bowl before kids come help. I like to spray the measuring cup with oil before measuring the honey so it comes out really easily.
Add to pot: Help kids pour and scrape the ingredients out of the measuring cups with a spatula. And have some kitchen towels near by. The mixture and pot are too hot for kids to handle after being on the stove, so make sure they have something else to do during that part.
Press into pan: place a piece of parchment paper or aluminum foil on top of the pan so hands stay clean while pressing the sticky mixture into the pan.
Decorate! This part is so fun to do with a bunch of kids. Melt some chocolate and use it as "glue" to stick on sprinkles, candy eyes, or other toppings.
Subs and Tips for Chocolate Peanut Butter Rice Krispie Treats:
Nut-free? Use sunflower seed butter instead of peanut butter to make these nut free. Try and find a seed butter than doesn't have any added sugar.
No refined sugar? Want a cereal treat that's only sweetened with honey? Feel free to leave out the chocolate chips or use less than in the recipe. Also, there are some stevia sweetened chocolate chips on the market such as
Falling apart? If your treats are very crumbly and not staying together well after cutting, you may not have pressed them together well enough before chilling. These do stay together best when they are chilled, so if they start to get too warm, you may want to stick them into the fridge again.
Cereal? I like to use a brown rice cereal that I find at Whole Foods but any crispy rice cereal such as Rice Krispies brand will work. Do not used "puffed rice" cereal. It has larger pieces and won't stick together as well.
Add-ons: You can remove a cup of cereal from the recipe and add in crushed pretzels instead. Stir in whatever chopped up chocolate candy or chocolate bars that you like. Drizzle finished treats with dark or white chocolate then add on sprinkles or whatever toppings you'd like.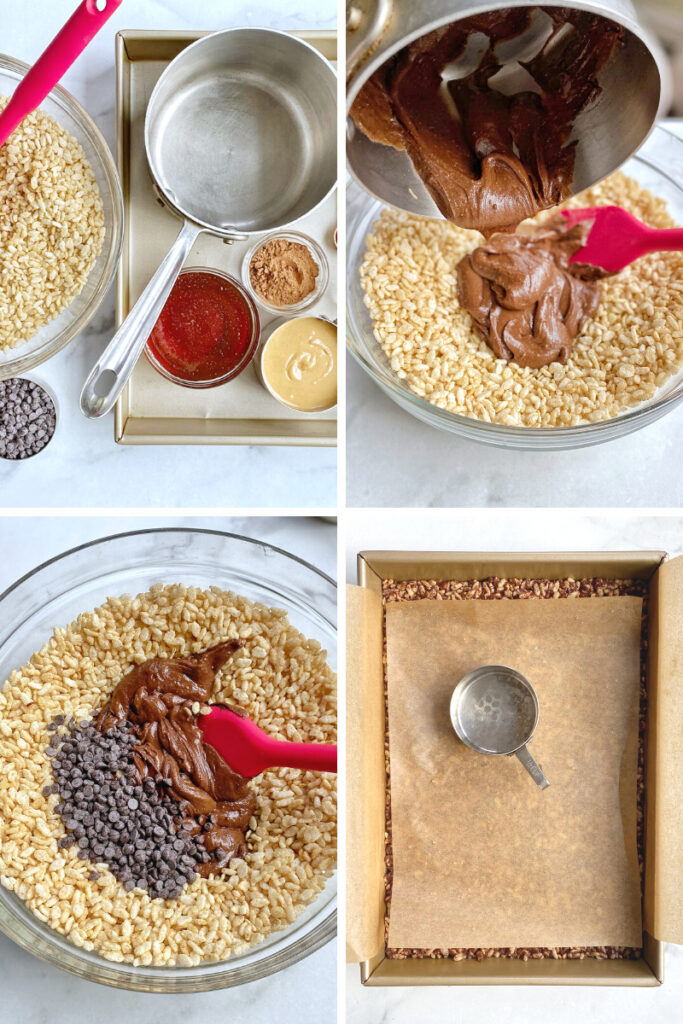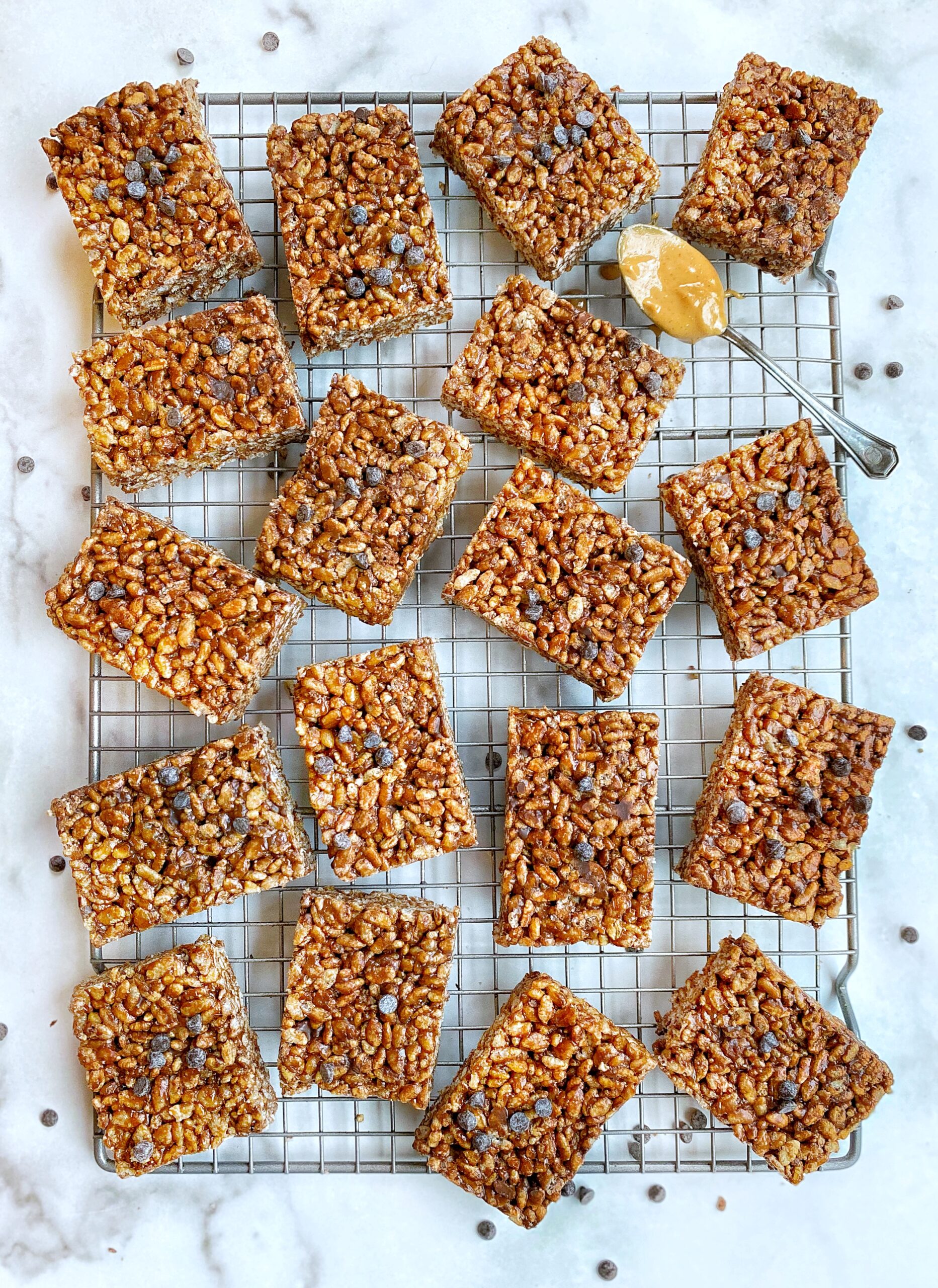 Chocolate Peanut Butter Rice Krispie Treats
Vegan, gluten-free, and lower in sugar cereal treats perfect for a healthier dessert.
Ingredients
6

cups

crispy rice cereal (brown or regular)

2/3

cup

honey

2/3

cup

natural, creamy peanut butter

2

Tbsp

unsweetened cocoa powder or cacao powder

1

tsp

vanilla extract

1/2

cup

mini chocolate chips
Instructions
Add rice krispie cereal to a large bowl. Line a 9-by-13 inch baking pan with parchment paper or foil then set aside.

Add honey, peanut butter, and cocoa powder to a small pot. Stir over medium heat until mixture is smooth and starts to bubble. Remove from heat and stir in vanilla. Do not cook the mixture for too long or it will start to harden and separate.

Immediately pour hot peanut butter mixture over the rice cereal. Add chocolate chips and stir until all the cereal is well coated in the sticky chocolate mixture. This will take a little while but keep mixing with a spatual or with your hands if the chocolate is cool enough to handle. Once completely mixed, dump the coated cereal into your prepared pan. Spread as evenly as possible. Pack the mixture really well so it sticks together and will form even bars when cut. I like to lay another sheet of parchment on top and use the bottom of a measuring cup to pack and flatten the surface of the pan.

Chill pan until the cereal mixture is set and hardened, about 20 to 30 minutes in the fridge. Once set, use the sides of the parchment or foil to remove the block of cereal treats from the pan then cut into bars (I did 18 rectangles, but you could cut them into 16 squares if you'd prefer.) Serve as is or store in the fridge for up to a week.
Notes
To dress your treats up for Halloween, drizzle each one with melted white chocolate then press on some candy eyes or homemade chocolate eyes. 
Save to Pinterest!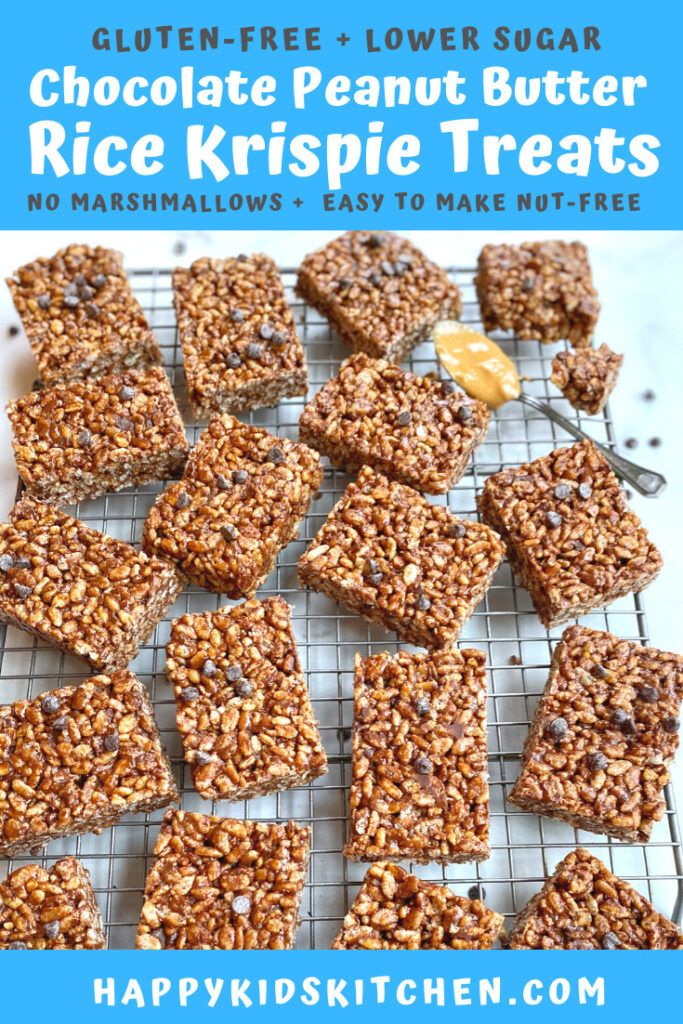 Dress up your treats for Halloween!!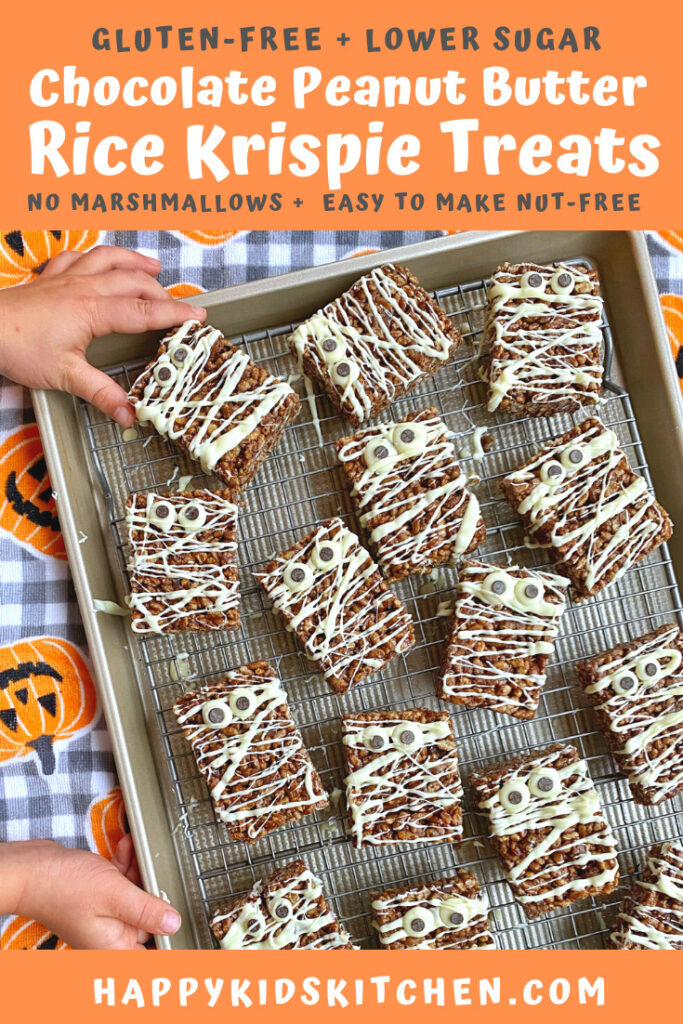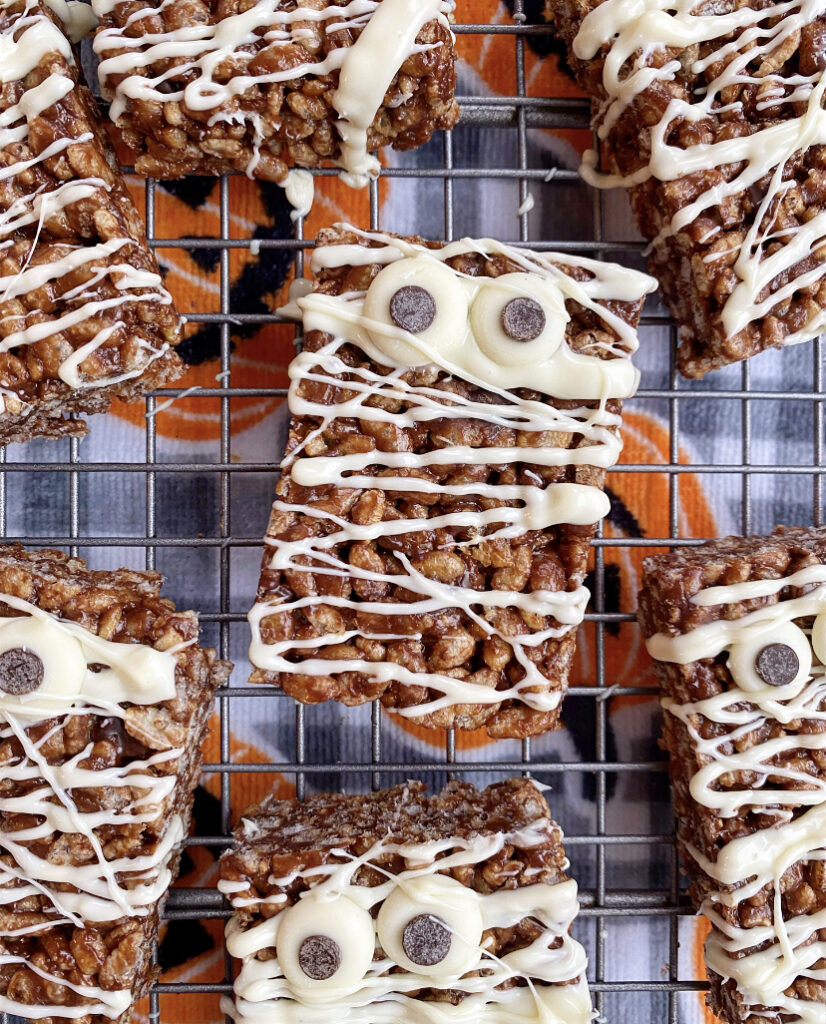 Also check out my blog post for more Halloween ideas: Healthy Halloween Food to Cook with Kids
Other Fun Treats to Try:
Healthy Pumpkin Cookies with Maple Glaze