Flourless Peanut Butter Chocolate Thumbprint Cookies
These are my take on healthier peanut butter "Blossoms" (those classic Christmas cookies with the chocolate kiss in the center). My Flourless Peanut Butter Chocolate Thumbprint Cookies are lower in sugar, gluten free, dairy free, and only 6 basic ingredients. You just stir everything together in one bowl, so they are great for kids to help make.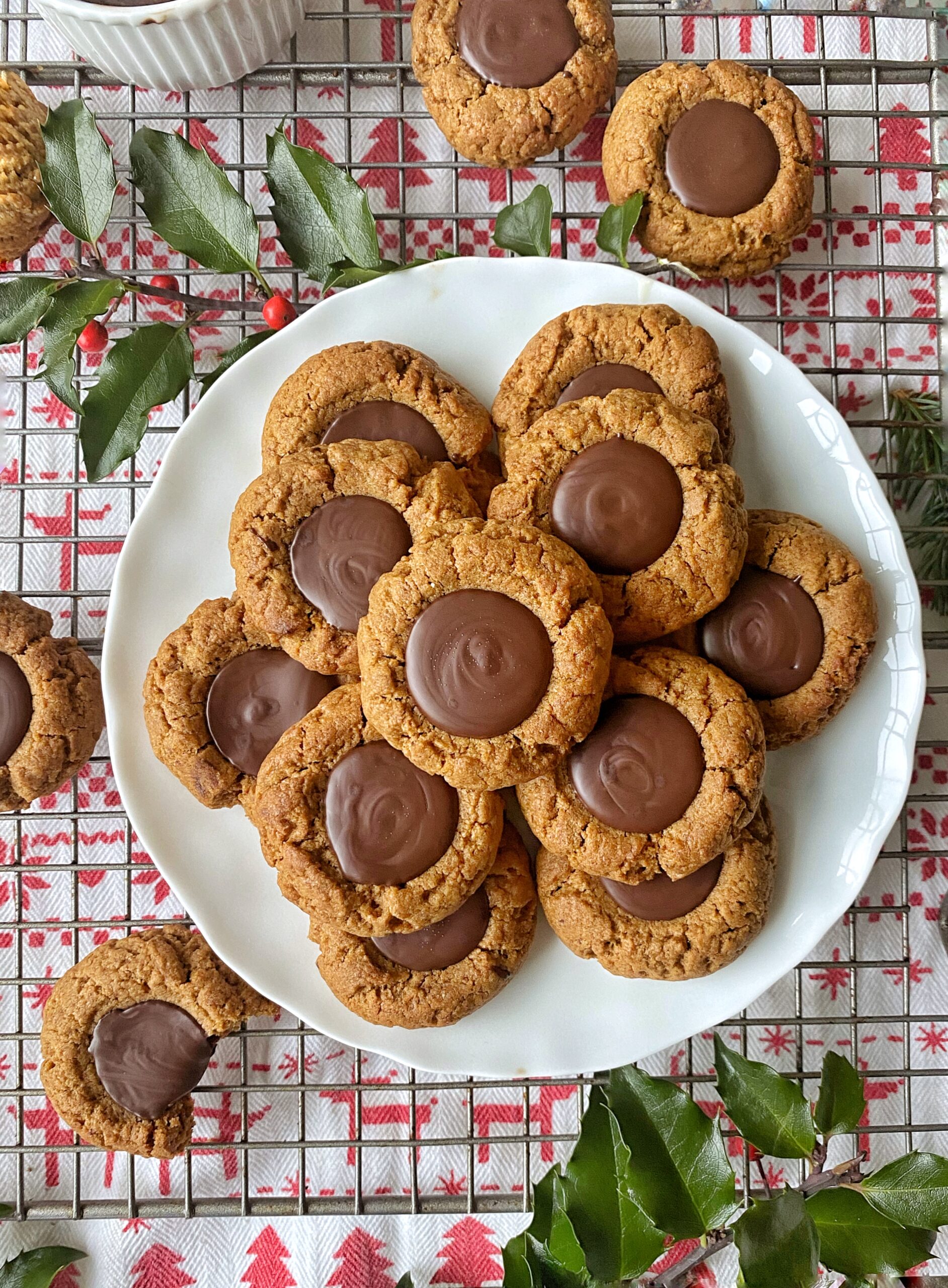 Kids in the Kitchen:
Measure and mix: Measuring peanut butter can be a little messy, so I would measure that ahead of time. Other than that kids can measure the other ingredients, pour the peanut butter into the bowl, and mix everything together.
Eggs: You need one whole egg and one yolk for this recipe. If you are comfortable with your child cracking eggs, I would let them crack one into an empty bowl then explain what separating eggs means while you crack the white into a container then add the yolk to the other egg.
Scoop: Create an "assembly line" where you scoop the dough and roll it into a ball and place it on the baking sheet. Then have your child use a measuring spoon or a finger to make the indent in the center of the ball. Or you can switch it up and reverse jobs!
Fill: Kids can stir up the melted chocolate then spoon it into the cooked cookies. This works better (and isn't as messy) when the chocolate is cooled slightly before using.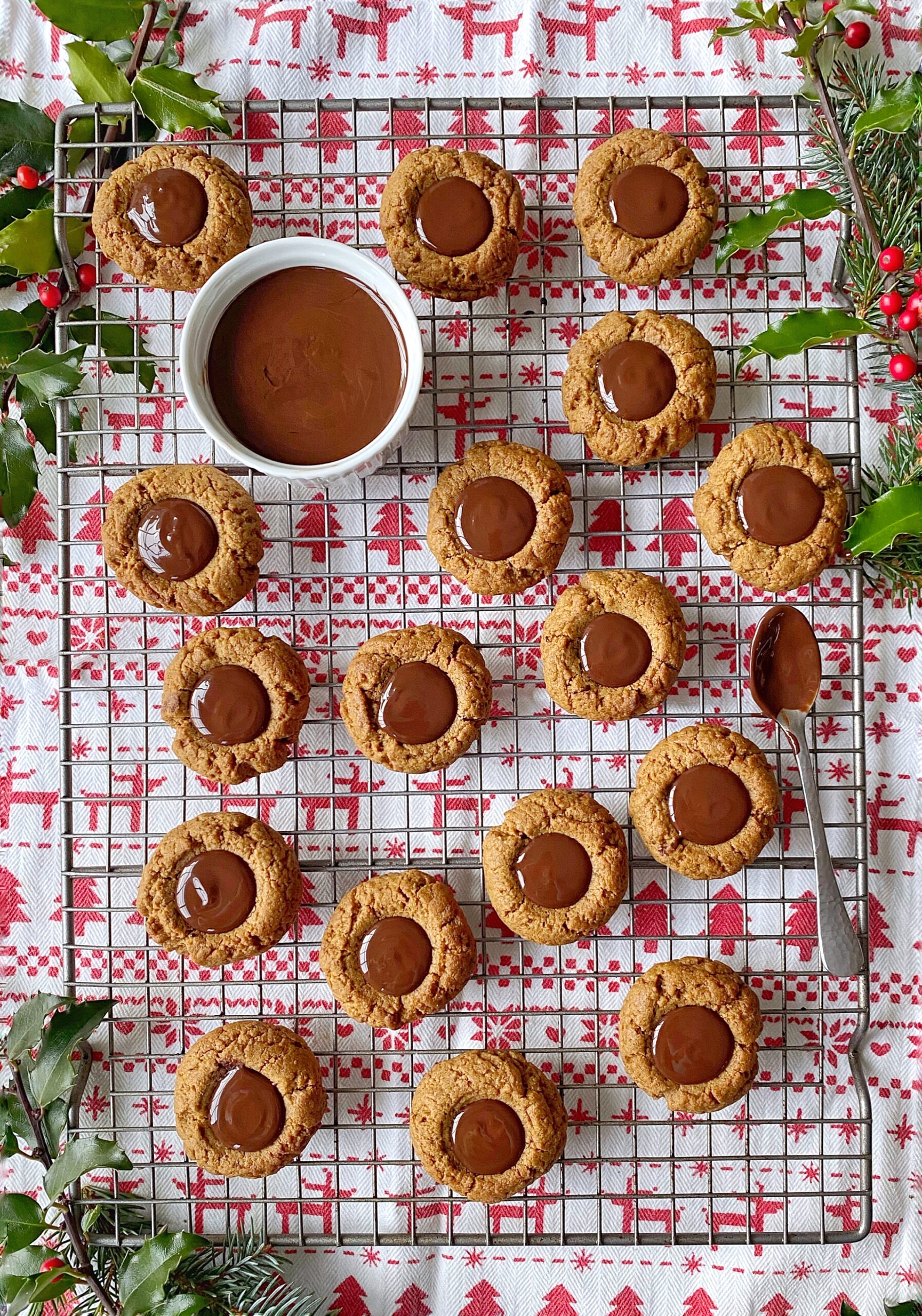 Subs and Tips for Flourless Peanut Butter Chocolate Thumbprint Cookies:
No peanut butter?: I've made these with almond butter and it works great. Just made sure to use the runny kind of nut butter for best results.
Egg free? I have not tried making these without eggs. However, you can try a flax egg substitute or other egg-free baking sub if you'd like (or maybe google a vegan peanut butter cookies and use that as the base).
Add Sprinkles!: Want these cookies to be extra festive? Top the cookies with some colorful sprinkles before the chocolate hardens. They look so fun when you add this little special touch.
Helpful tools: Unbleached parchment paper sheets, cookie scoops (in picture below), and my favorite baking supplies are listed in my Baking Essentials list on Amazon HERE.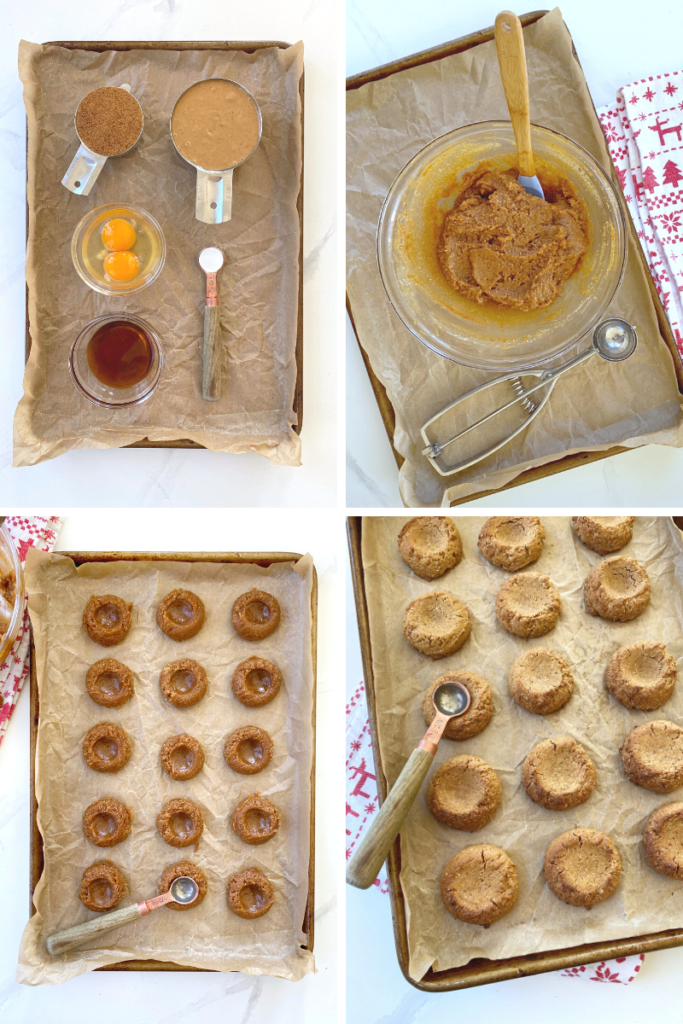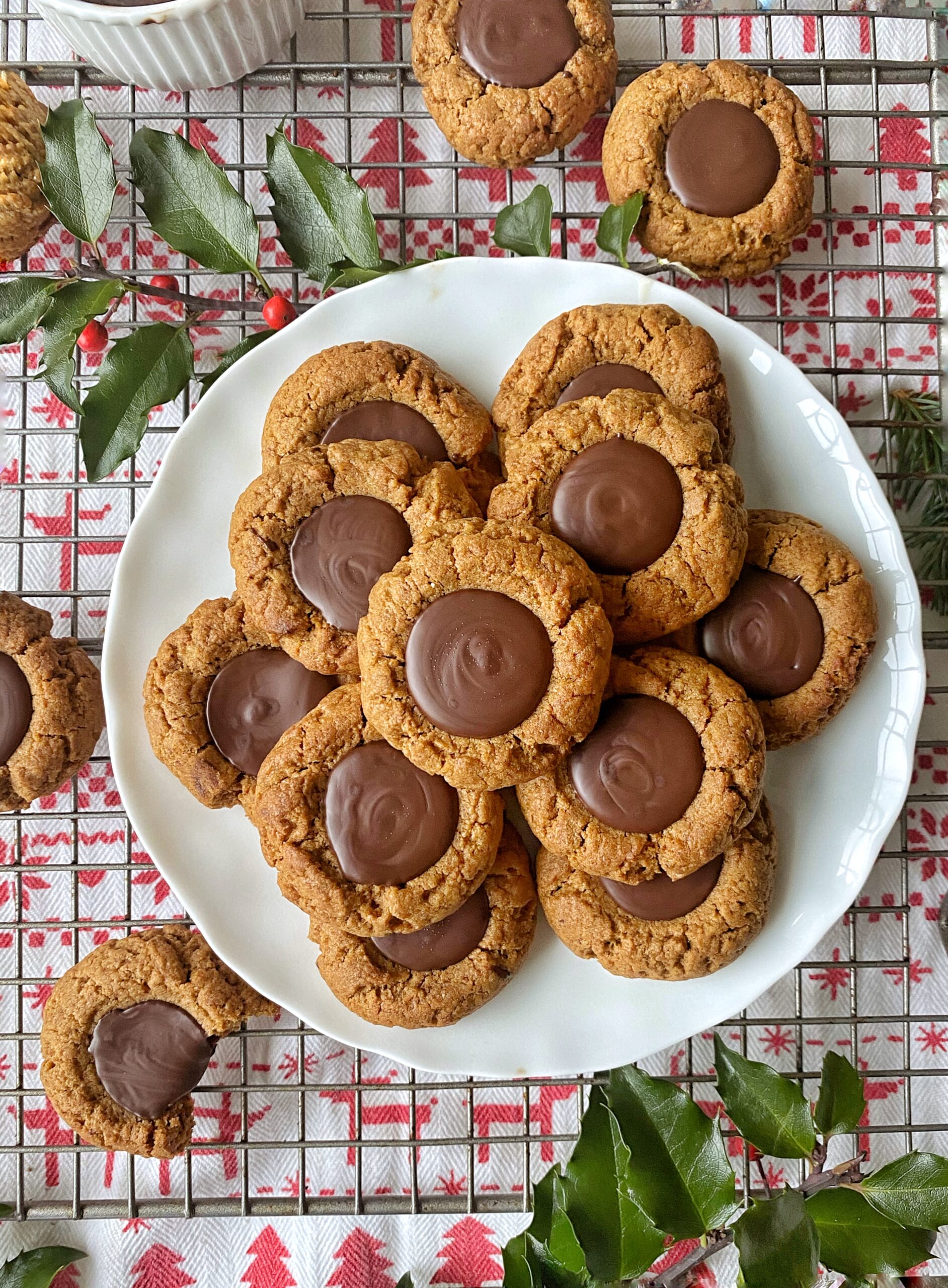 Flourless Peanut Butter Chocolate Thumbprint Cookies
Lower in sugar, gluten free, and made in one bowl!
Ingredients
1

cup

natural peanut butter (only peanuts)

add a pinch of salt if your peanut butter is unsalted

1

large egg

1

egg yolk

1/3

cup

coconut sugar or brown sugar

2

Tbsp

maple syrup

1

tsp

vanilla extract

1/2

tsp

baking powder

1/2

cup

chocolate chips (any kind)

1

tsp

coconut oil (use refined for no coconut flavor)

or any neutral oil
Instructions
Preheat oven to 350 degrees. Line a baking sheet or cookie sheet pan with parchment or a silicone mat.

Add peanut butter to a large bowl. Stir in the egg, egg yolk, sugar, maple syrup, vanilla, and baking powder (and a pinch of salt if your peanut butter is unsalted).

Scoop tablespoons of the dough and roll into balls. Place the balls on your cookie sheet then use the back of a 1/2 teaspoon (or your finger) to make an indent in the center of the ball. If the edges of the dough ball crack, just gently pinch them back together.

Bake until set and lightly browned, 10 to 12 minutes. If the center puffed up or you just want more room to put chocolate, use the back of the 1/2 teaspoon to press the center of the cookie down again.

Melt the chocolate chips and oil together and stir until smooth. Spoon the melted chocolate into the center of each cookie. Allow to set at room temperature for 15 to 20 minutes or speed up the process by putting them in the fridge until set. Store cookies in an airtight container for 4 to 5 days or freeze for up to 2 months.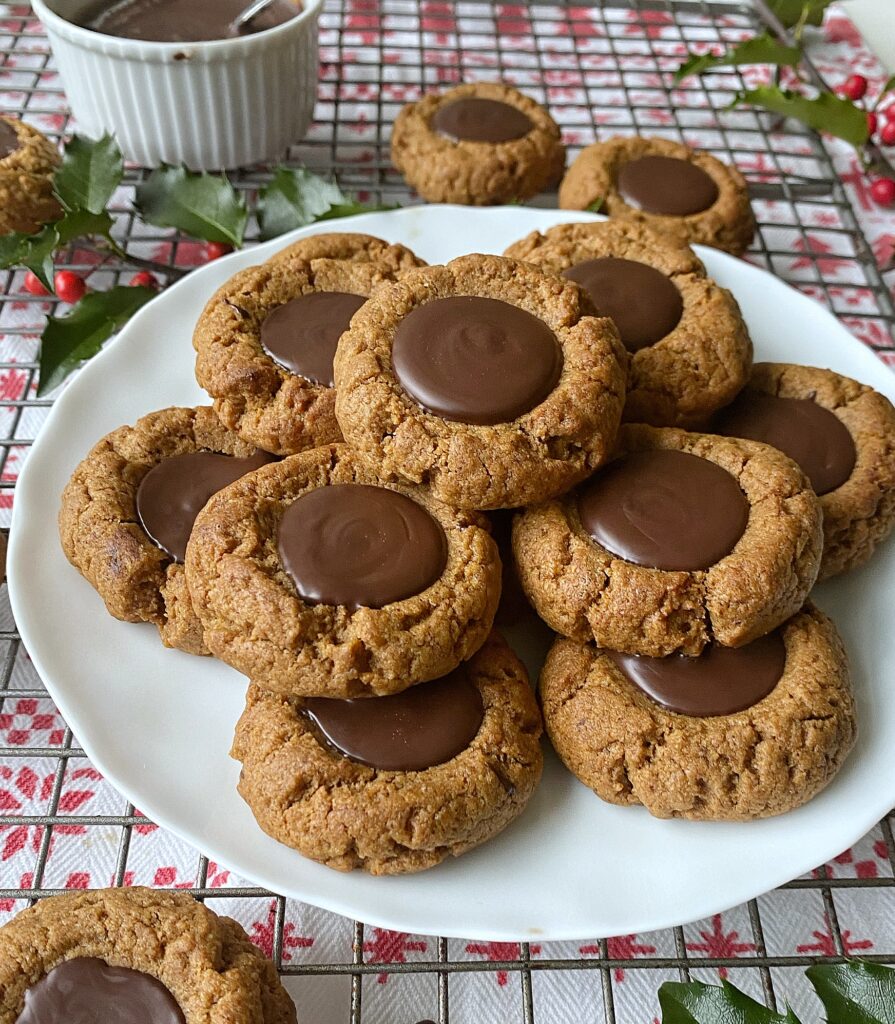 Save to Pinterest!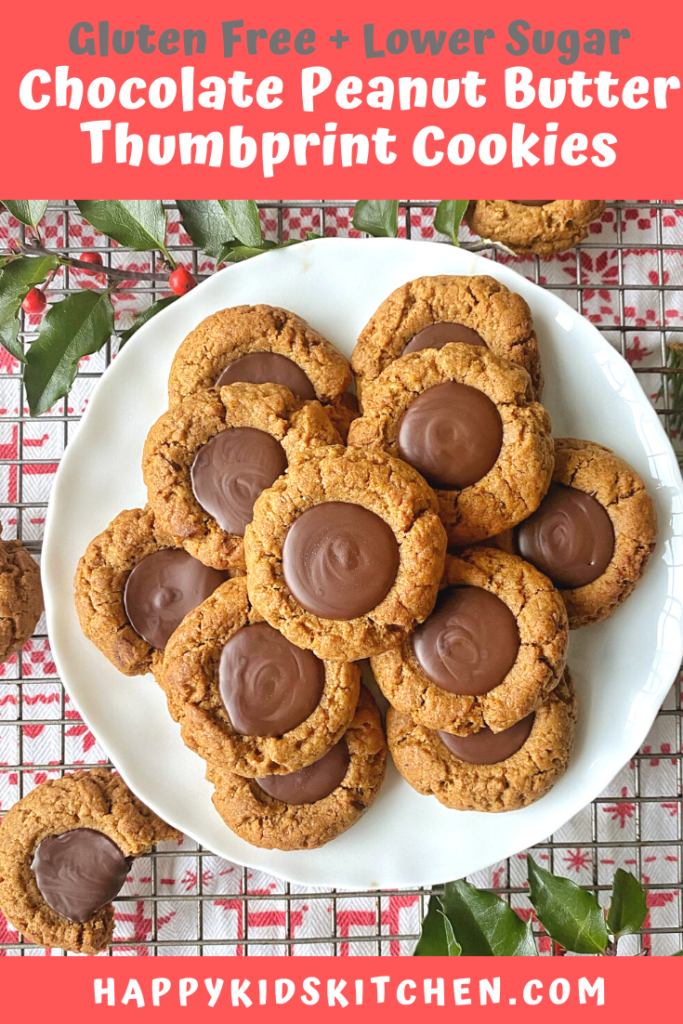 Other Cookie Recipes to Try:
Chewy Ginger Cookies (Vegan and Gluten free)