Mini Chocolate Chip Snack Cookies (Vegan and High Fiber)
A healthy little chocolate chip cookie that's perfect for toddler snacks or lunch box treats. These Mini Chocolate Chip Snack Cookies are made in one bowl. They are nut-free, whole grain, and packed with nutritious ingredients like high-protein hemp seeds. The bite-sized cookies are vegan (dairy-free and egg-free) and easy to make gluten free too. Tiny cookies are so cute and kid-friendly, but you can also take this same recipe and make delicious regular-sized cookies as well.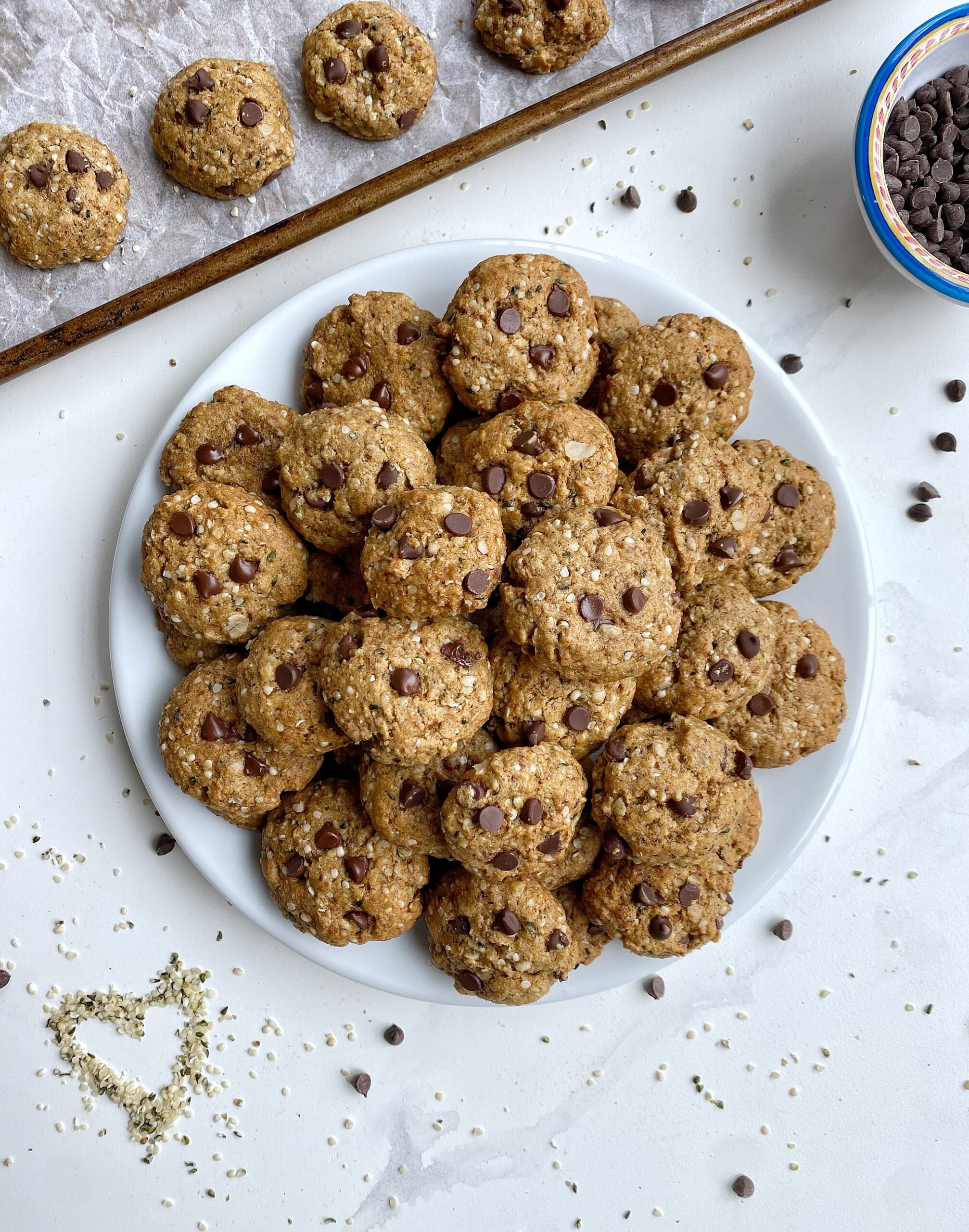 Kids in the Kitchen:
Measure: To make the baking process a little less stressful with young kids, measure some of the ingredients before you invite your little one over to help. Make sure to demonstrate how to make a measuring spoon "full and flat" by scraping the top with a straight finger so you don't get too much or too little of the ingredient.
Mix: Take turns stirring everything together!
Top: Making small, uniform balls of cookie dough might be a little challenging for younger kids, but a good task for older ones. Kids of any age can help by placing a few chocolate chips on top of each ball of dough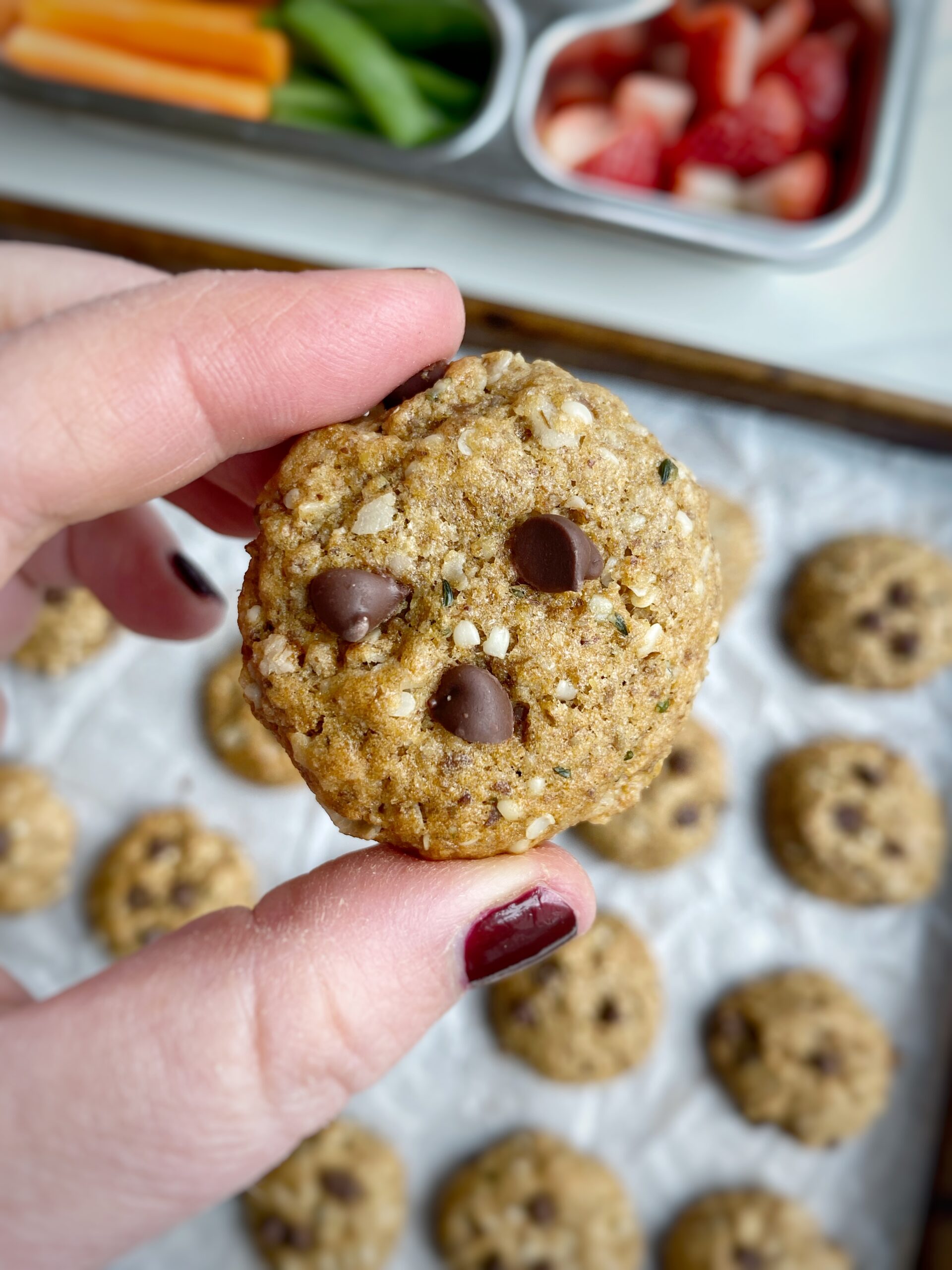 Subs and Tips for making Mini Chocolate Chip Snack Cookies:
Hemp seeds? Also know as hemp "hearts", these little seeds are not as crunchy as most seeds and blend really well into anything. They are a nutritious powerhouse, adding lots of fiber, Omegas, and protein to any dish. For a simple way to use them, sprinkle them inside a PB&J sandwich.
Gluten free: Use your favorite gluten-free flour blend (such as Bob's Red Mill) to make this recipe completely gluten free.
Oil: I like to use a melted refined coconut oil for this recipe because I think it tastes the best. However, you can use any oil or melted butter with good results. Just make sure you don't use an oil that has a strong flavor.
Sweetener: You can replace the maple syrup with honey if you'd prefer (just make sure not to serve to babies under 1). I like to use coconut sugar in this recipe but regular granulated sugar will work well too.
Need some baking supplies? Here is my Amazon (affiliate) list of my favorite baking supplies. The parchment paper sheets are a must-have!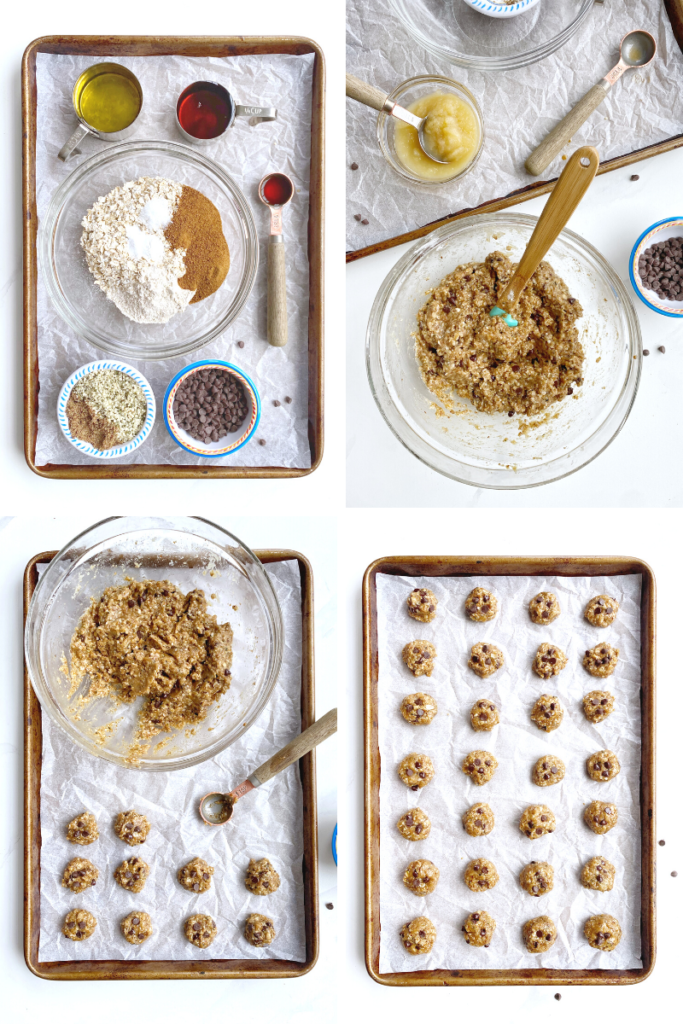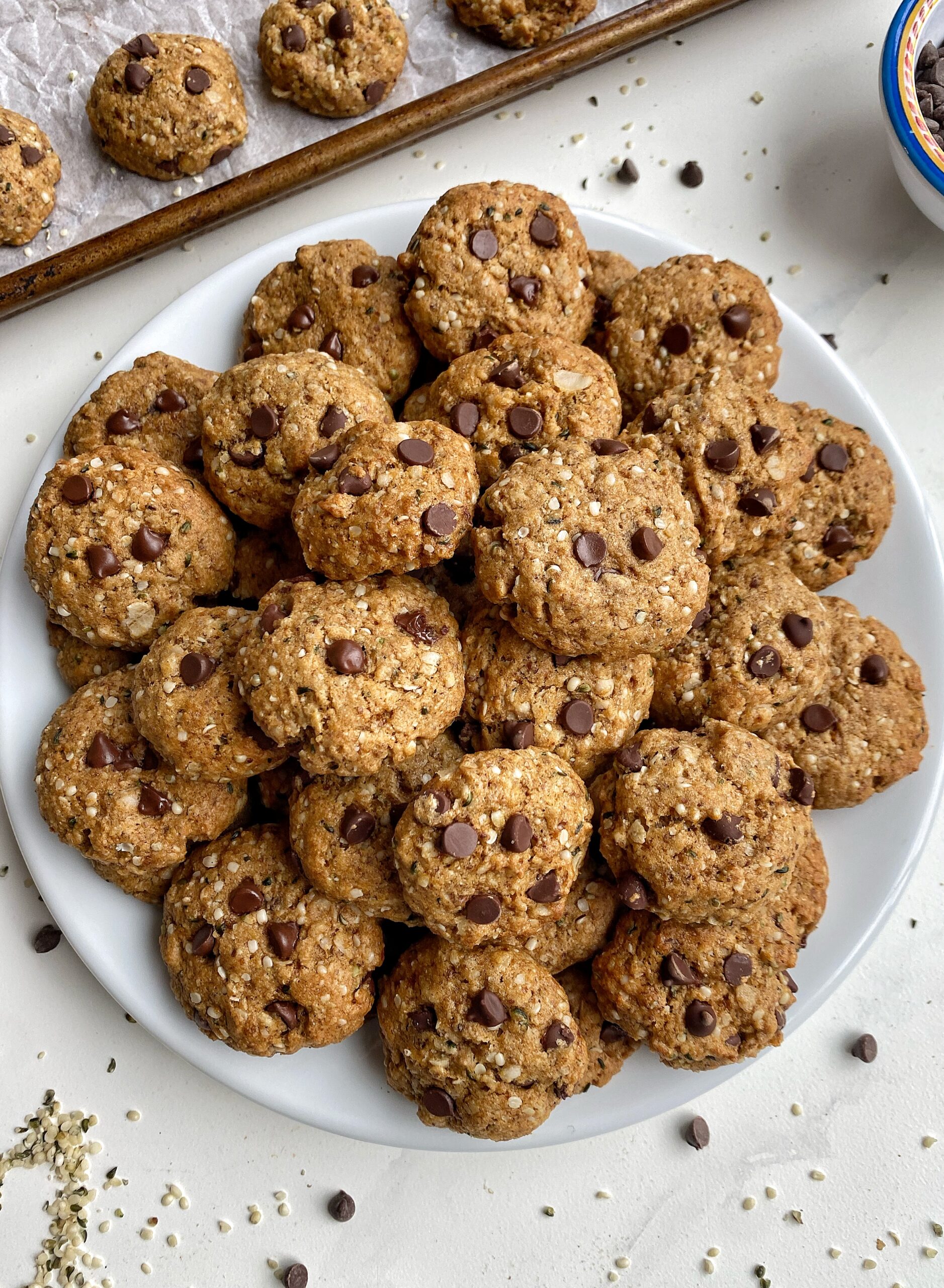 Mini Chocolate Chips Snack Cookies
Nutritious little cookies great for toddler and kid snacks. Vegan and fiber packed.
Ingredients
1/3

cup

neutral (flavorless) oil or melted butter

avocado, vegetable, or melted coconut oil*

1/4

cup

maple syrup

2

Tbsp

unsweetened applesauce

any mashed fruit or puree works here

1

tsp

vanilla extract

2

Tbsp

coconut sugar or granulated sugar

1/4

tsp

fine salt

omit if using salted butter

1/4

tsp

cinnamon (optional)

1/4

tsp

baking powder

1/4

tsp

baking soda

1/2

cup

quick-cooking (instant) oats

see note for sub

1/2

cup plus 2 Tbsp

whole wheat, all-purpose, or gluten-free flour

2

Tbsp

ground flax seed (flax meal)

or an extra tablespoon of flour

2

Tbsp

hemp seeds (hemp hearts)

or any very finely chopped nuts or seeds

3

Tbsp

mini chocolate chips, divided
Instructions
Preheat oven to 350 degrees. Line a baking sheet pan with parchment paper or spray lightly with oil/non-stick spray.

In a large bowl, mix oil, maple syrup, vanilla, applesauce, and coconut sugar. Add the remaining ingredients, including only 2 tablespoons of the mini chocolate chips (the other tablespoon with be reserved to place on top of the cookies). Mix until everything in the bowl is combined.

Use a teaspoon to make small balls of the dough then place them on the baking sheet. Top each ball of dough with a few mini chocolate chips then press down lightly to flatten the cookie.

Bake until lightly golden around the edges, 8 to 10 minutes. Cool then store in an airtight container at room temperature for 5 days or freeze for up to 2 months.
Notes
*I like the flavor (or lack of flavor) of refined coconut oil best in this recipe, but any of the oil/butter options above will work well.
If you only have regular rolled oats, place them in a food processor or blender and pulse until they are broken down into smaller bits then measure a 1/2 cup.
You can leave out the chocolate chips or replace them with any cookie additions you like (just make sure the mix-ins are small enough to fit into the mini cookies).
Great for Lunch Boxes and Snacks!!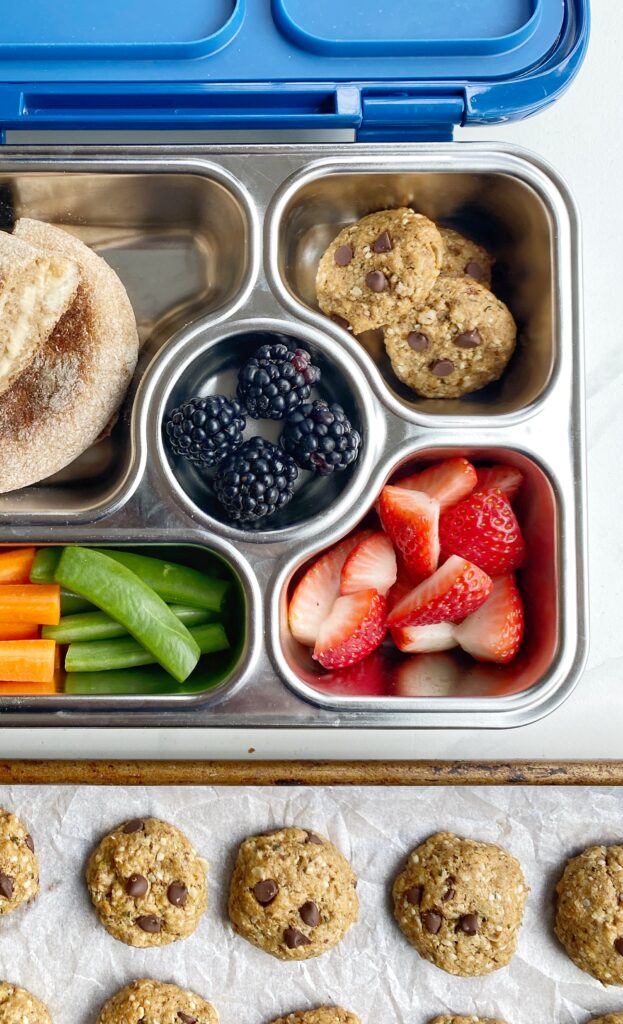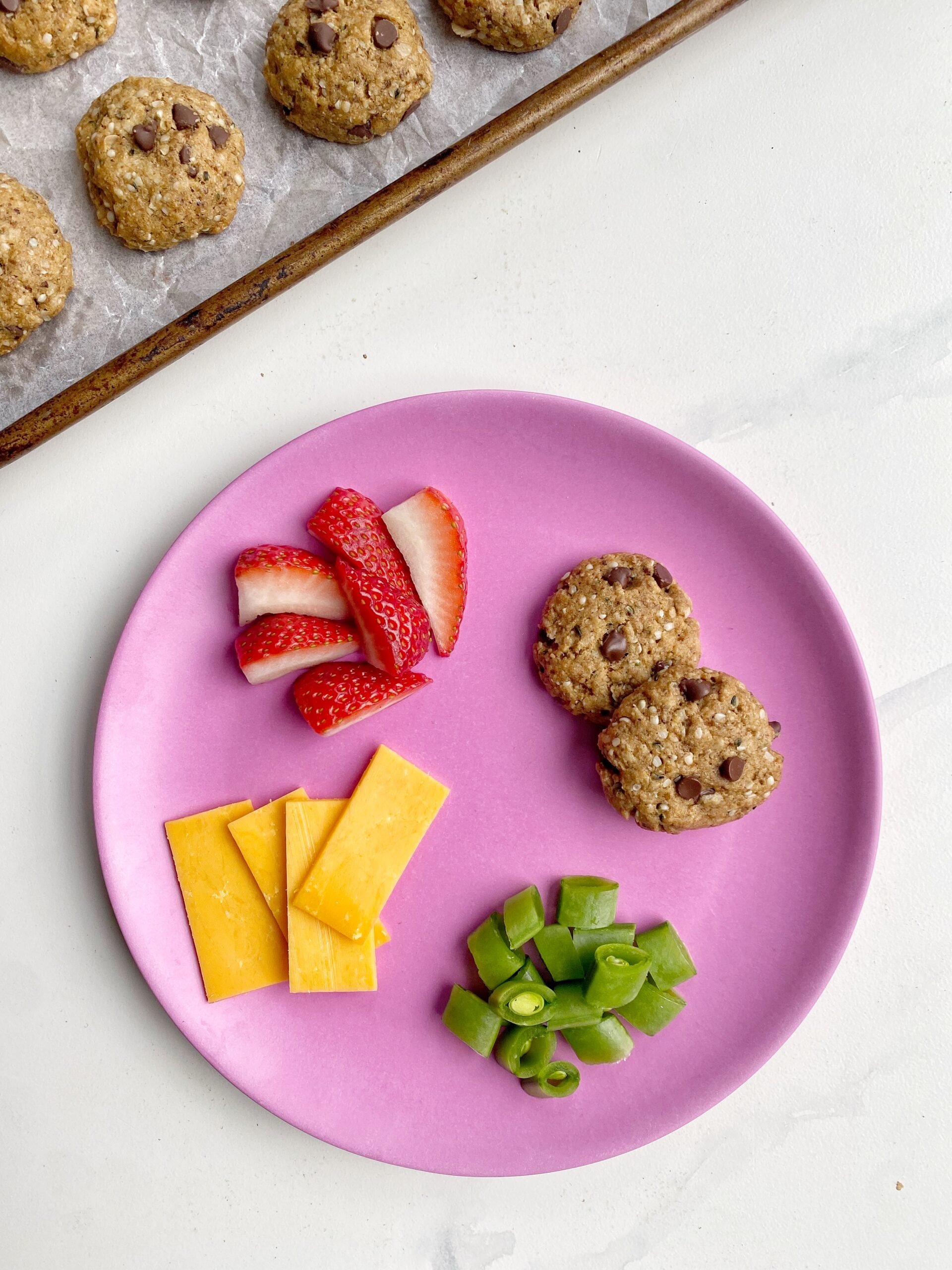 Save to Pinterest!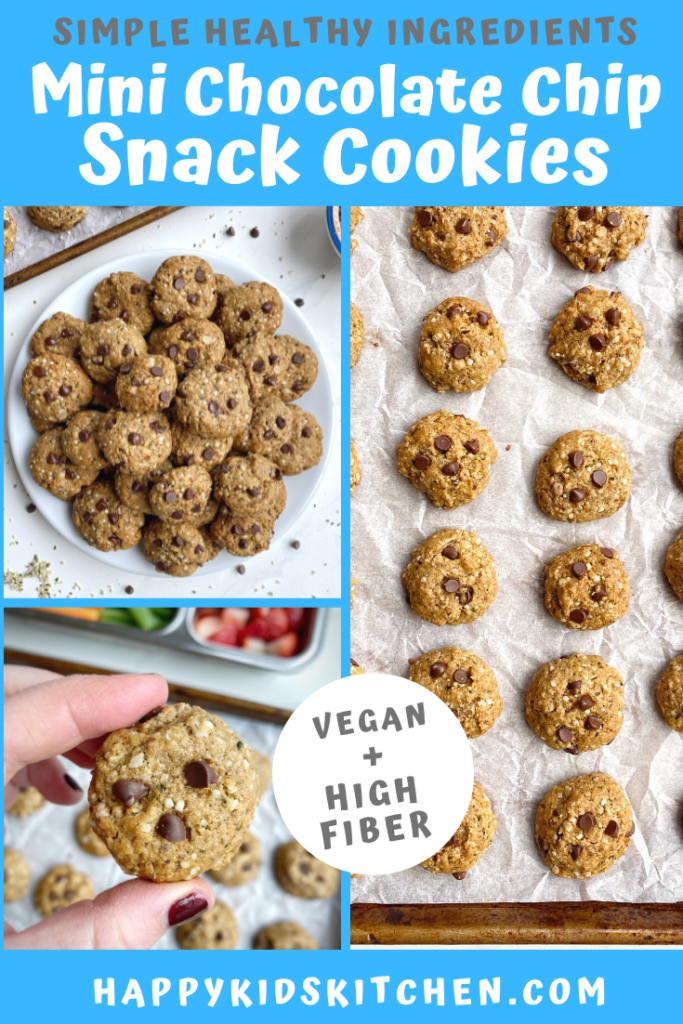 Other Snack Recipes To Try:
Banana Protein Muffins (with lentils!)