Raspberry Swirl Chia Pudding Pops
5 simple ingredients and a popsicle mold, that's all you need to make these healthy, dairy-free Raspberry Swirl Chia Pudding Pops. They are one of my favorite frozen treats to make at home. The raspberry is slightly tart while the coconut milk is creamy and sweet. It makes a really delicious combination! Chia seeds add tons of nutritional value and the pops are only sweetened with a little maple syrup. Plus, I've found that freezing chia pudding makes it much more pleasing to kids too.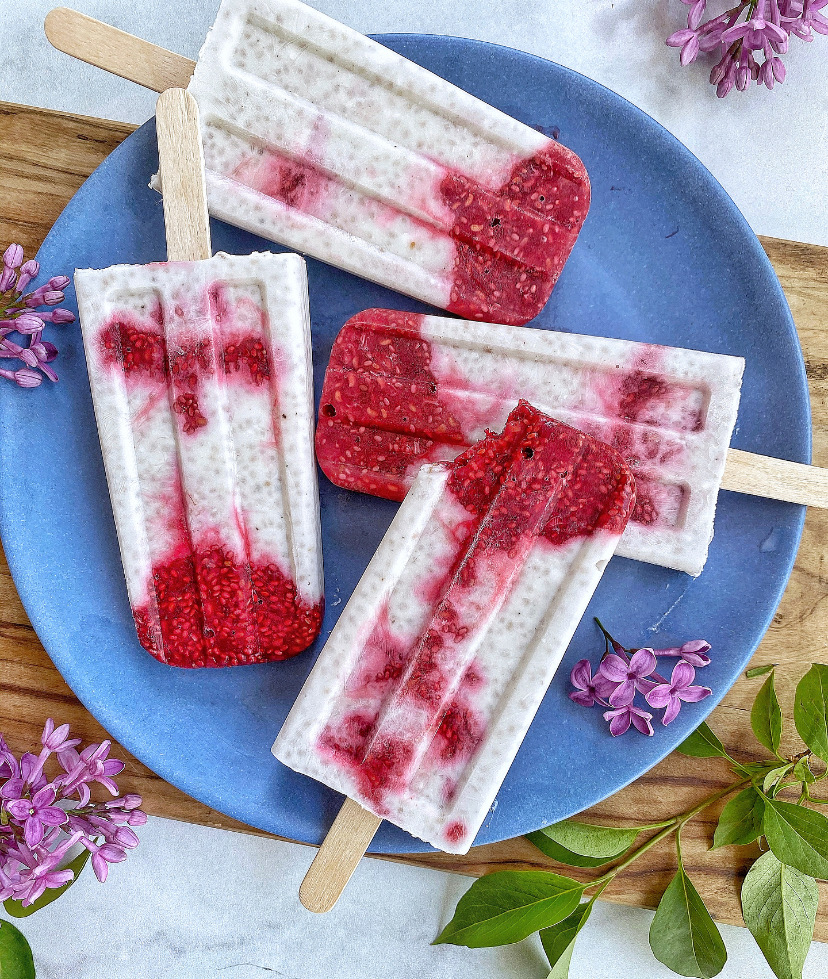 Kids in the Kitchen: Raspberry Swirl Chia Pudding Pops
Squish! Kids can help mash the raspberries with a fork. Just make sure you use a big enough bowl so the mixture doesn't go all over the place.
Measure. This recipe only has a few ingredients so it's a great one to make with kids. Chia seeds can be tricky and are not fun to spill, so just be sure that you either measure them into a bowl first or measure over a larger bowl.
Mix. Use a large liquid measuring cup or a bowl with a spout to stir the pudding ingredients together. This will make it easier to pour into the molds. However, you can always use a spoon or funnel too.
Layer the pops. This is fun but a little messy. Kids can help spoon in the raspberry sauce then pour in the pudding.
Subs and Tips:
Raspberries: You can use either fresh or frozen raspberries for these popsicles. If using frozen raspberries, defrost them first (you can warm them in the microwave to speed up this process). If you have fresh raspberries, making this recipe is a great way to use up any fruit that may be a little squishy or past their prime.
Popsicle Molds: I have a few different molds and I love using them all for different size and shape popsicles. Check out the 'frozen treats' section in my Amazon store for the molds I used to make the popsicles in the pictures in this post and lots more. (affiliate link above)
Coconut milk: I haven't tried any other kinds of milk to make this recipe. However, I think "light" canned coconut milk would still work well.
Chocolate lover? Melt some chocolate and drizzle it over the frozen pops. So Yummy!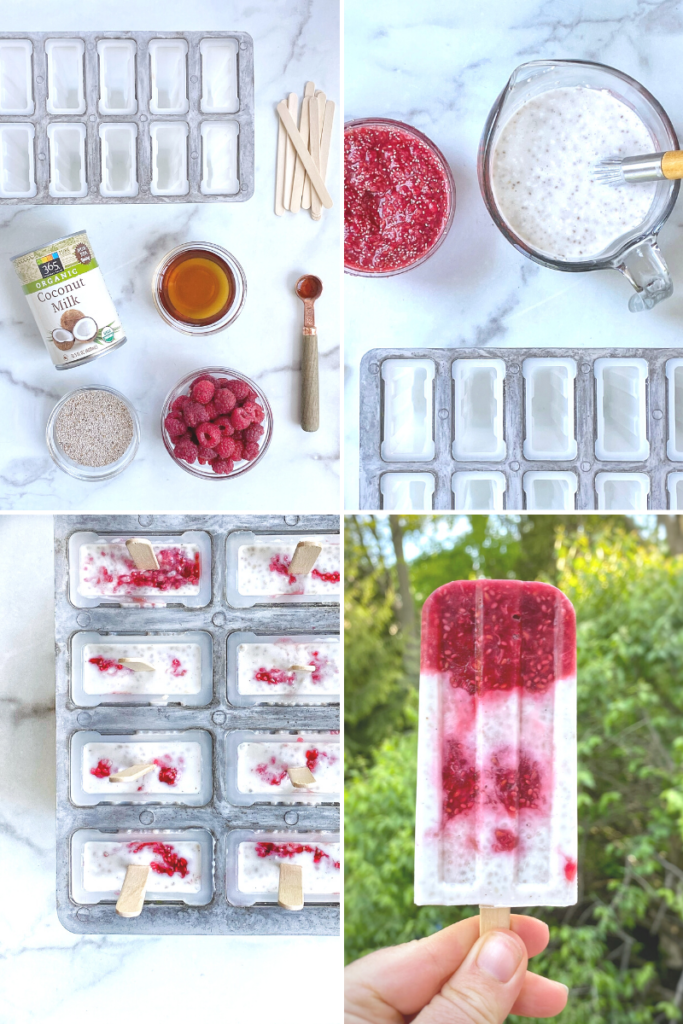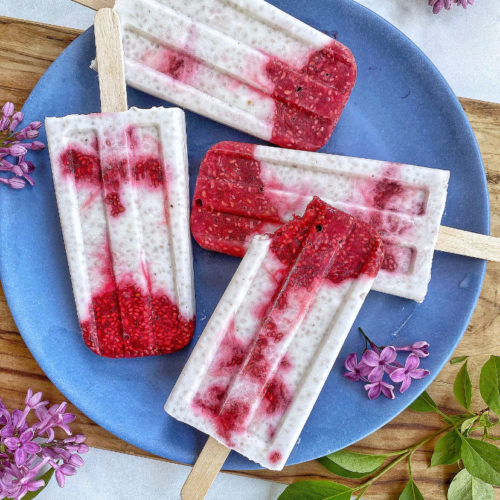 Raspberry Swirl Chia Pudding Pops
Dairy-free, low sugar frozen treat.
Ingredients
1

can

full fat coconut milk

14 fl-oz

5

Tbsp

chia seeds, divided

5

Tbsp

maple syrup, divided

1

tsp

vanilla extract

1

1/2-pint

fresh raspberries

or 1 cup frozen raspberries, defrosted
Instructions
In a large liquid measuring cup or bowl, whisk coconut milk, 4 Tbsp of maple syrup, 4 Tbsp of chia seeds, and vanilla until well combined. Set aside for 15 to 20 minutes to thicken.

In a medium bowl, mash raspberries until well broken down. Stir in remaining tablespoon of chia seeds and remaining tablespoon of maple syrup.

To make popsicles, add one small spoon in the bottom of each mold. Add some of the coconut milk chia pudding on top then continue to layer the raspberry and chia pudding as you'd like. Freeze pops until solid, at least a few hours or overnight depending on the size of your molds. Run very hot water over your pop molds to help remove the pops. Enjoy!
Melt some chocolate and drizzle it over the frozen pops. Yum!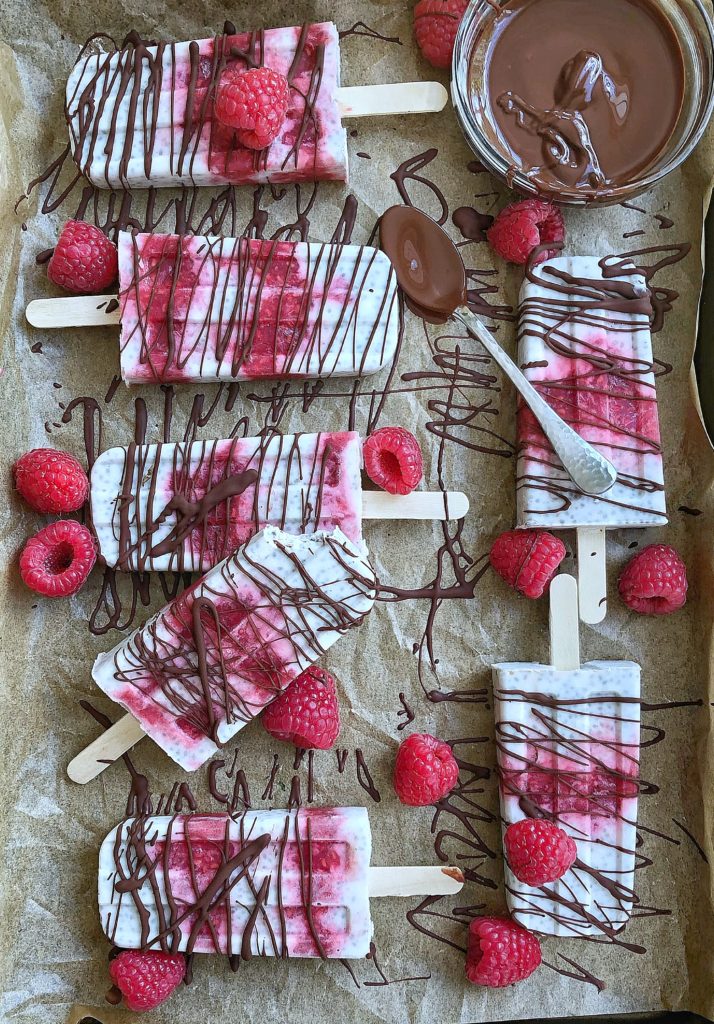 Save to Pinterest!!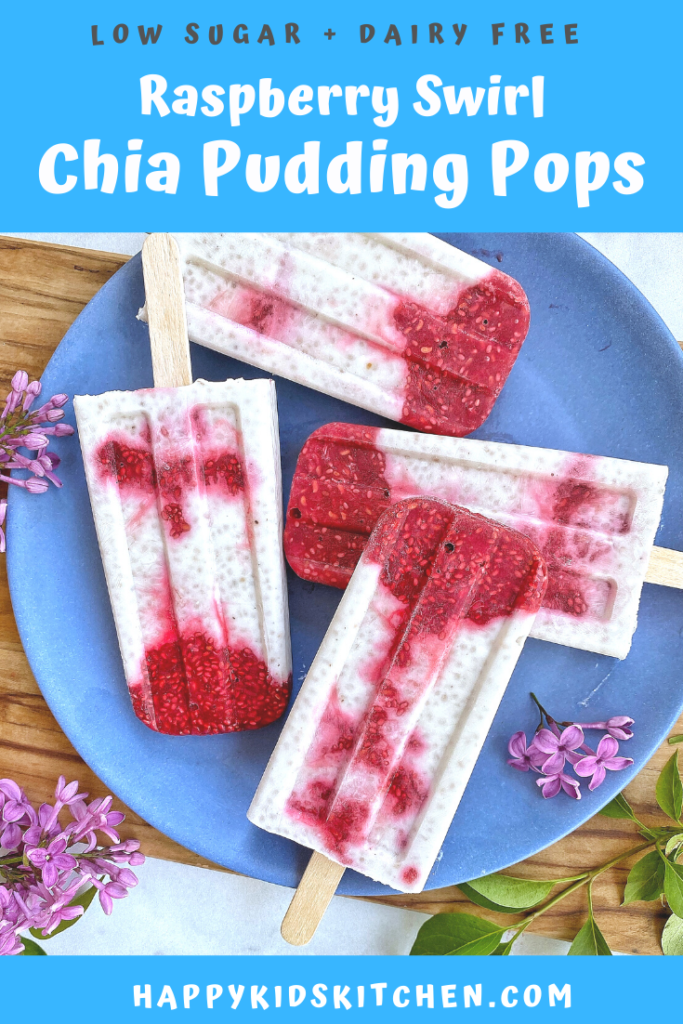 Want more easy frozen treat recipes??
Check out my blog post 8 Healthy Homemade Popsicles
Other Healthy Desserts:
Chocolate Chip Zucchini Bread Bars