Healthy Tropical Creamsicles (with Veggies!)
I have an obsession with making popsicles at home. It's so easy and you can control the quality of ingredients going into your frozen treats. These Healthy Tropical Creamsicles have that classic orange and vanilla flavor combo of a creamsicle but with a tropical twist from some pineapple and creamy coconut. (If you're not a coconut fan, yogurt is great in there too.) Plus, I blended in some carrot and cauliflower to give these pops a veggie boost. I promise you can't taste the veggies at all, but it's important that kids help add them or at least know they are there. (Read more about this below.) Sweet and refreshing, these popsicles are the perfect summer snack or treat for toddlers, kids, and adults.
My recommendations for popsicle molds and tips for making the best frozen treats at home are in this blog post: 10 Healthy Homemade Popsicles for Kids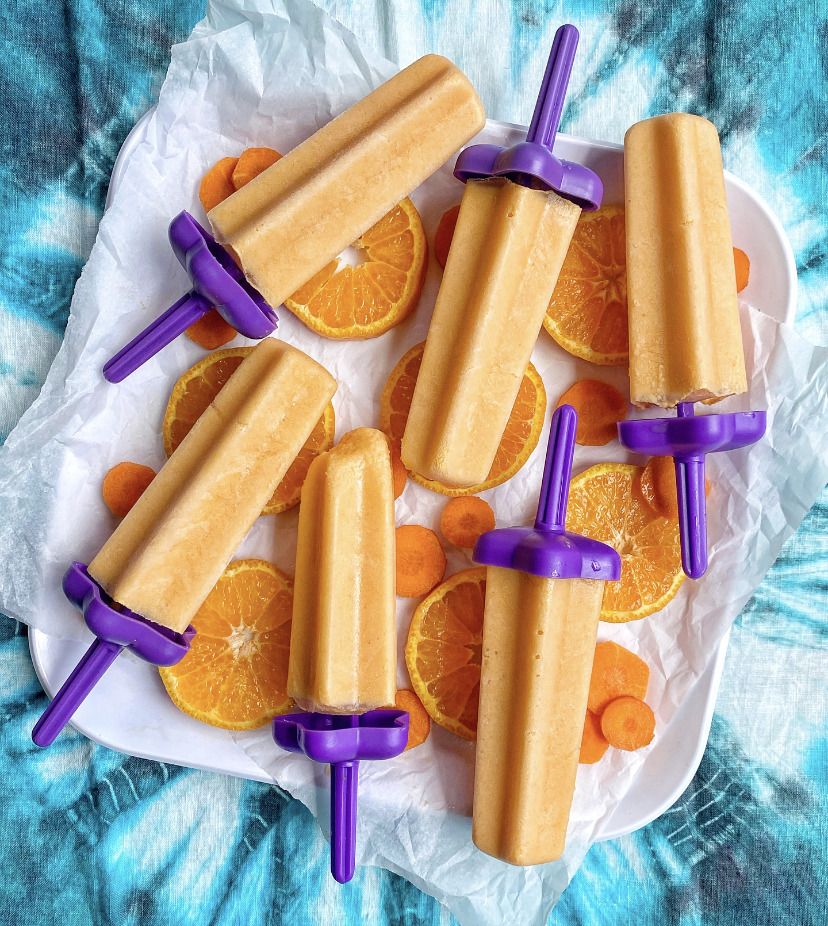 Why add veggies to frozen treats and other desserts? It's all about exposure or as I like to say, "making friends with your veggies." That means, by your child liking a dessert that has carrots in it, she might be more likely to try and enjoy carrots in other ways in the future. Also, although there isn't a huge serving a veggies in each popsicle or whatever dessert you may be making, I think every little bit counts towards having an overall balanced diet throughout the day.
Kids in the Kitchen: Healthy Tropical Creamsicles
Prep the carrot! This is a chance to expose kids to carrots in a fun and appealing way. Make sure your child has an opportunity to peel the carrot, chop it, or add it to the blender.
Measure and add ingredients. You can measure some ingredients ahead or do it together. Either way, adding everything to the blender is an easy way for kids to help.
Blend! Take this opportunity to explain how to use a blender safely: never put your hands inside the blender, always make sure the lid is on tight, and never push any buttons without asking a grown-up for permission.
Pour…carefully! It can be tricky to fill a popsicle mold without making a huge mess, so you may want to hold the blender together or transfer the mixture to a small container with a spout.
Subs and Tips:
Not a coconut fan? You can use yogurt for a creamy element in your popsicles instead. Details in the recipe card below.
Level of sweetness? There is only one teaspoon of honey (or other sweetener) in this recipe but you can leave it out completely if you feel like the fruit will be sweet enough for your family. Make sure to taste the mixture before you freeze it to see if you want to add any additional sweetness.
Every get air bubbles in your homemade popsicles? make sure to tap them a few times on the counter before freezer. This will help release any air bubbles trapped in the liquid.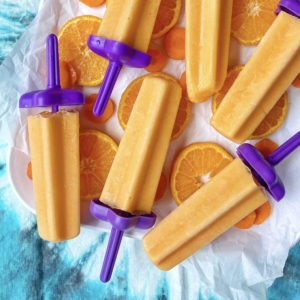 Healthy Tropical Creamsicles
Refreshing pops with tropical and vanilla flavors plus added veggies.
Ingredients
1

small carrot, peeled and diced

about 1/3 cup diced

1

celementine or small orange

peeled

1

heaping cup

frozen pineapple chunks

or frozen mango

1/2

cup

frozen cauliflower "rice"

1

can

coconut milk

or 3/4 cup full-fat plain yogurt

1

tsp

honey or maple syrup

1

tsp

vanilla extract
Instructions
Add diced carrot, peeled tangerine/orange, pineapple, cauliflower, 1/2 cup of the coconut cream (the solid part at the top of the can) plus a 1/4 cup of the liquid in the can, honey, and vanilla to a blender.

Blend until very smooth. Pour into popsicle molds.

Freeze until solid. Enjoy!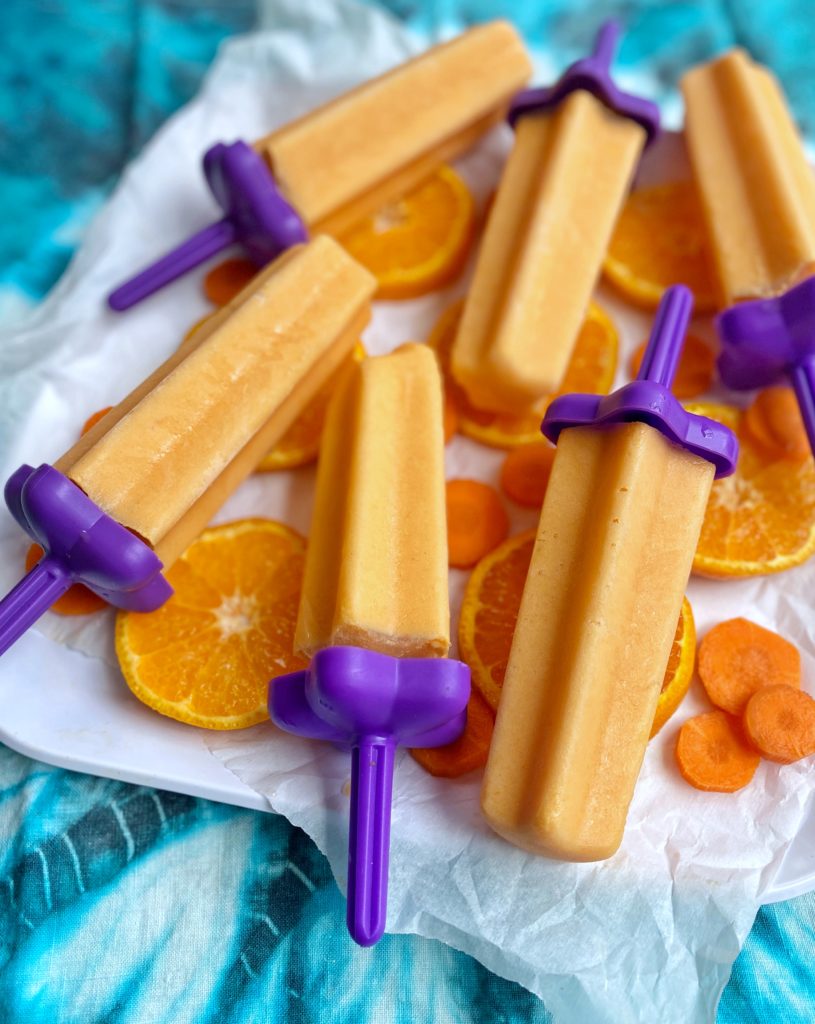 Save to Pinterest!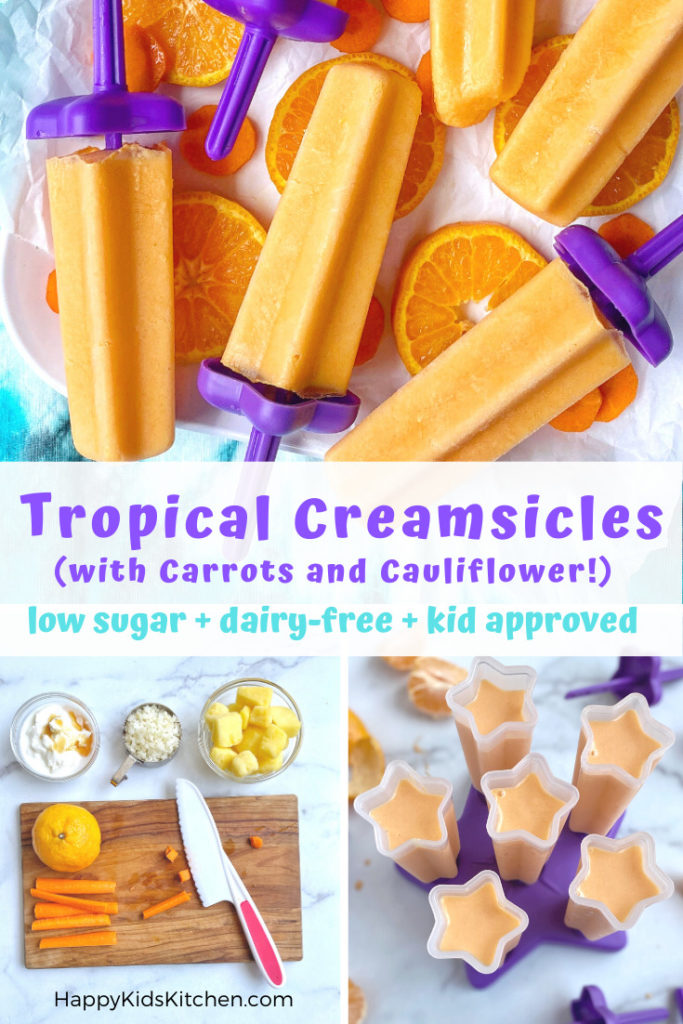 Other posts to check out:
10 Healthy Homemade Popsicles for Kids