Baked Spaghetti Cups (with Veggies!)
Baked Spaghetti Cups are a fun, healthy, and easy weeknight meal the whole family with love. Even better, it's the perfect recipe to make with little helpers. My 4 year old, Henry, pretty much makes this whole dish from start to finish on his own. It's one of his favorite dinners to make and eat! You can customize your spaghetti cups with whatever veggies or add-ins your family enjoys. Baked Spaghetti Cups are also great to make ahead and warm up as a quick meal or pack-up in a lunch box to-go. Kids will think it's so fun to eat the hand-held spaghetti, but the cups are also just as easy to eat with a fork. I think the recipe is a "win" all around, but I would love to know what you think! Come find me on Instagram or comment below if you give these spaghetti cups a try!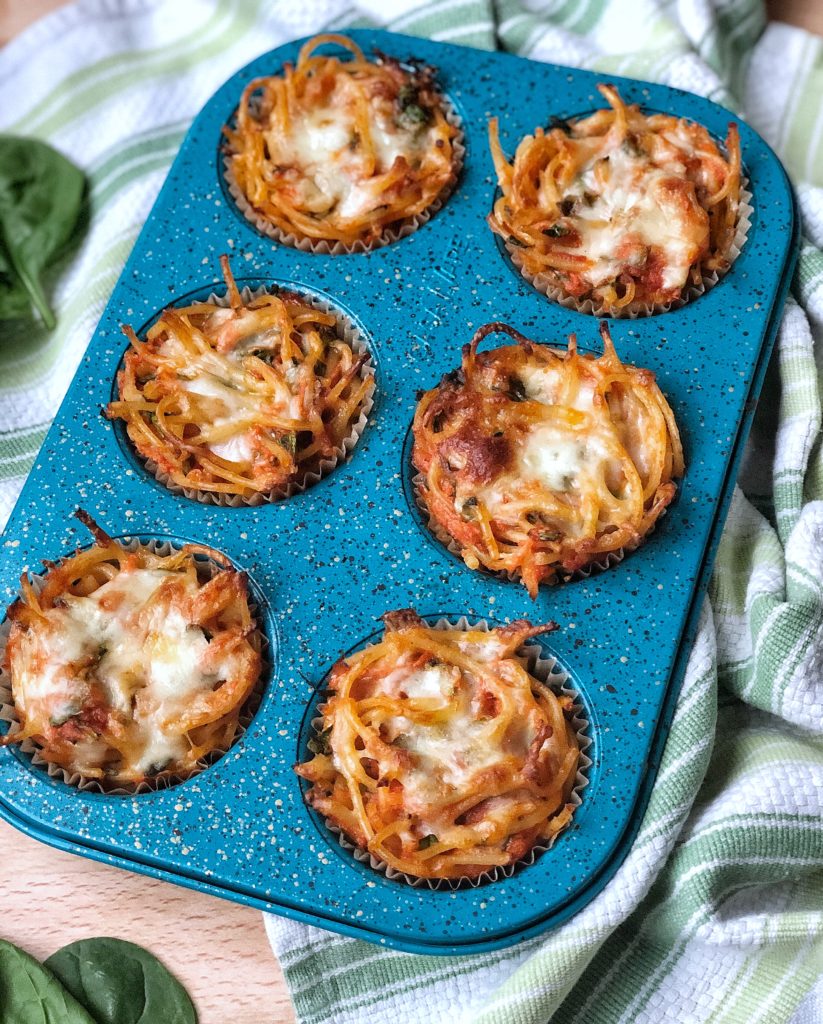 Substitutions and Add-in Suggestions for Baked Spaghetti Cups:
Veggies! We like to use shredded raw carrot and finely chopped spinach in this recipe, but you can really add in any cooked or raw vegetables that you like. Chopped broccoli, bell peppers, defrosted chopped spinach, peas…the possabilies are endless!
Have some leftover meat? Ground turkey, shredded chicken, or diced ham would all work well mixed into the spaghetti.
Dairy-free? Feel free to use a dairy-free shredded cheese or leave out the cheese completely. As long as the egg is in the mix, the cups will hold together when baked. Unfortunately, I have not tested an egg-free version on this recipe, and can't suggest one that would work.
Spaghetti: I have made this recipe with all kinds of spaghetti, even the Banza chickpea based pasta worked well (and adds lots of plant-based protein!). Depending on your package size, just eyeball about 6-ounces of spaghetti to get the right amount to fill 12 cups. But it's always ok if you have a little bit extra and make a few more cups with it.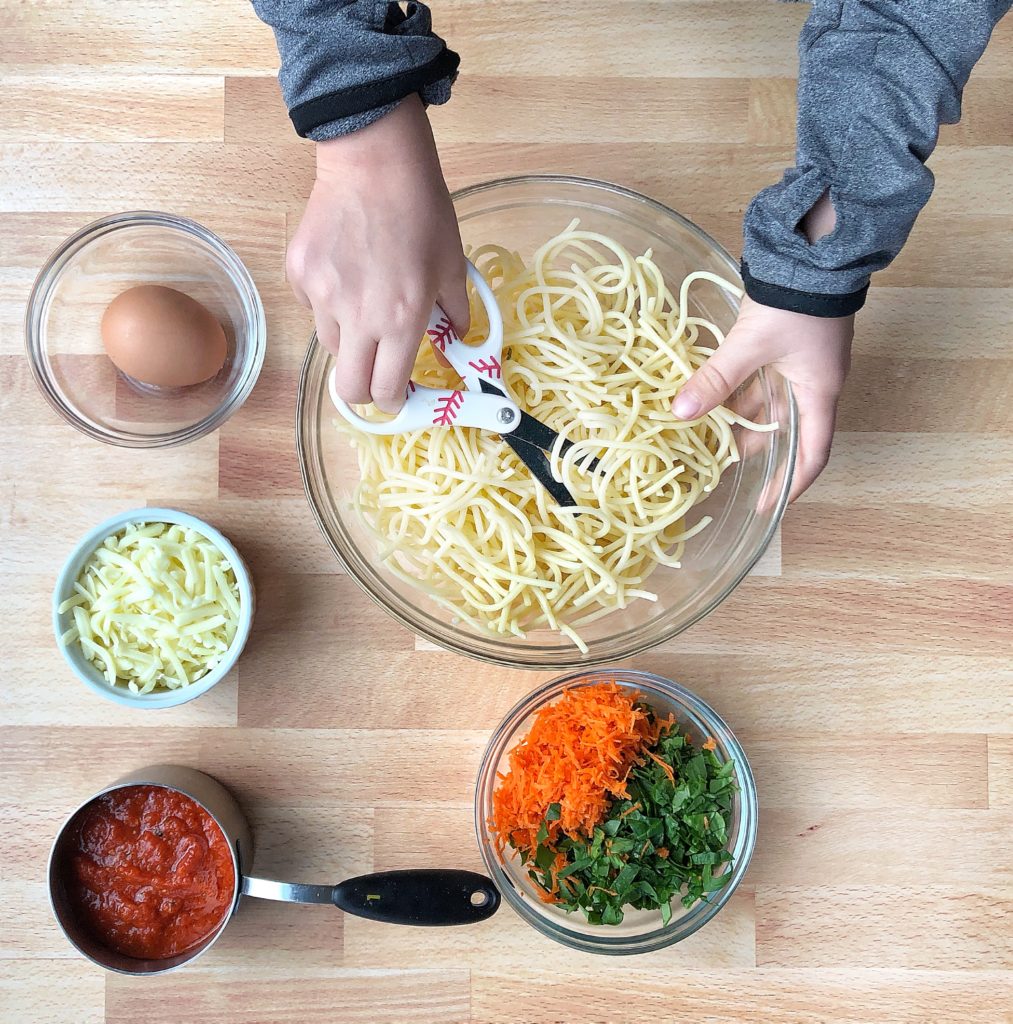 Scissors in the kitchen! And other ways kids can help make Baked Spaghetti Cups:
Wash some kid-safe scissors and have your child snip the cooked spaghetti into smaller pieces. Cutting the spaghetti makes it easier to fit into the muffin cups, but as long as you broke the spaghetti before putting in pot, it doesn't really matter if all the spaghetti cut in a uniform way. Having your child cut the spaghetti with scissors is just a fun and novel cooking activity to get little helpers excited about making this dish. Plus, it's a great sensory and fine motor activity for little hands.
Have everything out and ready to dump into the cooked spaghetti. If you have your child help crack the eggs for the recipe, make sure to crack them into a small, separate bowl so you can easily remove any pieces of shell.
Mix and fill the cups. This will get messy, but kids can use their hands to scoop up the spaghetti and place it in the cups. Have a dish towel near by to wipe hands and remind your child that she can always wash her hands right after.
Prevent a sticky situation: Helpful Equipment
Spaghetti, eggs, and cheese are all foods that act like "glue" which is good for creating cups of delicious pasta but make it hard to get out of a muffin pan if not prepared properly. Here are some suggestions for preventing a sticky situation or too much pan scrubbing:
If you are using a metal muffin tin, I suggest using non-stick, parchment muffin liners (like these) or using regular paper cupcake/muffin liners and greasing them with oil (either brushing them or using an oil spray). If you don't have cupcake liners, you can grease the muffin pan really well with oil or non-stick spray. However, you may need to use a butter knife to loosen the edges of the spaghetti cups after they are cool enough to handle.
Use a silicone muffin pan like this one. You should still grease the cups with oil or non-stick spray but it will be much easier to clean than a traditional metal muffin pan.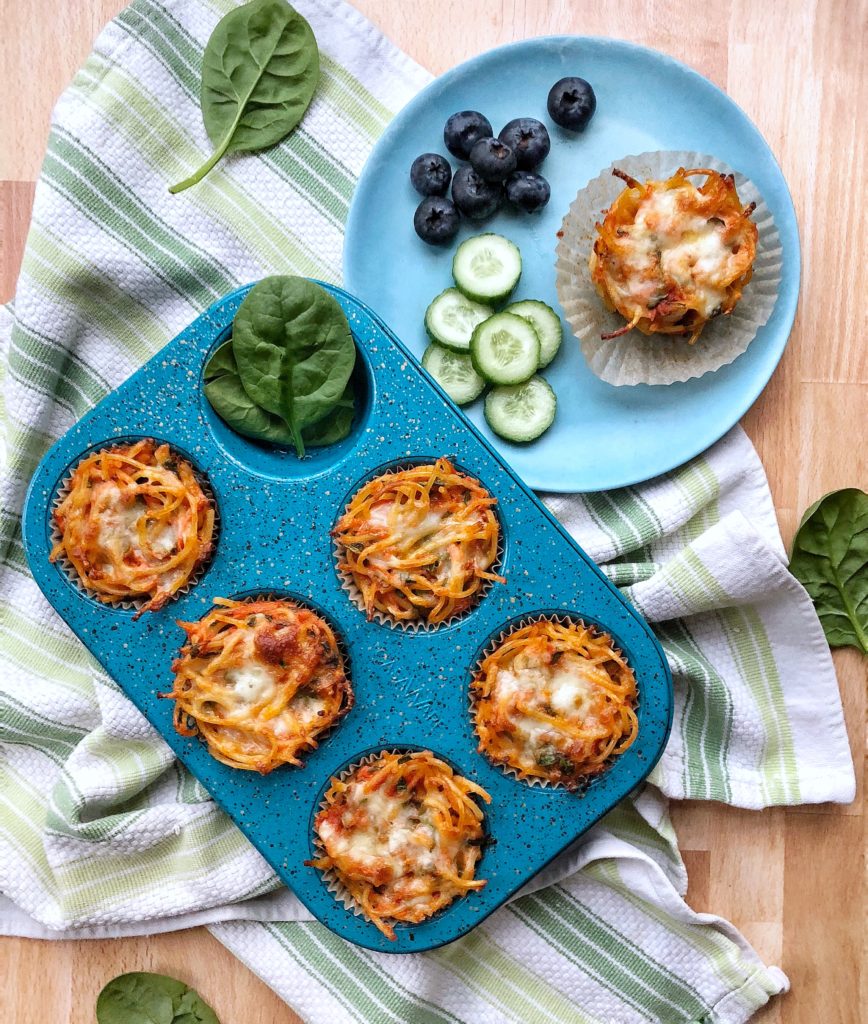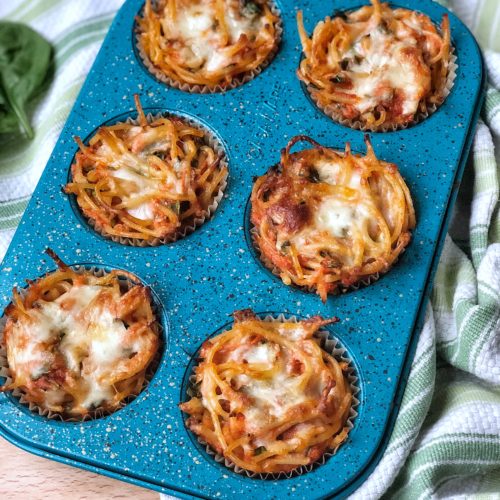 Baked Spaghetti Cups (with Veggies!)
Yummy, healthy weeknight meal perfect to cook with kids.
Ingredients
oil or non-sticky spray

for greasing pan or cups

6

ounces

spaghetti

whole wheat, gluten-free, or any kind you like

2

large

eggs

3/4

cup

marinara sauce

1

cup

baby spinach

finely chopped

1/2

cup

finely grated carrot

1

cup

grated mozzarella cheese

or non-dairy alternative

Salt and pepper

to taste
Instructions
Preheat oven to 375 degrees. Line a 12-cup muffin tin with paper liners and grease with oil or non-stick spray oil. Or use a silicone muffin pan and grease with oil or non-stick spray oil. See more detailed suggestions in post above.

 Bring a large pot of salted water to a boil. Break spaghetti into thirds a little at a time then add to the pot. Cook until "al dente" (just cooked through but not too soft) then drain and rinse with cold water.

Place drained spaghetti in a large bowl. At this point, kids can use clean siccors to cut the spaghetti into smaller peices if you'd like. Not essential, but fun! Add eggs, marinara sauce, spinach, grated carrot, and ½ cup cheese. Season with salt and pepper. Mix with tongs or a large fork until all ingredients are well combined.

 Fill prepared muffin tin with the spaghetti mixture. Press the top of each filled cup down gently then sprinkle each cup with a little of the remaining cheese.

Bake until golden brown around the edges, about 13 to 15 minutes. Set aside until cool enough to handle. Serve warm.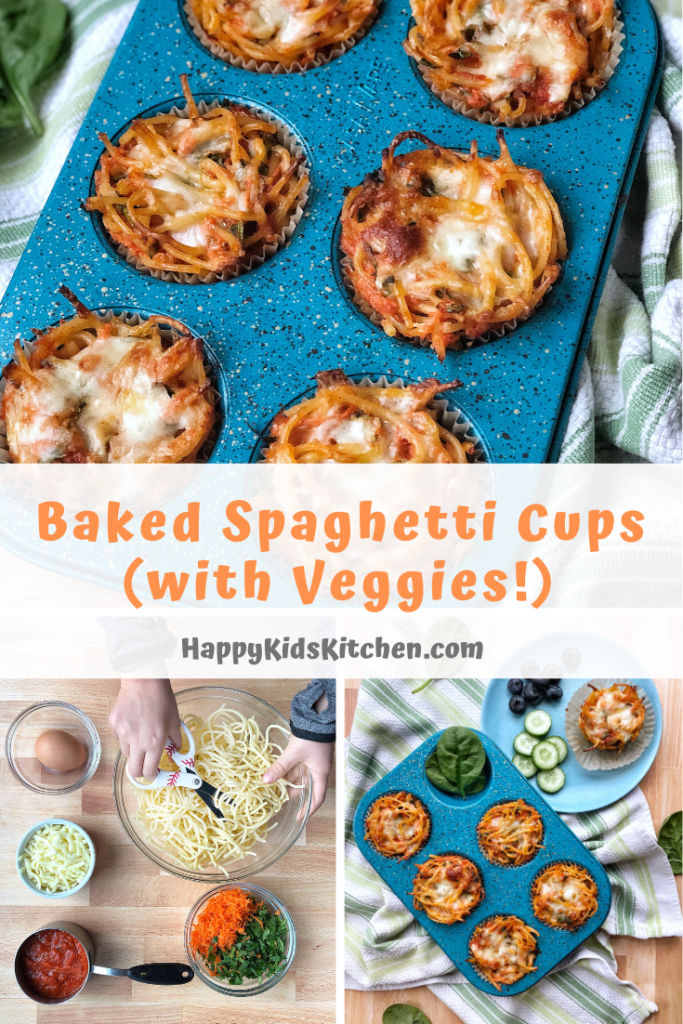 Other Recipe to Cook Together:
6 Apple Recipes to Cook with Kids
Banana-Pumpkin Blender Muffins
Butternut Squash "Fries" (Sweet or Savory)