Butternut Squash "Fries" (Sweet or Savory!)
Healthy fries?? Yes! Try this easy seasonal side-dish as a way to make squash more fun and appealing for kids (and the whole family)! These fries are so simply roasted sticks of squash with an extra flavor kick from either a sweet maple-spice seasoning or a savory garlic-Ranch mixture. I've also created recipes for matching sweet or savory yogurt dips below because we are big fans of dipping around here. Can't decide which flavor fry to make first? Try making both and having a taste-off to see which family members like sweet and who likes savory. It's the perfect easy recipe to get kids into the kitchen and make together!
Because squash has a higher water content, butternut squash fries don't get quite as crispy and crunchy as roasted white or sweet potatoes, but they are still super fun to eat fry-style. Plus, the squash sticks are great for babies (leave out the salt and added sweetener) and younger toddlers because they are so soft and easy to chew. At any age, making veggies more fun, flavorful, and easy to make together is always a win!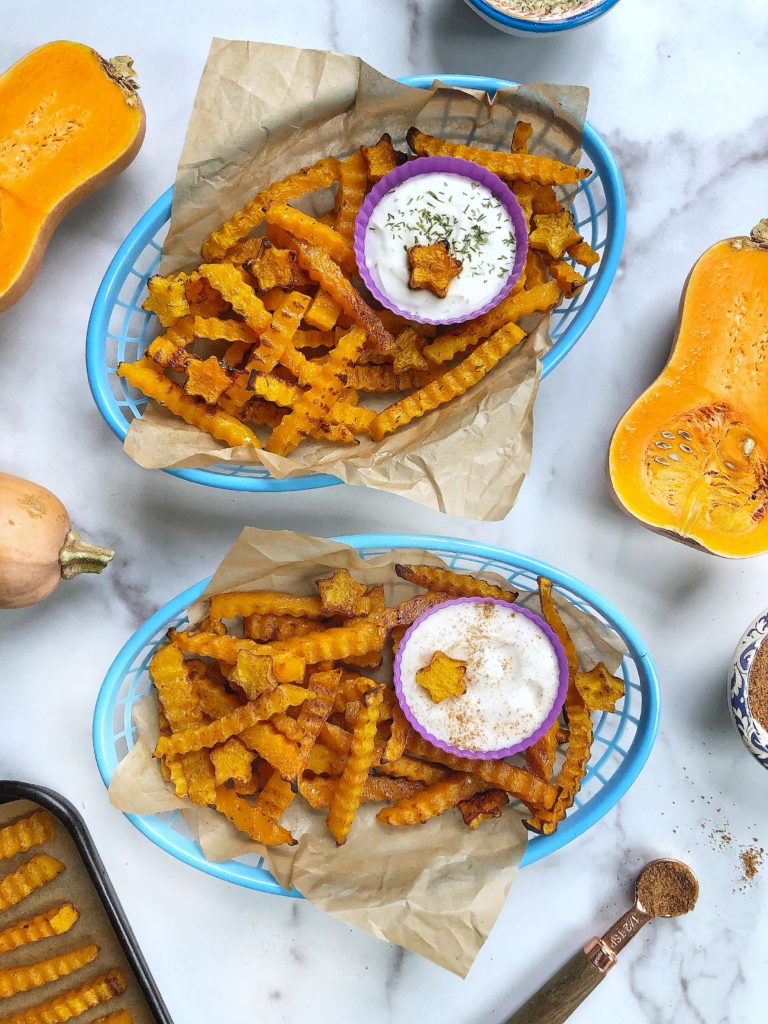 How to cut the Butternut Squash "Fries"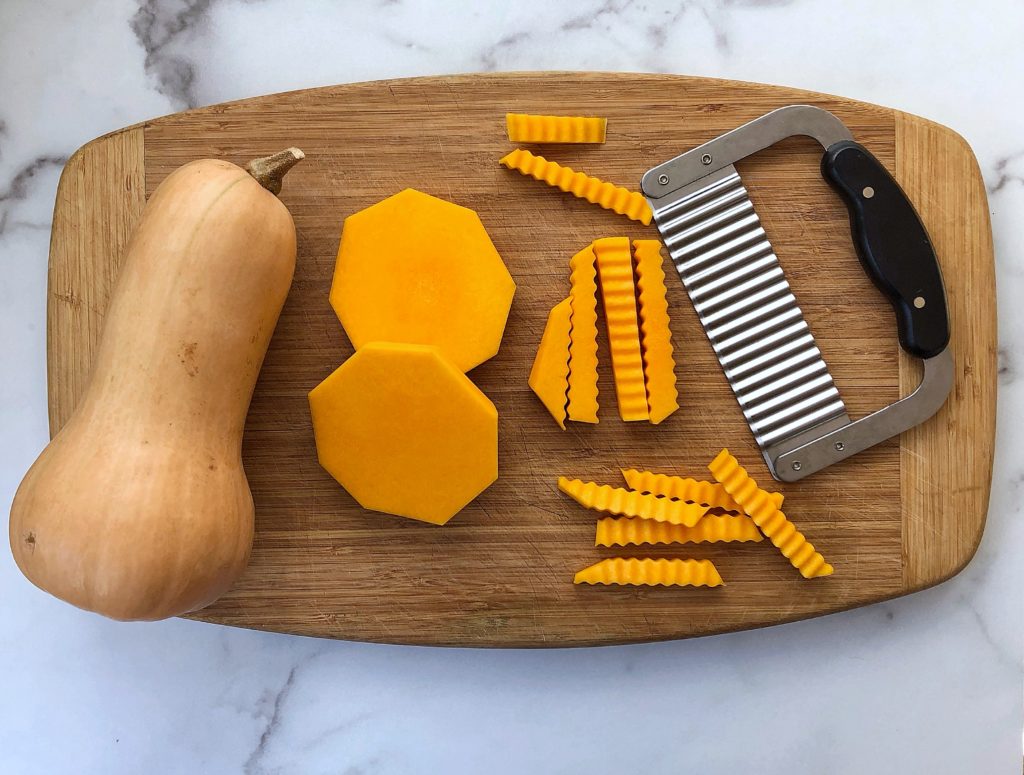 I like to use a crinkle cutter (one seen above available on Amazon here) but you can simply cut peeled squash into sticks. Also, a lot of grocery stores now carry pre-peeled squash or even pre-cut squash fries, so feel free to take those shortcuts if you want to. If buying a whole butternut squash at the store, look for one with a longer "neck" or top portion of the squash. This part without the seeds works best for cutting into even fry shapes. Use the remaining squash or any scraps from cutting to make soup or mashed squash.
More fun shapes?
Cut the squash with vegetable cutters or sturdy cookie cutters. I use these ones here. I also highly recommend non-stick, pre-cut parchment sheets to line your pans for roasting, baking, and so much more. Makes clean-up so easy. I couldn't live without them. See the kind I buy here.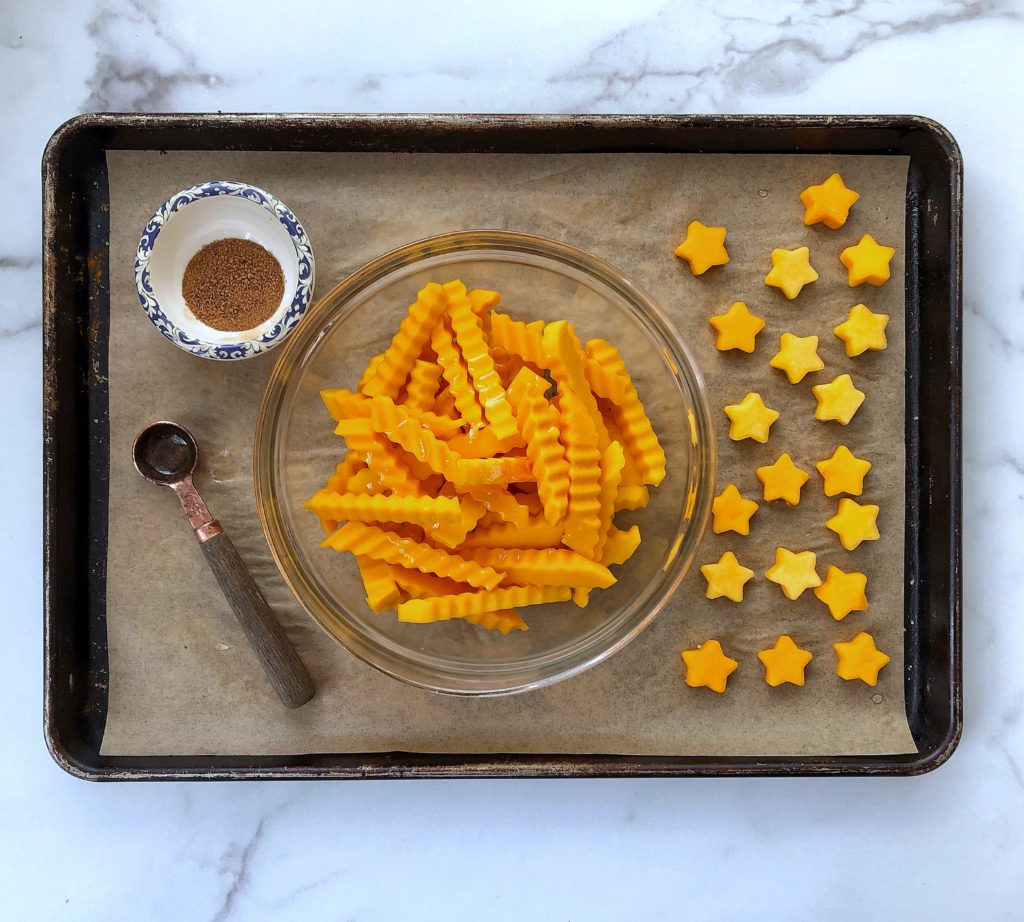 Room to Roast!
Make sure you don't over-crowd your veggies on the pan when roasting or they will steam and not brown. Having plenty of space between each of the butternut squash fries (or any shape or veggie) ensures they will get as crispy as possible.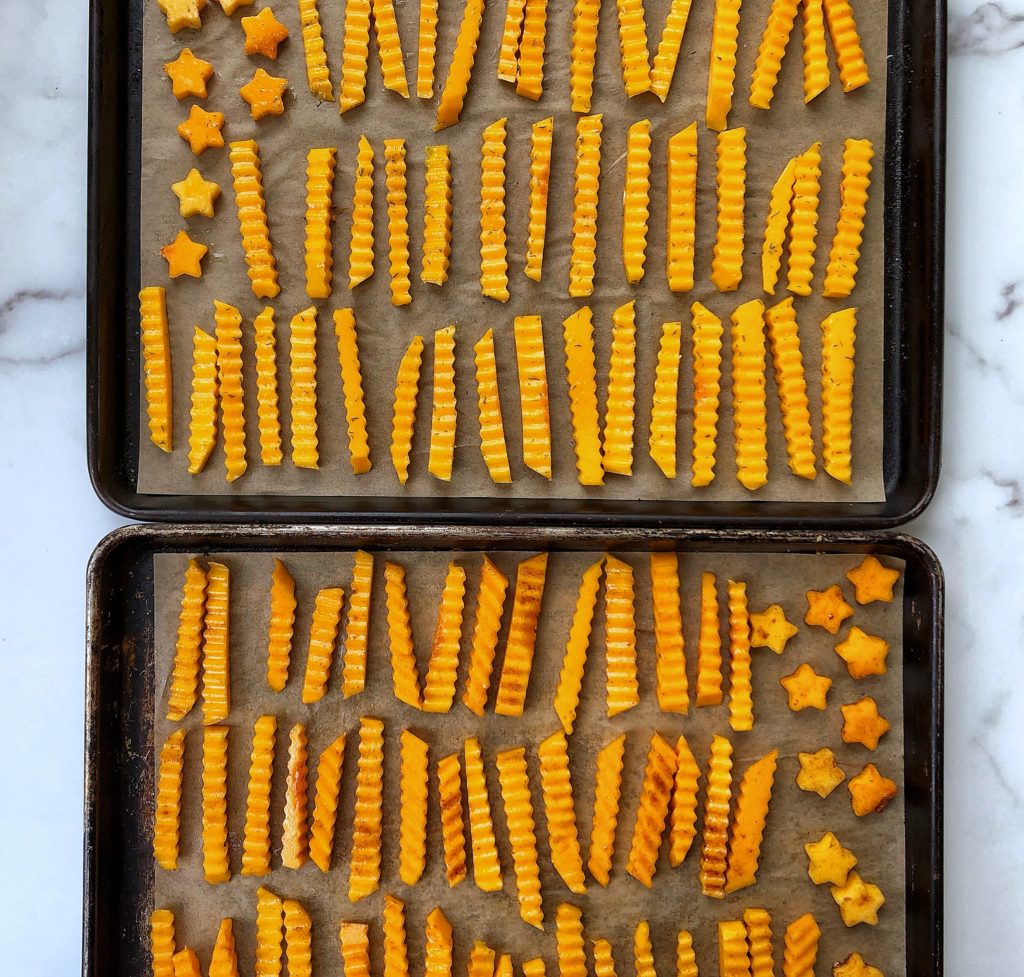 When I Dip, you Dip, we Dip!
We love taking plain Greek yogurt and adding a few ingredients to make it into a flavorful, easy dip for all kinds of cooked or raw veggies. I paired the sweet roasted Butternut Squash "fries" with a maple sweetened yogurt dip and added some of the easy ranch-style seasoning to the yogurt for the savory version. You could choose your child's favorite dip to serve with the fries or just enjoy them plain too.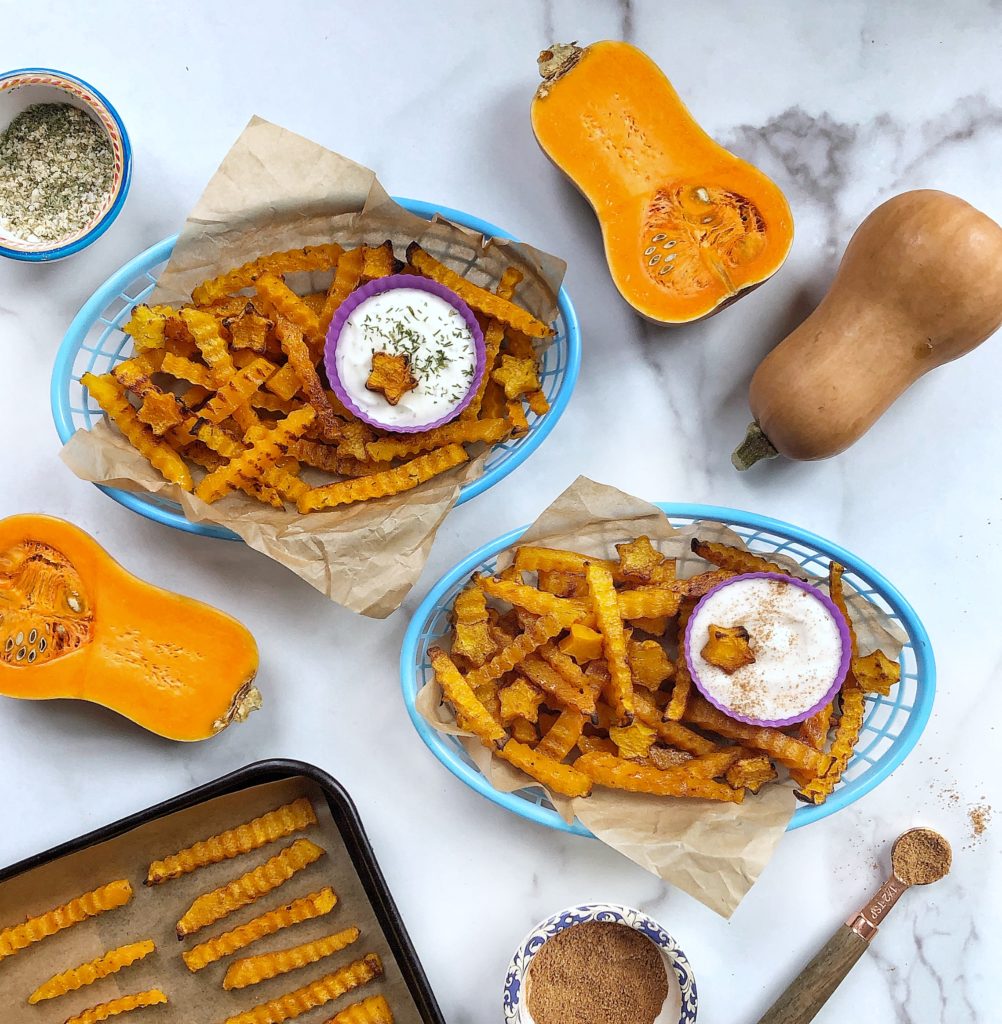 Recipe: Butternut Squash "Fries"
12 to 16 ounces peeled butternut squash (from about 1 large squash)
2 teaspoons oil (I use avocado oil)
1 teaspoon sweet or savory spice mix, see below
Sweet or Savory yogurt dip, see below
Preheat oven to 425 degrees. Line a sheet pan with parchment paper or grease with oil.
Cut squash into fry or other shapes and place in a large bowl. Add oil and toss to coat. Add seasoning mix and toss again.
Lay squash shapes out on the pan, making sure the pieces aren't touching. Roast until squash is soft and well browned, about 20 minutes. Serve warm with dip, if desired.
-Sweet seasoning: 1 teaspoon maple or coconut sugar, 1/8 teaspoon pumpkin pie spice or cinnamon, and 1/2 teaspoon coarse salt
-Savory seasoning: 1/4 teaspoon garlic powder, 1/4 teaspoon dried dill, and 1/2 teaspoon coarse salt.
Mix ingredients together in a small bowl.
-Sweet Yogurt Dip: 1 cup plain Greek yogurt (or non-dairy alternative), 2 teaspoons maple syrup, 1/8 teaspoon ground cinnamon
-Savory Yogurt Dip: 1 cup plain Greek yogurt, 1 teaspoon lemon juice, and remaining savory Ranch seasoning mix.
To make dips, stir ingredients together in a small bowl and serve with fries.
Other posts you might like:
5 Kid-Approved (and veggie loaded!) Smoothies
3 Healthy Treat Recipes with Zucchini