Looking for a fun Halloween treat that you can feel good about serving your little ones? These Spooky Frozen Fruit Pops have no added sugar at all! Simply made from fruit and yogurt, this healthy Halloween snack is easy to put together and make ahead for a party. Plus, everything is more fun on a stick, right?
There is so much natural sweetness in fruit that no additional sugar or natural sweetener is needed to make a delicious treat. Plus, fruit like banana contains lots of nutrients and fiber. For this recipes, I used banana and kiwi, but you can really freeze any kind of fruit you like on sticks. Drizzle the kebabs with yogurt and re-freeze and you've got an easy treat. Freezing fruit seems simple but it tastes really good and feels special to kids.
If you are looking for even more ideas for healthy Halloween food, be sure to check out my post Healthy Halloween Food for Kids blog post which contains lots of ideas for festive breakfasts, snacks, and main meals. Fun food can definitely be healthy and easy to make!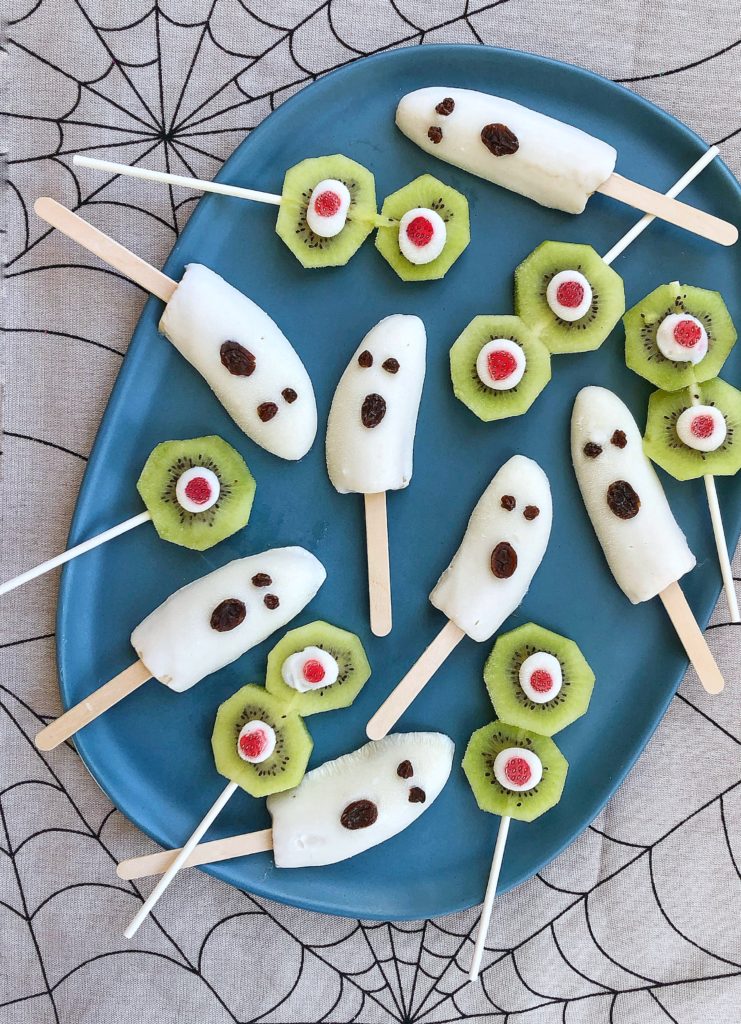 Supplies for Spooky Frozen Fruit Pops
-Popsicle Sticks: you can find wooden popsicle sticks at a craft store, dollar store, or online. I usually buy mine on Amazon. These type of sticks work best for the bananas and don't slip out as easily as
-Lollipop sticks: the thin paper sticks tend to work better to skewer softer fruit like the kiwi. You can buy them at craft stores or online. I use these ones by Wilton.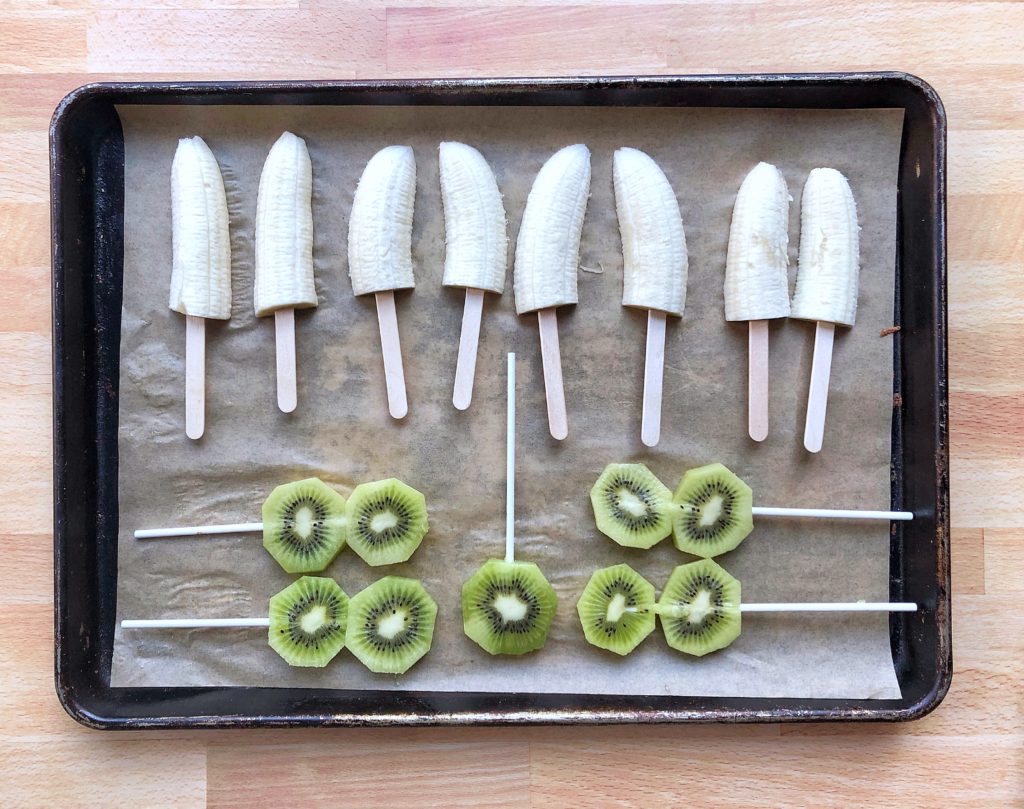 Tips for making Spooky Frozen Fruit Pops
Use slightly under-ripe bananas. Fruit placed on a stick can't be soft and mushy or it will fall off. I tend to use banana that have just turned yellow or still have a tiny bit of green to them.
Freeze the fruit the night before. The pops should be fully frozen before dipping so they stay on the sticks and the yogurt coating will stick immediately.
Get yogurt to the right consistency. You want the yogurt for dipping to be thick but still easy to dip a piece of fruit into. If using Greek yogurt, you will want to thin it out by stirring in a couple tablespoons of milk at a time until you get a smooth consistency.
Use a tall glass. Add yogurt to a tall, slender glass. This will make dipping the bananas so much easier.
Cover the bananas but don't use too much yogurt. Let the excess yogurt drip off the banana and back into the glass after dipping and wipe excess yogurt from the back of the banana on the side of the glass before placing it back onto the baking sheet.
Want more no-added-sugar recipes? Check out my ebook No Sugar Still Sweet which contains 22 breakfast, snack, and dessert recipes only sweetened with fruit.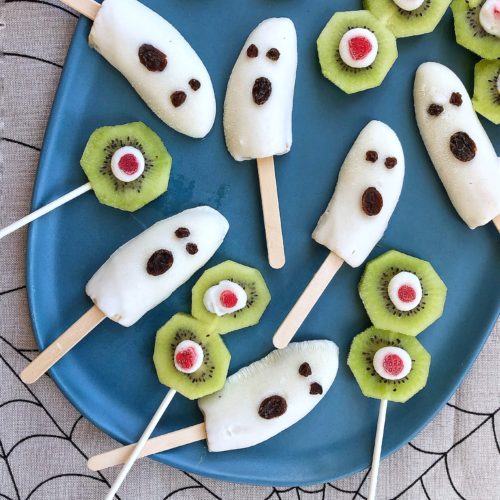 Spooky Frozen Fruit Pops
Healthy, no added sugar treat to celebrate Halloween.
Ingredients
4

bananas

not too ripe

3

kiwi

firm

1

cup

plain, unsweetened yogurt

or non-dairy alternative

16 to 20

raisins

3 to 4

strawberries

washed and dried
Instructions
Each banana will turn into 4 pops. Cut a banana across the middle in half (not lengthwise). Place two popsicle sticks into the banana then cut the banana in half lengthwise. Repeat with the other half of the banana then with the remaining bananas. Place the banana pops on a parchment lined baking sheet or plate that fill fit into your freezer.

Peel kiwi and slice into four thick rounds. Place on lolipop sticks or wooden skewers. Place on baking sheet or plate with bananas and freeze at least 2 hours or overnight.

While fruit is in the freezer, repare decorations. Each banana will need 2 raisins to make the ghost face. Press one whole raisin between your fingers to make the mouth. Cut a large raisin in half or use 2 smaller raisins and roll into balls to be the eyes. For strawberry eyes, slice a strawberry in half and lay flat on a surface. Use a small cookie cutter, tip of a pastry tip, or a pairing knife to cut small circles. Set aside.

Place yogurt in a tall glass and thin out with milk if necessary. Yogurt should coat a spoon easily. Remove fruit from freezer and dip the bananas into the yogurt, allowing excess to drip off then gently scrape the flat back of the banana on the edge of the cup to remove excess. Place back on the baking sheet. Place rasins on immediately to create a mouth and eyes.

Add a small dollop of yogurt onto the center of each kiwi slice then place the strawberry circle on top of that. Return the pan to the freezer and freeze pops for at least 30 minutes to harden the yogurt coating. Store pops in an airtight container in the freezer for up to a month.