Easy, homemade hummus with a seasonal, veggie-packed spin. Roasted Squash Hummus is a creamy plant based, vegan dip that's also totally kid-approved. This would be a great snack or appetizer for a Halloween gathering, Thanksgiving, or any family event. Hummus is so simple to make from scratch and it tastes 100 percent better than the store-bought tub. Roasting the squash and garlic adds so much flavor without much effort at all. Serve with your favorite dippers, some crackers, and crunch veggies.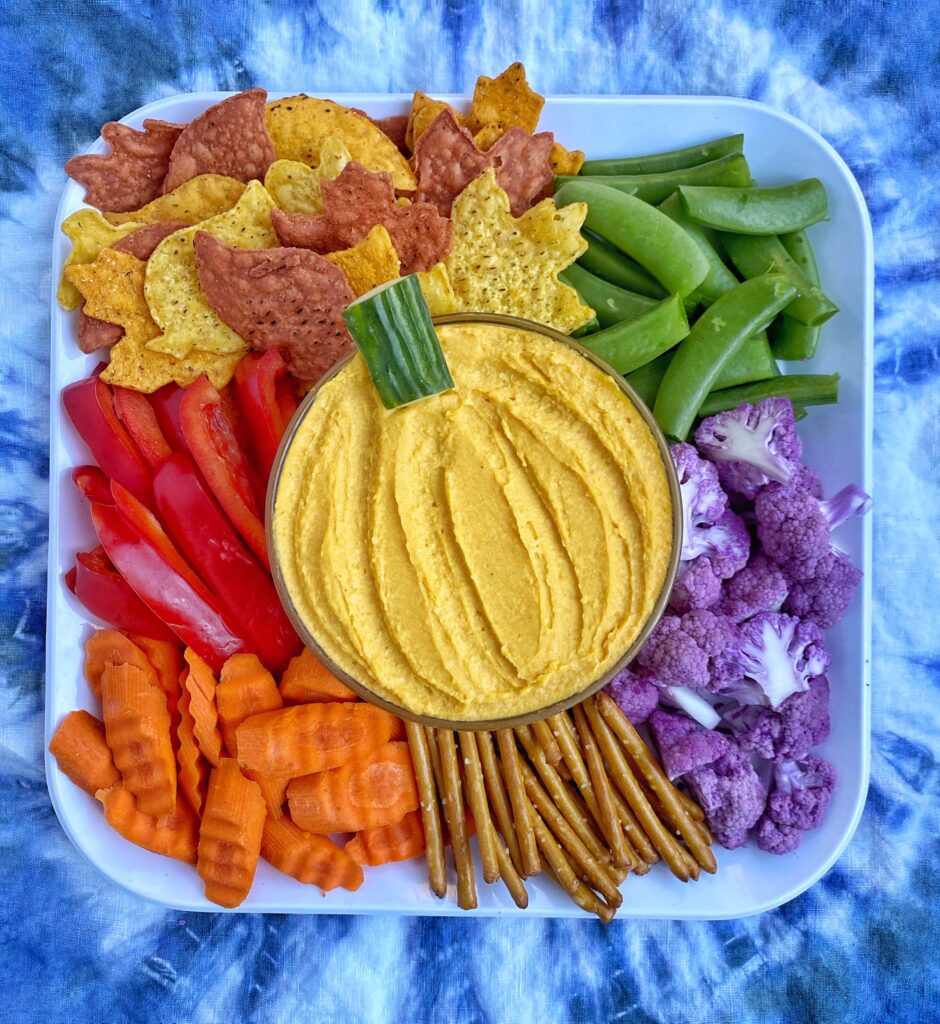 Kids in the Kitchen:
Chop the squash: if you cut the squash into stick shaped pieces, it will be easy for kids to chop through into a dice. Kids can then help toss the squash with oil and salt to get it ready to roast in the oven. If you want more info on teaching kids to use a knife check out my blog post, Teaching Knife Skills to Toddlers and Kids.
Rinse the chickpeas: let kids dump the can of beans into a strainer and then run them under some water to give them a rinse. Place a towel underneath to catch any excess water.
Add ingredients: Have your child add everything to the food processor or blender. Explain that we never put our hands inside because of the sharp blade, but we can add ingredients into the top.
Buttons!: What kiddo doesn't like the opportunity to work the on switch or press the power button? Just make sure the top is not tight!
Serve: Let kids choose what veggies, chips, pretzels, or other dippers to serve with the hummus. What other ways do you enjoy hummus? It's great on toast or on a sandwich too.
Subs and Tips for Making Roasted Squash Hummus:
Beans: don't have chickpeas? You can use any kind of white beans instead. If you cook your own chickpeas or beans from scratch, use about 2 cups of beans for this recipe.
Other veggies: any kind of winter squash would work well here. Also, I've roasted carrots and blended them in and it's so delicious!
Tahini: don't love sesame paste or have an allergy in your family? Feel free to leave it out and just use a couple more tablespoons of olive oil instead.
Seasonings: this dish can be taken in so many flavor directions: use a little cumin, turmeric, or curry powder. Add some dried or fresh herbs like a little sage or rosemary for a holiday feel.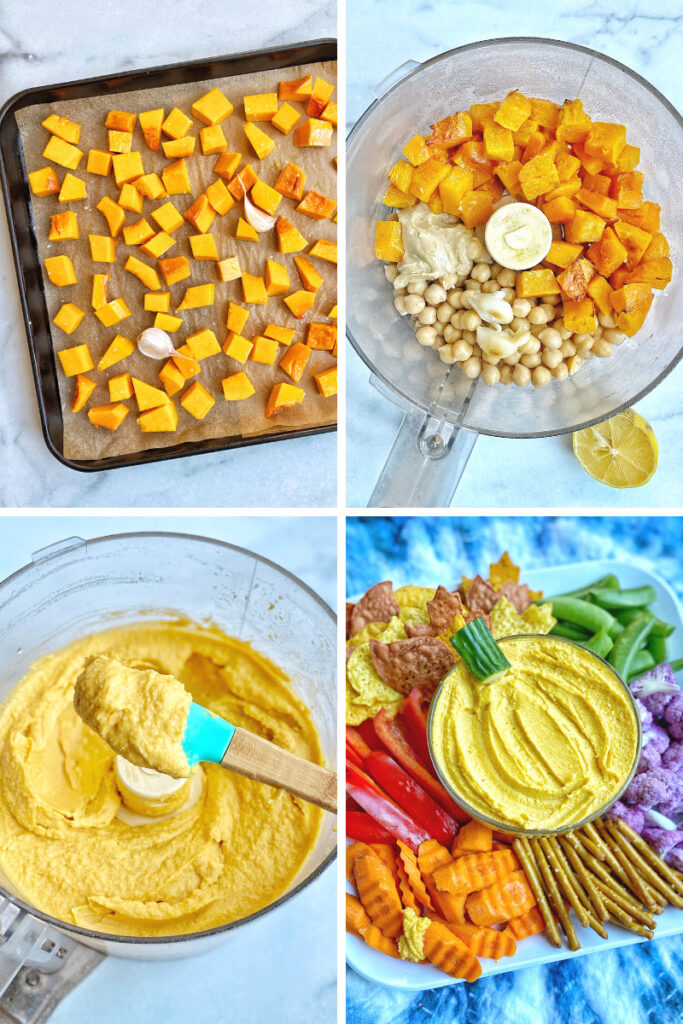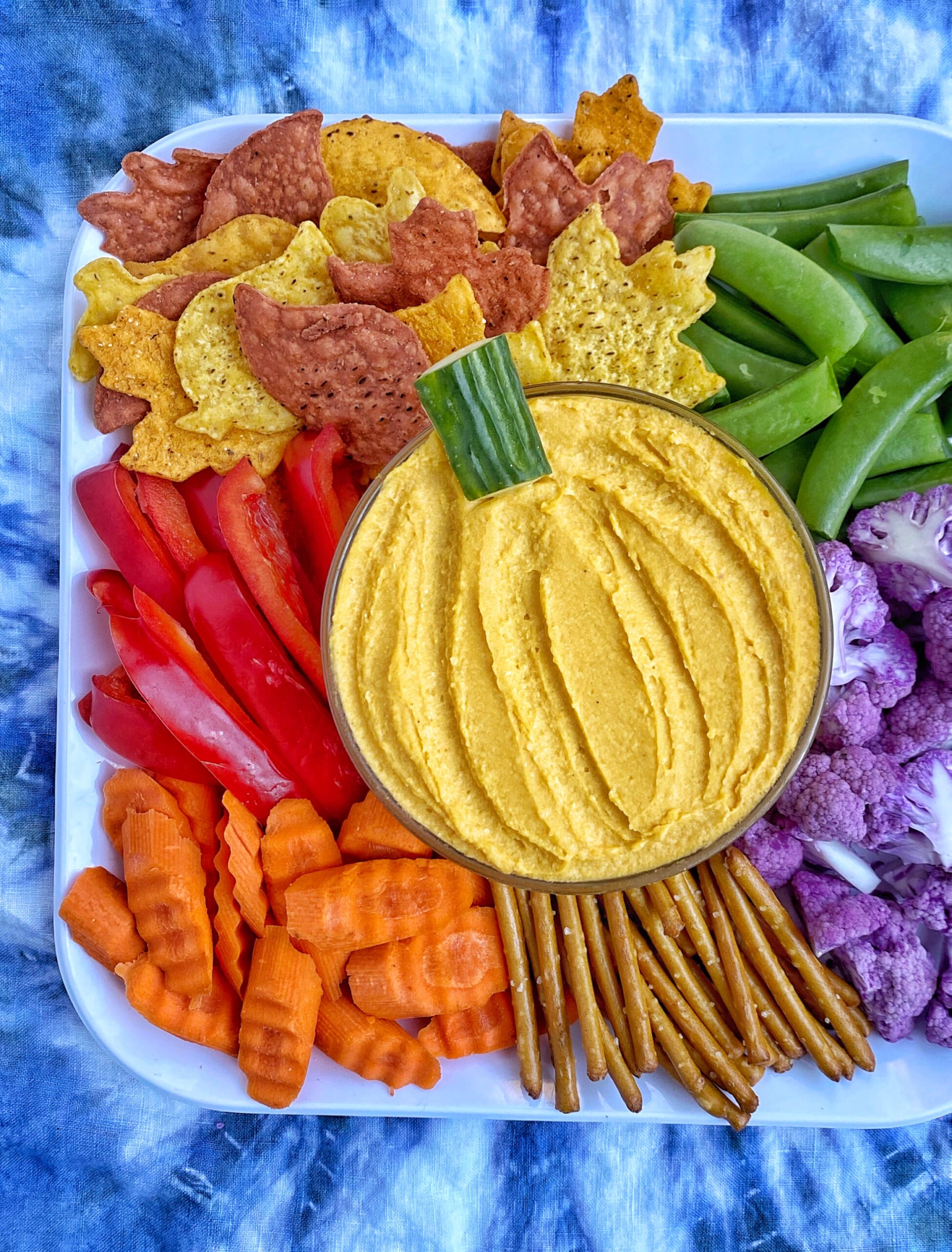 Roasted Squash Hummus
A seasonal spin on easy, homemade hummus.
Equipment
Food processor or blender
Ingredients
12

ounces

peeled butternut squash, cut into 1/2-inch dice

1/4

cup

extra-virgin olive oil, divided

2 to 3

whole garlic cloves, skin on or off

1

tsp

kosher or sea salt

1

15-ounce can

chickpeas, drained and rinsed

3

Tbsp

tahini

3

Tbsp

fresh lemon juice

1/2

cup

water

freshly ground black pepper
Instructions
Preheat oven to 425 degrees. Place diced squash and garlic cloves on a baking sheet. Drizzle with 2 teaspoons of olive oil and a big pinch of salt then toss to coat. Spread out on the pan so the pieces aren't touching. Roast until squash is tender and golden brown around the edge, 15 to 20 minutes. Set aside to cool slightly.

Once cool enough to handle, remove the skin from the roasted garlic. Add garlic, roasted squash, chickpeas, remaining oil, lemon juice, salt, a 1/4 cup of water, and several grind of black pepper to a food processor bowl.

Blend until smooth, stopping several times to scrape the sides and test the consistency. Add more water as needed to get a creamy texture. Taste and adjust seasoning, adding more salt and/or lemon juice as needed. Serve as a dip or sandwich spread. Refrigerate for up to a week.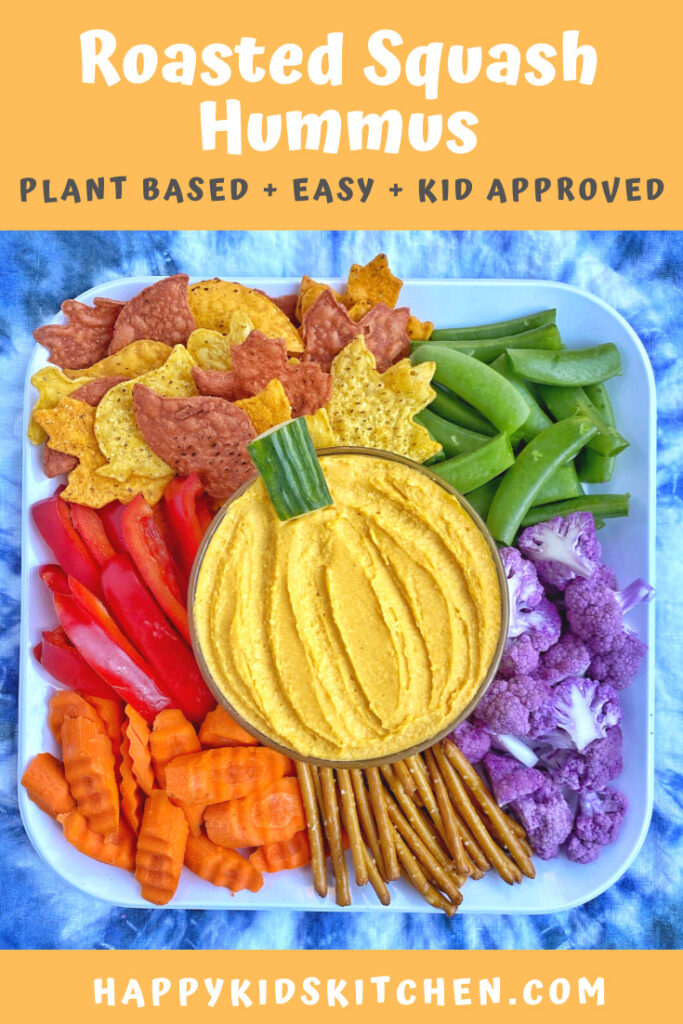 Other recipes to try:
Stuffed Pizza Bites (with Veggies!)