Autumn Squash Soup (Slow Cooker or Instant Pot)
All the cozy Fall flavors is a bowl! This veggie-packed soup is so easy to make in the slow cooker, Instant Pot (pressure cooker), or on the stove top! Autumn Squash Soup has carrots, butternut squash (or any variety of squash you have), and a little apple to add some natural sweetness. A touch of ground ginger and nutmeg add tons of flavor but aren't overwhelming at all. This soup is very kid-friendly and below I highlight several ways to serve it to toddlers or soup skeptics.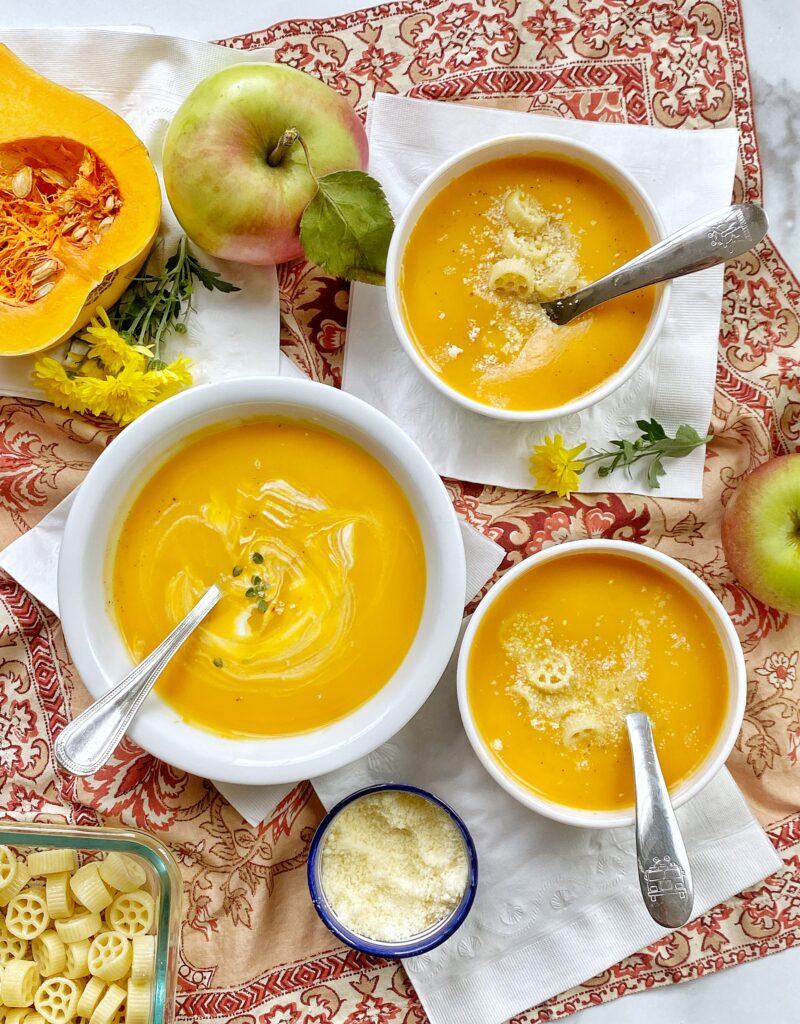 Soup for toddlers or picky eaters?
Start with small portions!! Serve a little soup, even a spoonful or two in the section of a divided plate, so kids can dip or taste as they choose.
Serve with a carb of choice (or other favorite food). I put some fun-shaped cooked pasta right on top of my kids' bowls so it would get them excited to try the soup. Sprinkle some Parmesan or any grated cheese your child enjoys. Serve with bread or a grilled cheese…make sure something your child loves is on the plate too.
Read! There are so many wonderful children's book about soup and/or Autumn veggies. We love the one in the picture below, Sophie's Squash. I read it my preschool cooking classes every Fall. (Affiliate link to my book list on Amazon above.)

Kids in the Kitchen: Autumn Squash Soup
Chop it up! This is the most important step for kids to be apart of. Handling and seeing the ingredients going into the soup gives them so much healthy exposure to new foods.  If you cut squash into thin strips, it's pretty easy for kids to cut through with a child-safe knife. Looking for more info on kids' knives? Check out my blog post, Teaching Knife Skills to Toddlers and Kids.
Add and stir: If your child is frustrated with chopping or not interested anymore, adding the chopped veggies to a bowl (transferring from the cutting board) is a great activity. Your child can help add the ingredients to the pot/slow cooker/instant pot, being very careful about any hot surfaces. Teach your child to keep his or her elbow up in the air when stirring a pot to keep hands away from the hot surface.
Blend: My boys love helping with the handheld immersion blender (see 'helpful tools' below) but do this with caution since the liquid in the pot is very hot and can splatter.
Garnish and Serve: encourage your child to top the soup with what they'd like: a little grated cheese, pasta, pumpkin seeds, a sprinkle of cinnamon…
Subs and Tips for making Autumn Squash Soup:
Squash types: There are so many kinds of winter squash available at the store these days! Making this soup is a great way to combine them and try out some new varieties. I usually make this soup with Butternut squash but sometimes use Kabocha, sugar pumpkin, Blue Hubbard, or others. Check out this Guide to Winter Squash for more info.
Vegetarian: Make sure to use a vegetable broth in this soup. Water would also work in a pinch but make sure to increase the amount of salt and other seasoning you use.
Dairy-free: You can omit the yogurt and blend the soup without it or use coconut cream/milk (using the solidified part at top of the can of coconut milk makes for an extra creamy soup).
Herbs and spices: A little fresh or dried sage would also be a great addition to this soup. Use a little cinnamon instead or in addition to the ginger and nutmeg.
Helpful Tools: I couldn't live without my Immersion Blender (aka hand blender or stick blender). You can blend the soup right in the pot! I also use it to make applesauce and thicken sauces. See my list of essential kitchen tools HERE (affiliate link).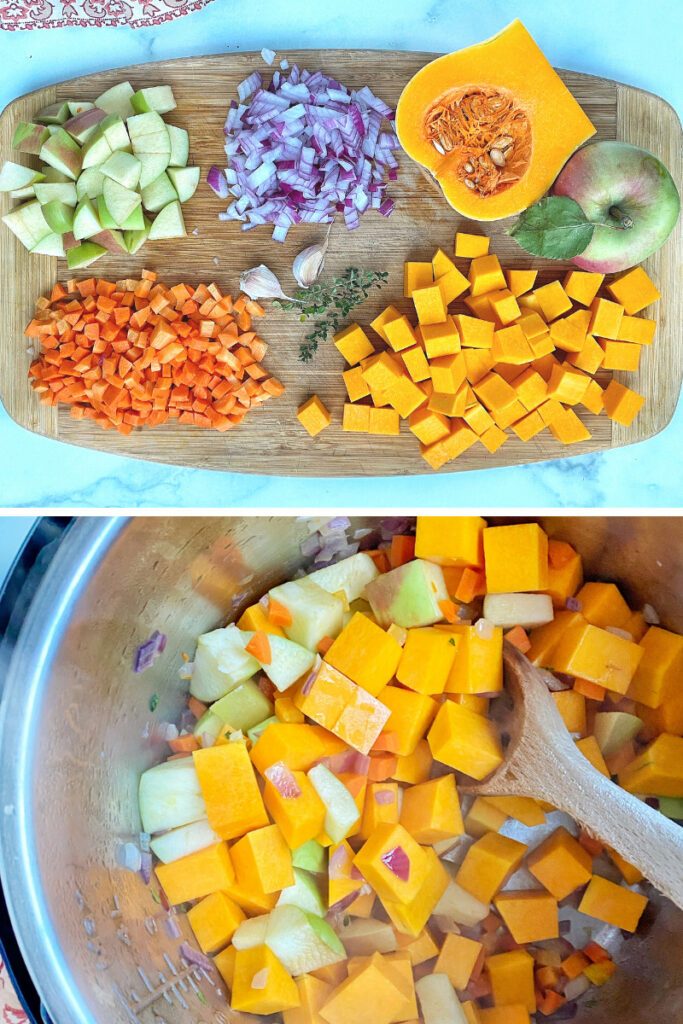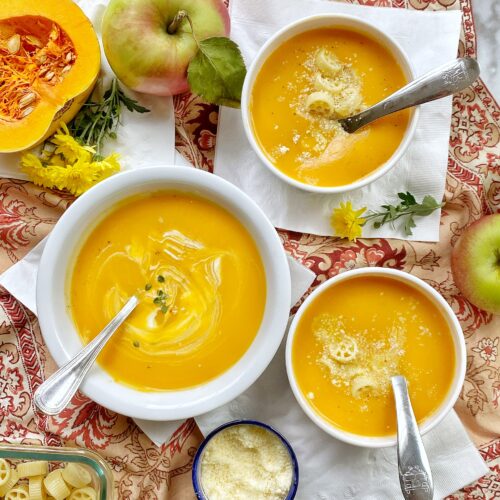 Autumn Squash Soup
Ingredients
2

Tbsp

olive oil

1

medium red or yellow onion, chopped

about 1 cup

2

garlic cloves, minced

3

large carrots, peeld and diced small

2

tsp

kosher salt

1

large apple, cored and diced

3 to 4

pounds

butternut or other winter squash, peeled, seeds removed, and diced

about 1 large squash

2

sprigs

fresh thyme

1/4

tsp

ground ginger

optional

1/8

tsp

ground or freshly grated nutmeg

optional

2 1/2

cups

vegetable and chicken broth

1 to 2

Tbsp

maple syrup or honey

1/2

cup

Greek yogurt or coconut cream
Instructions
For stovetop and Instant Pot: Heat oil in a large pot or cooking insert over medium heat or saute function then add onion, garlic, carrot, and salt. Cook for a minute to soften. Add apple, squash, thyme leaves, ginger, and nutmeg. Stir to combine and cook for 30 seconds to a minute. Add broth then cover. For stovetop, simmer until squash is soft and completely cooked through, about 20 minutes. For pressure cooker, set on manual for 12 minutes.

For slow cooker/crock pot: Add all the ingredient except the maple syrup and yogurt/coconut cream to your slow cooker. Cook for 6-8 hours on low, or 3-4 hours on high, or until the squash is completely tender and mashes easily with a fork.

For all cooking methods: Once squash is cooked, add maple syrup, if desired, and yogurt or coconut cream. Use an immersion blender to puree the soup until smooth.  (Or you can transfer the soup in two batches into a traditional blender and puree until smooth, being extremely careful not to fill the blender too full with a hot liquid.) Thin out soup to desired consistency with more broth or water as needed. Taste for seasoning and add additional salt and pepper as needed.

Serve warm with desired garnishes.

Soup can be stored in the refrigerator for a week or frozen for 3 months.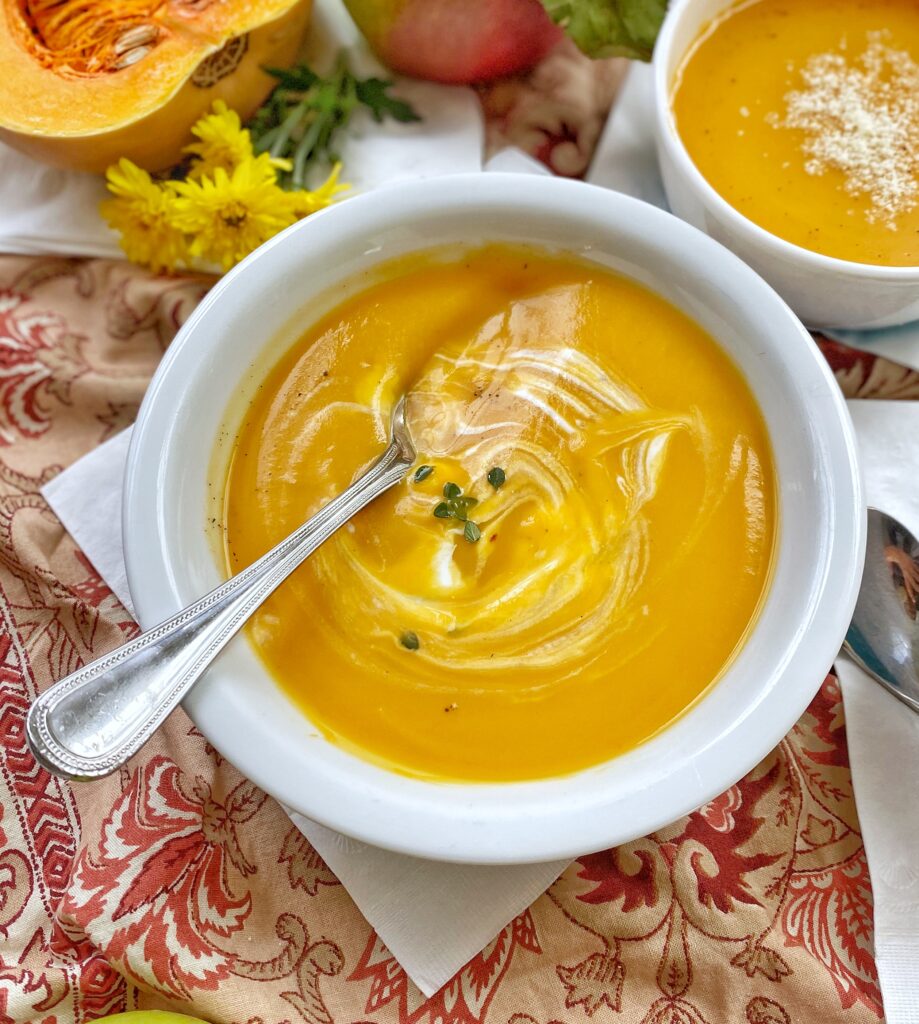 Save to Pinterest!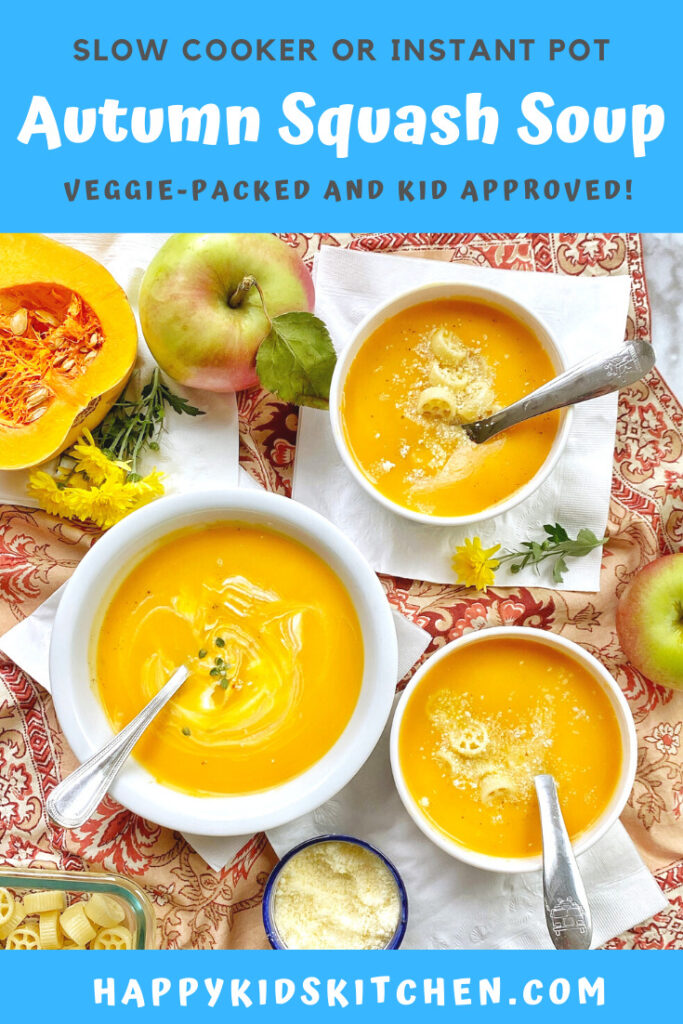 Other recipes to try:
White Bean and Kale Soup (with Sausage or Vegetarian)
Teriyaki Turkey and Veggie Meatballs
Stuffed Pizza Bites (with Veggies!)