Chicken Sausage, White Bean, and Kale Soup
Chicken Sausage, White Bean, and Kale Soup is my all-time favorite soup. It's hearty, healthy, and packed with veggies. This easy weeknight dinner can be made in the Instant Pot (electric pressure cooker) or on the stove-top in less than 40 minutes. Also, it's simple to make vegetarian by leaving out the sausage and doubling up the beans. Leftovers are great to have in the fridge or freezer to warm up for a quick and nourishing lunch. My boys love having some bread or grilled cheese on the side for dipping.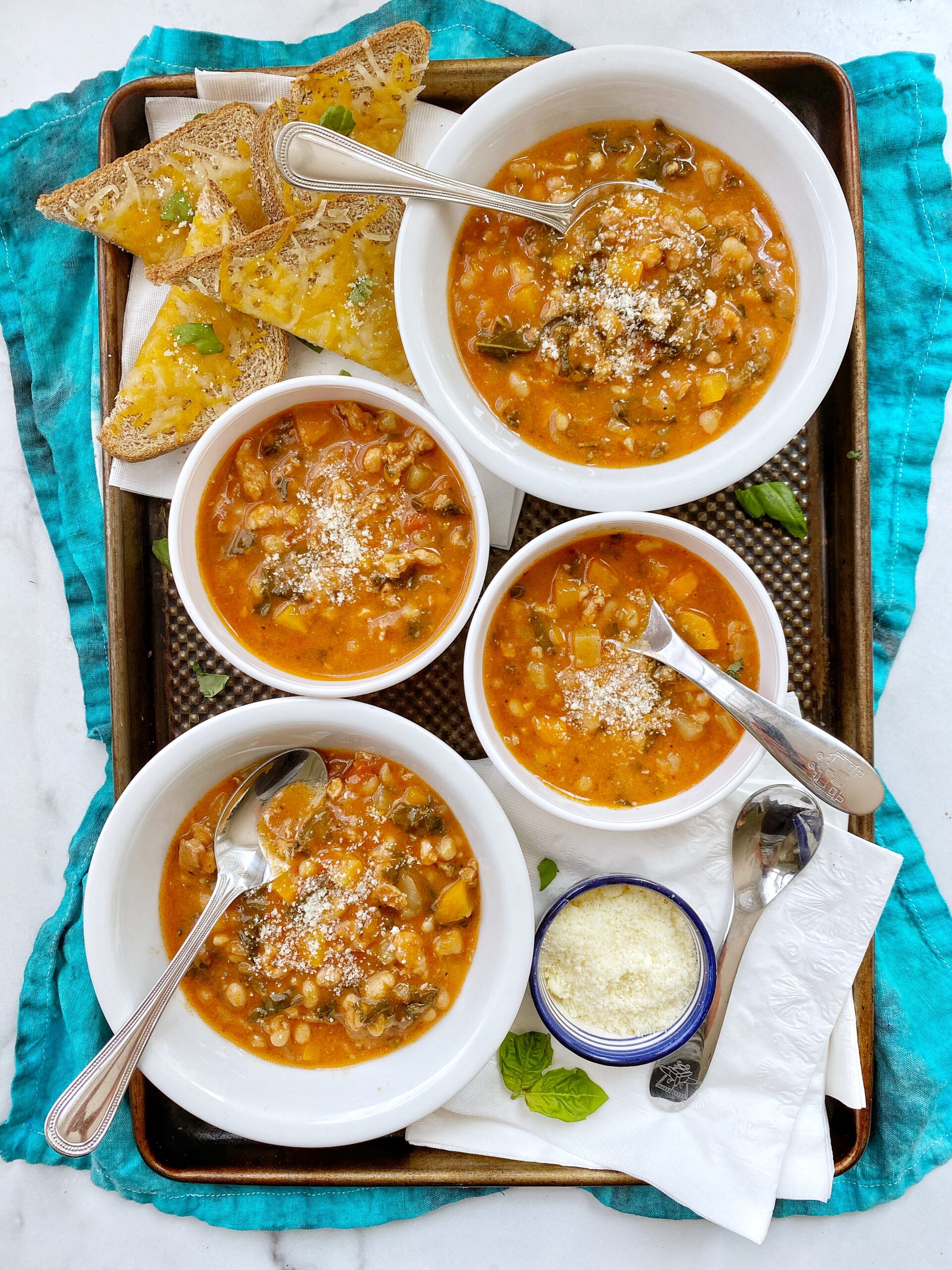 Kids in the Kitchen: Making Soup with Kids!
Soup may seem like a strange choice for a recipe to make with kids, but there are lots of easy ways children can be a part of the process. Have kids in the kitchen with you is especially helpful if kids are hesitant about eating "mixed foods" like soup. "Picky" eaters can be scared of a bowl full of different ingredients all together which is totally understandable. However, by seeing and touching the ingredients and being a part of the cooking process, kids can feel more comfortable with trying and eating the finished soup.
Help chop! If your child does one thing to help with this recipe, I'd suggest having him or her chop a carrot. First cut the carrot into thin strips then have your child cut each strip into a small dice. Need more info about teaching kids to use a knife or a child-safe knife recommendation? Check out my blog post Teaching Knife Skills to Toddlers and Kids.
Sauté! Let you child add the veggies to the pot and stir a few times. Teach him or her the word 'saute' and explain what signs you look for to see the veggies are cooking. (Listen to the sizzle and watch the change in the color of the vegetables.)
Add ingredients! Once the veggies are cooked, have your child add the remaining ingredients with you. How does the sound of the pot change when you add a liquid?
Serve! Have your child help get out the soup bowls and spoons then sprinkle cheese on top or his or her own bowl of soup. Kids can also help prepare the side dish, such as some toasted bread or bread with some melted cheese on it.
Subs and Tips for Chicken Sausage, 
White Bean
, and 
Kale 
Soup
Make it Vegetarian or Vegan!: this recipe is super easy to make vegetarian or vegan. Leave out the sausage and add another can of beans. The soup is packed with flavor from the veggies, marinara sauce, and broth, so you won't miss the meat at all. Leave the cheese out to make it vegan. You can also add some cooked pasta, rice, or quinoa if you want to add more goodness to the pot.
Beans: I love using smaller white beans such as Navy or Great Northern but Cannellini beans work great too. Not into beans? Feel free to leave them out!
Fennel? It's one of my favorite veggies, but if you don't enjoy it or can't find it, you can use celery instead.
Sausage: this recipe works best with the chicken sausage (or you can use pork) that is raw and not pre-cooked. I use a mild Italian or herb and garlic flavored sausage. You could possibly use a ground meat like turkey or chicken and add lots of extra seasoning to it (like garlic and dried herbs) to make a mock sausage.
Instant Pot: I absolutely love my IP and use it for so many things. I have an older model but here is the newer version of it on my Amazon store page.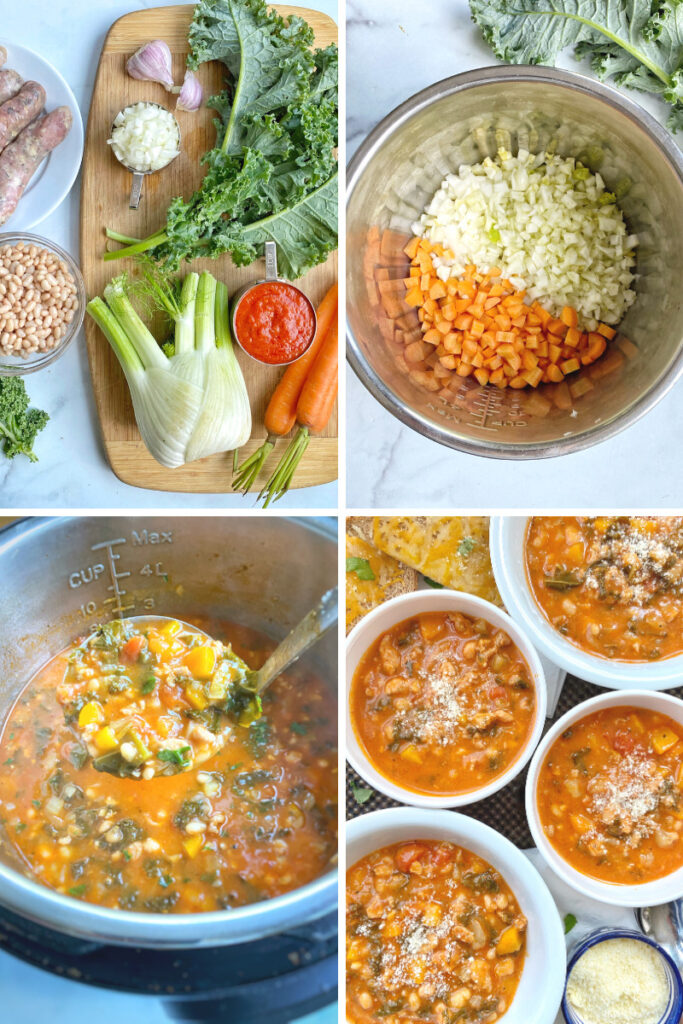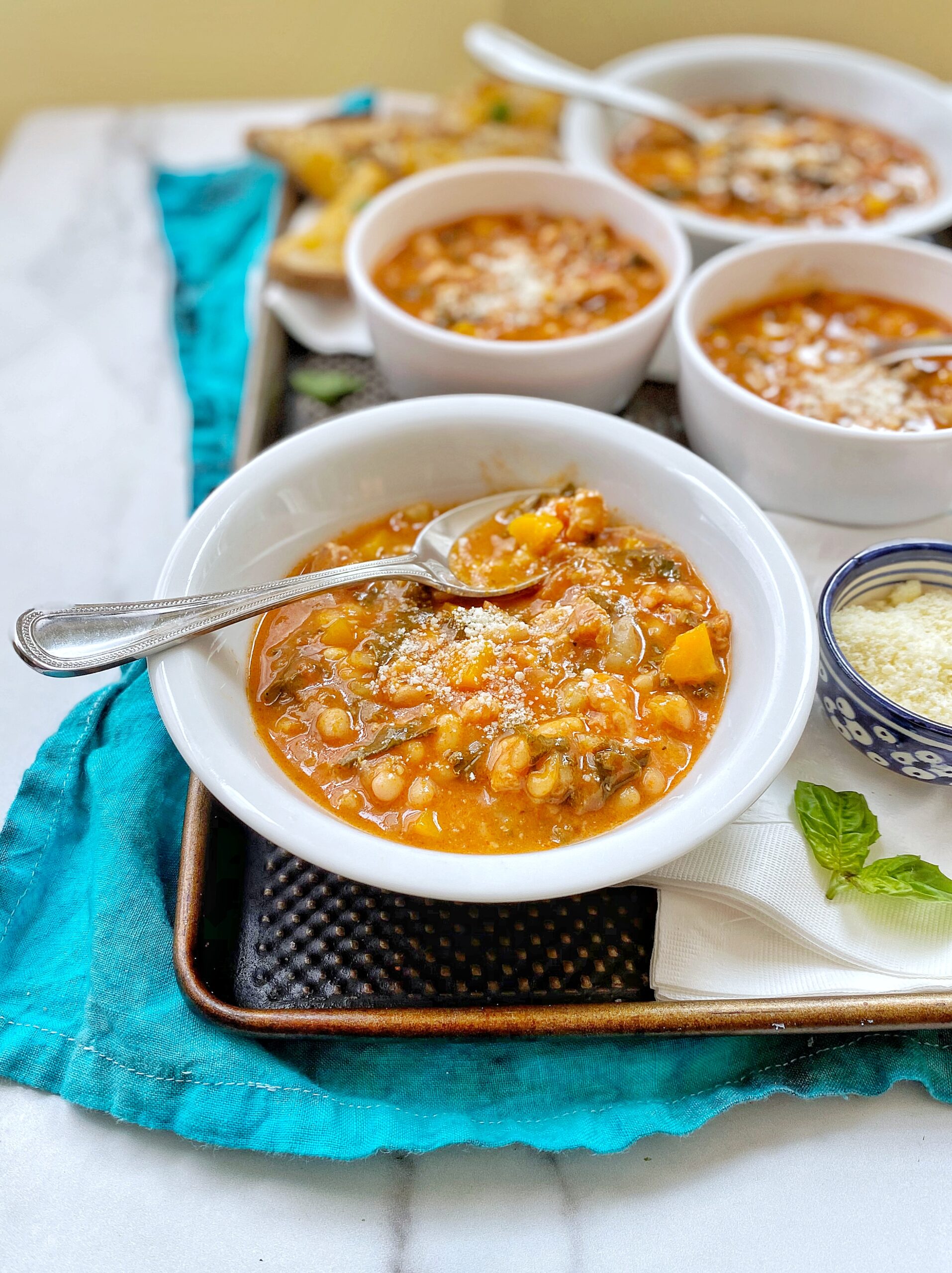 Chicken Sausage, White Bean, and Kale Soup (Instant Pot or Stove-Top)
A hearty and healthy soup the whole family will love!
Ingredients
2

Tbsp

olive oil

1/2

cup

diced onion (about 1/2 large)

1

cup

diced fennel bulb (about 1 medium)

or 2 stalks of celery diced

1

cup

small diced carrot (2 to 3 medium carrots)

2

tsp

kosher salt, divided

2

garlic cloves, minced

1

pound

uncooked chicken sausage, removed from casing

about 4 links

1/4

cup

balsamic vinegar

2

cups

jarred marinara sauce

1

can

small white beans, drained and rinsed

6

cups

chopped kale (about 1/2 large bunch)

4

cups

chicken or vegetable broth

1/4

cup

grated Parmesan cheese, plus more for serving
Instructions
Heat oil in the bottom of your Instant Pot on the Saute fuction or in a large soup pot over medium heat. Add onion, fennel, carrots and 1 tsp of salt and cook, stirring ocassionally, until softened, about 5 minutes. Add garlic and cook for another minute.

Add sausage, if using, and cook, breaking it apart into small pieces while it browns. Once sausage is crumbled and cooked, add vinegar and cook for a minute. Add marinara sauce, beans, kale, and broth. Season with another teaspoon of salt and stir to mix everything together.

For Instant pot (or other electric pressure cooker), set on manual high pressure for 15 minutes. Once timer goes off, carefully release the pressure and remove lid.

For stove-top, cover pot and bring up to a simmer. Simmer, stirring ocassionally, until all veggies are soft and flavors combine, about 20 minutes. Can also simmer for longer too if you'd like.

Stir in parmesan cheese then taste for seasoning. Add more salt and pepper as needed. I also like to add another splash of balsamic vinegar sometimes. Ladel into bowls and serve with a sprinkle of extra parm on top. Store extra soup in the fridge for a week or freeze for 3 months.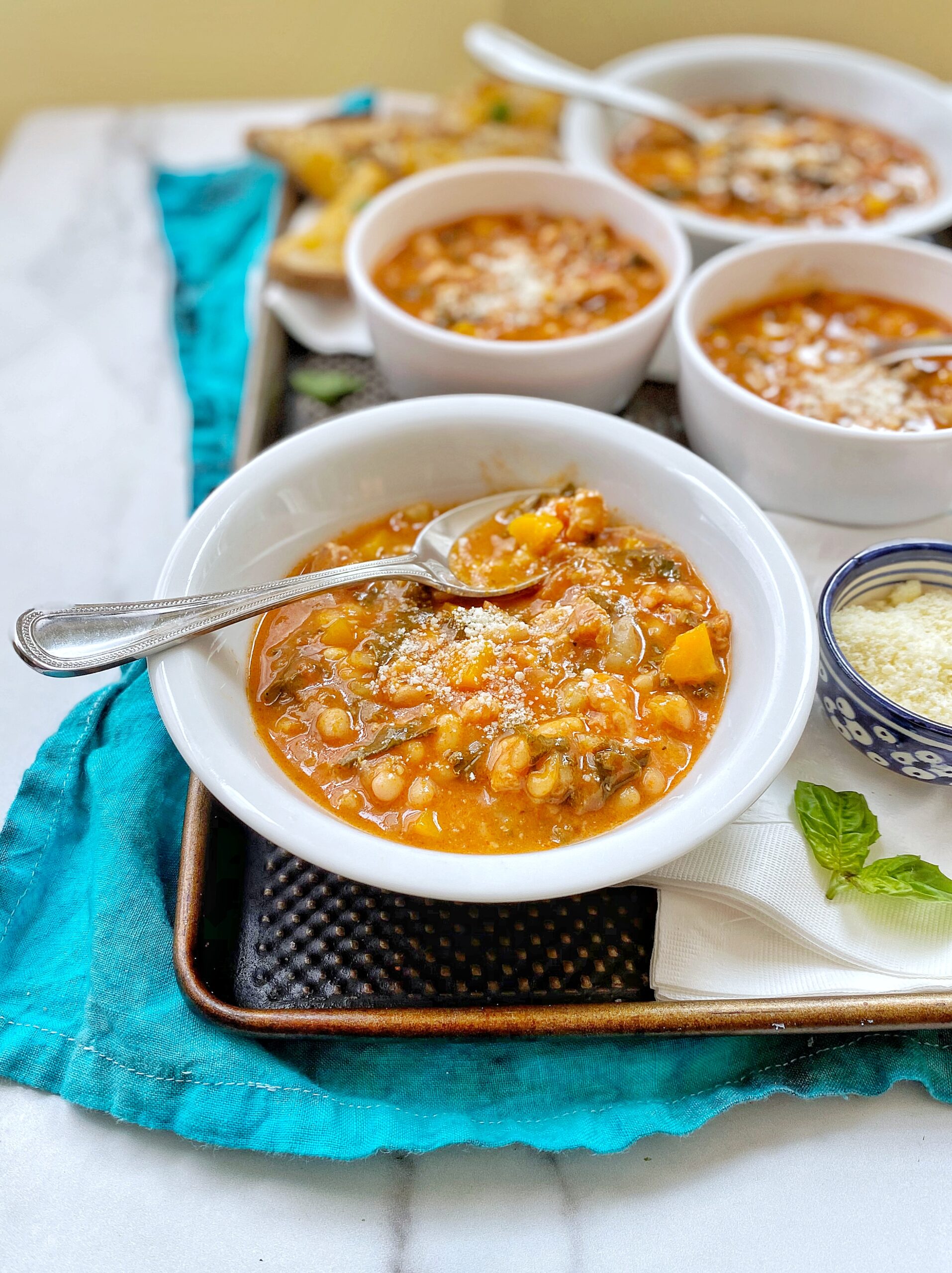 Save to Pinterest!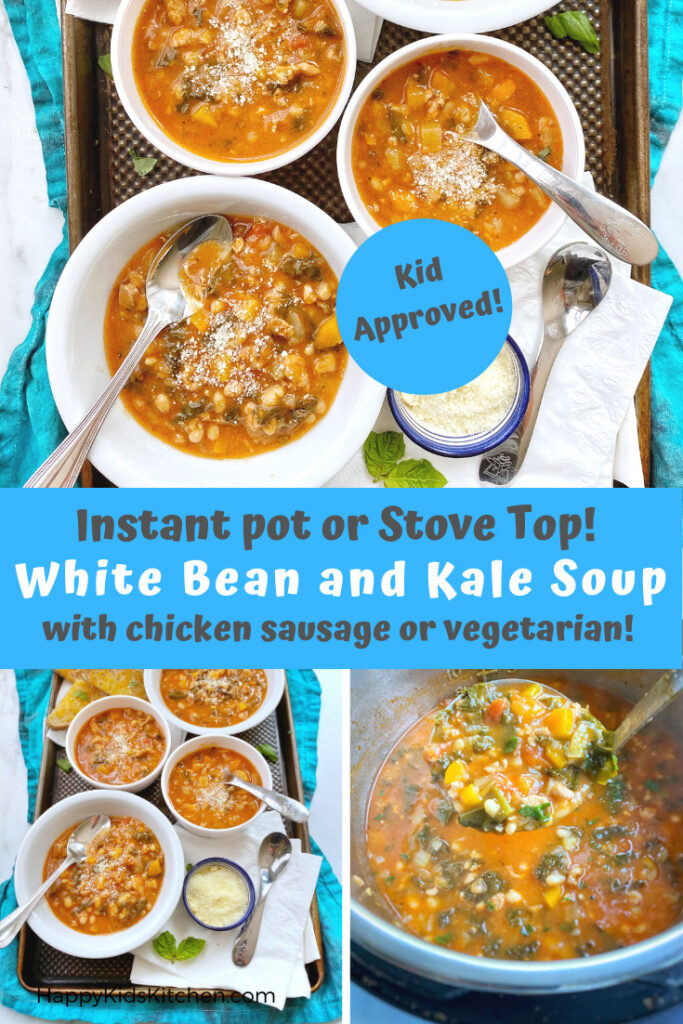 Other Weeknight Dinner Recipes:
Baked Spaghetti Cups (with Veggies)
Teriyaki Turkey and Veggie Meatballs
Roasted Garlic and Cauliflower Mac and Cheese