Stuffed Pizza Bites (with Veggies!)
This is a fun twist on pizza night that's perfect for cooking with kids! Stuffed Pizza Bites can be filled with whatever you like: mozzarella cheese, pepperoni, chicken, and/or whatever veggies you enjoy. We often do spinach in there because it blends right in with the other fillings. You can use store-bought or homemade pizza dough and any pizza/marinara sauce you like for dipping. It's a recipe kids will love to make and eat!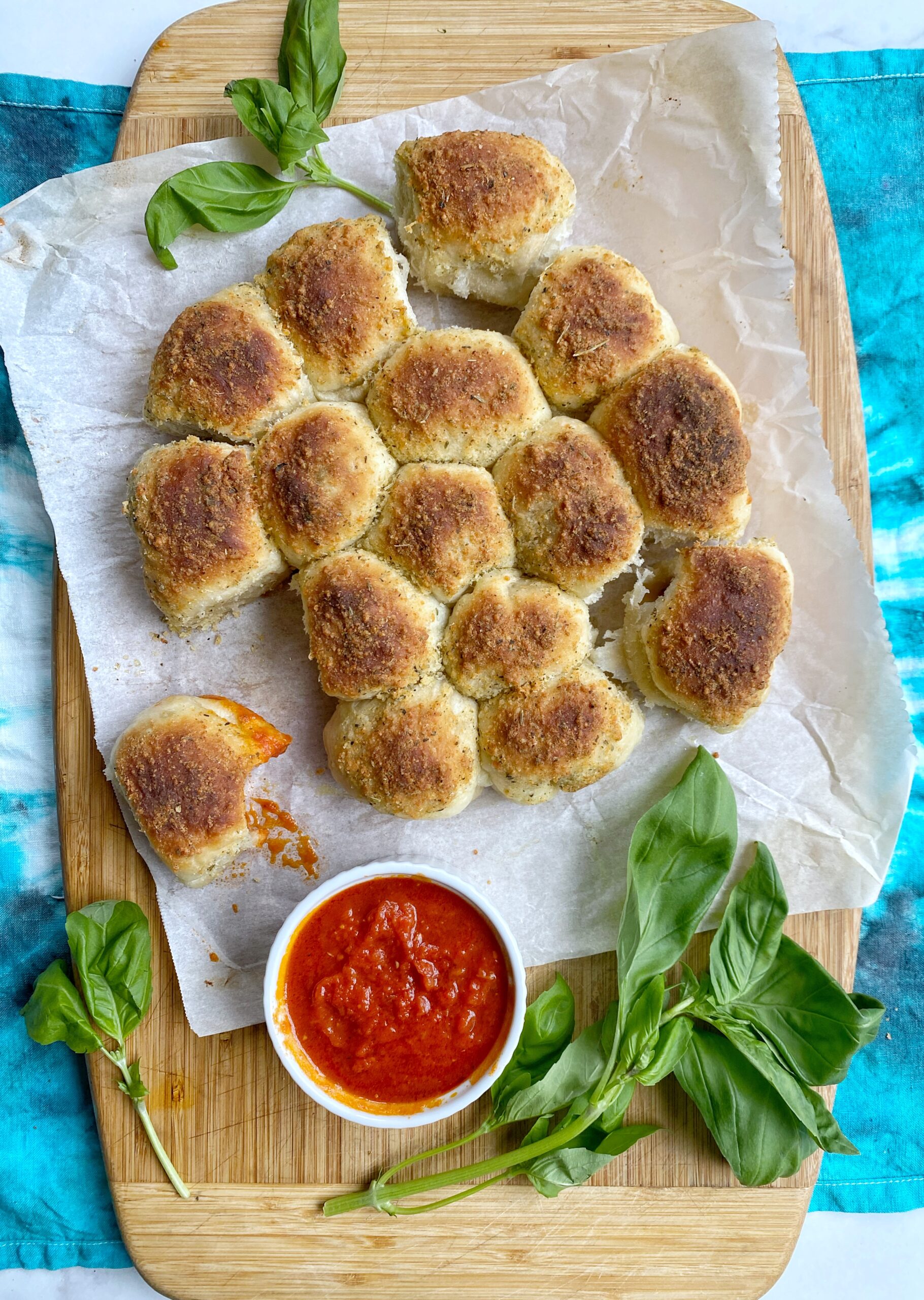 Kids in the Kitchen:
Prep the ingredients: kids can help cut the cheese into squares (you may want to cut it into strips first to make it easier). If using spinach, kids can rip the leaves to make them smaller. Chop or prepare any other fillings to make them fit inside the dough balls.
Divide the dough: this is a great place to show kids how to divide things evenly and talk about fractions. Cut the dough in half and then half to make 4 equal pieces. Then cut each quarter into 4 quarters. It's a fun opportunity to talk to older kids about math.
Flatten and stuff: squishing the dough is so fun. If it starts to get sticky, feel free to dust it with a little flour. Try not to let young kids squish pizza dough between their fingers because it can get pretty messy.
The topping: measure and mix the ingredients to brush on top the the dough. It's fun for kids to use a pastry brush like they are "painting" on the oil, but you can also use a spoon to add the topping, if needed.
Subs and Tips for Making Stuffed Pizza Bites
Pizza dough: I usually buy pizza dough (the kind that comes in a ball) in the refrigerated section of the grocery store to make this recipe super easy. However, you can use or make whatever kind of pizza dough you'd like. HERE is a recipe for homemade whole wheat pizza dough.
Cheese: the block-style mozzarella cheese works best for this recipe because you can easily cut it into cubes. However, if you only have shredded cheese on hand, you can stuff each piece of dough with a big pinch of the shredded cheese. It might be a little easier to seal the dough, but it should work.
Topping ideas: Use anything you enjoy on pizza! Leftover steamed or roasted veggies like broccoli would be great inside. We like turkey pepperoni but you can easily make this vegetarian and leave out any meat.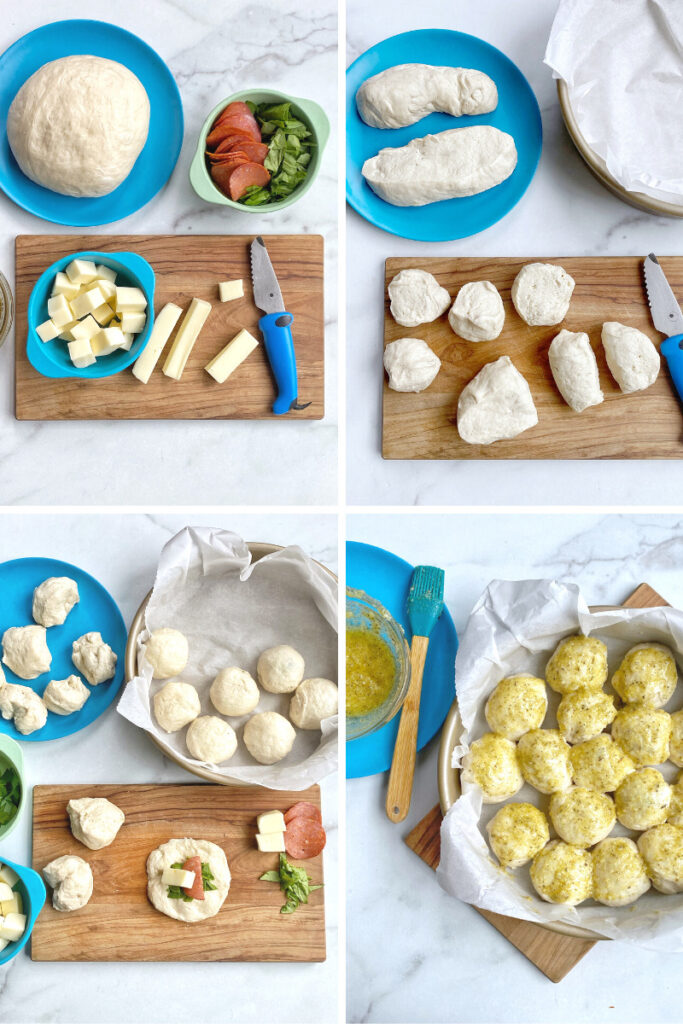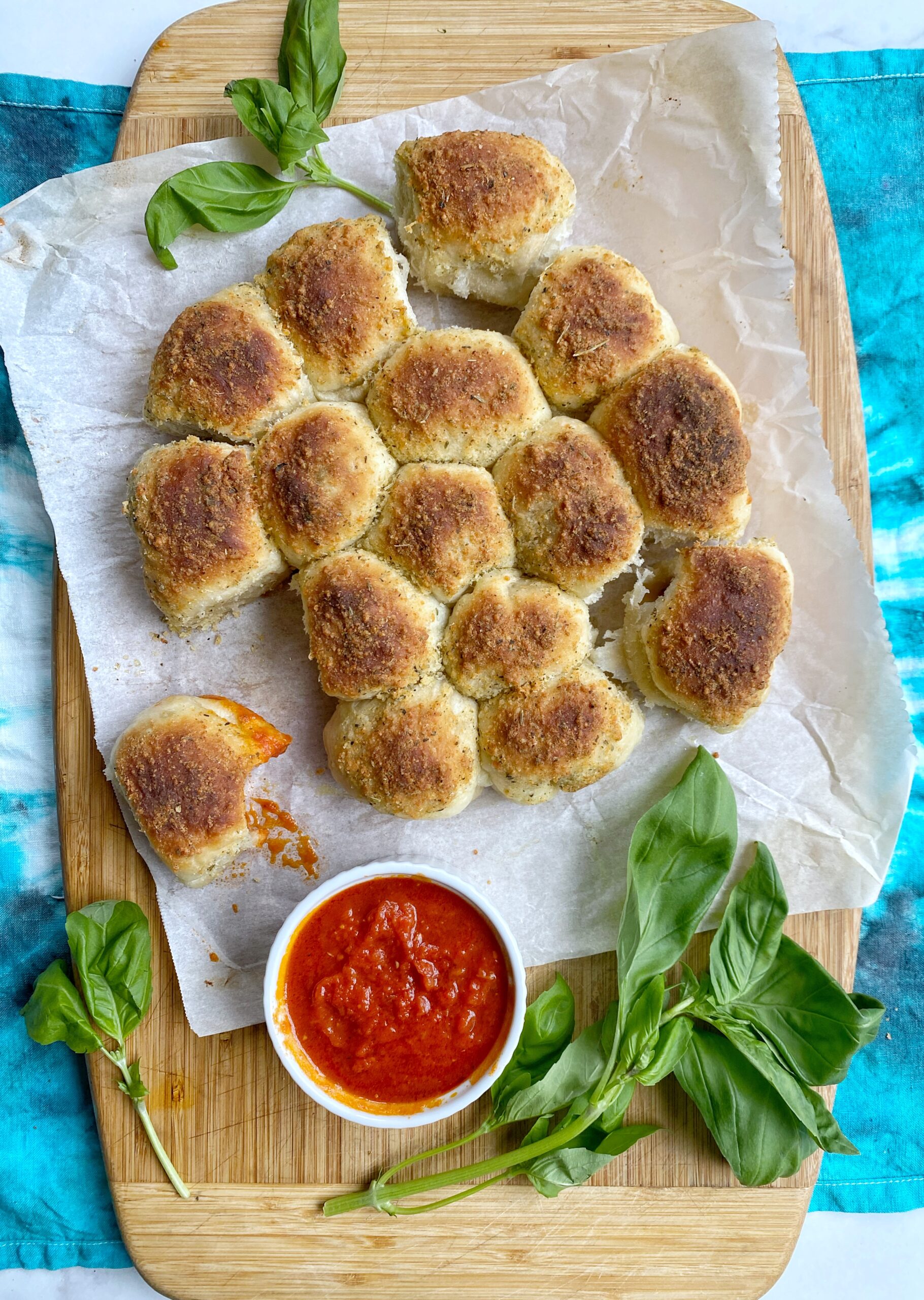 Stuffed Pizza Bites
A fun twist on pizza that's easy and fun for kids to make.
Equipment
Round or square baking dish or cake pan
Ingredients
1 to 1.5

pounds

pizza dough (any kind)

8

ounces

mozzarella cheese (preferably block-style)

fresh or shredded cheese will also work

16

slices

pepperoni (optional)

1/2

cup

baby spinach, chopped

2

Tbsp

olive oil

2

Tbsp

grated Parmesan cheese

1/4

tsp

garlic powder

1/4

tsp

dried Italian seasoning (optional)

1

cup

pizza or marinara sauce, for dipping
Instructions
Preheat oven to 375 degrees. Fit a sheet of parchment paper into the bottom into the bottom and up the sides of a 9 or 10-inch round or square baking dish or cake pan. If you don't want to use parchment, you can grease the pan with oil instead.

If using a block of mozzarella, cut into 16 equal pieces. Prepare any other ingredients you'd like to stuff in the dough to make sure they are small enough to fit.

Roll pizza dough into a log shape. Divide into 16 equal pieces.

Roll each piece of dough into a small ball then flatten the ball onto a work surface. Use your fingers to push into a round, flat disk. Place a piece of cheese and any other fillings you'd like into the center of the dough. Take the outside of the dough and bring it up and around the filling, pinching the dough together to seal the ball. Make sure to pinch it together really well or the cheese will leak out during baking. Place stuffed dough, sealed side down, into your prepared pan. Repeat with remaining dough.

Mix olive oil, Parmesan cheese, garlic powder, and Italian seasoning together in a small bowl. Using a pastry brush, coat the tops of each dough ball or spoon the mixture over the top of the dough.

Bake until golden brown and dough is cooked through, 20 to 25 minutes. Serve warm with pizza/marinara sauce for dipping.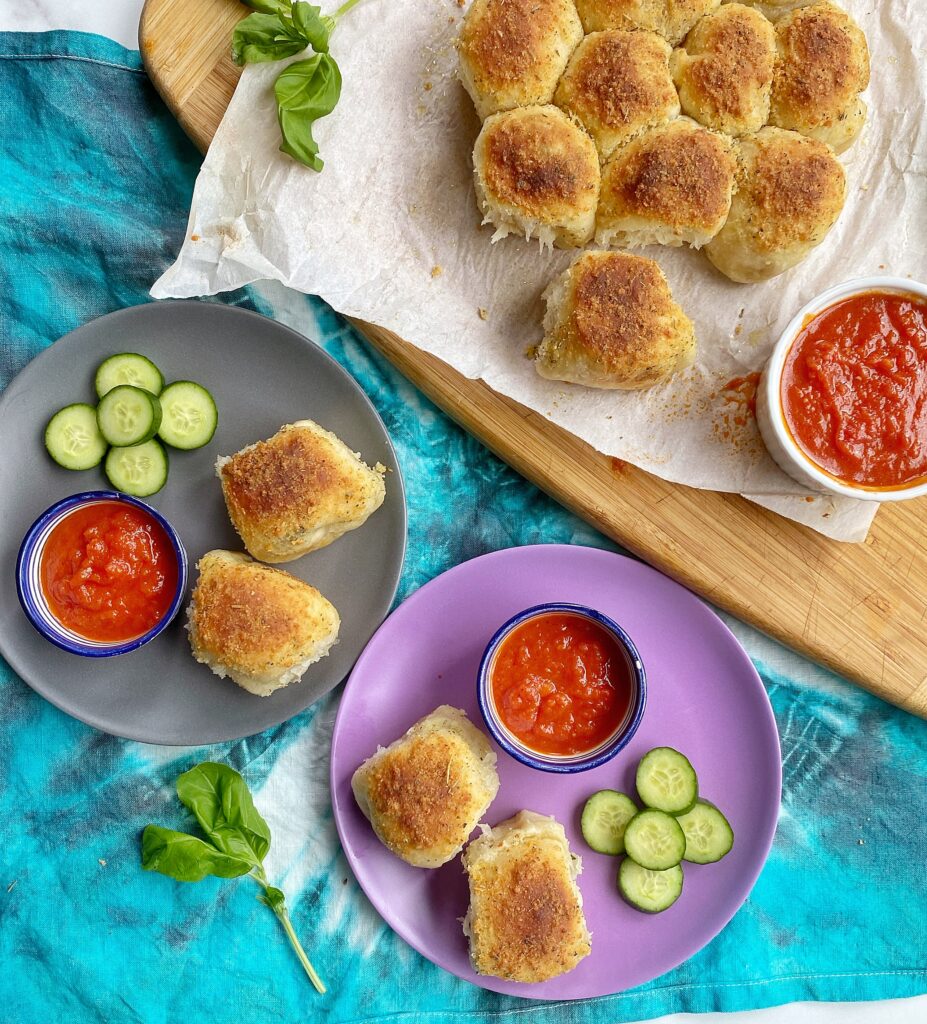 Save to Pinterest!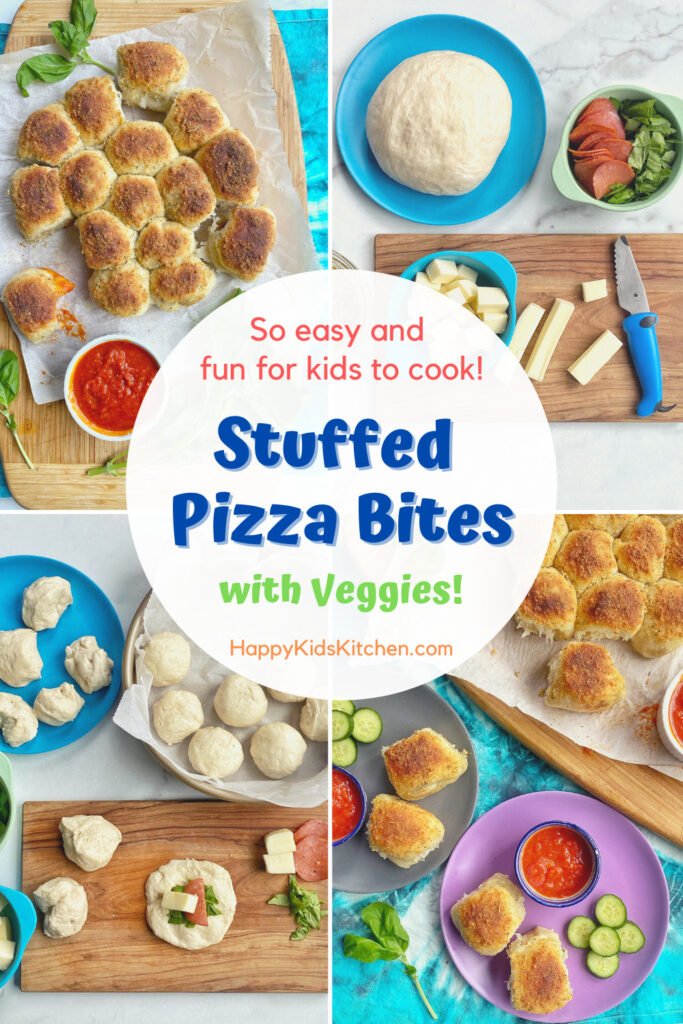 Other recipes to try:
Easy Homemade Pizza (with yeast-free dough)
Baked Spaghetti Cups (with Veggies!)