Healthy Pumpkin Bread Bars
The Fall flavors of warm spices combined with the goodness of pumpkin puree and whole grains. These Healthy Pumpkin Bread Bars are super easy to whip up in one bowl and bake up so much faster than the classic loaf. Naturally and lightly sweetened, dairy free, and easy to make gluten free and vegan if desired.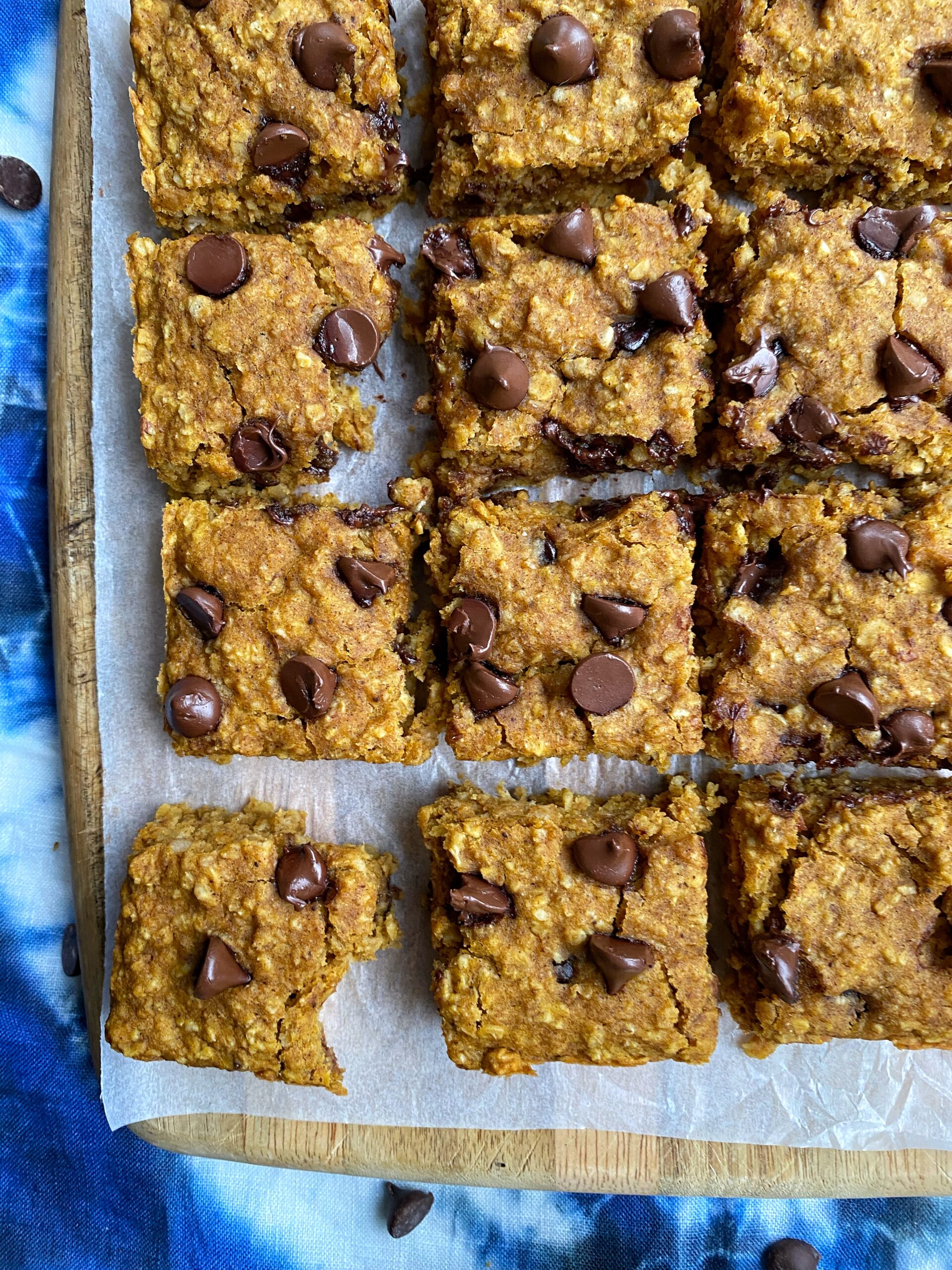 Kids in the Kitchen:
Veggies in my dessert? Talk about the canned pumpkin and that it's a vegetable and not very sweet before you add it in with the rest of the ingredients. What does the pumpkin look like before it's cooked and how does it change?
Measure first! There are quite a few ingredients to measure in this recipe. When baking with toddler and younger kids I suggest measuring a least half of the ingredients ahead of time. You could even add all the wet ingredients to one bowl and the dry to another and just let your child mix everything together.
Use a large bowl. Mixing in a large bowl means less mess when cooking with kids. I try and always and demonstrate what speed I'd like kids to stir before letting them have a turn. Most likely, their mixing will result in at least a little spillage, but that's ok. With practice, kids will eventually learn to better control the spoon or spatula.
Sprinkle. Save some of the chocolate chips to have your child help shower over the top of the pan. It's a fun and easy kitchen task.
Tips and Subs for making Healthy Pumpkin Bread Bars:
Gluten-free: You gluten-free oats and a cup-for-cup gluten-free flour mix to make these treats completely gluten-free.
Egg-free: Since there is only one egg in this recipe, you can use any egg substitute you usually use in baked goods such as a flax "egg". See a comprehensive article about how to make a flax egg HERE.
No chocolate? Leave out the chocolate chips or add it dried fruit or chopped nuts instead.
More Chocolate? I included the double chocolate version below! It's so delicious and all you have to do is sub some of the flour for cocoa powder.
No "quick" oats? Pulse 1 1/4 cups regular rolled oats in a food processor until they are broken down and only a few pieces of whole oat remain. Use in the recipe in place of the quick oats.
Want to make your own Pumpkin Spice Blend to have on hand? Linked an easy recipe for you HERE. You can also just use cinnamon in this recipe or a combo of cinnamon, a little nutmeg, and a pinch of ground ginger.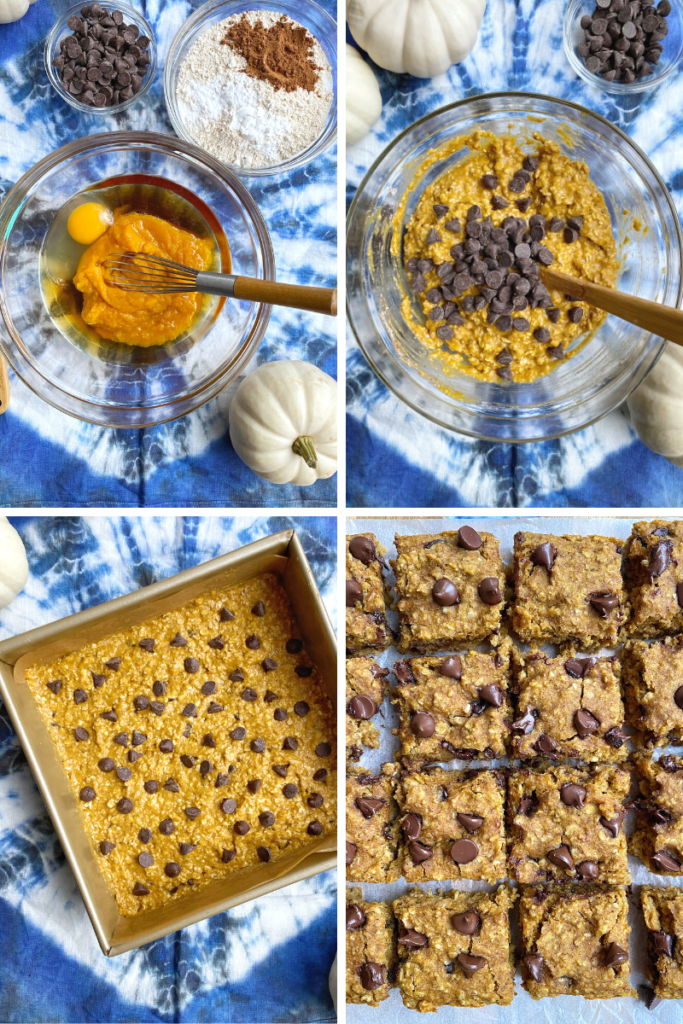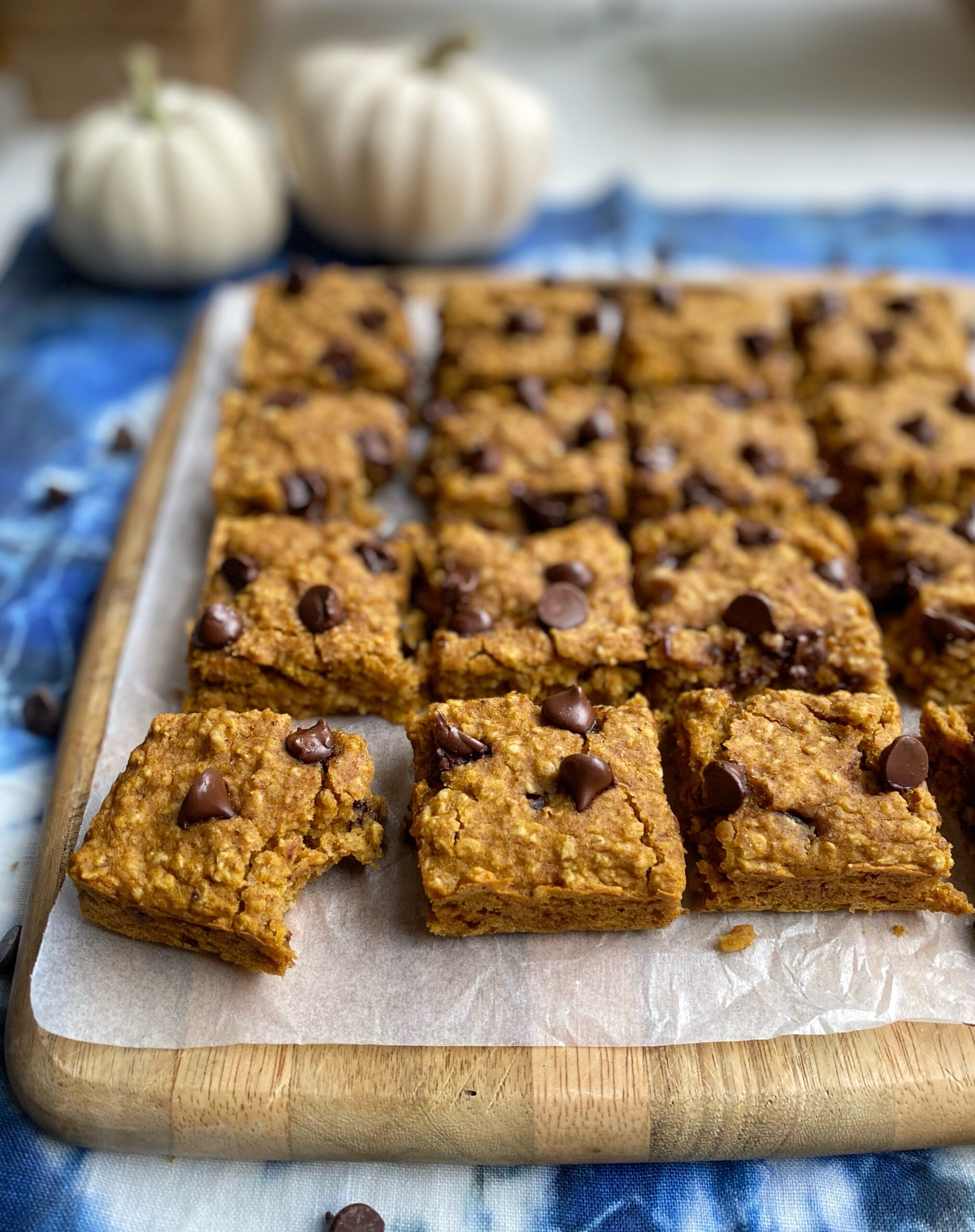 Healthy Pumpkin Bread Bars
Ingredients
1

large egg

or flax "egg"

1

cup

pumpkin puree

1/4

cup

avocado or vegetable oil

1/4

cup

maple syrup or honey

1

tsp

vanilla extract

1 1/2

tsp

pumpkin pie spice

or 1 tsp cinnamon, 1/2 tsp nutmeg, 1/4 tsp ground ginger, and 1/4 tsp allspice or ground cloves

1/4

tsp

fine salt

1/2

tsp

baking powder

1/2

tsp

baking soda

1

cup

quick-cooking rolled oats

to use regular oats see not below

1/3

cup

whole wheat, all-purpose, or gluten-free flour

1/2

cup

chocolate chips (optional)

dairy-free if desired
Instructions
Preheat oven to 350 degrees. Grease an 8-inch square baking pan or cake pan and line with parchment if desired.

In a large bowl, mix egg, pumpkin, oil, maple syrup, and vanilla until combined.

Add spices, salt, baking powder, baking soda, oats, and flour. Stir with a wooden spoon or spatula until all the dry ingredients are incorporated. Stir in half of the chocolate chips, if using, and save the other half for the top.

Spread the batter evenly in the prepared pan. Sprinkle the remaining chocolate chips over the top. Bake until puffed, cooked through, and lightly golden brown around the edges, 16 to 18 minutes.

Allow to fully cool before cutting into 9 large squares or 16 small squares. Store in a container at room temperature for 2 days or in the fridge for 5 days.
Notes
To make "quick" oats out of regular rolled oats: Pulse 1 1/4 cups regular rolled oats in a food processor until they are broken down and only a few pieces of whole oat remain. Use in the recipe in place of the quick oats.
Save to Pinterest!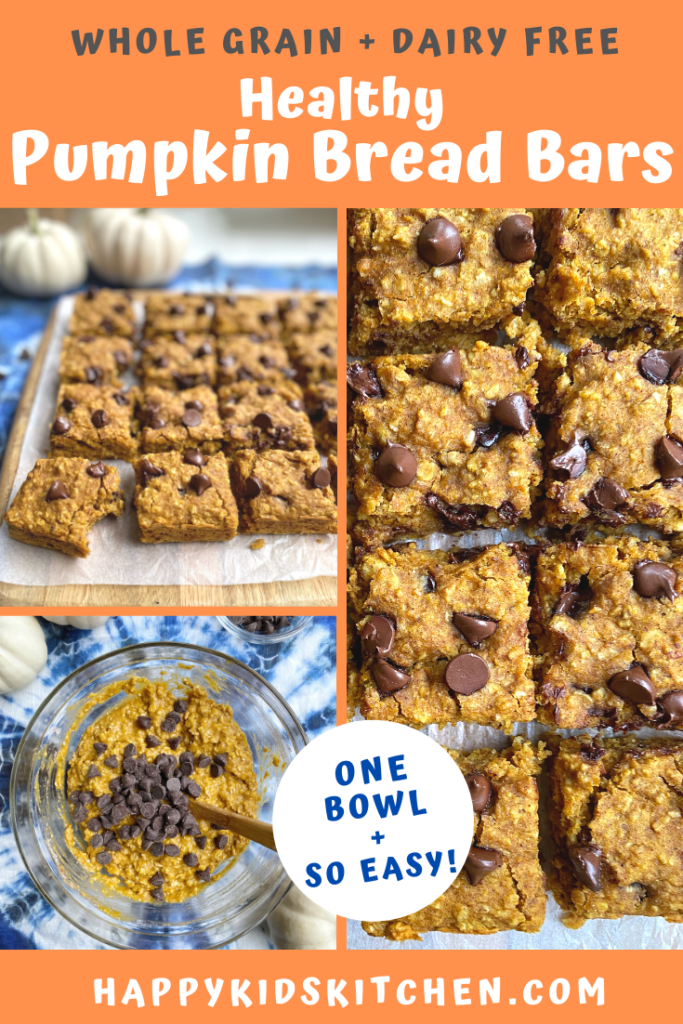 Want more Pumpkin recipes?? Here's an article filled with kid-friendly, fun recipes, both sweet and savory!
Healthy Pumpkin Recipes to Cook with Kids