Rainbow Noodle Bowls with Roasted Tofu
A healthy weeknight dinner that will make the whole family happy! Rainbow Noodle Bowls are easy to customize, full of colorful veggies, and drizzled with the most delicious, easy sauce. Have a "picky" eater in the house? Don't worry, I've included lots of tips below for helping the most finicky toddlers enjoy this meal too. Plus, if kids help prep the veggies or stir the sauce together, they are much more likely to be excited about eating the meal too.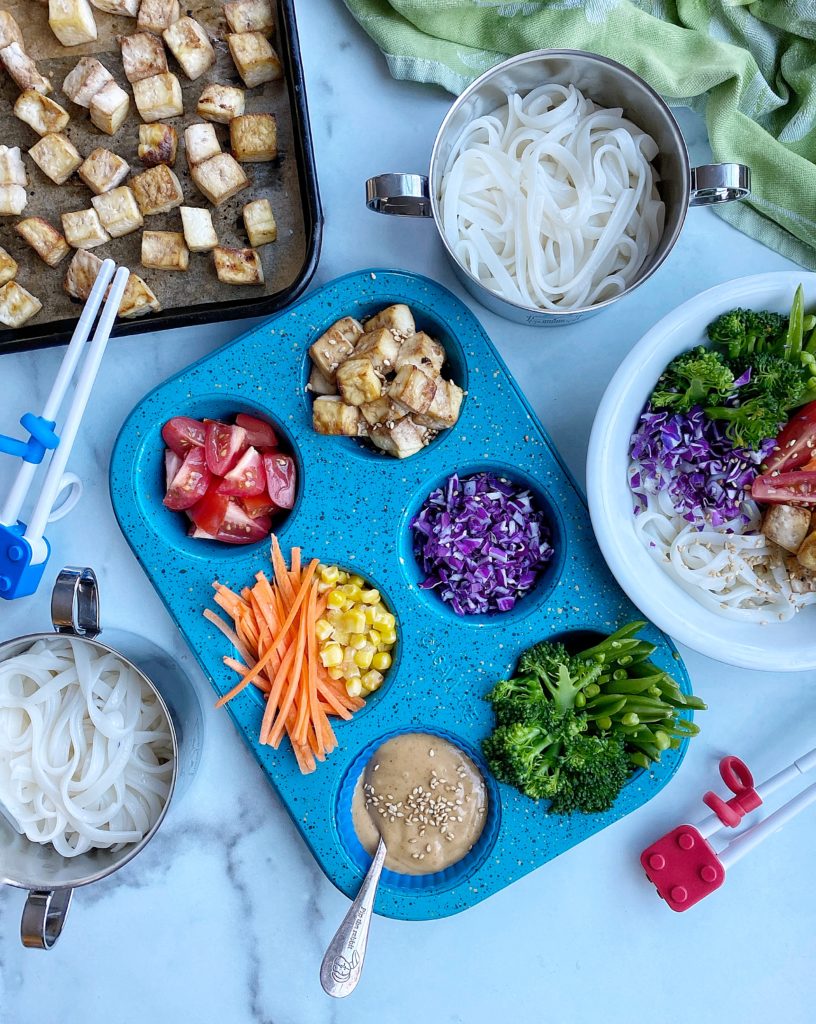 Kids can help make Rainbow Noodle Bowls and tips for "picky" eaters:
My kids love cutting tofu because it's so soft! However, tofu can also crumble easily, so if your tofu seems to be breaking apart, you may want to direct your child away from the tofu. Have him help stir the marinade together instead!
Prep those veggies! Get out the child-safe knives and a cutting board and let the kids help prepare the vegetables for the bowls.
Divide and conquer! Making a meal DIY like this allows kids to decide what's on their own plate and makes them more likely to be comfortable enough to perhaps try something new. Encourage kids to put the rainbow over their noodles and choose how much of each vegetable to include.
Serving everything separated is good too. If your child is hesitant about all having all the different foods together, try serving the meal with everything separating on a plate or in a divided plate with the sauce on the side for dipping. This way the child can control their own meal and how she would like to eat it.
Use fun utensils! My boys haven't quite mastered using these kid-friendly chopsticks yet, but they enjoy trying! (I also give them a fork with the meal in case they get frustrated and just want to eat.) There are plenty of fun options on Amazon. Here are the Lego themed ones we have.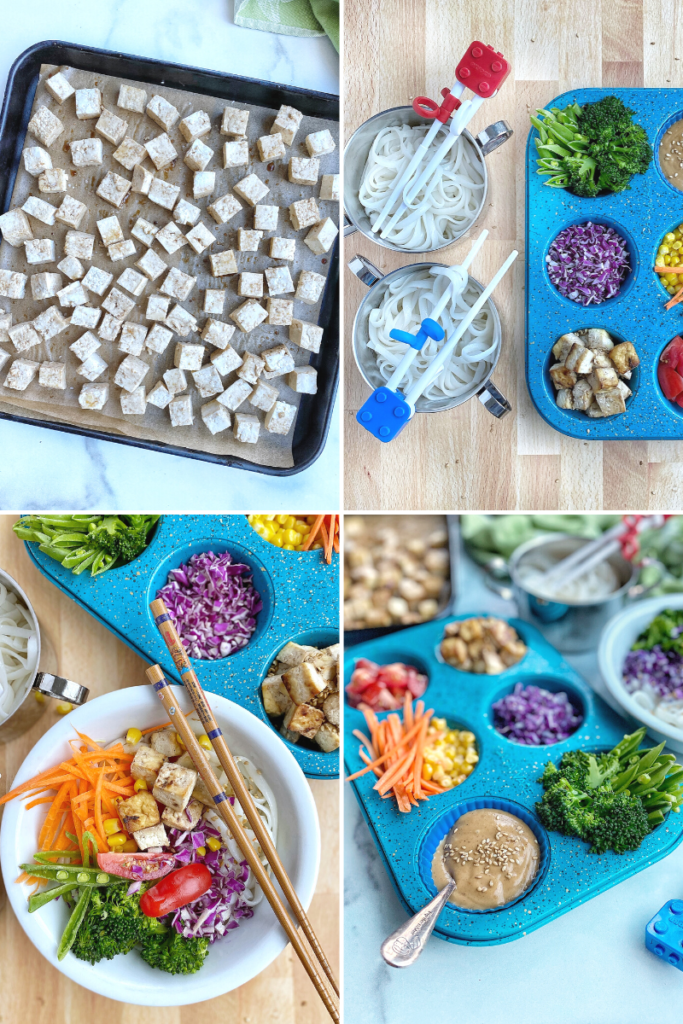 Subs and Variations on this recipe:
Tofu: if you don't like tofu or would like a different protein options, feel free to cook shrimp the exact same way (will only take 10 to 12 minutes to roast). You could also include cooked chicken or any other meat that your family enjoys.
Noodles: feel free to use any kind of rice noodles, thin or thick. You could also use any kind of spaghetti instead of rice noodles.
Peanut sauce: you can easily substitute almond butter for peanut butter. To make this dish nut free, use tahini (sesame paste instead). Be sure to use a "natural" style nut/seed butter that has only one ingredient. Every nut/seed butter will have a slightly different consistency, so be sure to add a little water at a time until you get the thickness of sauce you'd like.
Veggies!: You whatever veggies your family enjoys or whatever leftover vegetables you have on hand. Typically, tomatoes wouldn't be served in an Asian-style meal like this, but we aren't bell pepper lovers and I wanted something red in there. Don't be afraid to break the rules and use what you like. Even fruit like mango or pineapple might be fun and delicious to enjoy with this meal.
Cooked and raw: it's fun to include both kinds of vegetables in this meal. I love to use a julienne peeler like this one to make carrots into thin strips.
Make ahead: you can make all the components of this dinner ahead of time and store in the fridge for a few days. The peanut sauce can be stored for up to a week. This would also be great made ahead for lunches or meal prep.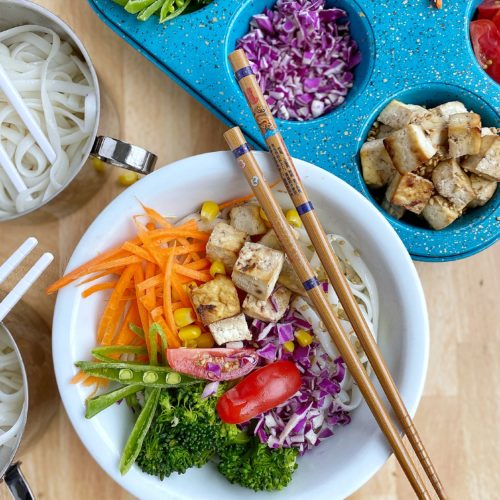 Rainbow Noodle Bowls with Roasted Tofu
Healthy, plant-based weeknight dinner that the whole family will enjoy.
Ingredients
1

14-16 ounce package

extra-firm tofu

1

Tbsp

soy sauce, tamari, or coconut aminos

1

tsp

honey or maple syrup

1

tsp

oil

8

ounces

rice noodles

1/4

cup

diced fresh tomato or red bell pepper

see post for more veggie suggestions

1

medium carrot, grated or thinly sliced into strips

1/4

cup

corn or diced yellow pepper

1/4

cup

thinly sliced sugar snap peas

1

cup

broccoli florets

steamed or roasted

1/2

cup

finely chopped red cabbage

sesame seeds

optional
Peanut Sauce
1/2

cup

unsalted natural peanut butter

or use almond butter or tahini

1

Tbsp

soy sauce, tamari, or coconut aminos

2

tsp

honey or maply syrup

2

tsp

rice wine vinegar

1/4

tsp

garlic powder

or 1 cloved garlic, grated

1/4

tsp

grated fresh ginger

optional

1/4 to 1/2

cup

hot water

to thin out sauce
Instructions
Preheat oven to 425. Line a sheet pan with parchment or non-stick aluminum foil.

Dry tofu with a kitchen towl, pressing gently on all sides to remove excess water. Cut tofu into 1/4 to 1/2-inch cubes. Place tofu on prepared pan.

In a small bowl, mix soy sauce (or alternative), honey, and oil util combined. Pour over tofu and gently toss to coat. Spread tofu out on baking sheet so no pieces are touching. Roast until golden brown, about 15 minutes. Check half way through baking time. If tofu is getting too brown on the bottom, flip each piece and continue cooking. Remove tofu from the oven then sprinkle with a pinch of coarse salt to season.

While tofu is roasting, prepare your rice noodles according to package instructions. Drain and toss with a little oil to prevent them from sticking together. Set aside. Prepare vegetables and place in bowls or a serving platter. Make the sauce.

Once the tofu is cooked and all components are ready, assemble bowls. Place noodles into bowls then top with tofu and desired veggies and drizzle with peanut sauce. Sprinkle with sesame seeds if using. Enjoy warm or at room temperature.
Peanut Sauce
In a large bowl, mix peanut butter, honey, soy sauce, rice vinegar, garlic, and grated ginger if using. This mixture will be very thick.

Slowly whisk in a little hot water at a time until you get a smooth consistency that you'll be able drizzle. Taste and add some salt or extra soy sauce as needed. Store any extra sauce in the fridge for up to a week.
Save to Pinterest!!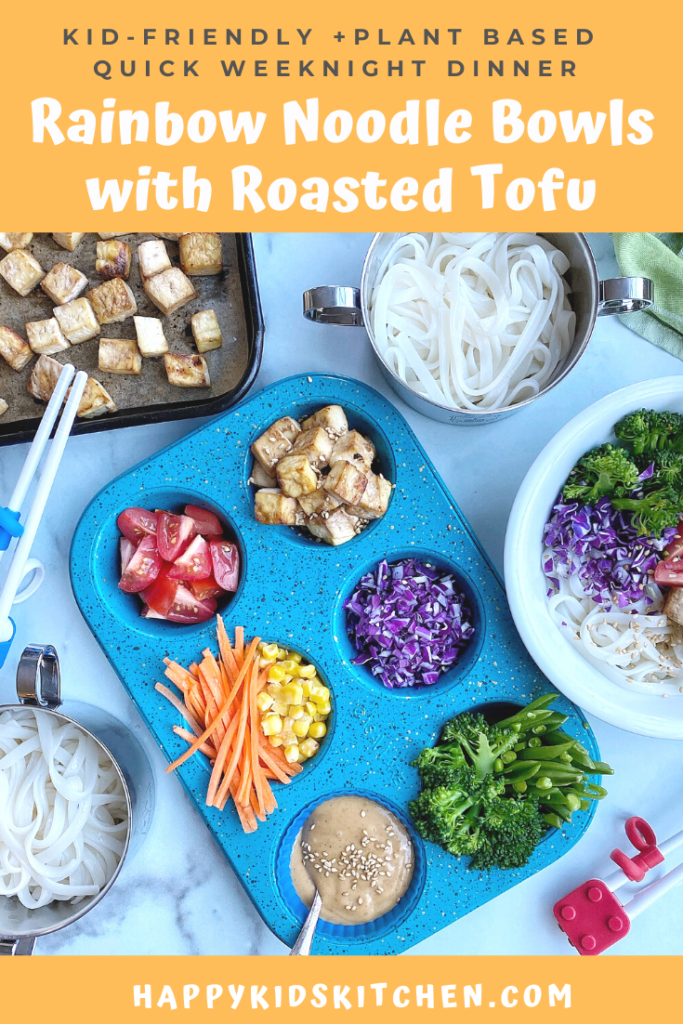 Other quick and easy dinner recipes:
Rainbow Fried Rice (or Quinoa!)
Baked Spaghetti Cups (with Veggies!)