Want your family to enjoy more fish for dinner? This delicious recipe is your solution! Homemade Fish Nuggets come together in just 15 minutes are made from a handful of simple ingredients.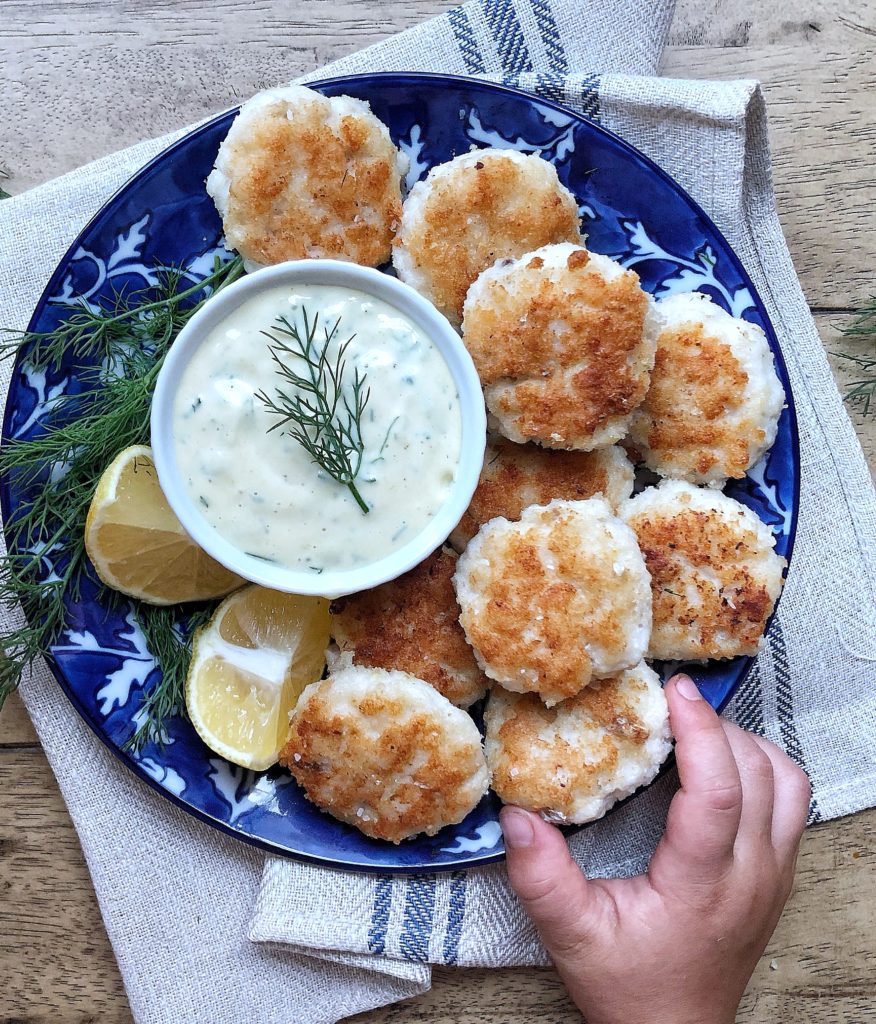 We love the golden brown and delicious crust achieved from cooking the nuggets in a skillet. However, you can also easily bake the Homemade Fish Nuggets too. Plus, kids will love to help add ingredients to the food processor and push those buttons. Add the the lemony recipe dip recipe I've included below or your kid's favorite dip (ketchup is usually a winner around here!) and some veggies on the side and you've got a super kid-friendly, fun, and nutritious meal.
Kids can help make Homemade Fish Nuggets!
Kids can help without having to touch any raw fish! (Although there's no reason they can't touch the fish if you are comfortable with that. As long as your child understands not to eat it or run away with messy hands, I would let kids around 4 and up help with every step of this recipe.)
Measure! Teach your child how to use measuring spoons. Scoop up the salt then level it off with a straight, flat finger to get an accurate amount.
Zest! Hold the lemon together and carefully rub it across the microplane zester to get some awesome lemon flavor into the recipe. This is my go-to for zesting, grating cheese, and so much more.
Breadcrumb finish: make the patties out of the fish mixture then place it into the breadcrumbs. You child can then help by pressing the patty into the crumbs and coating it on all sides.
Mix the sauce! If you are making the homemade dip recipe included, kids will love a chance to mix all the ingredients together in a bowl.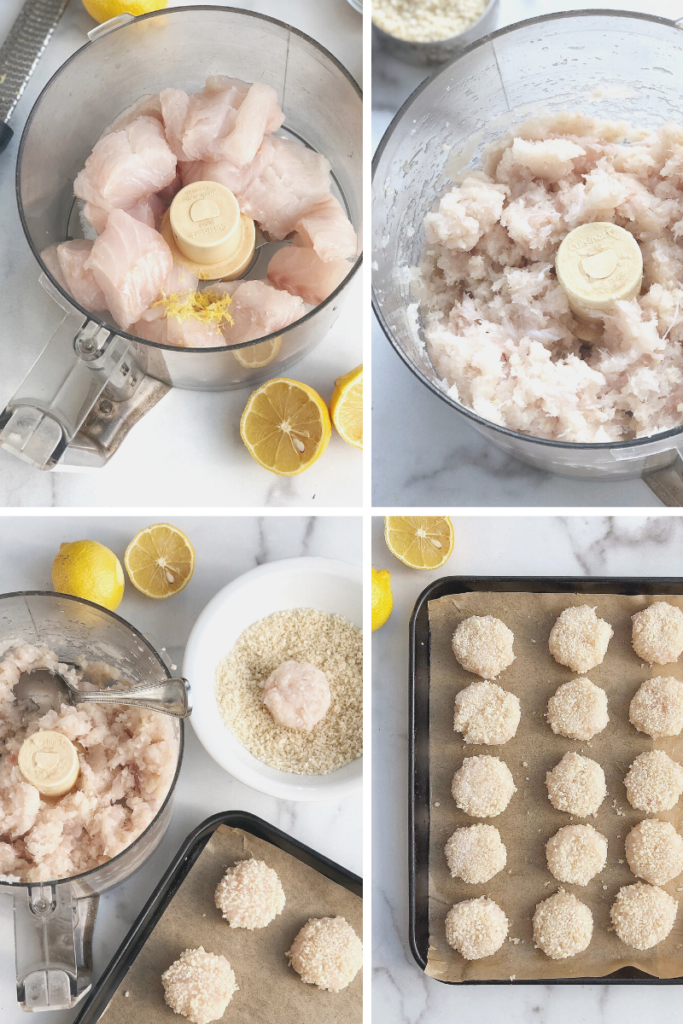 Helpful Tips and Substitutions:
Egg-free? I have not tested this recipe without the egg. However, using a little starch (like arrowroot or potato starch) or some flour with a tablespoon or two of water to bind the mixture might work. Would love to  know if you try this recipe without the eggs!
Gluten-free? There are lots of gluten-free bread crumbs in stores these days. You could also grind up your favorite gluten-free crackers and use those too!
Pan vs. Oven? Baking the fish nuggets is probably the easier way to go since it is hands-off and you don't have to flip the nuggets up at the stove. On the other hand, pan frying the nuggets gives them a deliciously crunchy and golden brown crust that you just can't get from baking them. We prefer them cooking at the stove, but if I had a grumpy toddler at my feet, I might just bake them instead. Delicious either way!
Make ahead? Yes, these are great to make ahead and keep in the fridge for a few days or even freeze for up to a month. They are best rewarmed in the oven to maintain the crispy exterior.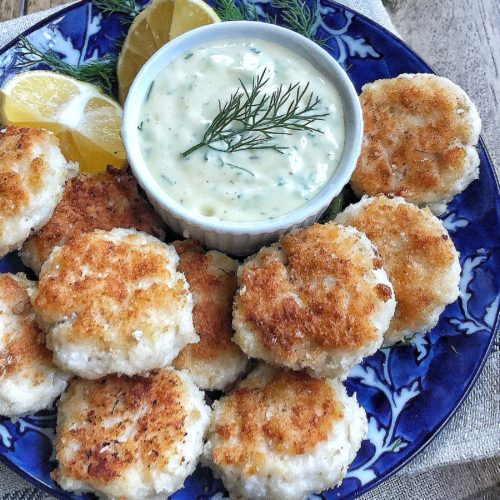 Homemade Fish Nuggets
A kid-friendly, easy was to enjoy fish at home!
Ingredients
1

pound

fresh, skiness white fish such as cod

1

egg white

from a large egg

1/2

tsp

lemon zest

1

Tbsp

lemon juice

1/4

tsp

garlic powder

1/4

tsp

kosher or coase sea salt

1

cup

Panko breadcrumbs, divided

or whole wheat or gluten-free breadcrumbs

avocado or vegetable oil

for cooking
Easy Dill Dip
1

cup

high quality mayonnaise

or full fat Greek yogurt

1

Tbsp

Dijon mustard

1

Tbsp

fresh lemon juice

1/4

tsp

garlic powder

1/2

tsp

dried dill

or 1 Tbsp chopped fresh dill

Pinch of salt
Instructions
Cut fish fillet into large chunks and place into a food processor fitted with the metal blade. Add egg white, lemon zest, lemon juice, garlic powder, salt, and 1/2 cup breadcrumbs. Chop everything together using 10 to 12 one-second pulses. You want the fish to be finely chopped but not completely pureed.

Place remaining 1/2 cup breacrumbs in a shallow bowl or plate. Remove the blade from the food processor. Make heaping tablespoon-sized patties out of the fish mixture. Place the patty in the breadcrumbs and turn to coat on all sides. Press gently to ensure the crumbs adhere.

To pan fry, heat about a tablespoon of oil in a large skillet or non-stick pan. When oil is hot, add nuggets to the pan. Don't overcrowd the pan. You may have to cook in a few batches. Add more oil as needed. Cook until golden brown then flip and cook the other side, about 2 minutes per side. Remove nuggets to a plate and sprinkle with a little extra salt. Serve warm with dip on the side.

To bake, preheat oven to 400 degrees. Grease a pan lined with parchment or foil with about a tablespoon of oil. Place nuggets on prepared pan then bake until cooked through, about 8 minutes. Flip nuggets half way through cooking. Sprinkle a little extra salt on top. Serve warm with dip on the side.
Easy Dill Dip
Mix all ingredients in a bowl. Refrigerate until ready to serve or up to a week.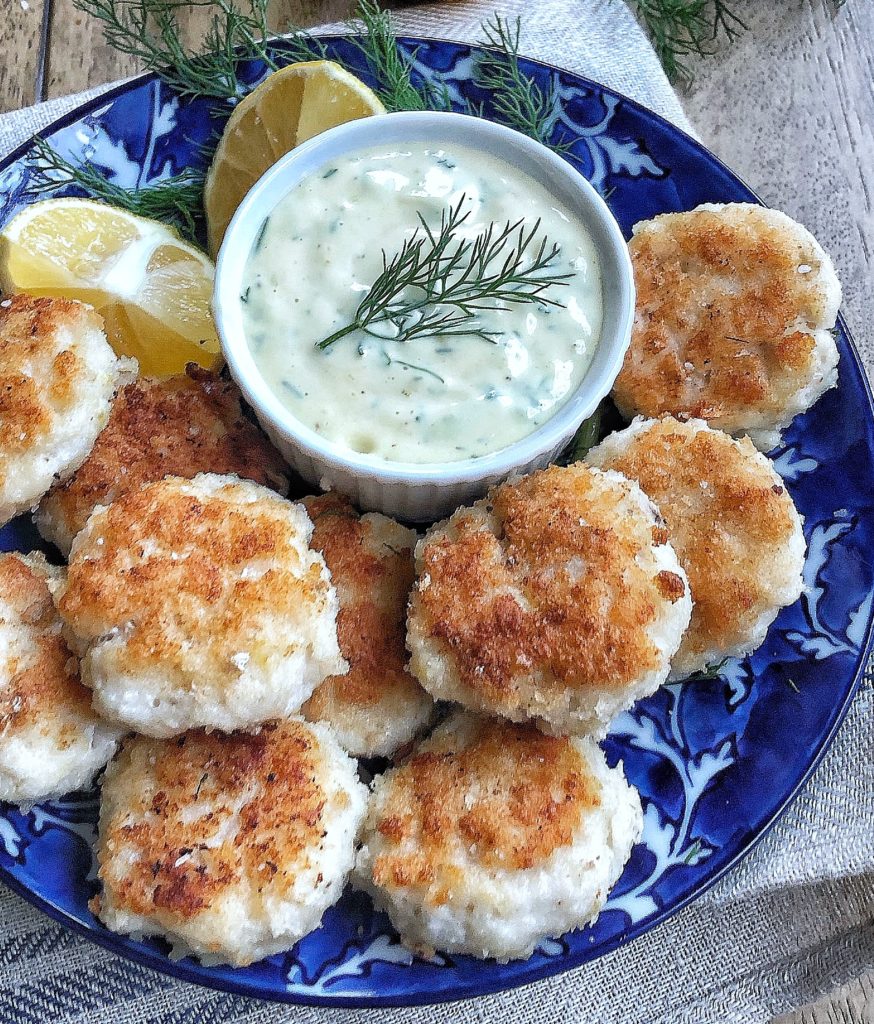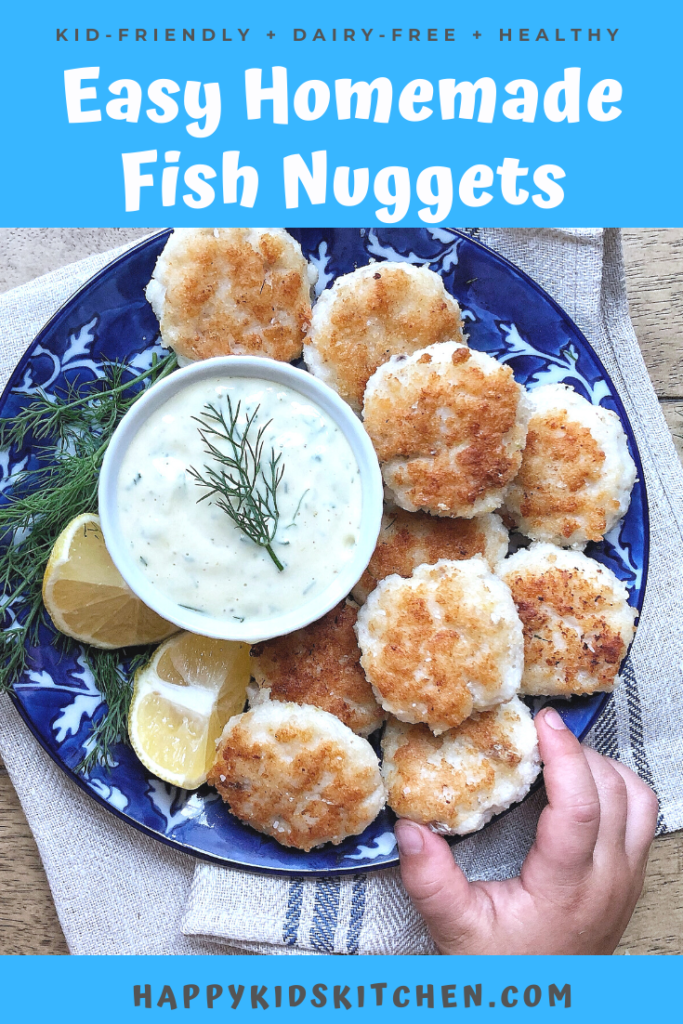 Looking for other kid-friendly dinner ideas??
Baked Spaghetti Cups (with Veggies!)
Roasted Garlic and Cauliflower Mac and Cheese
Rainbow Fried Rice (or Quinoa)