Easy Veggie and Bean Quesadillas
Veggie and plant-based protein packed into a super toddler and kid friendly package! Easy Veggie and Bean Quesadillas are simple to make and always a hit for lunch or dinner at my house. This recipe is very versatile and you can use whatever vegetables and beans you have on hand to make the no-cook filling. Throw some guacamole or fruit on the side and you've got a super nutritious and delicious meal.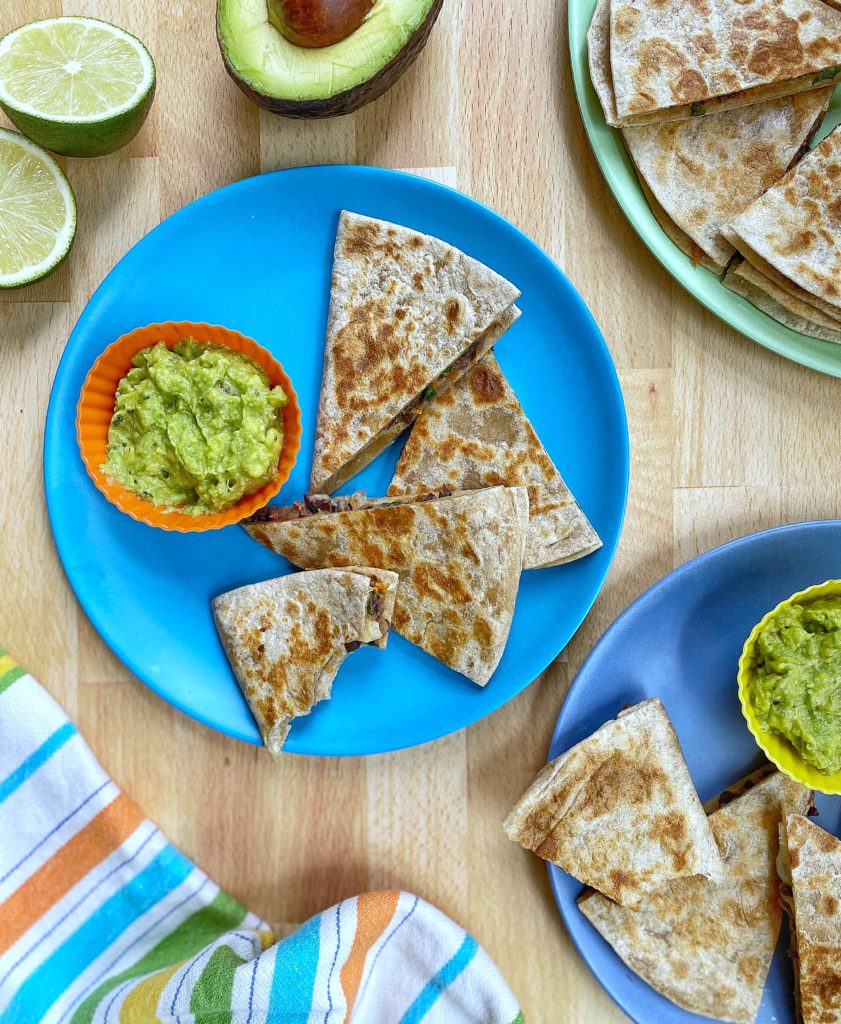 Kids in the Kitchen: Easy Veggie and Bean Quesadillas
Prep the veggies. Whatever veggies you have on hand to use, have kids help grate the carrot, tear up some spinach leaves, or chop up some peppers.
 Mash! It's so fun for kids to add the ingredients to a bowl then use a potato masher or large spoon to stir and smash everything together.
Assemble. Kids can help layer the quesadillas with cheese and spread on the bean filling.
Cook. If you are comfortable with your child helping at the stove, you can place the quesadillas in the pan then have your child help push down on them with a spatula. Flip the quesadillas then have the child press again.
Slice. Once the quesadillas have cooled a bit on a cutting board, kids can help cut them into wedges with a pizza wheel.
Subs and Tips:
Tortillas: We love whole wheat tortillas, especially the ones we get from One Mighty Mill. However, you can use whatever tortillas you enjoy. There are so many great gluten and/or grain-free options in the stores these days, so quesadillas can be adapted for any eating style.
Beans: I've used both black beans or pinto beans in this recipe, but any canned or freshly cooked beans can be used in these quesadillas.
Veggies: the key with this recipe, since the veggies aren't cooked before adding to the quesadillas, is making the veggies very small. Grating carrots or finely chopping other softer vegetables like leafy greens, bell peppers, or broccoli would work well. You could also use any leftover cooked veggies that you have on hand. If you use raw zucchini or any defrosted frozen vegetables, make sure to ring out any excess water before adding them to the bean mixture.
Dairy-free: You can use any dairy-free shredded cheese for this recipe. However, if you don't have any cheese, these quesadillas are pretty good without it too. The beans will hold the tortillas together and crisping up in a pan will make it feel like a traditional quesadilla even without the cheese.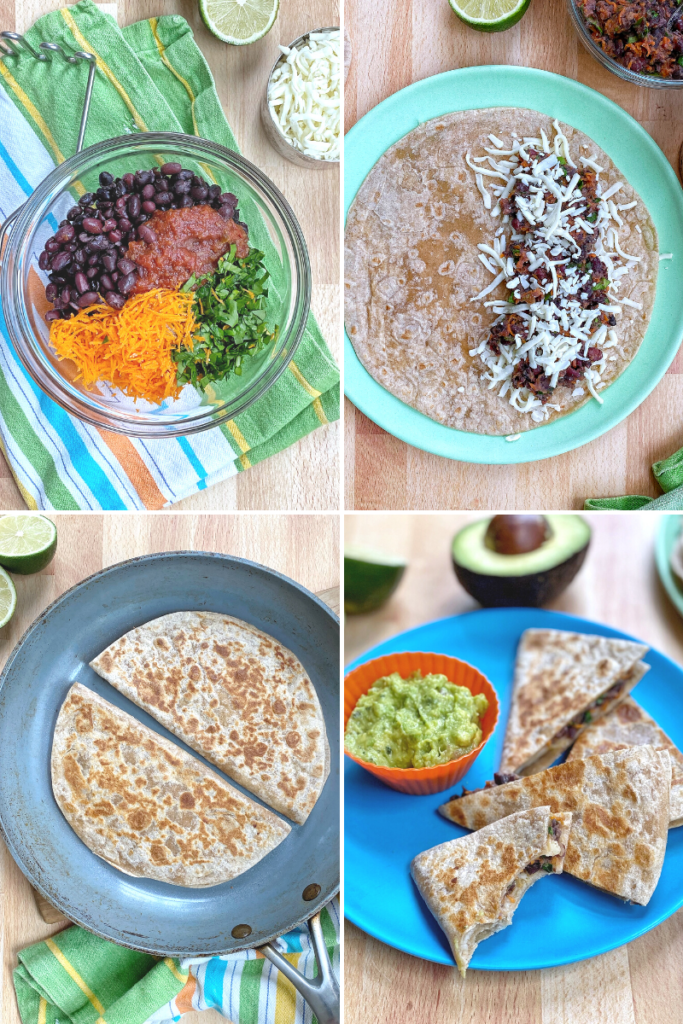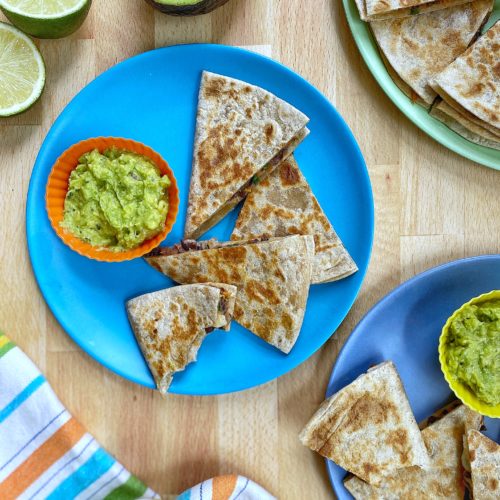 Easy Veggie and Bean Quesadillas
Veggie and protein-packed easy meal for kids and adults.
Ingredients
1

14-ounce can

black or pinto beans

about 1 1/2 cups cooked beans

1/4

cup

finely grated carrot

1/4

cup

finey chopped baby spinach

or sub any veggies you like

2

Tbsp

jarred mild salsa

4 to 5

large tortillas

1

cup

grated cheese

avocado or vegetable oil, for cooking
Instructions
Drain and rinse canned beans in a colander. Be sure to drain well to remove any excess water. Add beans to a bowl with the vegetables and salsa. Use a potato masher or the back of a large spoon to stir and mash all the ingredients together.

To assemble quesadillas, add about 2 tablespoons of shredded cheese on one half of a tortilla, spread on about 2 to 3 tablespoons of the bean mixture, then top with another 2 tablespoons of cheese. Fold the opposite side of the tortilla over the filling and press gently to seal. Repeat with remaining tortillas. You may have some bean mixture leftover depending on how much you put in each quesadilla.

Heat a skillet over medium high heat. Add a small amount of oil to the pan or brush the outside of the tortillas with oil. Cook the quesadillas until browned and crisp, about one minute per side. Add additional oil as needed.

Remove cooked quesadillas to a cutting board and allow to cool for a minute before cutting into wedges. Enjoy warm.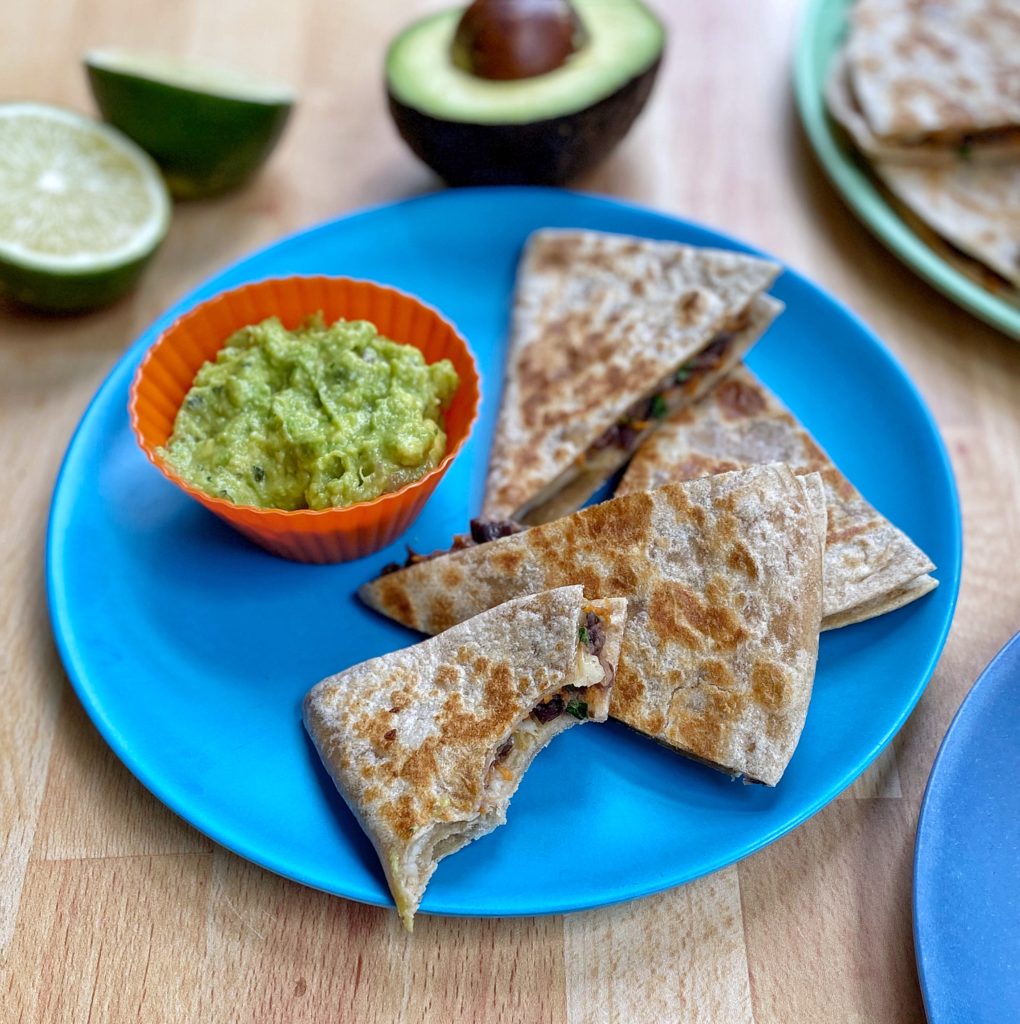 Save to Pinterest for later!!
Other EASY dinner recipes:
Easy Homemade Pizza (with yeast-free dough)