Culture and Cooking: Children's Books about Diversity and Food
These children's books about world cultures and cooking traditions celebrate diversity! There are so many reasons we want to teach our children about food from around the globe. Cooking and eating is something we all, as humans, have in common, and it's something kids easily relate to. Reading about recipes and food traditions from other cultures is a great way to teach children to embrace and celebrate differences across race, ethnicity, gender, and appearance.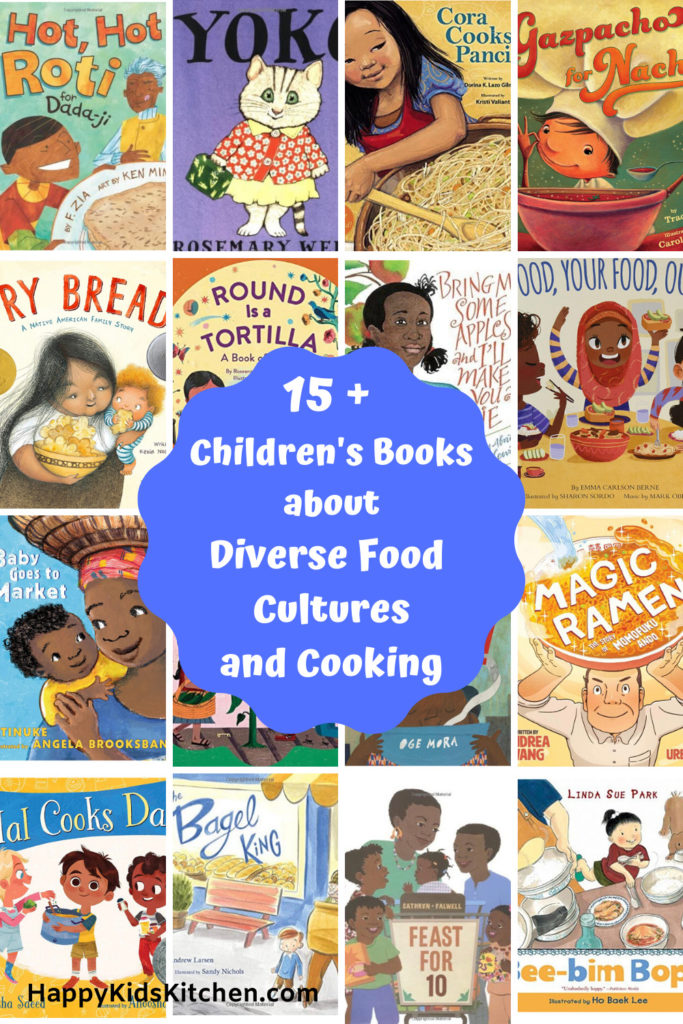 Why read books about diverse food cultures with your child?
Help kids appreciate their own family's food culture and special recipes. After reading, talk about your own family's background and what recipes you make at home that represent your heritage.
Raise more adventurous eaters. Although a child isn't having direct contact with food through reading, talking and learning about it more detail is exposure to new foods. After reading, these foods aren't as scary and unknown and therefore kids are more likely to try them in the future.
Encourage curiosity about the world and people of different cultural background living around us. You have to know what's out there to want to learn more about it. Plus, it is great to recognize the diverse eating styles, religions, or ethnicities of the people living in our own country and communities.
Provide a starting point for discussing racism and biases that exist in our communities and world.
Process emotions and experiences. Reading can create an opportunity to talk about judgement that has been placed on our kids for what they eat or how we might judge others.
About my book choices: These books are not in any particular order. Each book has an age suggestion, but overall I feel as though all the books on this list would be great for 2 through elementary school aged children. I know there are probably lots more amazing books in this genre, so please feel free to comment below or email me if you have any other suggestions.
Where can I find the books in this post?
All the books listed below are on my "Favorite Books for Kids" list on my Amazon Affiliate store as well as my affiliate store on Bookshop.org, see more info below. (Being an affiliate means that I get a small commission from your purchase through my link with no additional charge to you.) However, I also encourage you to buy books from local and independently owned bookstores when possible. It supports our local communities and small businesses that need the income. The lists were created so that you can easily find all my book recommendations, so no pressure at all to buy from my links. Thank you in advance for your support if you do decide to purchase from my affiliate stores.
Bookshop.org: when buying books from this website, a portion of your purchase goes towards supporting local, independently owned bookstores. It's easy to search for titles and there is also a page on the site where you can find bookshops in your area.
Support Black-owned bookstores: Here is a list of local and online bookstores where your book purchases will directly support BIPOC businesses.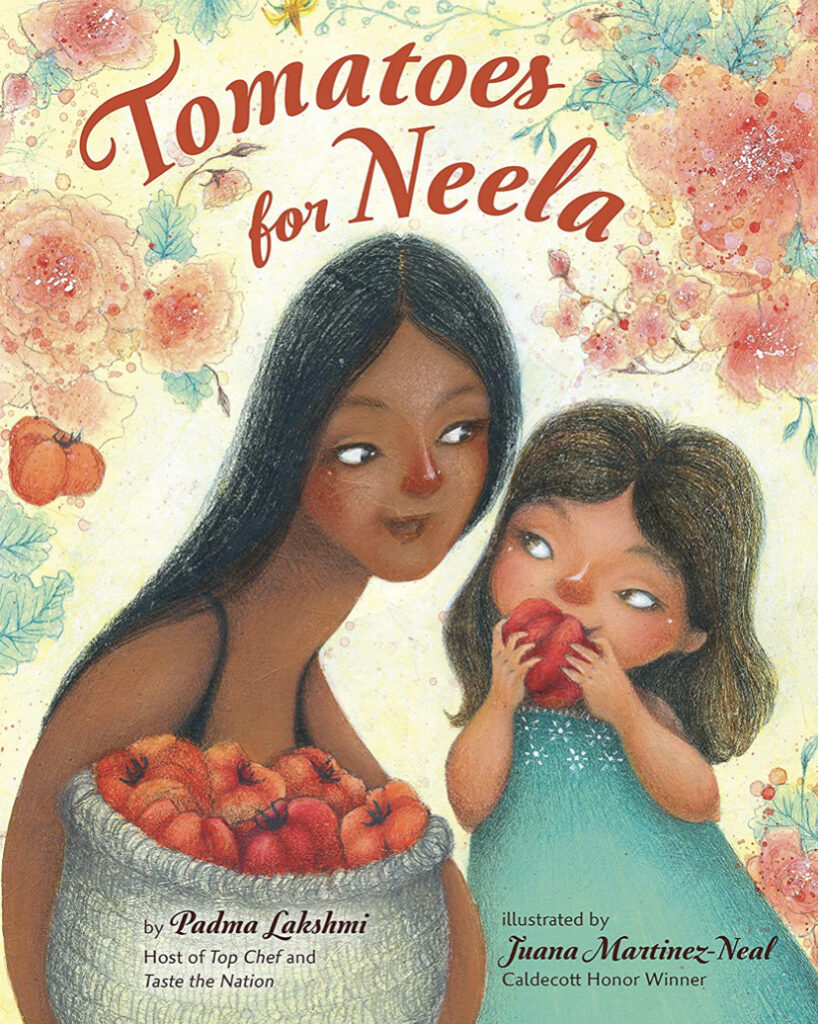 Age: 3 and up
This beautifully illustrated book follows young Neela as she cooks with her mother, and learns all about tomatoes. Written by Padma Lakshmi of Top Chef fame, there are even two real recipes at the end of the book, "Paati's Tomato Sauce" and "Neela's Tomato Chutney", that both have extensive preparation instructions. These recipes are followed by some "Fun Facts" about tomatoes, a section about farm workers, and then a note from the author.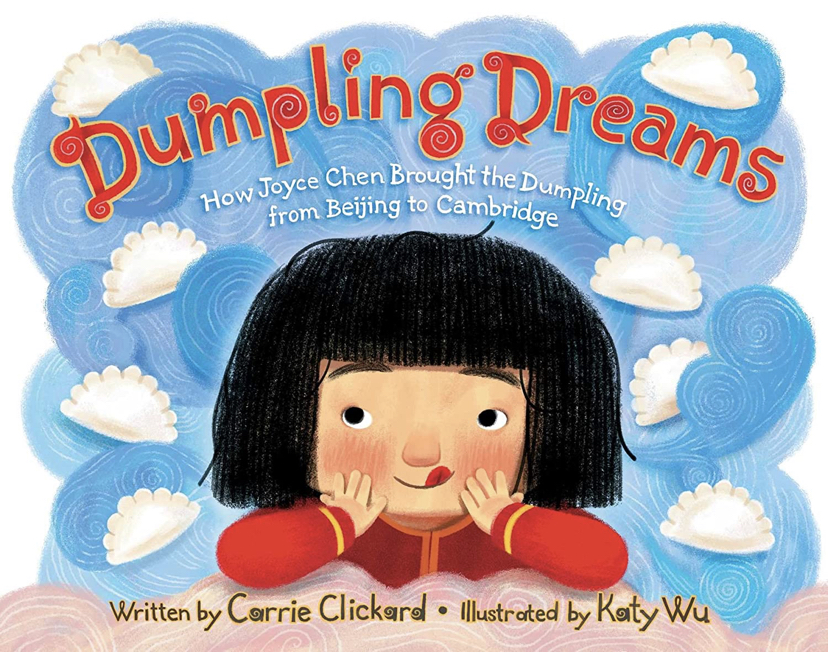 Age: 3 to 7
Another favorite book of my dumpling-obsessed kiddos, this book follows the life of chef Joyce Chen, a chef and cookbook author that emigrated to the US in 1949. I love how the book shows Chen introducing Americans to authentic Chinese cuisine, eventually opening up a restaurant in Cambridge, Massachusetts to share her recipes.
"The rhyming text and brightly colored digital illustrations maintain an upbeat, positive tone appropriate for a young audience, even as they allude to serious topics, such as war in China causing Joyce's family to relocate to the U.S., and the difficulties of adapting to a new culture. A glossary effectively explains many elements pictured but not detailed in the text, while a time line at the end fills in historical context. Includes dumpling recipes for those eager to taste for themselves. — Booklist"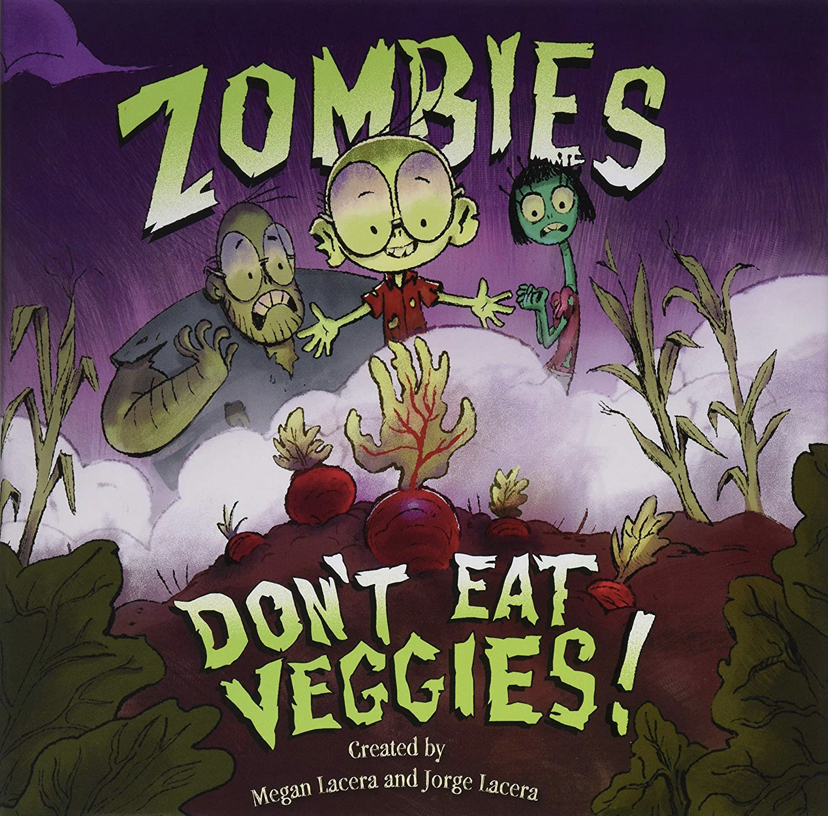 Age: 4 and up
Although not technically about a specific culture, I had to include this book because it's one of our very favorites. There are Spanish words sprinkled throughout the text and several recipes in the back. We especially love this book around Halloween time, but it's fun all year as well. The story about a boy who's zombie family doesn't understand is love of vegetables is heartwarming, funny, and teaches lessons about accepting differences.
Also available in a full Spanish version.
Age: 3 and up
Love, Kindness, and Pizza! This adorable book has a simple but sweet message about finding common ground and bringing people together through food. We love pizza books in our house (since it's my 5 year old's favorite food) so this one was a great addition to our collection.
Not available on Bookstore.org but is on my Amazon list or you might be able to search for it used on bargain book websites.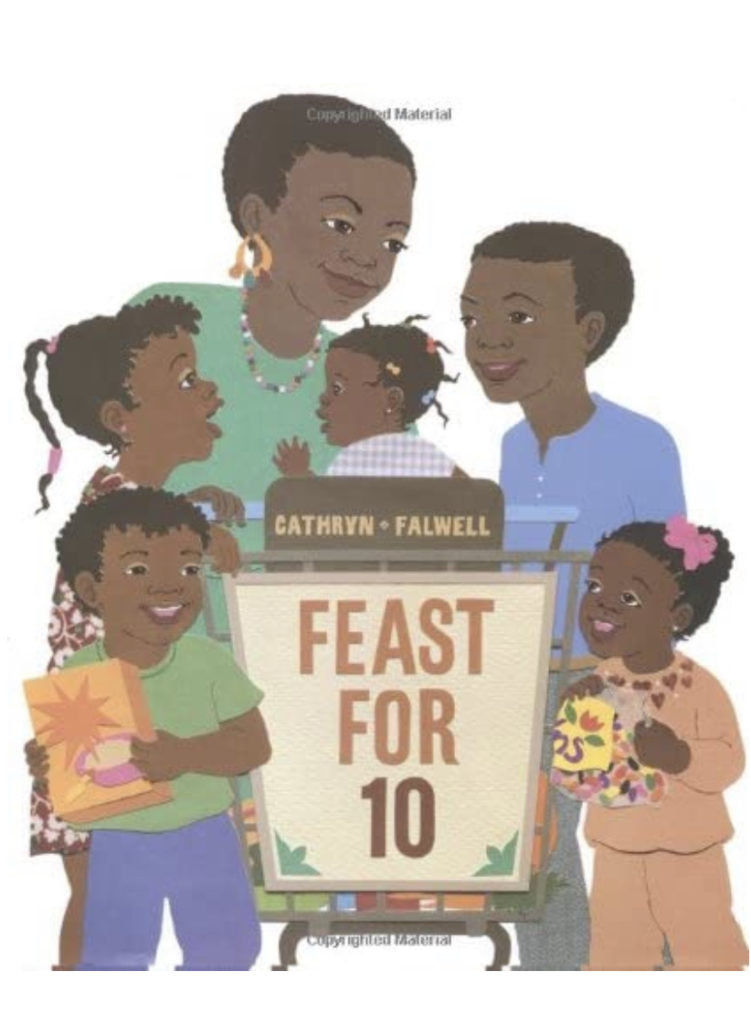 Age: 2 and up
The simple, rhyming text and focus on counting make this book a great one for toddlers and preschoolers. A family starts getting ready for a big, celebratory meal by shopping together, preparing the feast, then sitting down to enjoy their hard work. Would be especially great to read during Thanksgiving time, but also a nice story to highlight family any time of year.
Available in paperback, board book, and hardcover.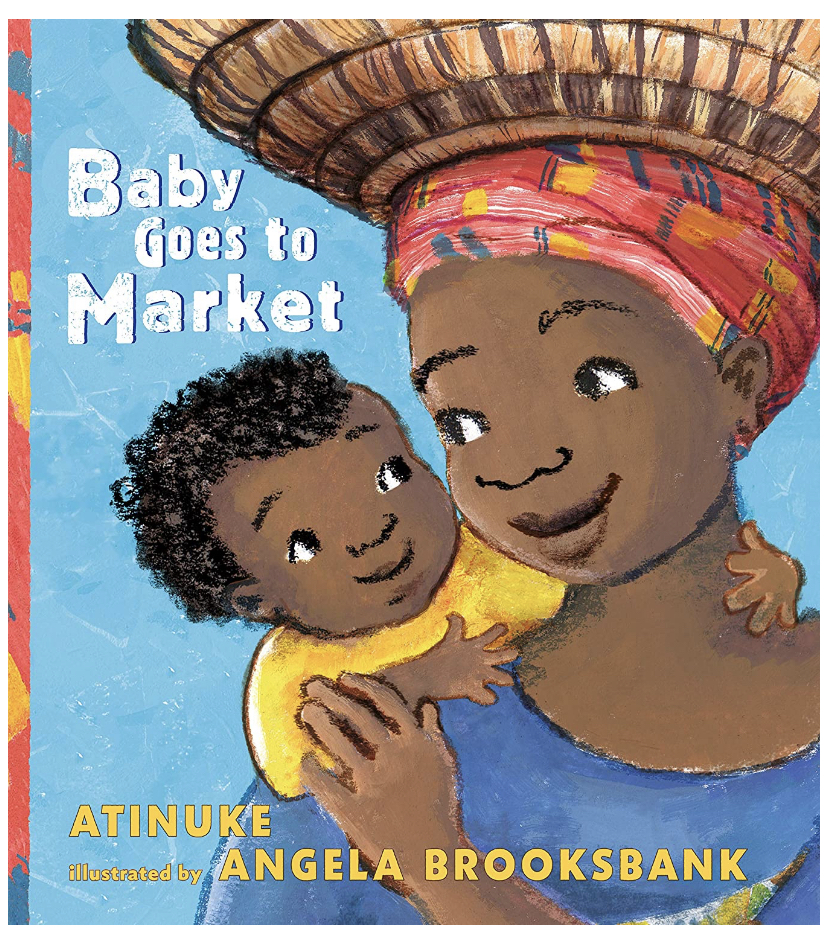 Age: Toddler and preschooler
Join Baby and his doting mama at a bustling southwest Nigerian marketplace for a bright, bouncy read-aloud offering a gentle introduction to numbers. "Market is very crowded. Baby is very curious. Baby is so curious that Mrs. Ade, the banana seller, gives Baby six bananas. Baby is so surprised. Baby eats one banana…and puts five bananas in the basket." I love the vibrant colors and textures featured in the illustrations in this book. It's an easy, fun read, prefect for showing little ones a glimpse of African culture.
Available in hard cover and board book.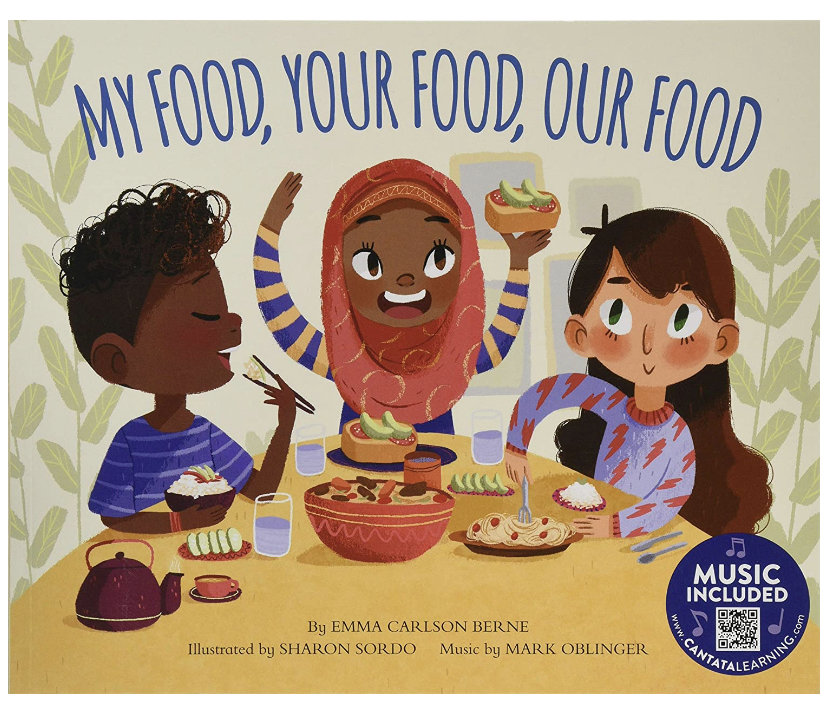 Age: 3 to 7
We all like different food, but everybody needs to eat! How Are We Alike and Different? This book consists of simple song lyrics that are a great starting point in discussing how people from around the world eat different foods in different ways (like sitting on the floor versus at a table or eating with a fork vs eating with chopsticks).
Paperback available on Amazon. Paperback and hardcover both on backorder on Bookstore currently (but check the site to see if that has changed).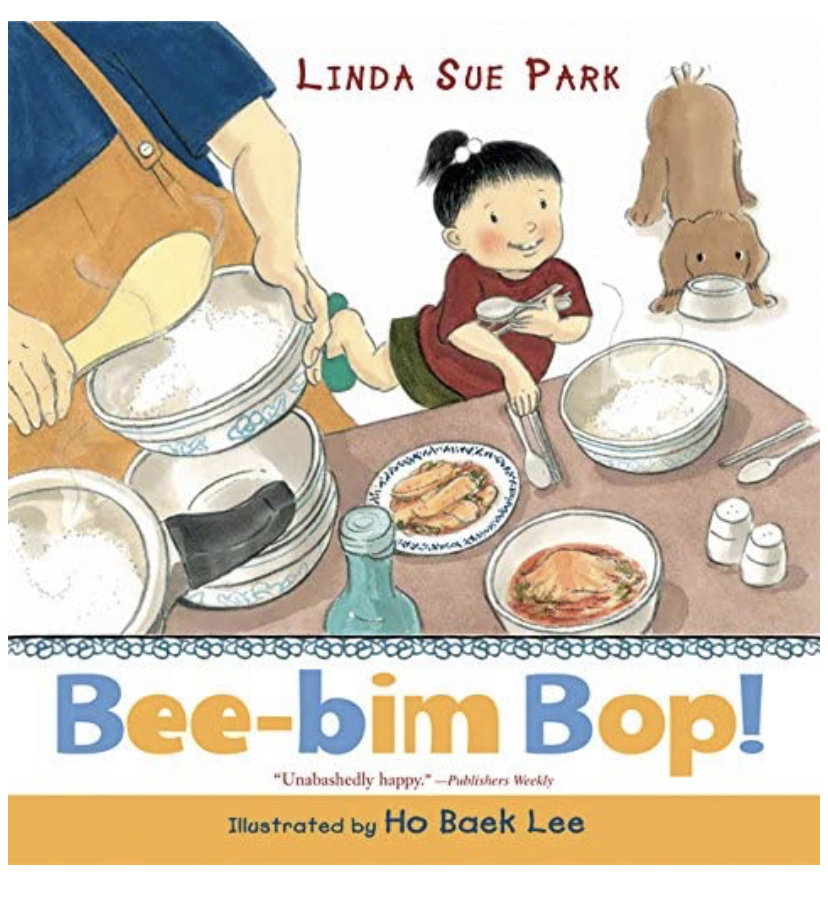 Age: 3 and up
I love this story about a little girl helping her mom make the quintessential Korean rice dish! It has a bouncy, light hearted text that captures the reader and brings you into the kitchen through the little sous chef's point of view. Definitely one of our favorites.
Available in hardcover and paperback.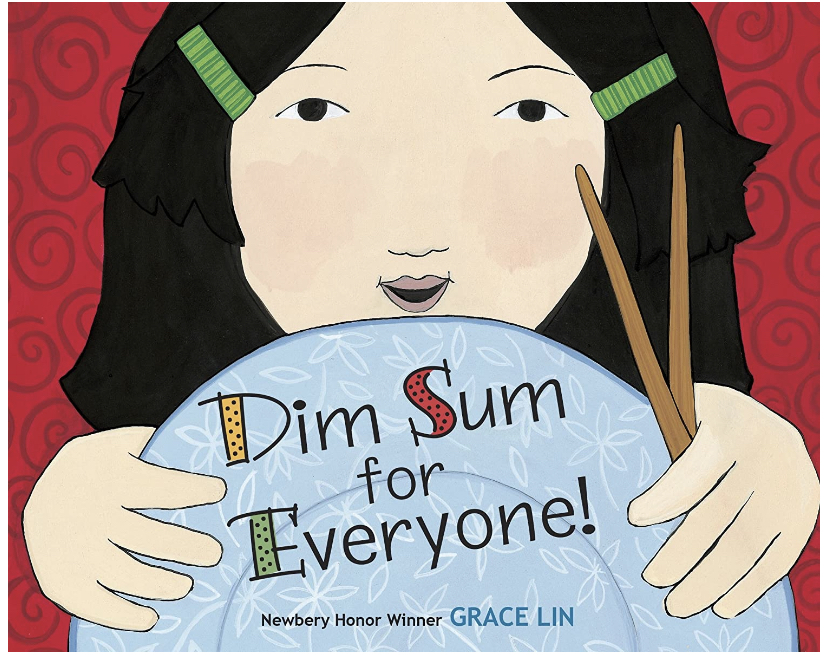 2 and up (Not much text so great for a short read. Beautiful illustrations.)
In English, dim sum means "little hearts," or "touches the heart," but to this young girl, dim sum means delicious. On a visit to a bustling dim sum restaurant, a family picks their favorite little dishes from the steaming trolleys filled with dumplings, cakes, buns, and tarts. And as is traditional and fun, they share their food with each other so that everyone gets a bite of everything.
Just right for young children, Dim Sum for Everyone! celebrates a cultural custom and a universal favorite activity-eating!
I recommend the paperback although this is also available in a board book.
3 and up
This is one of my boys' favorite books. Such a wonderful story of a little girl trying to learn the tricky technique of learning to make Bao, a Chinese dumpling. Through persistence and clever problem solving, Amy succeeds in creating some beautiful Bao and shares them with her class at school. There's even a Bao recipe in the back that we can't wait to try.
Hardcover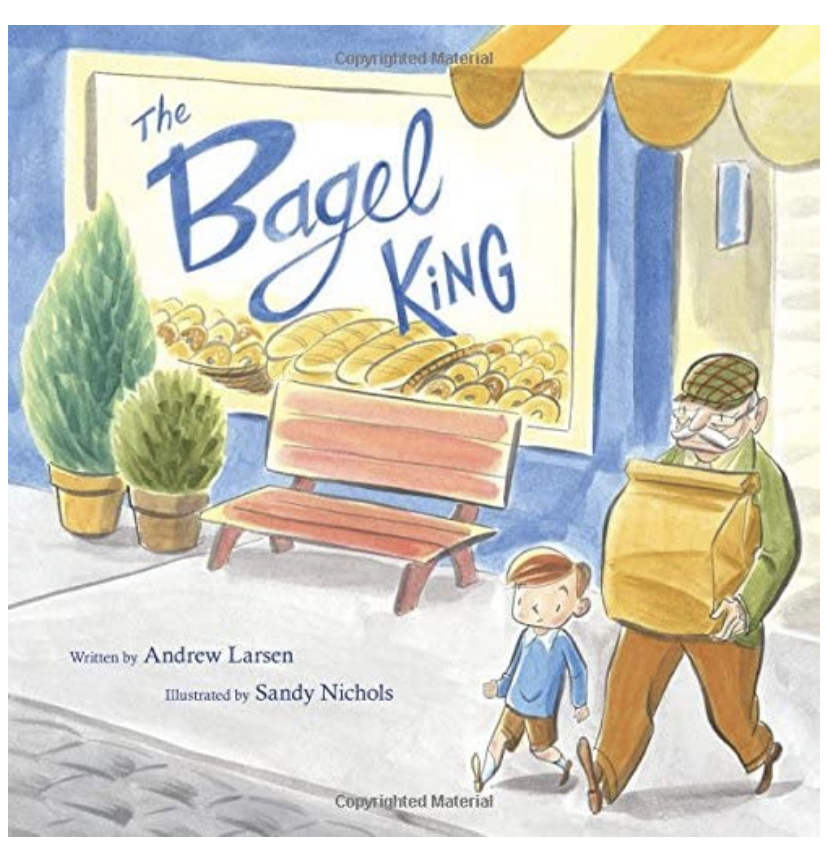 Ages: 4 to 8
Such a heartwarming story about a boy and his grandfather and their love of bagels. This book will spark wonderful discussions about family traditions and community. A mini glossary and pronunciation guide for the Yiddish words that are sprinkled throughout the story (like mensch and oy) provides an opportunity to learn about the many words we use in English that come from other languages, and to explore the connections between culture and language.
Hardcover book on Amazon. Backordered on Bookstore but available used from other partner indie stores on their site.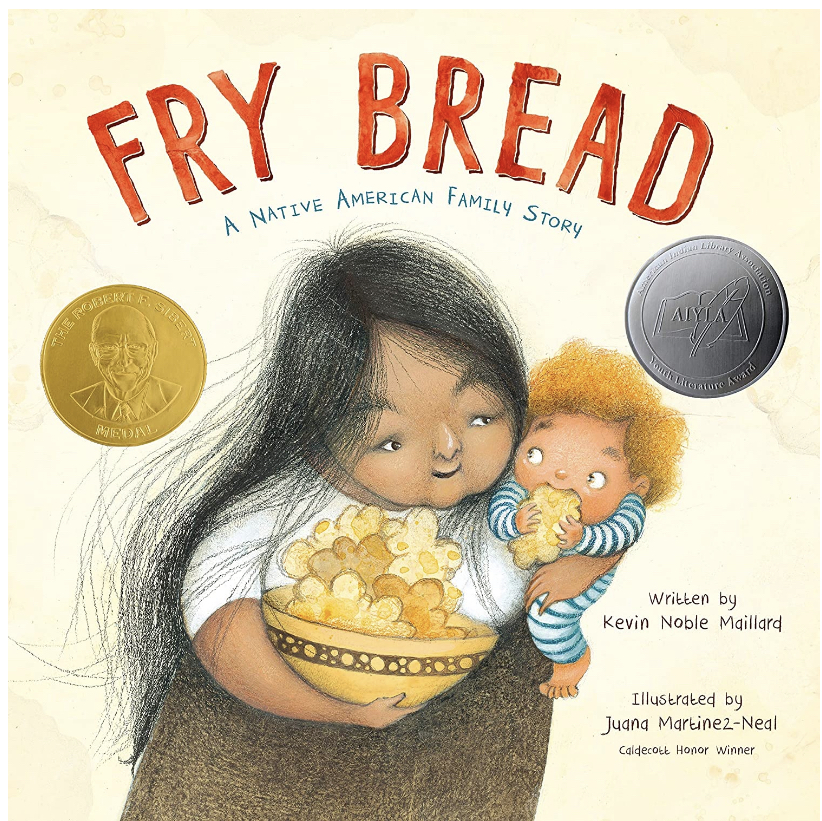 Age: 3 and up
Winner of the 2020 Robert F. Sibert Informational Book Medal
A 2020 American Indian Youth Literature Picture Book Honor Winner
There aren't many children's books that feature Native American culture and food. This book does a beautiful job showing Native American food story, with text and illustrations depicting the diversity of indigenous peoples, the role of continuity between generations, and the adaptation over time of people, place, and tradition.
Excerpt: Fry bread is food.
It is warm and delicious, piled high on a plate. Fry bread is time.
It brings families together for meals and new memories. Fry bread is nation.
It is shared by many, from coast to coast and beyond. Fry bread is us.
It is a celebration of old and new, traditional and modern, similarity and difference.
Hardcover available on both Amazon and Bookstore.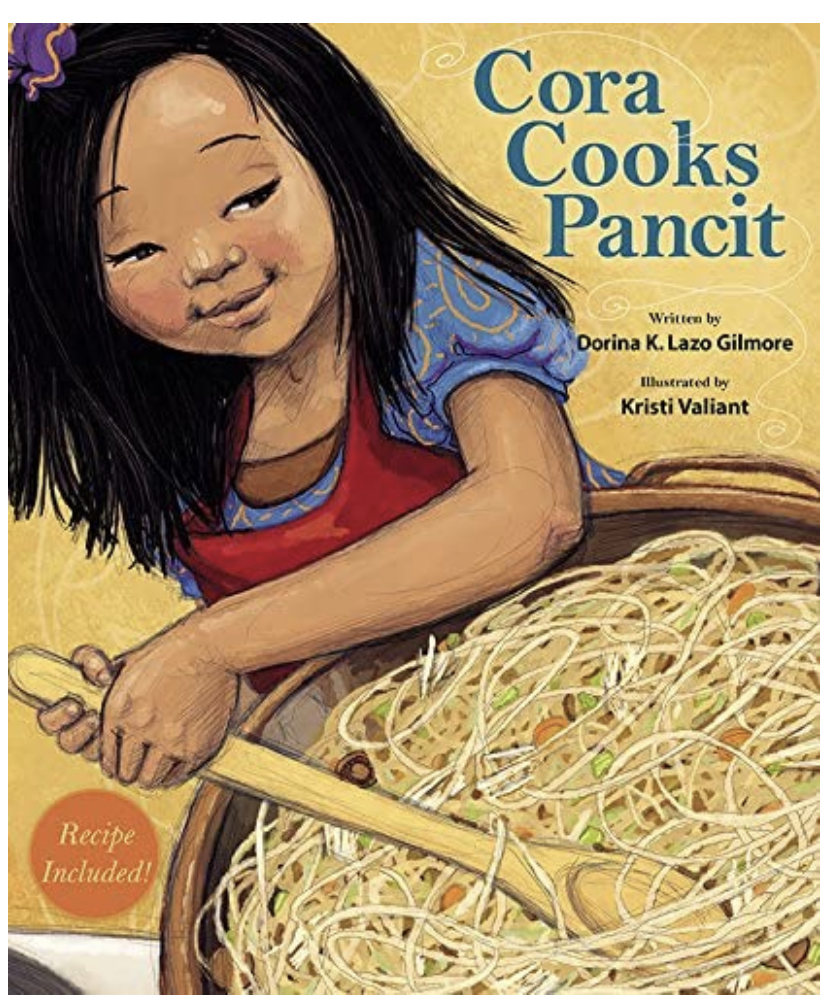 4 and up
Pancit is a delicious Filipino noodle dish. With Mama's help, Cora does the grown-up jobs like shredding the chicken and soaking the noodles (perhaps Mama won't notice if she takes a nibble of chicken or sloshes a little water on the floor). Cora even gets to stir the noodles in the potcarefully– while Mama supervises. When dinner is finally served, her siblings find out that Cora did all their grown-up tasks, and Cora waits anxiously to see what everyone thinks of her cooking.
Recipe included! My boys immediately begged to make the noodles after reading the wonderful story. Available in paperback or used on Amazon and paperback on Bookstore.org.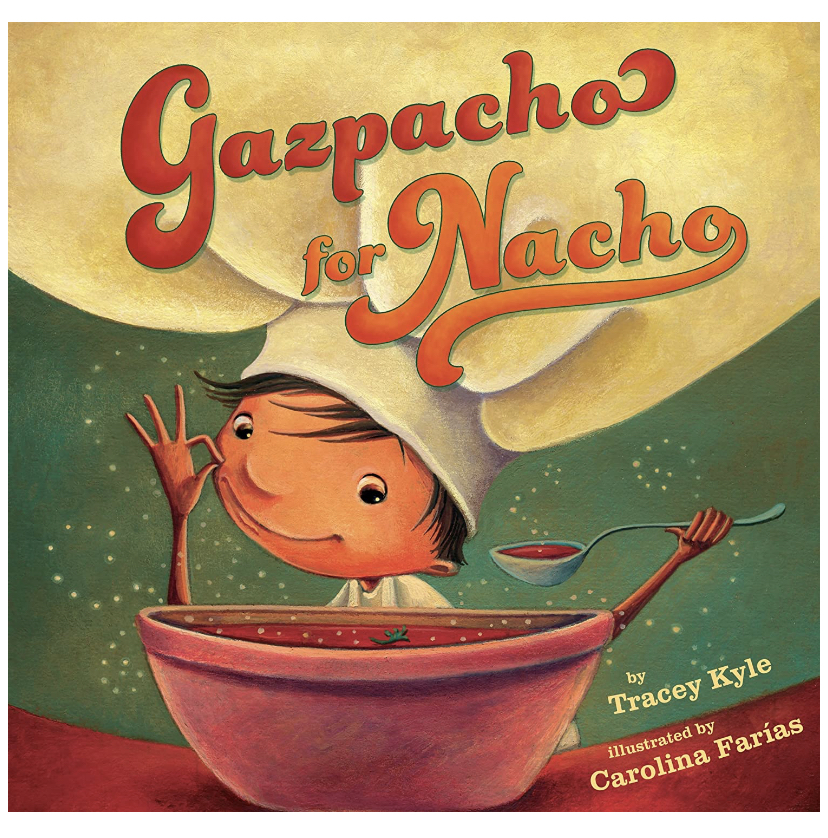 Age: 3 and up
This is the charming story of a picky eater who only wants one thing to eat—gazpacho. While most parents would be delighted if their children ate this Spanish vegetable-based soup, Nacho's mother desperately tries to offer him other dishes, including typical Spanish desserts, to no avail. In an attempt to get him to expand his culinary repertoire, his mother takes Nacho to the market; these illustrations will delight readers with large renditions of beautifully whimsical vegetables, such as vibrant green chiles and large plump tomates that will surely make an enticing and delicious soup. Spanish words peppered throughout the book make it a great way to introduce a second language to young kids. Recipe included too!
Great "look inside" on Amazon if you want to see the pictures and layout. Hardcover available on Bookstore as well.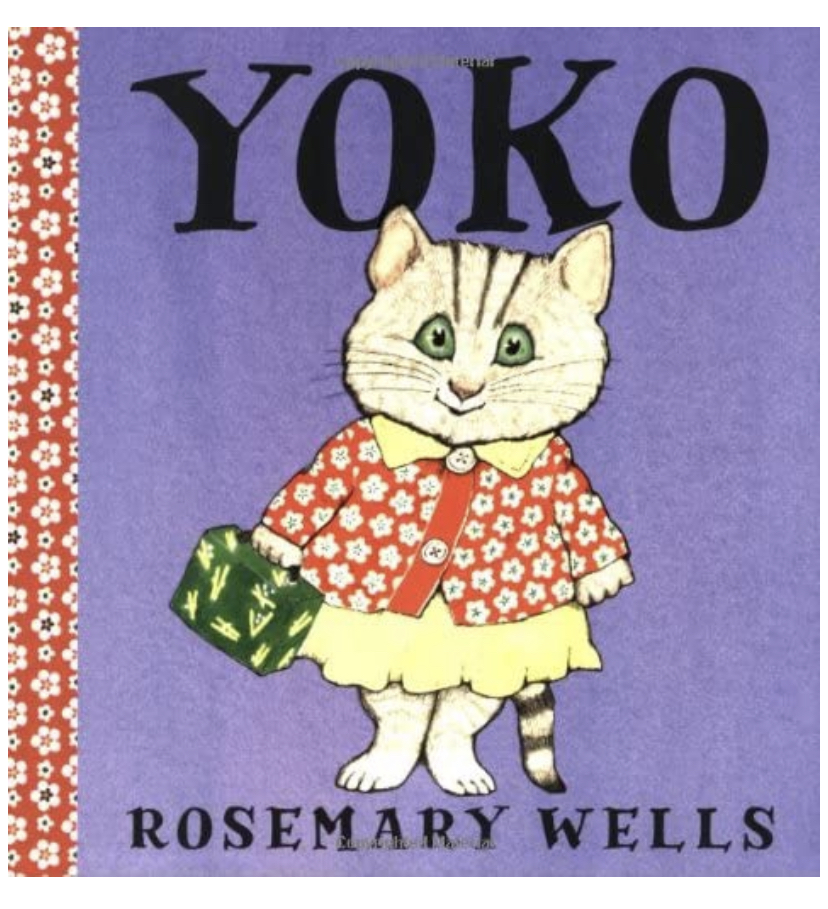 4 and up
This is one of my boys' favorite books (they are 5 and 7). Yoko's mom makes a beautiful lunch of homemade sushi but when its lunchtime at school, the other kids tease he about her unusual meal. The teacher turns this conflict into a great learning opportunity by having all the kids bring in food from their families' cultural background.
Available in paperback and hardcover.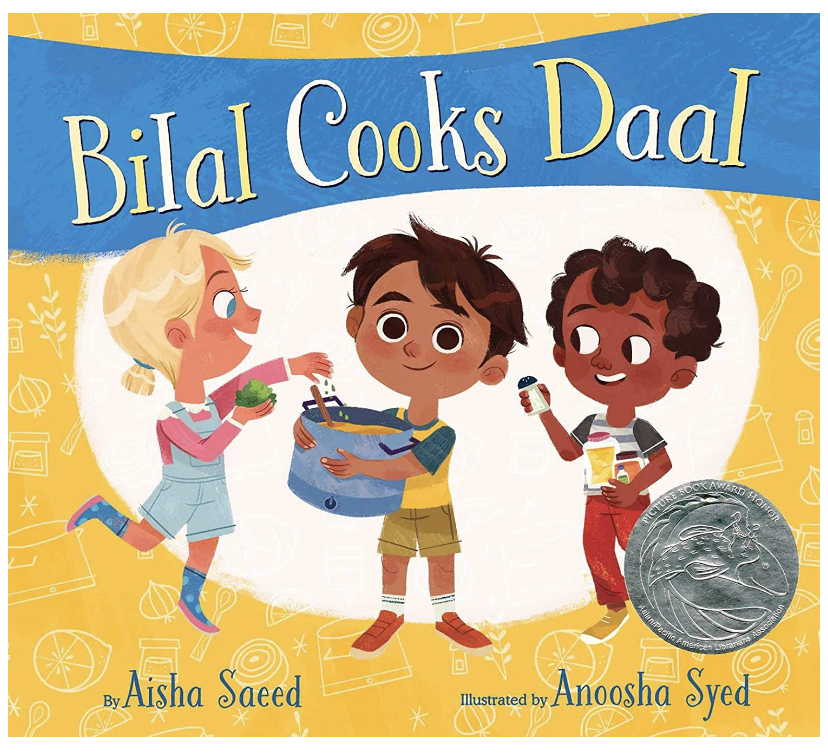 Age: 4 to 8
A Kirkus Reviews Best Picture Book of 2019
An Asian/Pacific American Award for Literature Honor Book 2019 Six-year-old Bilal introduces his friends to his favorite dish–daal!–in this charming picture book that showcases the value of patience, teamwork, community, and sharing. This book by Aisha Saeed, with charming illustrations by Anoosha Syed, uses food as a means of bringing a community together to share in each other's family traditions. I love that the friends help each other cook as they ask questions about this unfamiliar food and learn together.
Hardcover on Amazon and Bookstore. Paperback on Amazon.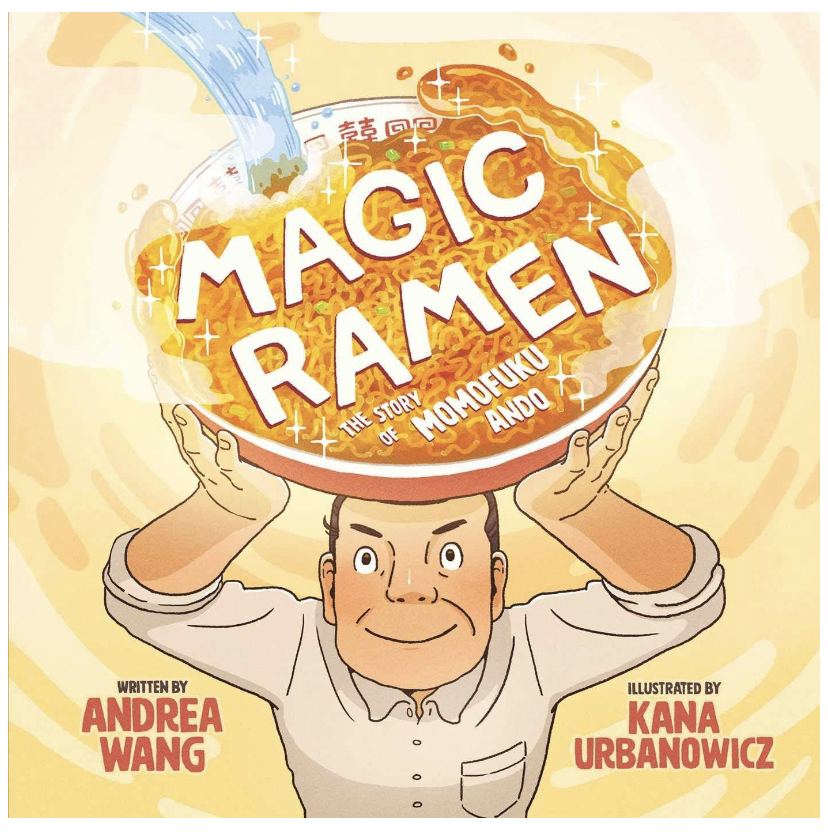 Age: 4 to 8
 For years, Momofuku Ando dreamed about making a new kind of ramen noodle soup that was quick, convenient, and tasty for the hungry people he'd seen in line for a bowl on the black market following World War II. Peace follows from a full stomach, he believed. Day after day, Ando experimented. Night after night, he failed. But Ando kept experimenting. With persistence, creativity, and a little inspiration, Ando succeeded. This is the true story behind one of the world's most popular foods.
Hardcover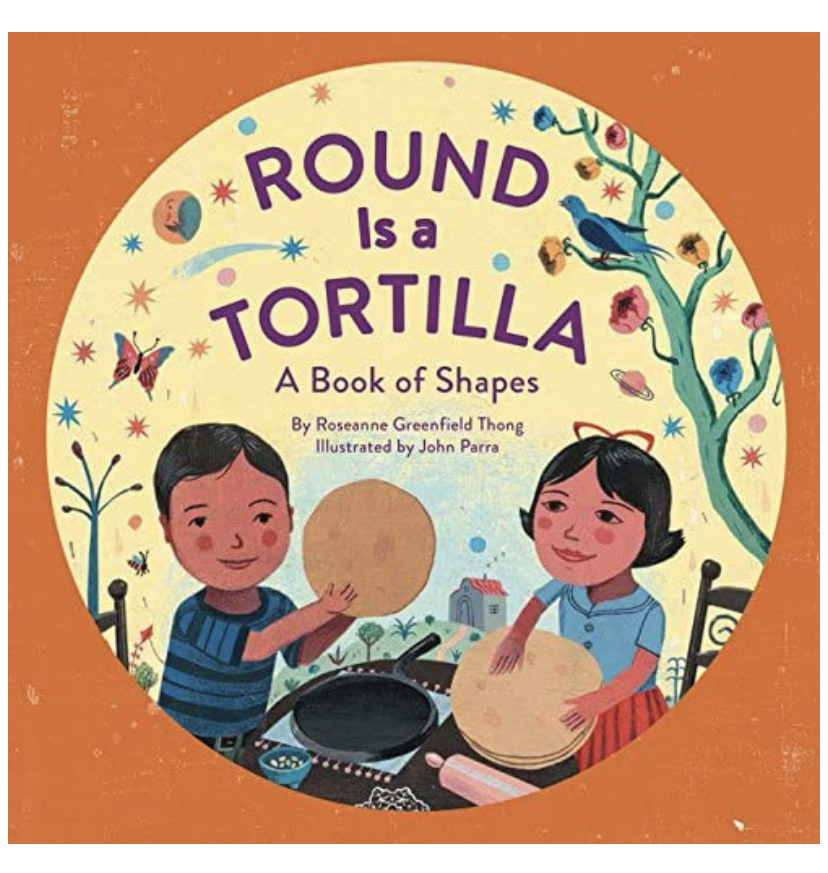 Age: 3 to 5
In this lively picture book, children discover shapes all around them: rectangles are ice-cream carts and stone metates, while triangles are slices of watermelon and quesadillas. Many of the featured objects are Latino in origin, and all are universal in appeal. With rich illustrations, a fun-to-read rhyming text, and an informative glossary, this playful concept book will reinforce the shapes found in every child's day!
Paperback and hardcover.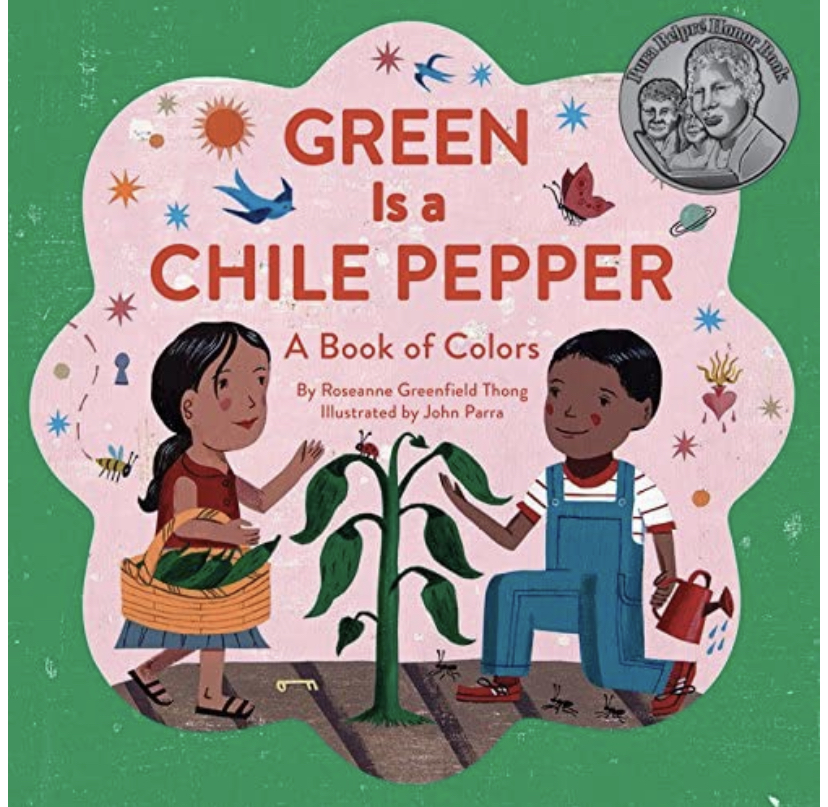 Age: 3 to 5

Same author as Round is a Tortilla seen above, this story Booklist described as "a cheerful color-concept book that presents a slice of Latino culture through food and fun," children discover a world of colors all around them: red is spices and swirling skirts, yellow is masa, tortillas, and sweet corn cake. Many of the featured objects are Latino in origin, and all are universal in appeal. With rich, boisterous illustrations, fun-to-read rhyming text, and an informative glossary, this playful concept book will reinforce the colors found in every child's day!

Hardcover and paperback available.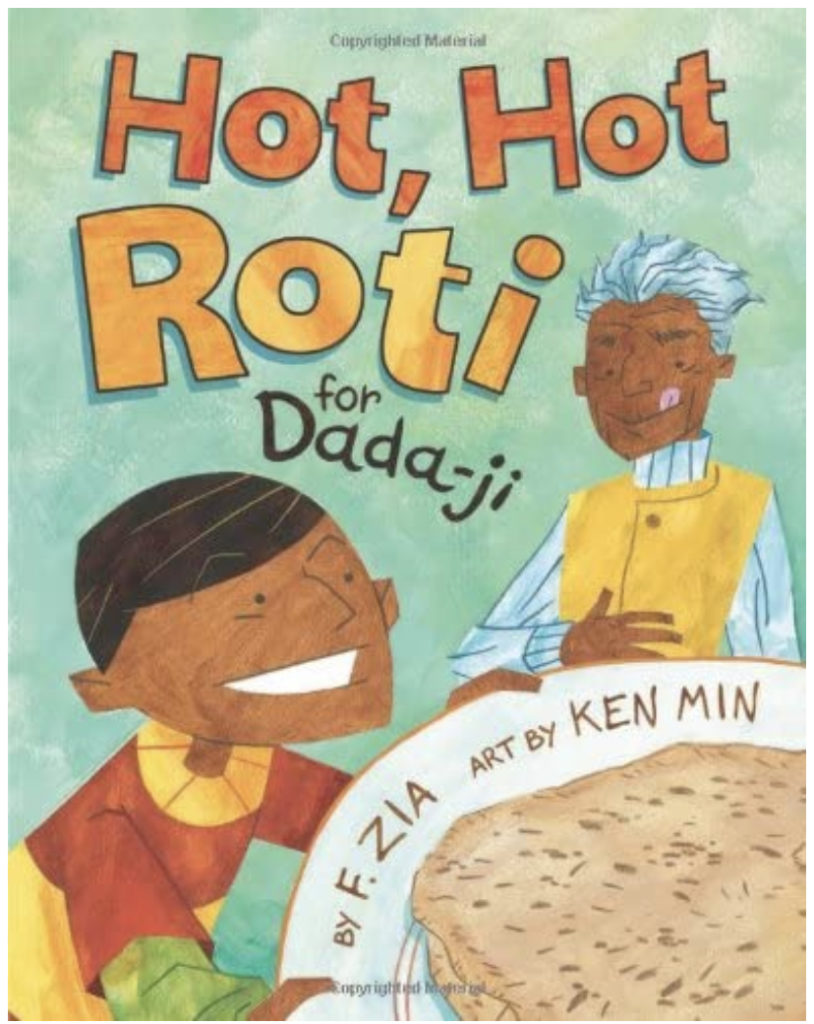 Age: 5 to 8
A fun and colorful book about Aneel and his grandparents that are visiting from India. Dada-ji (grandfather) tells magical stories of when he was young and how the roti gave hime super powers. So Aneel sets out to make Dada-ji Roti to eat and see if that magic still exists
Amazon paperback linked in heading above. Bookstore.org hardcover available: click HERE.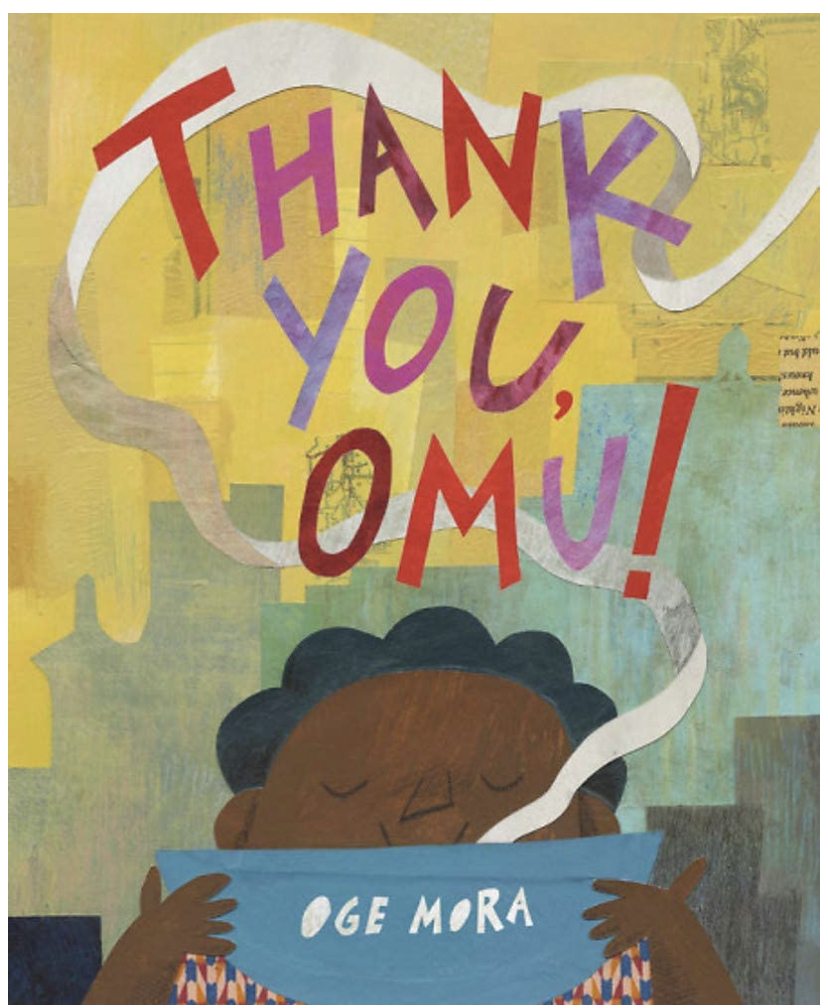 Age: 3 to 8
Everyone in the neighborhood dreams of a taste of Omu's delicious stew! One by one, they follow their noses toward the scrumptious scent. And one by one, Omu offers a portion of her meal. Soon the pot is empty. Has she been so generous that she has nothing left for herself? An author's note explains that "Omu" (pronounced AH-moo) means "queen" in the Igbo language of her parents, but growing up, she used it to mean "Grandma." This book was inspired by the strong female role models in author, Oge Mora's life.
Hardcover only.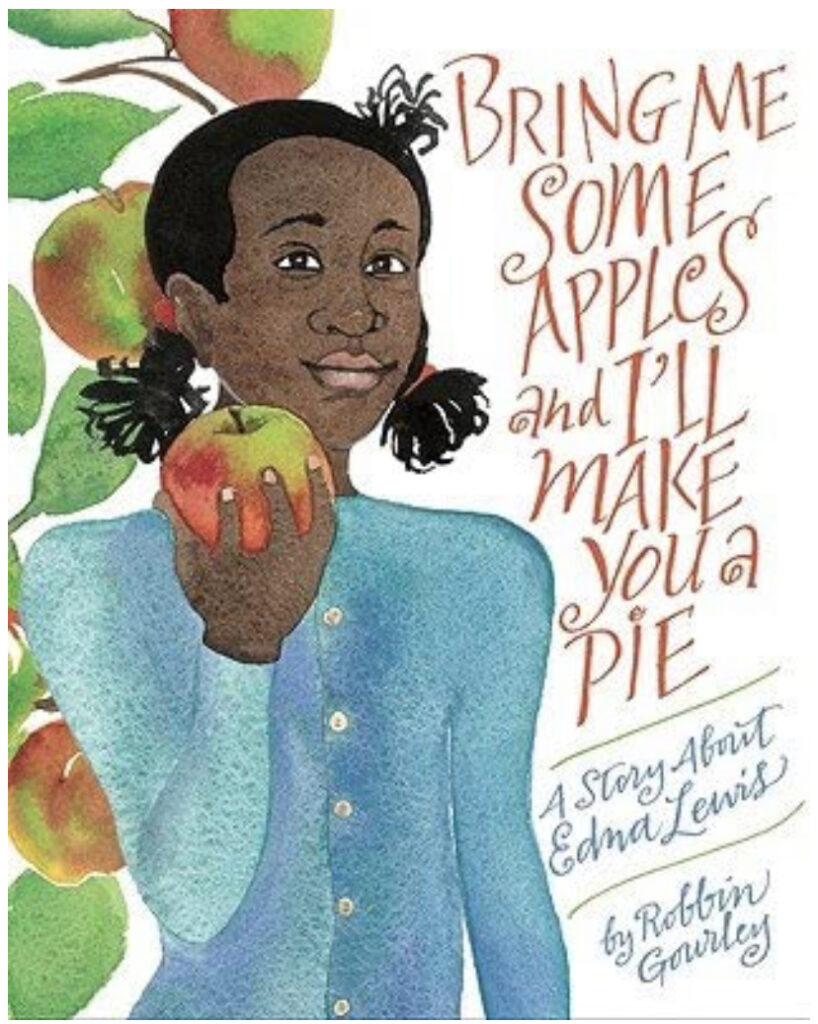 Age: 5 and up

Long before the natural-food movement gained popularity, Edna Lewis championed purity of ingredients, regional cuisine, and farm-to-table eating. She was a chef when female chefs–let alone African American female chefs–were few and far between. With lyrical text and watercolor illustrations, Robbin Gourley traces the roots of Edna's appreciation for the bounties of nature through the seasons. Folk rhymes, and songs about food are sprinkled throughout the text, and five kid-friendly recipes and an author's note about Edna's life are included.

Paperback on Amazon and Hardcover on Bookstore.org
I will keep adding to this list as I find great, new books about cooking, food cultures, and our diverse world. Save this picture to Pinterest for later reference and gift ideas: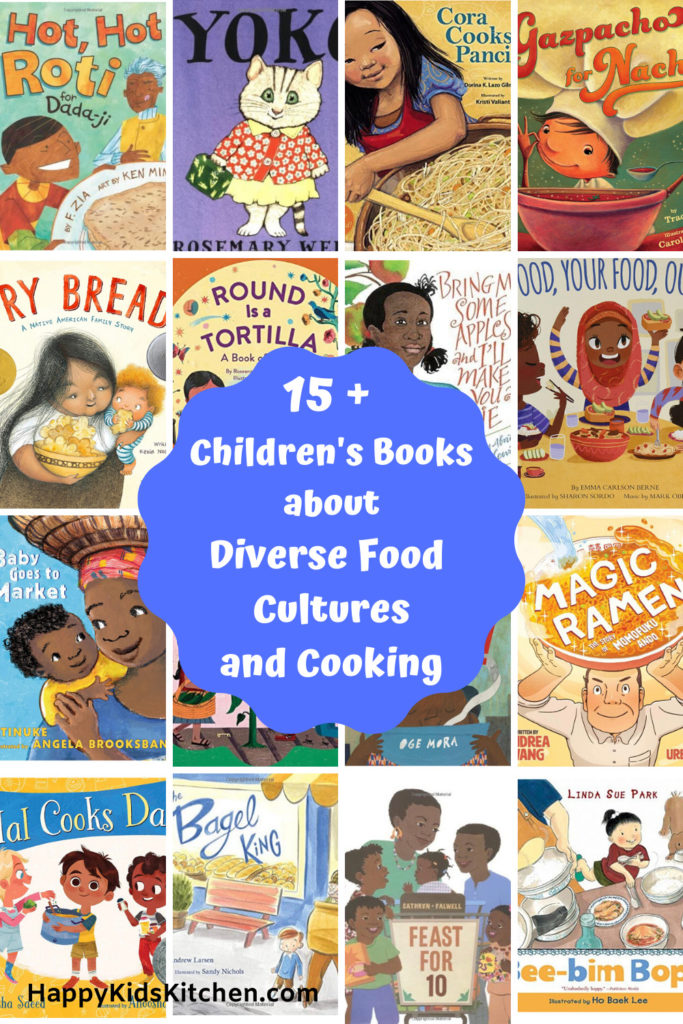 More Blog post about Cooking with Kids:
75 Best Recipes to Cook with Kids
Teaching Knife Skills to Toddlers and Kids: Safety and Basics