One Pot Butternut Squash Mac and Cheese
This creamy One Pot Butternut Squash Mac and Cheese is a perfect, kid-friendly weeknight dinner. Plus, there's no need to cook the squash, boil the pasta, or blend the sauce! This squash-packed dish is made in one pot in less than 30 minutes.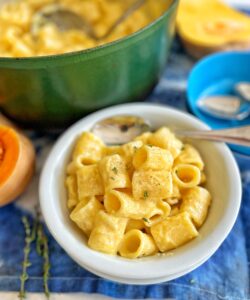 Kids in the Kitchen:
Squash! Butternut squash is actually much softer than you might think (once it's peeled). Cut the squash into stick shapes or small pieces so kids can easily cut those pieces into a small dice. For more info on kids and knives check out my blog post, Teaching Knife Skills to Toddlers and Kids.
Herbs: If using fresh thyme or sage in your Mac and cheese, make sure to have your child smell the herbs and talk about what they are. Kid can also help pick the leaves off of the thyme stems or ripe the sage into small pieces.
Cheese! If you are grating the cheese by hand, you can have your child help use the box grated (or whatever you are using). Or if you a using pre-grated cheese, have your child measure the cheese and place it in a bowl.
Dump and Stir: Kids can help add the pasta and other ingredients to the pot. If you have a safe kitchen stool, bring that up to the stove. Have your child "glue" one hand to their side while you have them place the other hand over your hand to stir the spoon together.
Subs and Tips for making One Pot Butternut Squash Mac and Cheese:
Pasta types and Gluten-free: Pretty much any type of pasta will work in this recipe. However, avoid some bean-based or certain gluten-free pastas tend to fall apart when cooked. Check the cook-time on the box to make sure you don't overcook the pasta.
Cheese: You can stay simple with the classic grated cheddar cheese or get fancy and try different cheeses in this recipe.
Broth: Use a chicken bone broth to bump up the protein content in this dish.
Seasonings: If you like a sweet flavor with your squash, stir in a pinch of nutmeg and/or a squeeze of honey into the sauce. A little spice from a pinch of cayenne pepper or some hot sauce also makes a great flavor boost.
Cooking essentials: Looking for new tools to use in the kitchen? Check out my Amazon store HERE.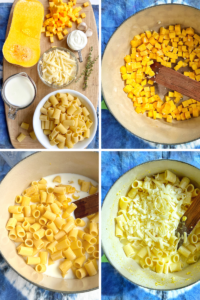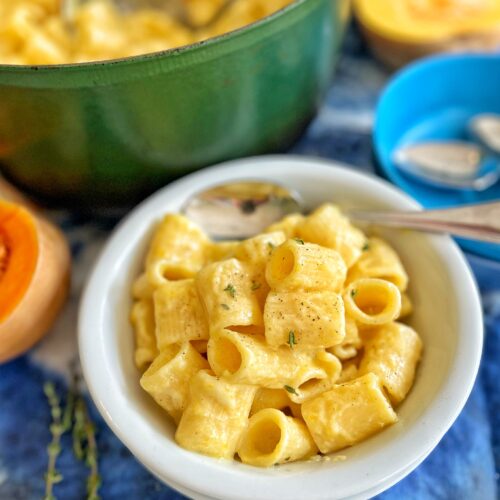 One Pot Butternut Squash Mac and Cheese
Creamy, cheesy pasta with squash cooked right into the sauce. Plus, it's all made in one pot!
Ingredients
12-16

oz

peeled butternut squash

1

tbsp

olive oil

1

tbsp

unsalted butter

or additional olive oil

2 to 3

garlic cloves, minced

1

tsp

minced fresh thyme and/or sage

1 1/2

tsp

kosher salt, divided

1

pound

small-shaped pasta such as rigatoni, fussili, or ziti

regular, whole wheat, or gluten-free

2

cups

milk (any kind)

3

cups

water, chicken broth, or veggie broth

1/3

cup

plain Greek yogurt or cream cheese

1 1/2

cups

shredded cheddar cheese

or a combination of other shredded cheeses, such as gouda, Swiss, mozzarella

3

slices

white American cheese (optional)

makes it extra creamy

ground black pepper, to taste
Instructions
Cut the butternut squash into a 1/4-1/2-inch dice. (Cut it on the smaller side if you want the squash to completely mash into the sauce or on the larger side if you still want pieces of squash in the finished dish.)

Heat a large pot or Dutch oven over medium heat. Add the oil and butter. Once the butter is melted, add the squash, garlic, and thyme/sage. Sprinkle with 1 teaspoon of salt. Cook, stirring frequently, until the garlic is lightly toasted, about 2 minutes.

Add the pasta, milk, and water/broth to the pot. Stir to combine. Bring the pot up to a simmer then cover and cook, stirring every few minutes, until the pasta is al dente, 10 to 12 minutes (depending on the shape of the pasta).

Once the pasta is cooked, stir in the yogurt/cream cheese, cheese, and remaining 1/2 teaspoon of salt. Taste and add more salt and pepper as needed.

The mac and cheese is best served right away. It will get thicker as it sits, so stir in a splash more milk if you need to loosen up the sauce again.
Save to Pinterest!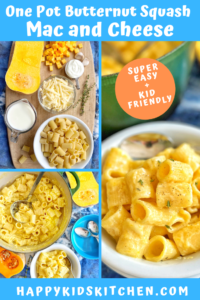 Other Easy Dinner Recipes:
One Pot Veggie-Packed Pasta (with ground turkey)
Slow Cooker Turkey Meatballs (with Veggies and Gluten-free)
Creamy Veggie Pasta Sauce (with Cottage Cheese)