Creamy Veggie-Packed Pasta Sauce (with Cottage Cheese)
Just 5 simple ingredients and less than 30 minutes, that all you need for this quick and healthy Creamy Veggie-Packed Pasta Sauce. Blend cottage cheese into a simple tomato sauce to create a creamy, flavorful topping for your favorite pasta. Kids and adults love this simple and delicious meal!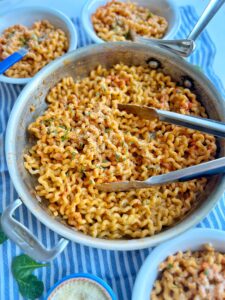 Kids in the Kitchen:
Prep veggies:Kids can help by peeling the carrot. You can then cut it into small strips so that they can easily cut those across into small pieces. Kids can also simply tear the spinach up with their hands or use a kid-safe knife to chop it. For more info on teaching kid to use a knife, check out my blog post Teaching Knife Skills to Toddlers and Kids.
Add and blend: Have kids spoon the cooked veggies into the blender then add the cottage cheese and tomato sauce. Do I countdown then let kids press the buttons to work the blender.
Garnish! Let kids have some control over their pasta by serving themselves the portion of past they'd like as well as topping it with some parmesan cheese or whatever sides they'd like.
Subs and Tips for making Creamy Veggie-Packed Pasta Sauce
Pasta: Any pasta you like will work well with this sauce. Gluten-free, whole wheat, or bean-based pastas are great too. The pasta I used in these photographs is a long fusilli like this one HERE.
Dairy-free? I have not tested a dairy-free version of this recipe. To be honest, cottage cheese is a hard thing to replace. However, I think instead of cottage cheese, you could try using a dairy-free cream cheese or sour cream (prob start with 1/4 cup) or a dairy-free, unsweetened plain yogurt (start with 1/2 cup).
Veggies: You can really blend any vegetables you like/have in this sauce. Bell peppers, zucchini, broccoli…
Shortcuts: For a very simplified, extra-quick version of this recipe, just blend a handful of spinach with the cottage cheese and tomato sauce. Pour it over hot pasta and you've got a no cook, easy sauce.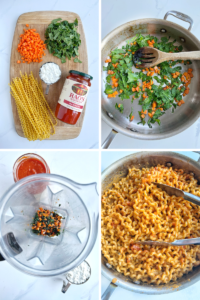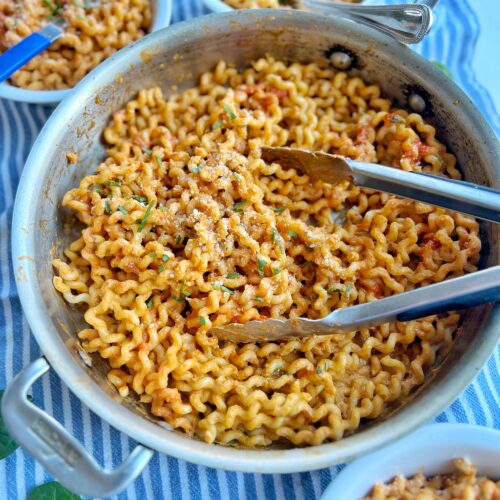 Creamy Veggie-Packed Pasta Sauce
Simple, quick sauce to make your favorite pasta more delicious and nutritious. Veggies and cottage cheese blended with jarred tomato sauce.
Ingredients
1

pound

pasta, any kind

1

tbsp

olive oil

1

large carrot, peeled and chopped small

2

cups

baby spinach, chopped

1/2

cup

cottage cheese

2

cups

jarred marinara or pasta sauce

grated Parmesan cheese, for serving
Instructions
Bring a large pot of water to a boil. Salt the water then cook pasta according to package instructions, reserving about a cup of pasta water before draining.

Heat oil in a skillet over medium heat. Add carrot and cook for 2 minutes to soften. Stir in spinach and cook until wilted. If carrots are still hard, add a splash of water and cook until all the water has evaporated and carrots are soft.

Add the cooked vegetables, cottage cheese, and 1 cup of the marinara sauce to a blender. (I like some of the pieces of tomato in my sauce, so I only blend 1 cup, but if you want the sauce completely smooth, add the 2nd cup to the blender as well.)

Place the cooked pasta into the skillet (you cooked the veg in) or back into the pot you cooked the pasta in. Pour some of the sauce over the cooked pasta and stir to coat. Add as much as a little sauce as you'd like. If you didn't blend the 2nd cup of marinara, you can add it to the pasta now too. Turn heat onto low and add a splash or two of pasta water as needed to help coat the pasta and make the sauce creamy. Serve with Parmesan cheese to sprinkle on the top.
Save to Pinterest!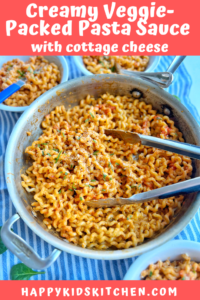 Other quick Dinner Ideas: