Lazy Lasagna Soup (Crockpot or Instant Pot)
This easy weeknight dinner is comfort food that's also packed with nutritious ingredients like ground turkey and veggies. Lazy Lasagna Soup can be made in the Instant Pot, crockpot, or on the stove top. With minimal ingredients and prep time, this hardy soup is bound to be a go-to recipe that the whole family will enjoy.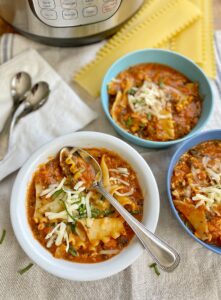 This recipe was originally in a ebook I wrote that's no longer for sale. After getting several emails about where the recipe went, I decided to post it here.
Kids in the Kitchen:
Soup may seem like a strange choice for a recipe to make with kids, but there are lots of easy ways children can be a part of the process.
Help chop! If your child does one thing to help with this recipe, I'd suggest having him or her chop a carrot. First cut the carrot into thin strips then have your child cut each strip into a small dice. Need more info about teaching kids to use a knife or a child-safe knife recommendation? Check out my blog post Teaching Knife Skills to Toddlers and Kids.
Sauté! Let you child add the veggies to the pot and stir a few times. Teach them the word 'saute' and explain what signs you look for to see the veggies are cooking. (Listen to the sizzle and watch the change in the color of the vegetables.)
Add ingredients! Once the veggies are cooked, have your child add the remaining ingredients with you. How does the sound of the pot change when you add a liquid?
Break up the pasta: This is such a fun step for kids to help with. Kids can snap the lasagna sheets into small pieces and it doesn't matter how big or small they are.
Serve! Have your child help get out the soup bowls and spoons then sprinkle cheese on top of  the soup. Kids can also help prepare the side dish, such as some toasted bread or bread with some melted cheese on it.
Subs and Tips for making Lazy Lasagna Soup:
Make it Vegetarian or Vegan: this recipe is super easy to make vegetarian or vegan. Leave out the ground turkey, and replace it with chopped mushrooms, meat replaces, or beans. I've heard people use a ground meat alternative, like a vegan sausage, with great success. Leave the cheese out to make it vegan.
Gluten-free: If you can't find a gluten-free lasagna noodle, you can use a different shaped pasta or spaghetti broken into pieces.
Make Ahead: You can easily made this soup ahead and store it in the fridge for 4 to 5 days or freeze in well-sealed containers for 2 months.
Instant Pot: I absolutely love my IP and use it all the time.  Here it is on my Amazon store page.
Feeding Picky Eaters: Make the soup together! Having kids in the kitchen with you is especially helpful if kids are hesitant about eating "mixed foods" like soup. "Picky" eaters can be scared of a bowl full of different ingredients all together which is totally understandable. However, by seeing and touching the ingredients and being a part of the cooking process, kids can feel more comfortable with trying and eating the finished soup.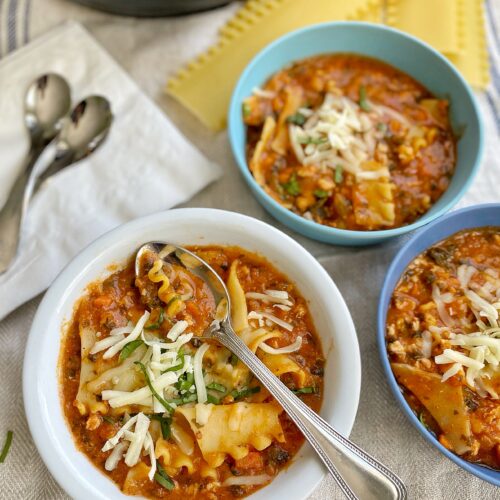 Lasy Lasagna Soup
Ingredients
2

tbsp

olive oil

1

cup

chopped onion

1/2 large onion

1 1/2

cups

chopped carrot

2 large carrots

1

pound

ground turkey

or lean ground beef

1

tsp

kosher salt

2

tbsp

balsamic vinegar

2

cups

marinara or tomato-based pasta sauce

3

cups

low sodium chicken broth or vegetable broth

8

oz

frozen chopped spinach

6

oz

lasagna noodles (6 to 8 sheets), broken into 2-inch pieces

1/4

cup

grated Parmesan cheese

Shredded mozzarella cheese or ricotta cheese, for serving
Instructions
Instant Pot
Turn your Instant Pot/Multi-Cooker on to Sauté. Add oil, onion, and carrot. Cook, stirring occasionally, for 2 to 3 minutes or until the onion starts to get golden brown around the edges. 

Add ground meat, sprinkle with 1/2 tsp salt, and then the balsamic vinegar. Stir and scrape up any bits stuck to the bottom of the pot. (The meat may not be fully cooked at this point... that's ok.) Add the marinara, broth, and frozen spinach. Stir to combine. 

Place the lid on your pressure cooker, set on Manual high pressure for 10 minutes, and make sure the top valve is sealed. 

Once time is up, release the pressure and remove the lid. Stir in broken lasagna noodles. Place top back on the pot, seal the valve, and set to Manual high pressure for 3 minutes. 

Release the pressure immediately, remove the lid, then stir in the Parmesan cheese. Taste for seasoning and add salt and pepper as needed. Serve warm with shredded cheese or ricotta on top. 
Slow Cooker
 Heat oil in a large skillet over medium heat. Add onion and carrot and cook for 2 minutes. Add the ground meat and stir to break it up into crumbles. 

Add the meat and veggies to your slow cooker (the meat does not need to be fully cooked at this point). Add remaining ingredients through the spinach (not the noodles or cheese) and stir to combine. 

Cover and cook on high for 4 hours or low for 8 hours. During the last 30 minutes of cook time, stir in the lasagna noodles. 

Once noodles are cooked, taste for seasoning and add more salt and pepper as needed. Ladle soup into bowls and top with cheese as desired. 
Stove Top
Heat the oil in a large soup pot or Dutch oven over medium high heat.

Add onion and carrot and cook until lightly browned, about 2 minutes. Add the ground meat and stir to break it up into crumbles. 

Once the meat is crumbled and browned, sprinkle it will salt and add the balsamic vinegar. Scrape up any brown bits stuck to the bottom of the pot.

Stir in the marinara sauce, broth, and spinach. Bring the pot up to a simmer and cook for 10 minutes to develop the flavors of the soup.

Stir in the pasta and simmer until the pasta is cooked through, about 10 minutes. Stir in the parmesan cheese.

Ladle soup into bowls then top with cheese, as desired.
Other Easy Dinner Ideas:
Slow Cooker Turkey Meatballs (with veggies and gluten free)