This kid and toddler-friendly quinoa recipe, packs lots of goodness into little muffin-like bites. Quinoa Protein Nuggets are easy to bake-up for quick meals at home or lunch boxes on the go. Plus, there's a lot less quinoa on the floor!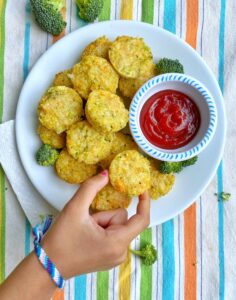 Kids in the Kitchen:
Mix! With only a few ingredients to throw into a bowl and mix together, this is a great recipe for kids of all ages to help make. Add the rice, veggies, egg, and cheese and give your kiddo a big spoon to stir it all up.
Scoop! If you have the time, your little chef can spoon the rice mixture into the mini muffin tin. This might get a little messy but you can easily clean around the edges of the muffin tin before placing it in the oven.
Sprinkle! Kids can take a small pinch of cheese and add it to the top of each nugget before baking. Easy, cheesy goodness!
Tips and Subs for making Quinoa Protein Nuggets:
Quinoa: I often buy frozen quinoa and rice (Whole Foods and Trader Joe's have great ones). I keep it on had for when I don't have the time to make my own. It's such an easy shortcut for this recipe too. Just defrost or microwave the rice until warm (but not too hot) then  proceed with the recipe instructions.
Veggies? Use any fresh or frozen veggies you'd like for this recipe. We love the grated carrot and finely chopped broccoli. I've also used finely chopped baby spinach, grated zucchini, and corn. Make sure if you are using any grated veggies or defrosted frozen veggies that you get rid of any excess water by patting them dry in a paper/dish towel.
Dairy-free? Feel free to use a dairy-free shredded cheese or leave out the cheese entirely. Since the egg is there the nuggets will still hold together. If leaving out the cheese, season the quinoa mixture with a large pinch of salt and/or other seasonings to make up for the loss of cheese flavor. For the yogurt, you can use any unflavored dairy-free yogurt you like or you can
Egg-free? I haven't tried to make these egg-free, but I have had other people tell me that they've use aquafaba (the liquid in a can of chickpeas) to bind a similar recipe. You could also try a liquid egg replacer like Just Egg.
Sweet, fruity quinoa nuggets: I have also made a sweet version of these with fruit. Just remove the veggies and cheese then add in 2 tablespoons of maple syrup, a splash of vanilla, and 1/2 cup blueberries or other diced fruit.
Helpful equipment:
Silicone muffin tin. For easy nugget removal and pan clean up, I love using silicone pans like THESE (affiliate link). If you have a silicone muffin pan without "structure", place the muffin pan on a baking sheet so it is easy to transfer back and forth from the oven.
Pull-chopper: this is one of our favorite kids-in-the-kitchen tools and it's great for making veggies super small to mix into this recipe The one we have can be found HERE.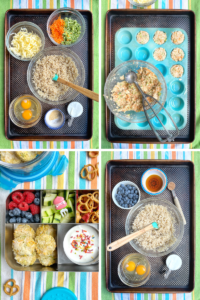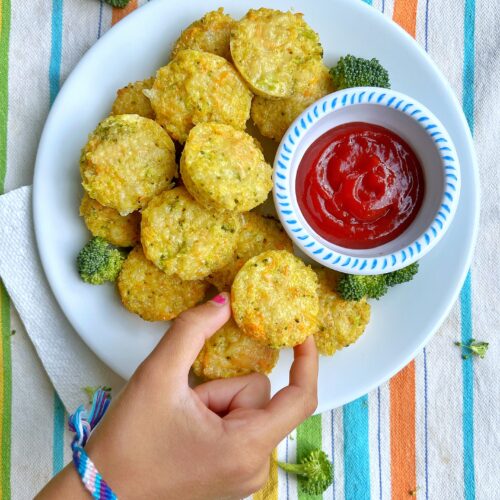 Quinoa Protein Nuggets
Veggie and protein-packed little bites great for toddlers or lunch boxes.
Ingredients
2

cups

cooked quinoa

1

cup

finely chopped or grated veggies

I used finely chopped raw broccoli and grated carrot

2

large eggs

1/4

cup

plain Greek yogurt

1

cup

grated cheddar cheese or any cheese you like

1/2

tsp

kosher salt

1/4

tsp

garlic powder (optional)
Instructions
Heat the oven to 375 degrees. Grease a mini muffin pan, preferably a silicone one, really well with oil or oil spray.

In a large bowl, mix the quinoa, veggies, eggs, yogurt, half of the cheese, salt, and garlic powder (if using).

Divide the quinoa mixture between the mini muffin cups then top each one with a little of the remaining cheese.

Bake until the tops are golden brown, 15 to 20 minutes.

Allow to cool in the pan then run a butter knife around each nugget to loosen it and remove from the pan.

Store nuggets in the fridge for up to 4 days.
Save to Pinterest!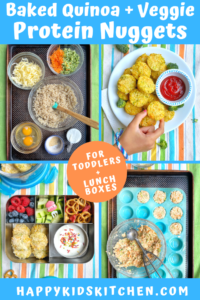 Healthy Lunch Box Ideas for Toddlers and Kids
Homemade School Snacks (Nut-free and Nutritious)