Healthy Lunch Box Ideas for Toddlers and Kids
Are you constantly trying to figure out what to pack your kids for lunch? Below, you'll find lunch box ideas for nut-free sandwiches, lunches for pizza lovers, non-sandwich lunches, hot lunches, and more! Whether it's for daycare, preschool elementary school, or a family outing, we all need more ideas of what to pack when not feeding our children at home. Lunches don't have to be complicated or time consuming to be nutritious and fun for kids to eat.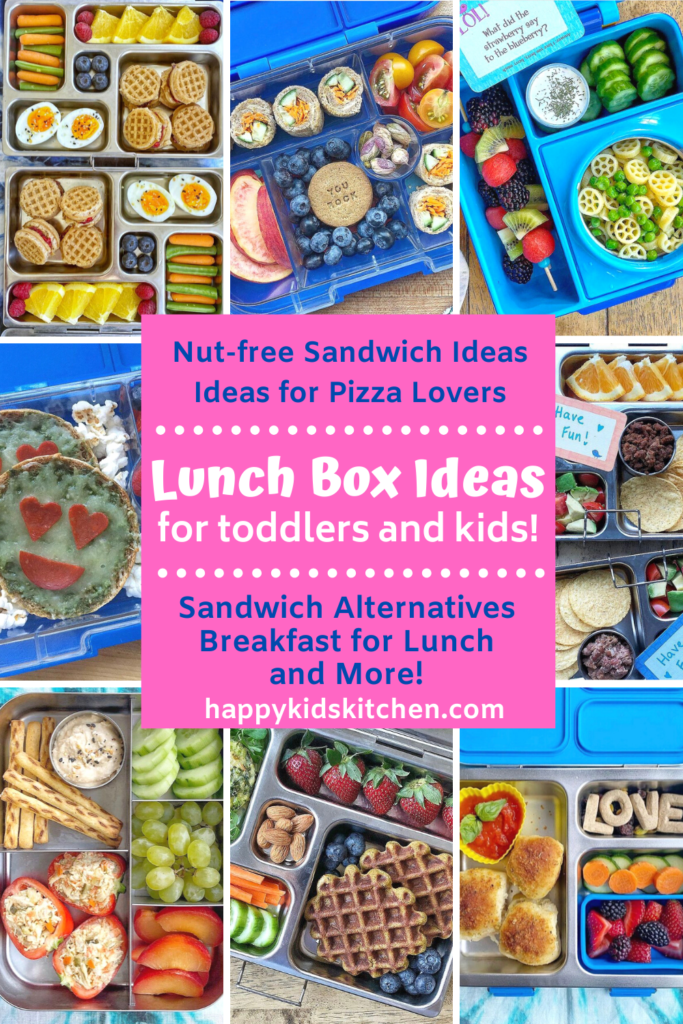 Looking for lunch box gear or bento box recommendations? Head to my blog post, The Best Bento Lunch Boxes for Kids, to figure out the best lunch box for you child and read the pros and cons of all the bentos we've used over the years. Plus, there are links to purchase or get more info on  the lunch boxes and accessories you see in the photographs below.
Sandwich Lunch Box Ideas
Sandwiches are easy to make and easy to eat. Here you'll find examples of nut-free and vegetarian sandwiches plus simple ways to make sandwiches more fun.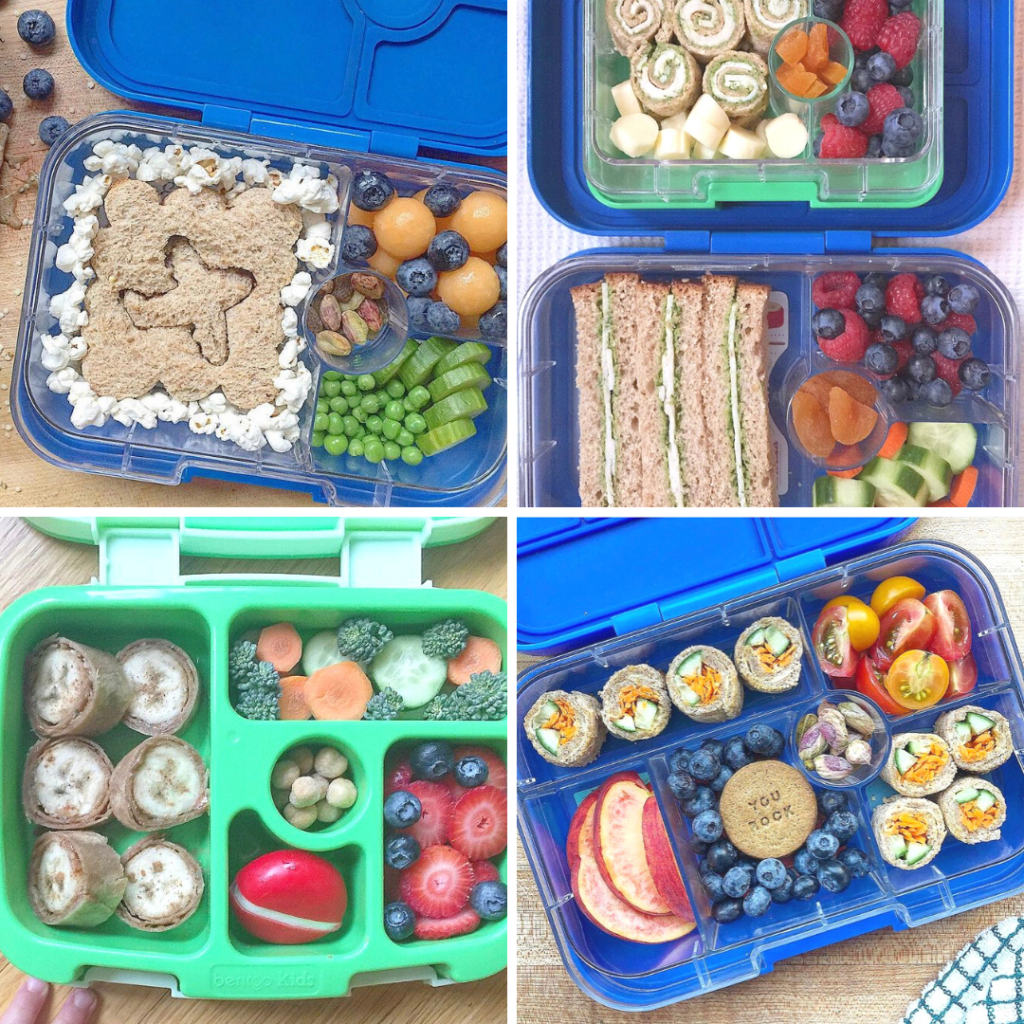 Tools to make shaped sandwiches: a heart-shaped sandwich doesn't take long to make but it sure does make your child smile. Here's a link to my Amazon store (affiliate) which has sandwich cutters, "uncrustables" makers, and more.
PB&J and Nut-free Alternatives:
Nut-free "Yum" Butter: A IG follower gave me this great idea for a nut-free spread if you child isn't a fan of straight sunflower seed butter. You take about 2 tablespoons sunflower seed butter then mix in a sprinkle of cocoa powder and about 1/2 tsp to 1 tsp of honey or agave. Let me know if you give it a try!
Granola Butter: Have you tried it? It's so delicious. Great nut-free spread for sandwiches. If you've tried sunflower seed butter or pumpkin seed butter and your kids aren't fans, give granola butter a try.  Here is a link to Oat Haus a brand you can buy online or try this recipe if you want to make it yourself: Homemade Granola Butter
Jelly/Jam Alternatives: fresh fruit (sliced strawberries, halved raspberries, blueberries, thinly sliced apple…), no-cook chia jam: mashed raspberries, light sweetened with maple syrup/honey, then stir in a couple teaspoons of chia seeds. Allow to thicken for a few minutes then use like jam. Check out this homemade Blueberry Chia Jam recipe.
Fruit "Sushi": Can do sweet or savory. Remove crusts from bread, roll the bread very flat, spread with nut/seed butter, place fruit in the center (thin sticks of apple, strawberry slices, raspberries…), roll up, and cut into 6 to 8 pieces. For a visual see my Instagram video HERE.
Banana Roll-ups: Gently warm your favorite large tortilla (I do 20 sec in the microwave), spread on any nut/seed butter, sprinkle with hemp seeds (optional), place banana towards one end, roll up, cut into slices. Once you place banana roll ups into the lunch box, sprinkle with cinnamon to prevent browning. These made in the morning before school and kept in a lunch bag with an ice pack.
PB&J "Empanadas" and Spiral Skewers: A couple fun ideas featured in this popular Instagram video HERE. For the empanadas, you cut a large circle out of a slice of bread, spread it will your nut/seed butter of choice and jelly or fresh fruit like raspberries. Then you fold it in half and seal the edges with a fork. For the skewers, you place sandwich spirals (similar to the "sushi" above but without any fruit) on a wooden skewer or lollipop stick and alternate them with berries.
Veggie Sandwich/Wrap Ideas:
Veggie Sandwich "Sushi": (see bottom right picture above) Remove bread crusts, flatten bread really well, spread with hummus or cream cheese, then fill with thinly sliced cucumber and shredded carrot (or whatever vegetables you'd like). Roll tightly then cut into small pieces.
Spinach Pesto and Cheese: Use homemade or store-bought pesto as a great way to get some veggies into a sandwich. We love this simple Spinach Pesto (Omit nuts or use pumpkin seeds to make it nut-free.) Sometimes we add turkey or thinly sliced chicken in there too.
Hummus and Veggie Spirals: spread hummus on a tortilla, add sliced avocado, grated carrots and cucumber (or whatever veg you want), roll up then cut into bite-sized pieces or just cut in half.
Grilled Cheese with Broccoli: Classic toasted cheese sandwich but with some finely chopped broccoli inside. My kids will eat this room temp in the lunch box. We also like to use a waffle iron to press our sandwiches because it's easy and looks so fun.
Rice and Bean Burritos: I usually make my kids burritos for lunch after we have taco night for dinner. It's a great way to use up leftovers. If I make them the night before, I heat them in the morning and then wrap them in foil so they won't be super hot when the kids eat them but they won't be ice cold either.
Quesadilla Roll-ups: spread some shredded cheese on a tortilla and top with some chopped baby spinach (or anything you'd like). Place in the microwave for 30 sec to melt cheese then roll the tortilla up and cut into pieces.
Crispy Chicken Wrap: Leftover chicken nuggets or tenders chopped up and put into a wrap with chopped lettuce, tomatoes, cucumber, or whatever veggies your child likes. We often add ranch dressing or mayo on the wrap too. Use large, burrito-size tortilla for wraps.
Greek-Inspired Chicken Wrap: Cooked chicken wrapped up with a Greek salad (Romain, cucumber, tomatoes, crumbled feta, and olives) and tzaziki sauce.
Bagel Sandwich: don't forget to change up the "bread" or base of your sandwich sometimes. Our favorite One Mighty Mill Bagel are whole wheat and made from really great ingredients. My kids like the everything bagel with mashed avocado or the plain bagels with cream cheese or pb&j.
Muffins! Sweet or savory muffins make a great alternative to sandwiches in the lunch box. You can make them ahead and freeze them then pop them into the fridge the night before to defrost. Homemade muffins can be full of fiber, protein, and added veggies, so they make a nutritious lunch. These Cottage Cheese Blueberry Muffins are high in protein and nut-free. Also check out some savory muffin recipes like these Savory Veggie Muffins by The Natural Nurturer. Hot dog lovers try my Healthy Corndog Muffins.
"Snack"/Protein Box Lunch Box Ideas
Lunches don't have to make sense. What I mean by that is you can go into your fridge and get whatever fruit, veggies, and protein options you have, cut them into appropriate sizes, and then fill the lunch box. Add dips, crackers, and other snacks, and you've got a great lunch most kids are super happy about. I've listed all of our go-to items for "random" lunches as well as some ways to change-up usual produce to make it more appealing to kids.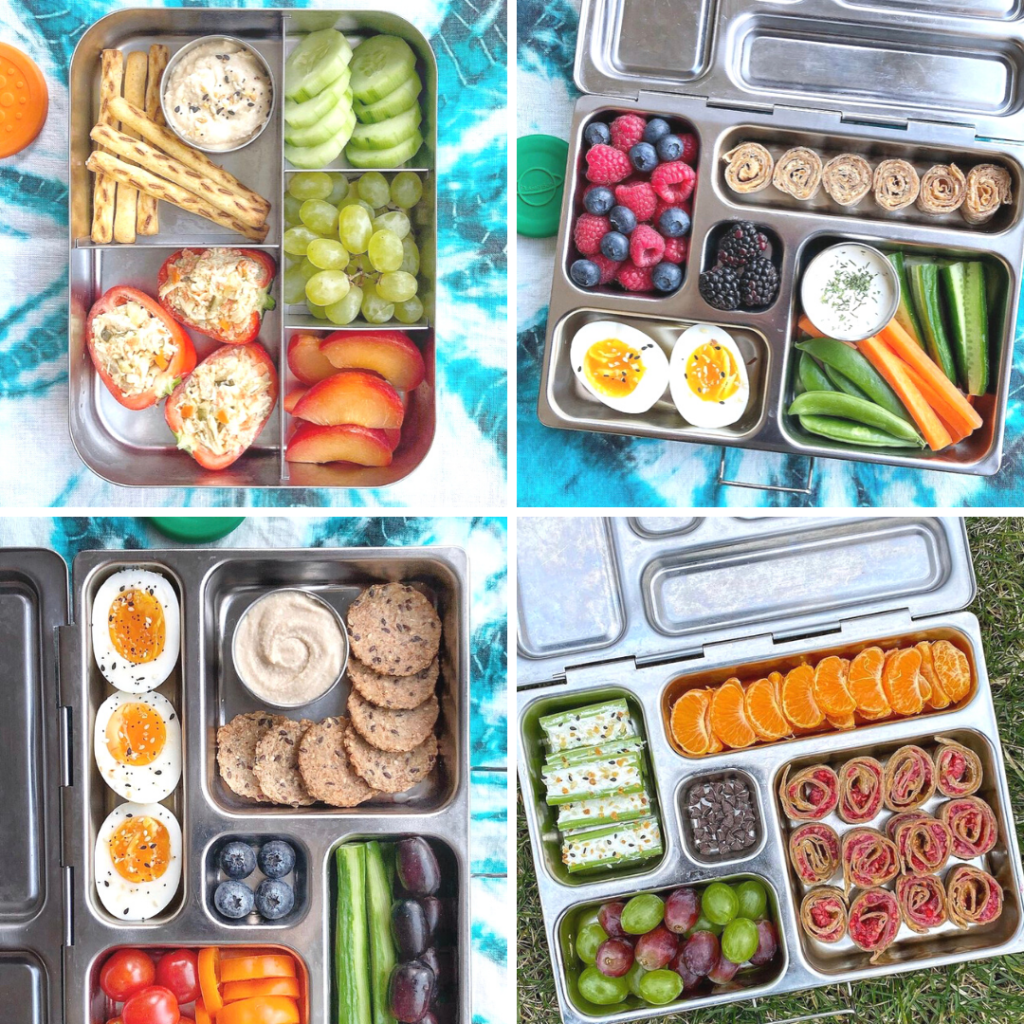 Protein Options:
Hard boiled eggs: As you can tell from the pictures in this article, we often pack hard boiled eggs in our lunch boxes. They are easy to make ahead and have on hand for packing. They keep really well in a lunch box (include an ice pack in the lunch bag) and they are full of protein and healthy fat to fuel our kids. My son especially likes a sprinkle of Everything Bagel Seasoning on top.
Deli meat: a super quick way to get protein into the lunch box. Roll the deli meat up into a spiral with cheese or without or use a small cookie cutter to cut the deli meat into fun shapes.
Pepperoni: We love the Applegate Turkey Pepperoni
Cooked chicken: whether leftover grilled/roasted chicken for dinner or a rotisserie chicken from the store, cut up or shredded chicken is a great lunch box filler. My kids like it served with a small container of ketchup or barbecue sauce on the side for dipping.
Meatballs and Burgers: whenever we have these foods for dinner, I make sure to cook extra for lunches. Homemade meatballs and burgers can have added veggies in them which is a great way to get vegetable into lunch. However, it's also great to stock the freezer with a healthy store-bought meatball or burger option to have on hand when you don't have anything to make for lunch. I usually cut the burgers into bite-sized pieces and serve them them ketchup for dipping. Here are two dinner recipes that I often pack up for lunch the next day: Teriyaki Turkey and Veggie Meatballs and Easy Pesto Turkey Burgers.
Canned tuna or salmon: mix with a little mayo or mashed avocado, add in shredded carrot or any other finely diced veggies you like (my kids loved chopped pickles in there). Serve with crackers.
Vegetarian Protein Options:
Cheese: Our favorite cheeses for the lunch box are Baby bel rounds, small fresh mozzarella balls, grass-fed cheddar cut into small cubes, cheese sticks, and shredded cheese (great for toddlers).
Yogurt: Can be in the prepackaged tubes or pouches. Also, DIY parfaits are a great option. (See the breakfast section below.)
Black beans: mix drained and rinsed black beans with some lime juice, olive oil, salt, and chili powder. Serve as is or mash the beans and roll in a tortilla with some avocado or melted cheese. My kids also love a bean and corn salsa (just beans, corn kernels, diced tomatoes, and scallions with olive oil and salt) served with tortilla chips.
Chickpeas: Drained and rinsed canned chickpeas tossed with olive oil, salt, and other seasonings. Roast chickpeas with a little oil and seasonings for a crunchy addition to lunch.
Hummus with crackers or pretzel sticks for dipping. If your child loves sweets, try out chocolate hummus that's available in most grocery stores.
Nut or Seed butter with apple slices, pretzel sticks, or crackers for dipping.
Veggie Ideas:
Carrot sticks, carrot "coins" (carrots cut into small circles), shredded carrot, and carrot strips (use a peeler to make long thin stands of carrot that can be rolled). Use a crinkle cutter to make "fry" shapes.
Cucumber sticks, circles of cucumber, cucumbers cut into shapes with a small cookie cutter
Baby bell peppers: left whole or cut across into "flower" shapes. Cut in half and stuff with chicken salad, hummus, or cream cheese.
Celery: cut across into "rainbows", sticks filled with nut/seed butter ("ants on a log") or cream cheese (which we like sprinkled with everything bagel seasoning)
Frozen vegetables: peas, corn, mixed veggies, and shelled edamame. I put these into the lunch box straight from the freezer and they defrost by lunch time.
Roasted veggies: Have some roasted broccoli leftover from dinner? It can be great cold too. Roasted carrot and sweet potatoes cut into "fry" shapes are a great choice too.
"Treat" / Small compartment fillers:
Mini chocolate chips or dye-free chocolate candies (we like the ones from Trader Joe's)
Roasted chickpeas: can make your own or buy sweet and savory roasted chickpea snacks
Pistachios or pumpkin seeds
Berries: they are expensive so it's a nice way to include berries in a lunch box without using them all. Sometimes we like to stuff a few raspberries with chocolate chips…yum!
Dried or freeze-dried fruit: raisins, chopped apricots…just a hit of something sweet that your kiddo enjoys.

Main Course Lunch Ideas
Dinner leftovers make the best lunch boxes. Many "meal" type recipes can be made ahead and frozen for easy lunch options.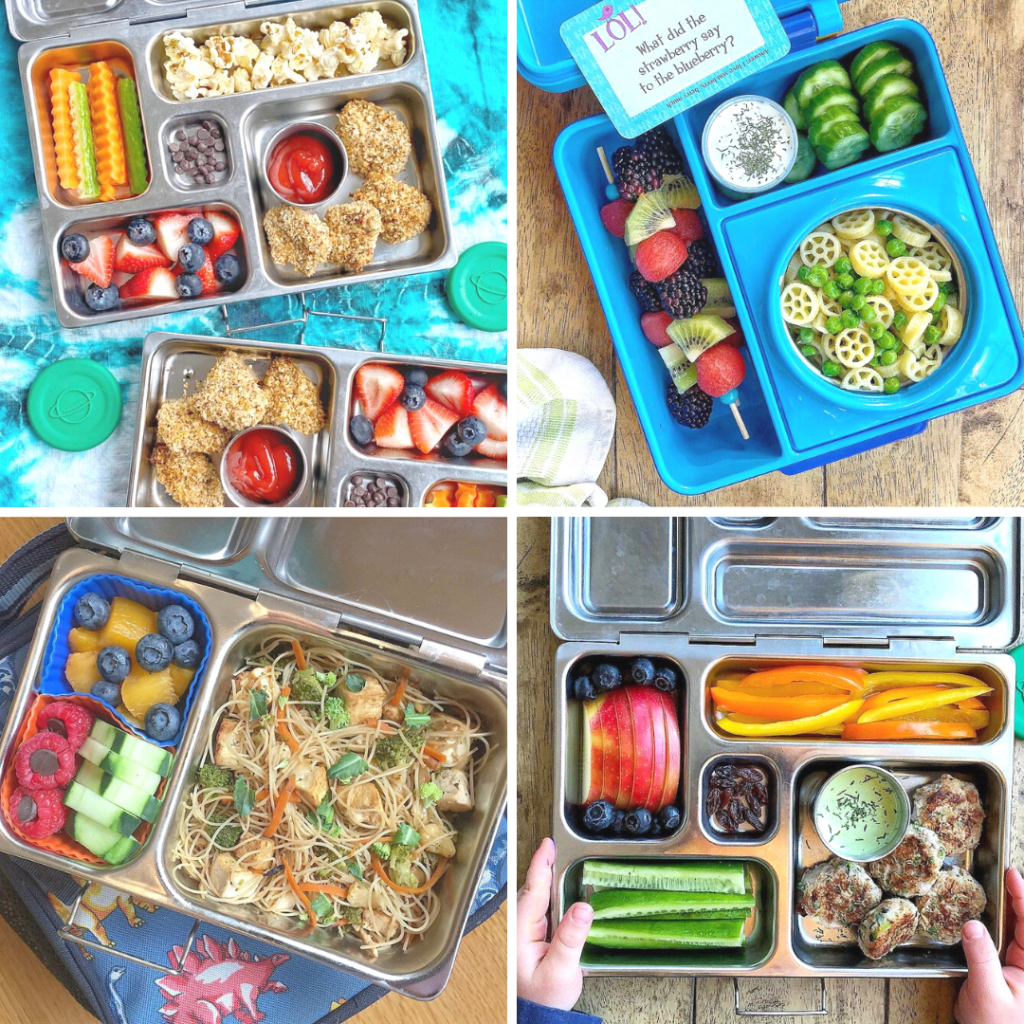 Hot or not? A lot of foods we traditionally serve warm at home are perfectly fine eaten cool or room temperature in the lunch box. For example, my kids are happy to eat room temp chicken nuggets, leftover cooked chicken, English muffin pizza, and other dishes. However, some foods they prefer warm, like pasta. It might take some trial and error to figure out what foods your child likes cool or warm.
Hot foods at school: For warm lunches we use a thermos and pack another small container for fruit or other side dishes, if necessary. The thermos and containers we used are in my Amazon store (affiliate links) HERE.

Breakfast-For-Lunch Ideas
Foods like pancakes and waffles can go way beyond the breakfast table. Breakfast for lunch is really popular with many kids, especially picky eaters. Plus, breakfast items can be very nutrient dense and easy to make ahead.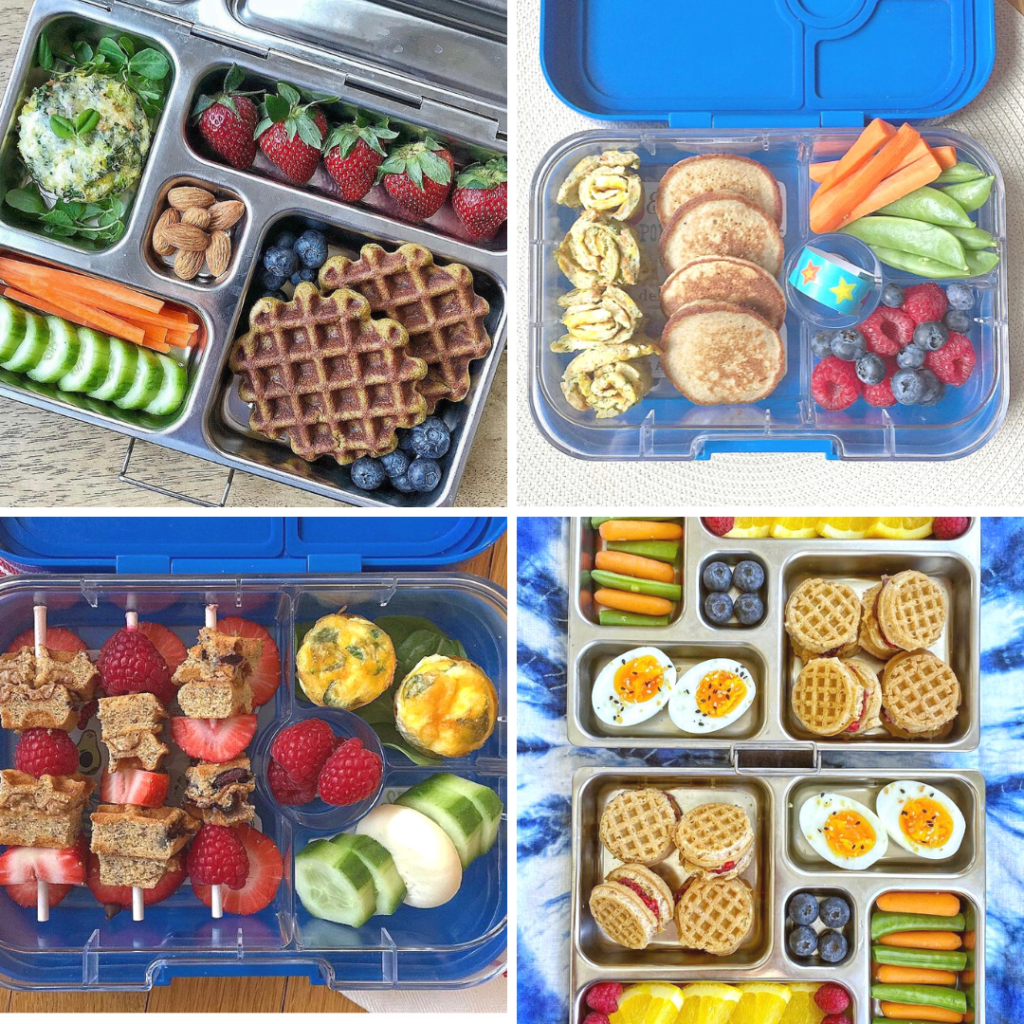 Pancakes: Homemade waffles and pancakes can be made in bulk (double the recipe) and frozen to have on hand whenever you need a quick lunch box option. You can make waffles and pancakes into sandwiches with nut/seed butter and jam/fruit in the middle or cream cheese and jam. Try these Blender Cottage Cheese Pancakes or  Banana Protein Blender Pancakes from my blog (sub sunflower seed butter or tahini for the peanut butter to make it nut-free) or these Healthy Sweet Potato Pancakes. For chocolate lovers: Veggie-loaded Chocolate Pancakes. Or for a savory option with lots of veggie power try these Rainbow Veggie Pancakes.
Waffles: These are one of the most popular recipes on my blog and great to get some spinach into lunch: Spinach Banana Waffles. For a super easy lunch, keep mini frozen waffles on hand to make little sandwiches.
On a stick: make waffle sandwiches then cut them into bite-sized pieces and place them on a skewer with fruit.
Yogurt Parfaits: High in protein and healthy fat, a full-fat or 2% Greek yogurt makes a great lunch option. Serve with fruit on top or create a DIY parfait with granola and cut up fruit on the side for your child to put on top of the yogurt at lunch.
Muffins: (see list above)
Egg-Based Lunch Ideas
Breakfast Biscuit Bombs (stuffed biscuits): a great make-ahead recipe to pack for lunch. Easy to customize with whatever you like.
Egg cups: These are like mini baked frittatas. I use 1 egg for each egg cup that I want to make, so to make 8 cups I beat 8 eggs in a large bowl and season them with salt and pepper. Grease 9 holes of a muffin pan (I like to use a silicone one) then place whatever veggies and/or meat (like sausage or ham) you'd like inside and pour beat egg on top. Sprinkle with shredded cheese if you'd like then bake at 375 until puffed and golden brown, about 15 min.
Egg roll ups: Make a thin omelet with whatever fillings you'd like, transfer it to a cutting board, roll it tightly, then cut it into pieces.
Egg "waffles": like an omelet make in a waffle iron. Can add whatever veggies and cheese you'd like. Here's a blog post on how to make them: Egg Waffles.
Breakfast Burritos: Scramble up some eggs and add it some veggies and cheese. I usually do some bacon or ham with spinach and cheese. Then roll it up in a large tortilla.
Breakfast Sandwiches: My kids love brioche rolls with a fried egg, melted cheese, and bacon (one boy also liked some ketchup on there).
Breakfast Bagel Boats: I mentioned bagels in the sandwich section, but this recipe is great to make ahead for breakfasts or to put into a lunch box.
Lunch Box Ideas for Pizza Lovers
One of my boys can't get enough pizza, so of course, I'm always looking for new ways to serve his favorite flavors for lunch. Here are some creative ways to pack up pizza.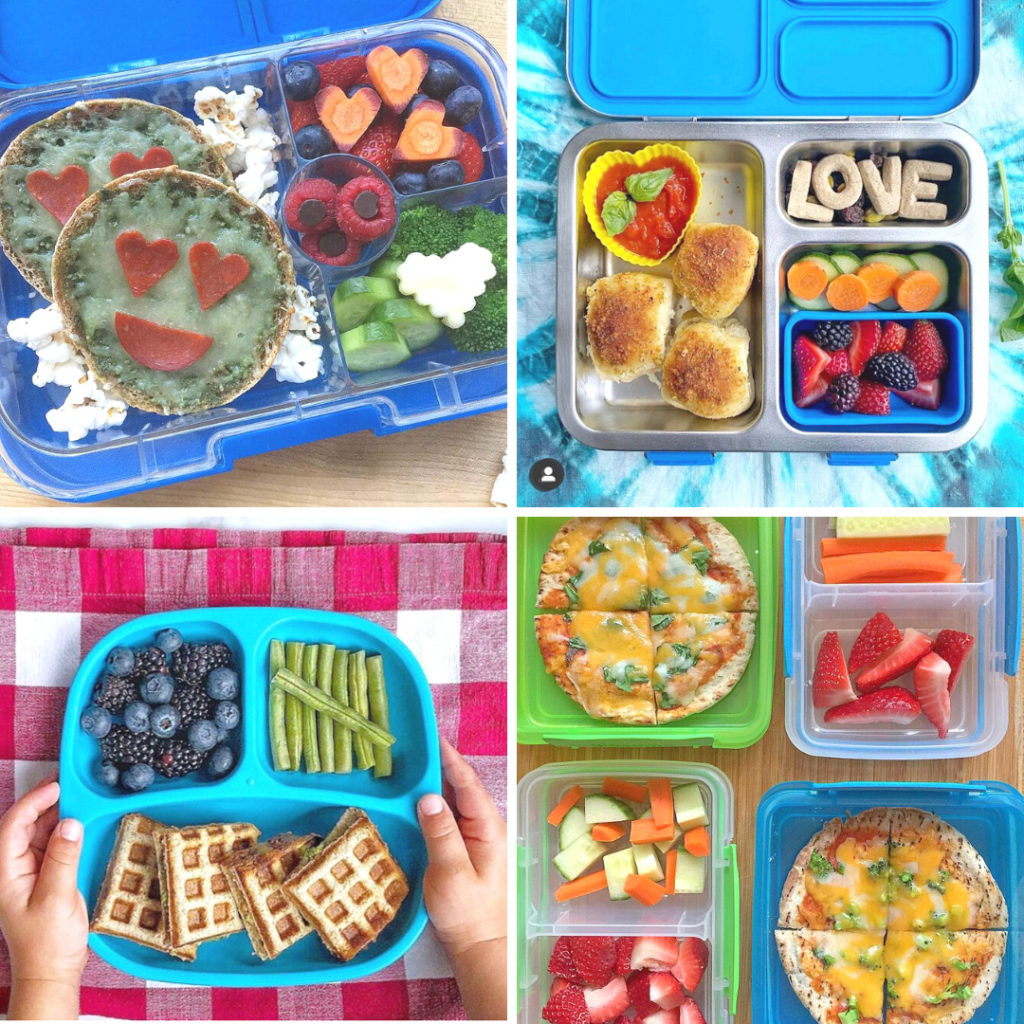 Stuffed Pizza Bites: One of our favorite recipes to make and eat! Balls of store-bought or homemade pizza dough are stuffed with cheese and pepperoni/spinach and then baked with a gummy garlic parmesan topping. Serve with some marinara on the side for dipping.
Pizza "grilled cheese": We came up with this recipe by accident one day and it turned out great. Take two slices of bread and spread a little pizza/marinara sauce on each one. Add some shredded mozzarella and whatever other pizza "toppings" you usually like. We always add a little chopped up baby spinach. Then you grill it or press it in a panini press/waffle iron.
Mini Pita Pizzas: Take a whole wheat mini pizza, add some sauce, cheese, and veggies/any toppings you'd like, and then toast them in a toaster over or place them in the microwave until the cheese is melted.
English Muffin Pizzas: I make these a lot! Split a whole wheat English muffin and lightly toast it. Spread on some hummus if you have it (this just adds some extra nutrients but it's optional). Add some chopped baby spinach and then spread on some marinara sauce. Top with shredded cheese and any additional pizza toppings that your kids like, my kids love sliced black olives. Place back in a toaster oven or regular oven until cheese is melted. These can be made ahead and kept in the fridge for 4 days or wrapped individually a frozen for a month. Or use mini bagels for a different base.
Pesto Pizzas: Make the same English muffin pizzas as above but use pesto!
Veggie-Loaded Pizza Muffins: I've tried this recipe by The Natural Nurturer and it's fantastic. Such a great way to get veggies AND whole grains into the lunch box.
Rainbow Bagel Pizzas: these are such a fun recipe to make with kids and then put leftovers into the lunch box.
I'll keep adding ideas to this list as they come, and please feel free to comment below with any of your favorite lunches that I may have missed.
Make sure to save this post to Pinterest or share to Facebook so you can easily refer back to it when you need a lunch idea.