Kids love pancakes, so why not take the opportunity to get some veggies in there? These savory little fitters are incredibly easy to mix up and have your child get in on the action. Rainbow Veggie Pancakes are perfect for toddler lunches, snacks, or to keep on hand in the freezer for any meal. They are super popular in my kids' cooking classes and leave parents happily speechless when their toddlers gobble up all those colorful veggies.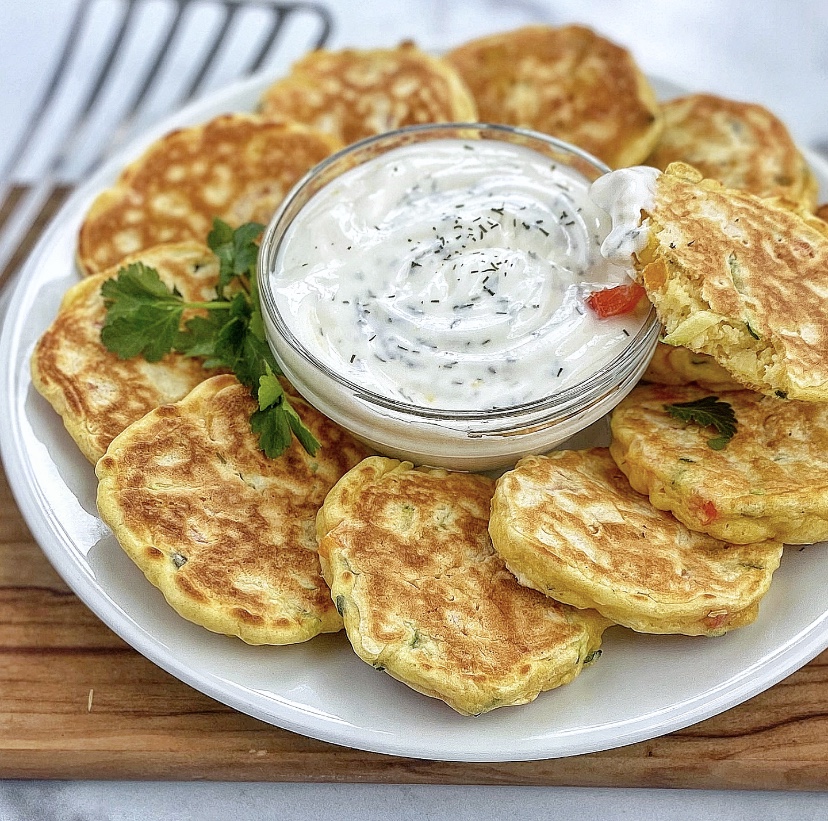 Kids can help make Rainbow Veggie Pancakes:
Veggie prep is probably the most important part of having kids help make this recipe. You want them to get that hand-on experience with whatever vegetables you choose to use so they get that exposure to new/non-preferred foods. Use a box grater together: holding the zucchini  and the top of the grater hand over hand. Count the number of times you move the zucchini back and forth over the holes. It makes it really fun.
"Alligator Chopper!" One of my favorite cooking tools to introduce to little helpers is a "onion chopper"  veggie prep tool. We call it an "alligator" because it CHOMPS the veggies like the jaws of a gator. You can see it in the picture below. I cut peppers (and lots of other veggies) into small, flat pieces then let the kids help place the a piece on the chopper then help snap the top shut. Kids love helping with this activity and the chopper cuts the veggies into tiny, confetti-like pieces. The one I use in my classes is linked HERE (affiliate Amazon link) but there are many others like it available online.
Crack the eggs! Around 2-years-old I start teaching kids to crack eggs. It can get a little messy but they need to start practicing if they're going to learn! Just make sure your child knows not to put her hand in her mouth and to wash hands right after handling the raw eggs.
Mix! Kids can help add the remaining ingredients to the bowl and mix them together. If making the dip, kids can measure and mix the ingredients for that as well.
Cooking. Being up at the stove can be stressful with little ones. Depending on the child, you can have her watch while you cook or direct her to do another taste/play on her own.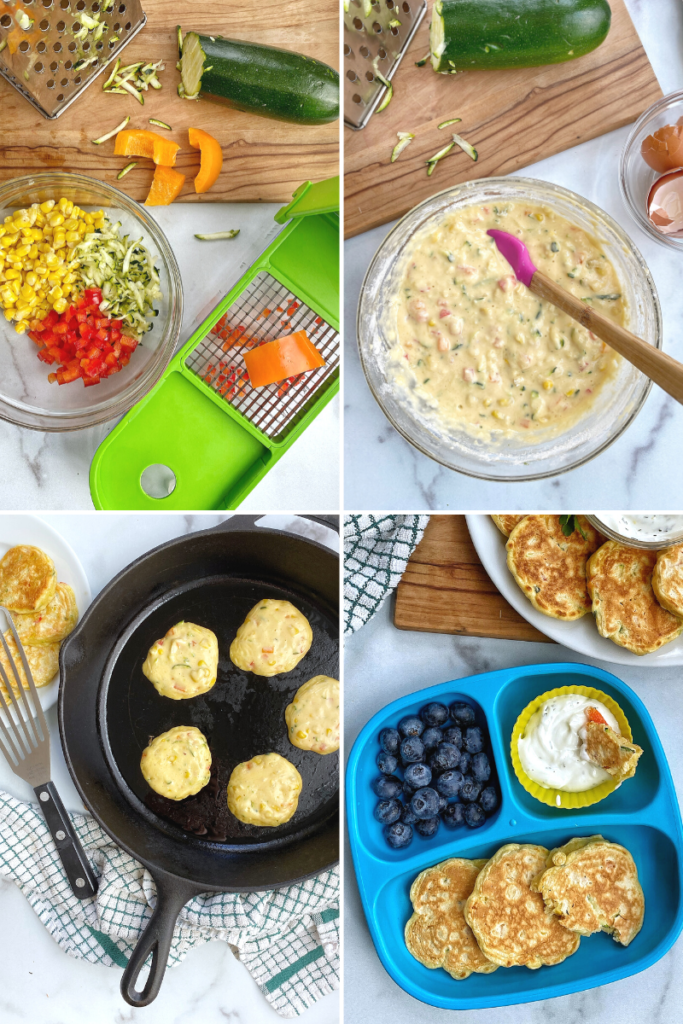 Subs and Tips:
Flour: You can use all-purpose flour, whole wheat flour, or a gluten-free mix. For a grain-free version, I have had success using the Bob's Red Mill Paleo Flour mix. When using any flour, it's best to add a little less than stated in the recipe then add more if needed to get thick pancake batter consistency. You can always add more but you can't take it away!
Egg-free? This recipe won't work without the eggs since they are the bulk of the batter.
Veggies: Feel free to remove or substitute any of the vegetable in the recipe. You can add grated carrot, finely chopped greens, scallions, chives, other herbs…the options are limitless.
Dip? I created an  easy yogurt dip to make in my classes while we were waiting for the pancakes to cool. It's definitely not needed, especially if you child isn't a big dip fan. However, we love using this dip for lots of other things as well like dipping raw veggies.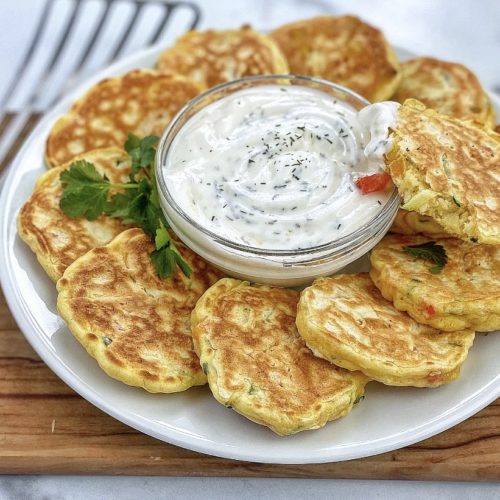 Rainbow Veggie Pancakes
Toddler approved savory pancakes filled with veggies.
Ingredients
1/2

cup

grated zucchini, squeezed dry

1/2

cup

corn kernels

if frozen, defrosted and drained

1/4 to 1/2

cup

finely diced bell pepper

3

large eggs

1/4

cup

milk

any kind

2

Tbsp

grated Parmesan cheese

optional

1

tsp

baking powder

1/4

tsp

kosher salt

1/2

cup

flour

all-purpose, gluten-free blend, or see suggestions in post

oil, for cooking

avocado, olive, or vegetable oil
Lemony Yogurt Dip
1/2

cup

Greek yogurt

1/2

tsp

grated lemon zest

2

tsp

fresh lemon juice

1

tsp

dried dill

optional

Pinch

Kosher salt
Instructions
Add prepared veggies to a large bowl. Crack eggs into a separate small bowl then add to the large bowl. Mix in the remaining ingredients (besides the oil).

Heat a thin layer of oil in large skillet over medium heat. Cook pancakes until golden brown on each side.

Serve warm or room temperature with dip, if desired. Store in the refigerator for 4 to 5 days or freeze for up to one month.
Lemony Yogurt Dip
Mix all ingredients together in a small bowl. Refrigerate until ready to serve.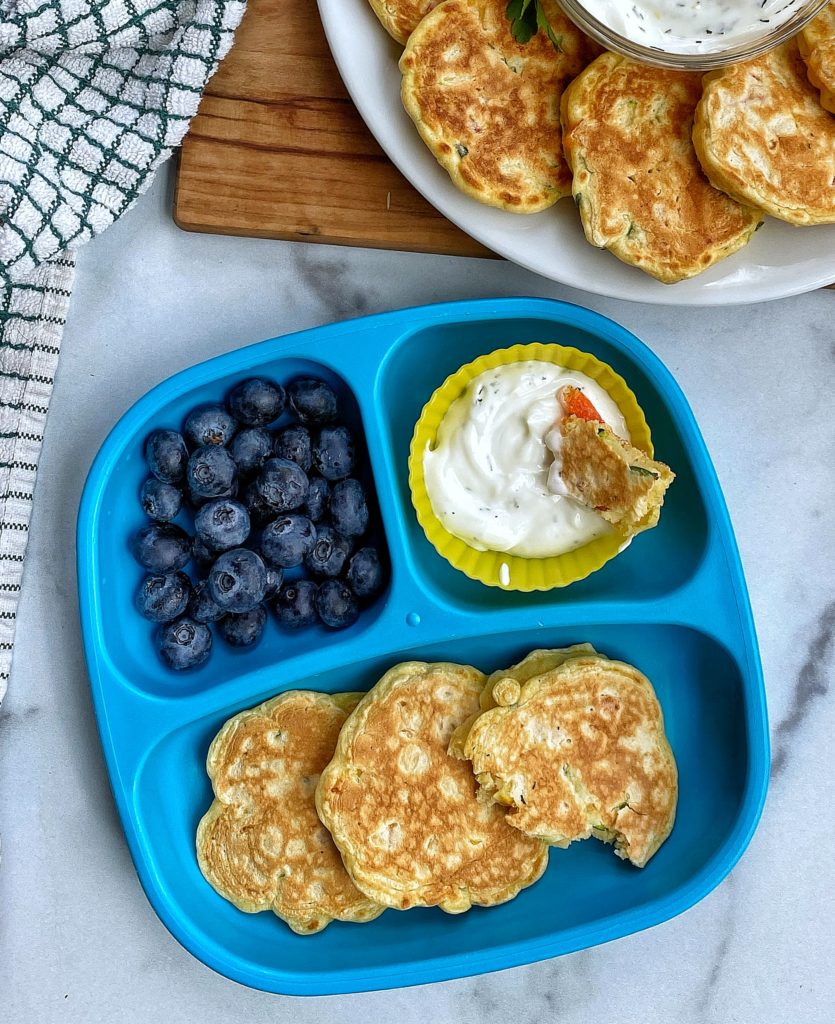 Save on Pinterest!!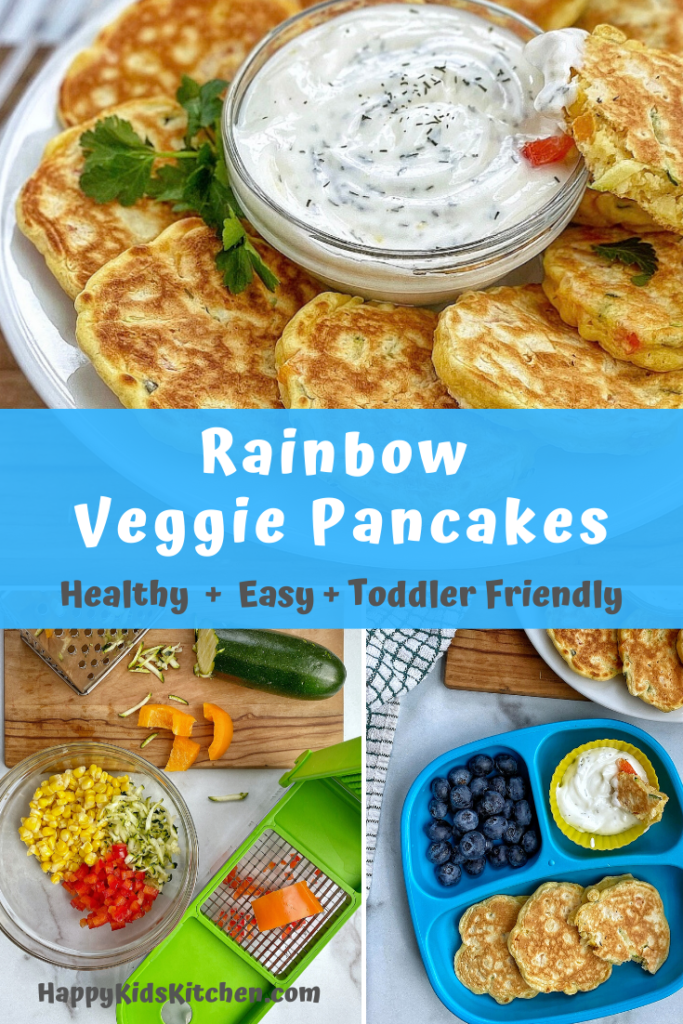 Other Toddler-Friendly recipes you'll love:
Roasted Cauliflower Mac and Cheese