This simple, fresh, and delicious Rainbow Pasta Salad is perfect for getting the kids into the kitchen to practice those knife skills. You can use whatever fresh or frozen veggies you have on hand to make a colorful pasta dish the whole family will love. I often make this recipe with my preschool cooking classes. Parents and teachers are always so surprised how much kids are willing to taste when they help make the dish. Even if your little one pushes the veggies aside and only eats the pasta, chopping veggies and learning in the kitchen is still a huge win.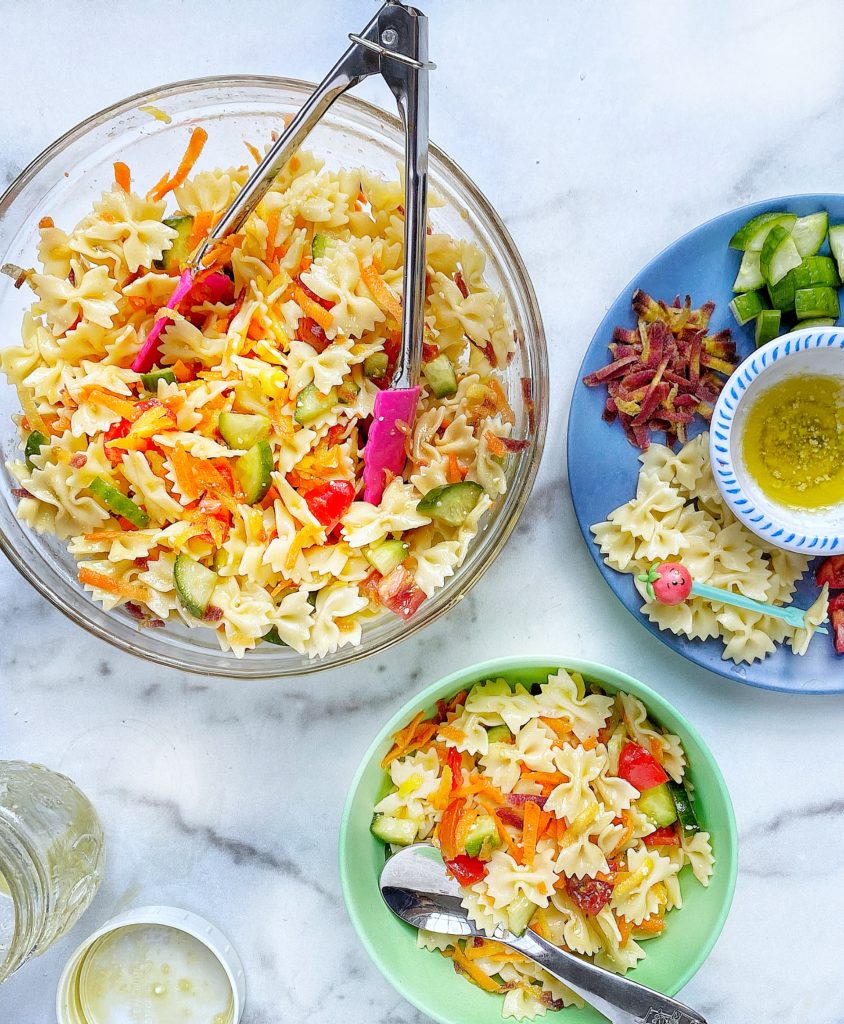 Kids in the Kitchen:
I specifically designed this recipe to cook with preschool students. The instructions below I've indicated which steps need adult supervision and which steps kids can execute on their own (or with minimal help). Of course, you can always make this recipe on your own and have a child help with one or two parts of the recipe. Shaking up the dressing is such a fun task, especially if using a mason jar. Stirring and adding the veggies in a bowl are simple, quick ways even very young kids can help make this pasta salad.
If you are looking for a child-safe knife recommendation and tips on how to teach a child to use a knife, check out my blog post, Teaching Knife Skills to Toddler and Kids.
"Picky" Eater Tips: Afraid to serve salads or dishes will several components to a child that's often aprehensive about eating new or different foods?
It's natural and normal for toddlers and younger kids being hesitant about different foods being mixed together or touching. That being said, we can help our kids to try and eventually enjoy combined foods by continuously exposing them to a variety of dishes. Having your little one help chop and handle the veggies is key in forming a better relationship with these foods. One strategy I've used is to separate all the salad ingredients out on a plate. Serve the pasta and veggies with the dressing on the side for dipping. See the picture below for an example. Including a fun food pick or other novel is another great way to get kids excited about eating new foods.
Subs and Tips for making Rainbow Pasta Salad
Pasta! Use any kind of pasta you like. There are so many varieties at stores these days: gluten-free, pea or lentil based, or just a wheat pasta in a fun shape. My kids particularly love the wagon wheel pasta.
Veggies: this is called "Rainbow" because, in my classes, I like to bring a veggie in each color of the rainbow to talk about with the kids. However, at home it doesn't matter if you get one, two, or three different colors in the bowl. Just use what you have! 
Veggie suggestions: I love adding grated carrots to this because they incorporate into the salad really well and are super easy for young kids to chew. But here are some other veggies you could add as well: defrosted frozen peas and corn, cooked green beans, finely chopped spinach, roasted or steamed broccoli or cauliflower…the possibilities are endless!
Dairy-free: The dressing has a little bit of parmesan cheese in it because I love the flavor it adds. However, you can simply leave it out to make this recipe completely dairy-free and plant based. Make sure to taste your pasta salad before serving to make sure it has enough salt.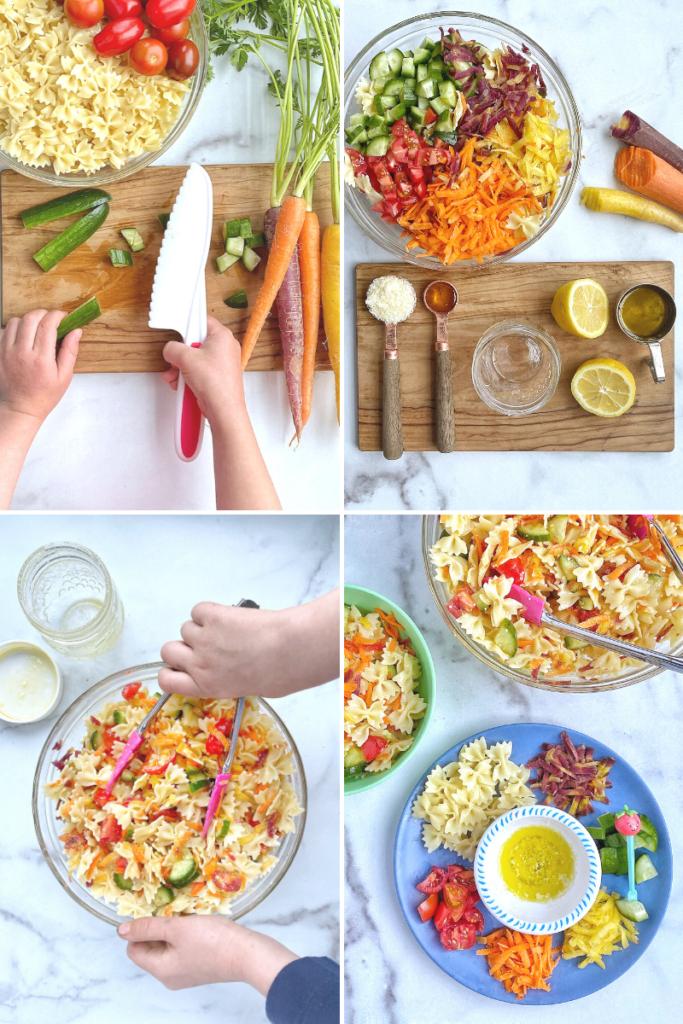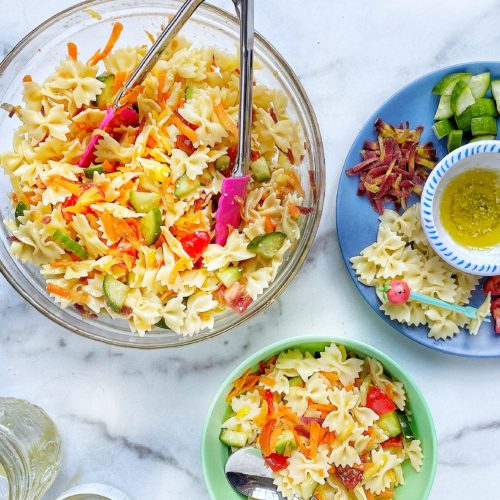 Rainbow Pasta Salad
Easy, veggie loaded pasta great for kids to make with you.
Ingredients
1/2

pound

small-shaped pasta

any kind

1

cup

grape or cherry tomatoes

or 1/2 bell pepper

1

bunch

rainbow carrots

or two large orange carrots

2

small cucumbers

or 1/2 large English cucumber

1

lemon

cut in half

1

tsp

honey

optional

1/4

cup

olive oil

2

Tbsp

grated Parmesan cheese, plus more for the top

optional

Coarse salt and ground pepper, to taste
Instructions
Adult: Cook pasta according to package directions. Drain and set aside.

Adult: cut whatever veggies you are using into smaller, more manageable pieces to cut. (Cut cucumbers into long, thin strips.) Trim the ends off of the carrots.

Kids: help cut tomatoes and cucumbers into small, bite-sized pieces. Help peel carrots then grate them on the large holes of a box grated until you get one to two cups. Add all the prepped veggies into a large bowl. Add cooked pasta on top of veggies.

Kids: squeeze 3 tablespoons of lemon juice into a mason jar or small bowl. Make sure to remove any seeds that fell in. Add honey, olive oil, grated cheese, and a large pinch of salt. Tightly close lid of mason jar and jump up and down to shake the dressing together. Make sure to hand on tight! If using a bowl to mix dressing, whisk ingredients together until well combined.

Kids: Pour dressing over pasta and veggies. Stir to coat everything in the dressing. Taste then season with additional salt and pepper. Sprinkle on extra cheese, if desired.

Serve immediately or refrigerate for up to 3 days.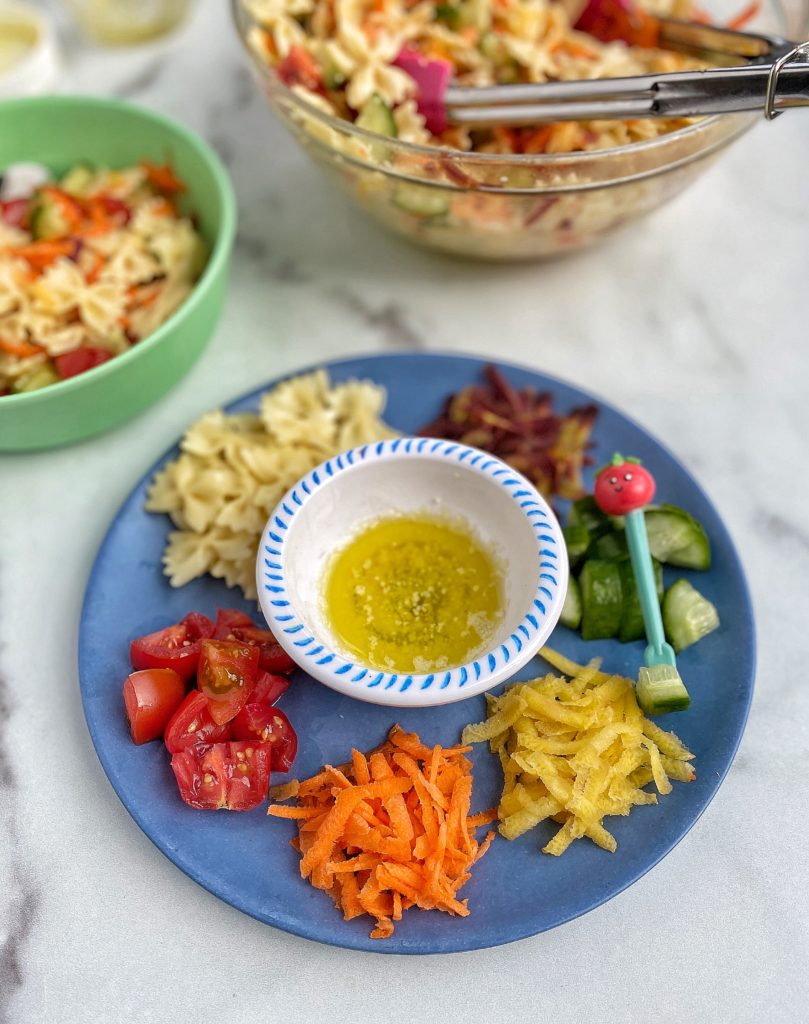 Save to Pinterest!! 
Other recipe to try:
Rainbow Noodle Bowls with Roasted Tofu
Baked Spaghetti Cups (with Veggies)