Sesame Noodle Salad (Nut-free and gluten-free)
A healthy summer meal or bbq side dish that the whole family will love! This plant based, veggie-packed Sesame Noodle Salad is nut-free, gluten-free, and vegan. Cook your favorite rice noodles, chop up some crunchy veg, and then toss it all in a super flavorful sauce. Pack up this noodle salad for a picnic or a lunch box for a nutritious and refreshing meal.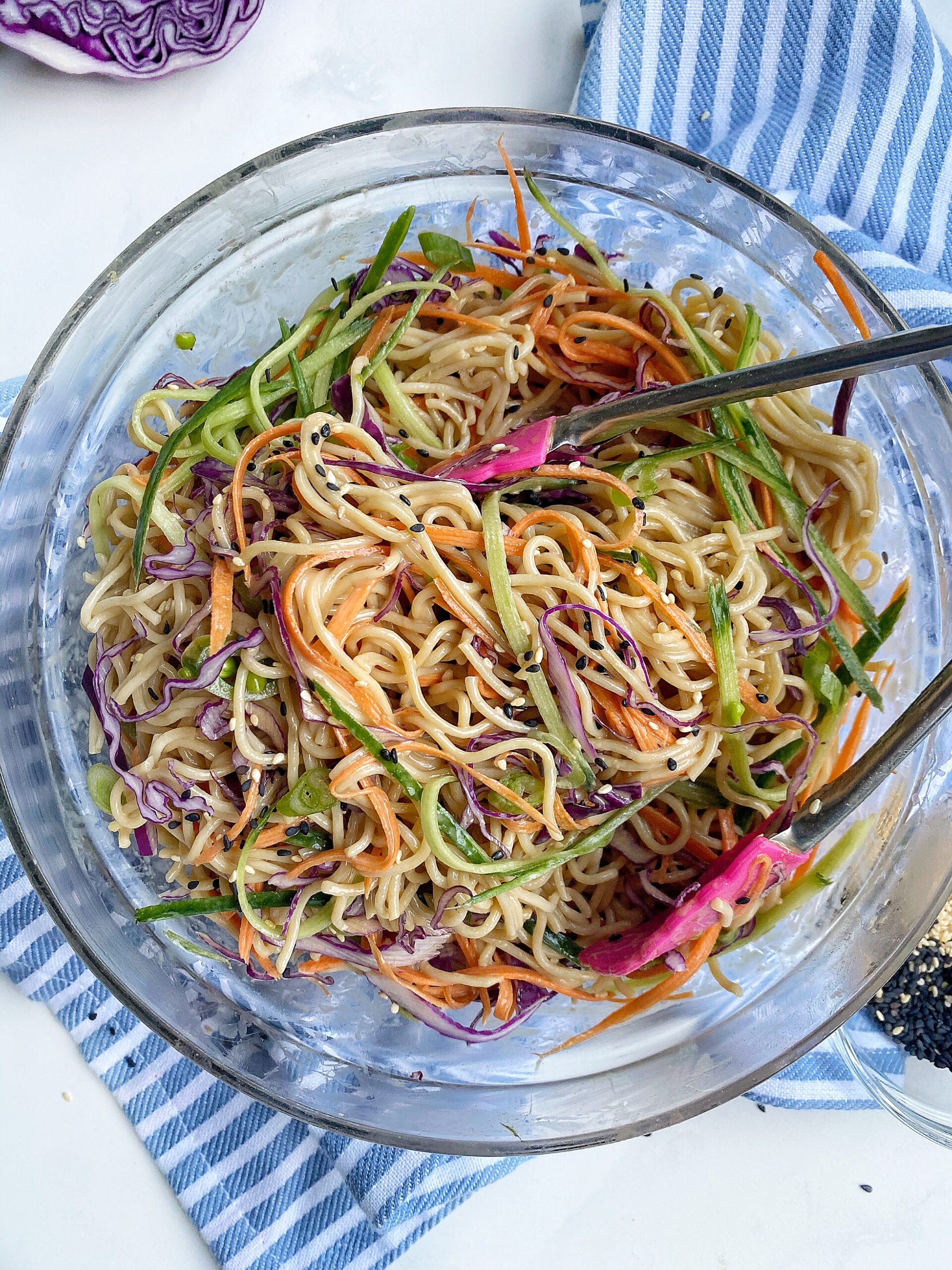 Kids in the Kitchen:
Prep the veggies: Kids can wash the produce you are using in this dish, peel the carrots and help use a grater or julienne peeler to shred them up. If using snap peas, kids can cut off the ends. Even if your child doesn't help chop or peel any veggies, simply transferring them from the cutting board to a bowl is a great way to get exposure to the vegetable in the dish.
Measure ingredients: Have your child hold the measuring spoon or cup with you as you measure the ingredients for the sauce. Then your child can dump the ingredient into the bowl too.
Stir up the sauce: Show your child hold to hold the bowl with one hand then slowly whisk the sauce together.
Garnish!: Kids will have fun sprinkling the finished noodle dish with the sesame seeds, scallions, and nuts (if using).
"Picky eater" tips: If your kiddo liked noodles, but isn't a fan of veggies mixed in, separate out some plain noodle before tossing everything together and serve the veggies along side instead. Use some fun utensils to get kids excited about the meal. My boys love using kid-friendly chopsticks to eat this dish. HERE are some on Amazon (affiliate link).
Subs and Tips for Sesame Noodle Salad:
Noodles: These are the rice-based ramen noodles that I usually buy (at Costco), but you can really use any kind of noodles you like. Even a thin spaghetti will work in this recipe.
No Tahini?: you can use almond butter or peanut butter instead if you don't need this dish to be nut-free. If you are using a nut butter that isn't super runny, I would reduce the amount to a 1/4 cup then stir in a little water to thin out the sauce as necessary.
Veggie options: any crunchy, raw veggies will work well in this noodle salad. Bell peppers would be great. Any kind of cabbage or leafy greens. Also, I like adding some shelled edamame (can buy frozen and then defrost it before adding to the dish).
Toppings: If you don't need this recipe to be nut free, sprinkle in about 1/2 cup toasted chopped cashews or peanuts. They and such yummy crunch and flavor to the dish.
Helpful Tools: THIS julienne peeler is awesome for easily creating long, thin strands of carrot and cucumber. It's one of my favorite kitchen tools and makes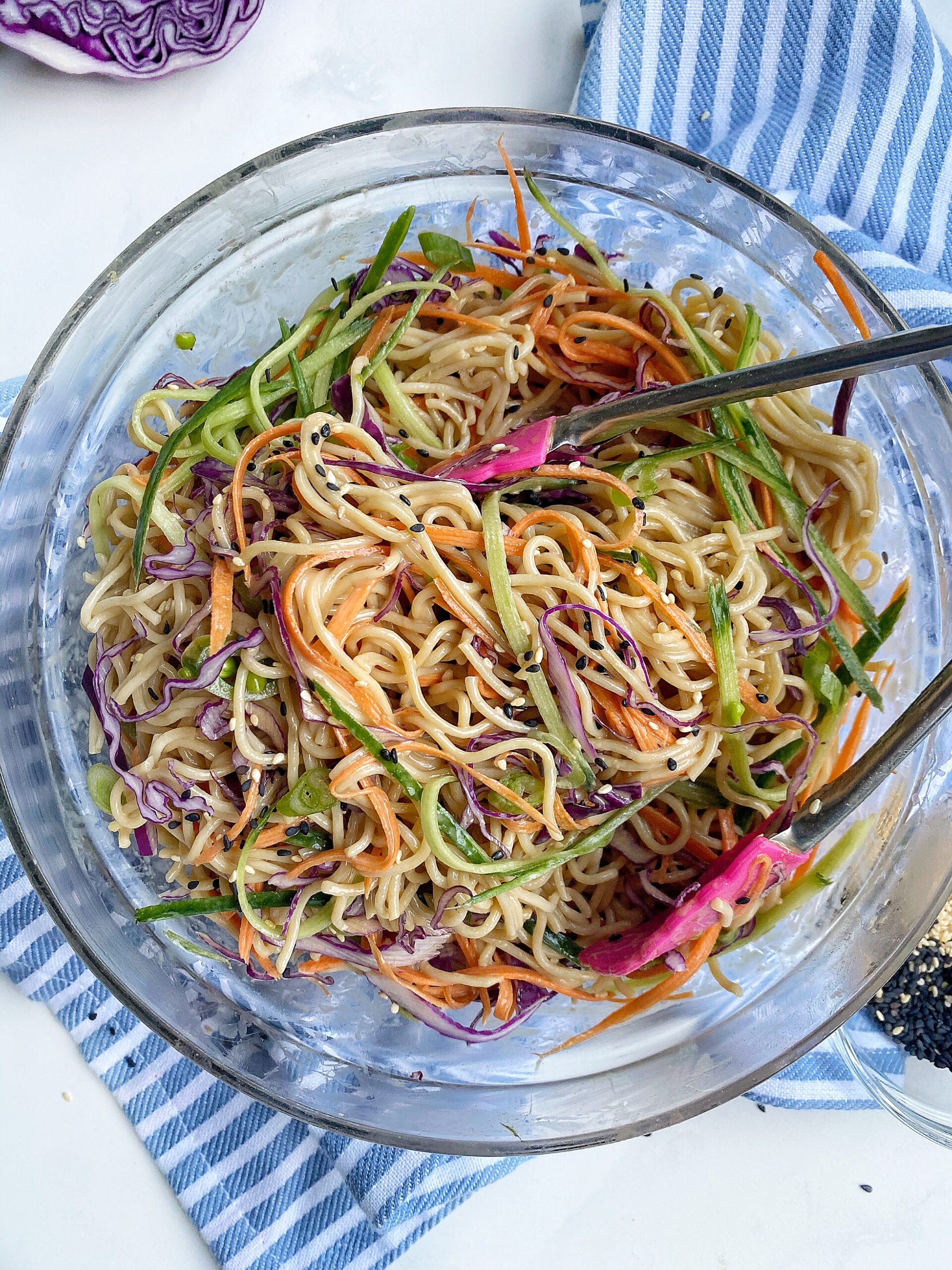 Sesame Noodle Salad (Nut free, gluten free, and vegan)
Great for lunches, picnics, and side dish for parties and bbqs.
Ingredients
10 to 12

oz

ramen-style rice noodles or any thin rice noodles

1

cup

thinly sliced "matchsticks" or grated carrot (about 2 large)

1

cup

thinly sliced "matchsticks"cucumber (about 1/2 large cucumber)

1

cup

shredded or thinly sliced red cabbage

4

oz

sugar snap peas, trimmed and thinly sliced

or 1 red bell pepper, thinly sliced

4 to 6

scallions, trimmed and thinly sliced

1/3

cup

tahini

1/4

cup

low sodium tamari or soy sauce

2

Tbsp

rice wine vinegar

2

Tbsp

honey or maple syrup

2

tsp

toasted sesame oil

1/2

tsp

garlic powder

or 1 garlic clove, finely minced/grated

4

Tbsp

toasted white or black sesame seeds (or both)
Instructions
Cook noodles according to package directions, drain, rinse with cold water, and shake off any excess water. Place drained noodles into a large bowl.

Add all your grated or thinly sliced veggies to the bowl with the noodles, reserving some of the green scallion tops for garnish. (I like to use a "julienne peeler" for the carrots and cucumber. Details and link in post.)

In a medium-sized bowl, whisk together the tahini, tamari, vinegar, honey, sesame oil, garlic, and 2 tablespoons of sesame seeds. Pour sauce over veggie and noodles and toss to combine.

To serve, sprinkle noodles with remaining scallion and sesame seeds. Serve at room temperature or chill in the refrigerator for up to a day.
Great for lunches and picnics!!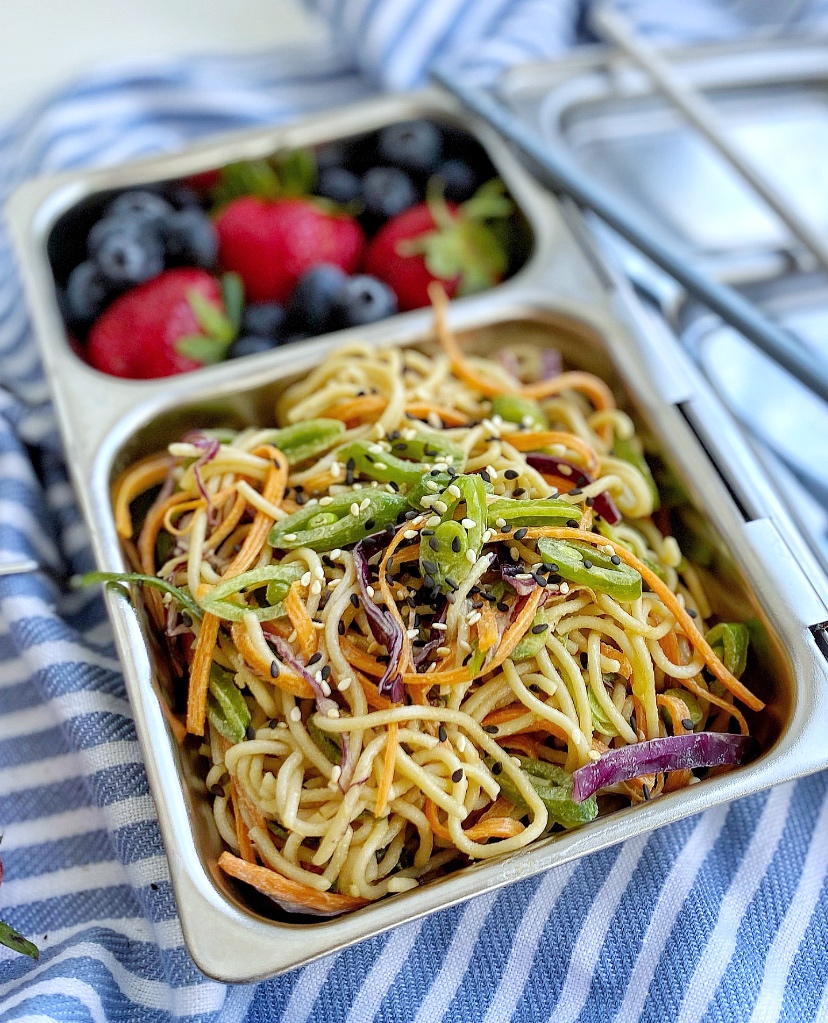 Save to Pinterest!
Other great Summer recipes:
Kid-Friendly Chopped Cabbage Salad