Summer's quintessential veggie, corn on the cob, made super kid-friendly and fun! Corn "Wheels" 4 Ways is an easy way to serve corn to young eaters (and I actually enjoy eating the little wheels way better than chowing down on the whole cob too). I brainstormed some creative and delicious flavoring for the corn such as "Cheesy Pizza" and "Herb Ranch" that are basically just some dried seasonings and herbs tossed with the steamed corn. Also, I came up with a sweet flavor called "Cinnamon Churro" and although it might seem strange to take corn over to the dessert side, you NEED to try it! My kids loved it and I think you will really enjoy it too.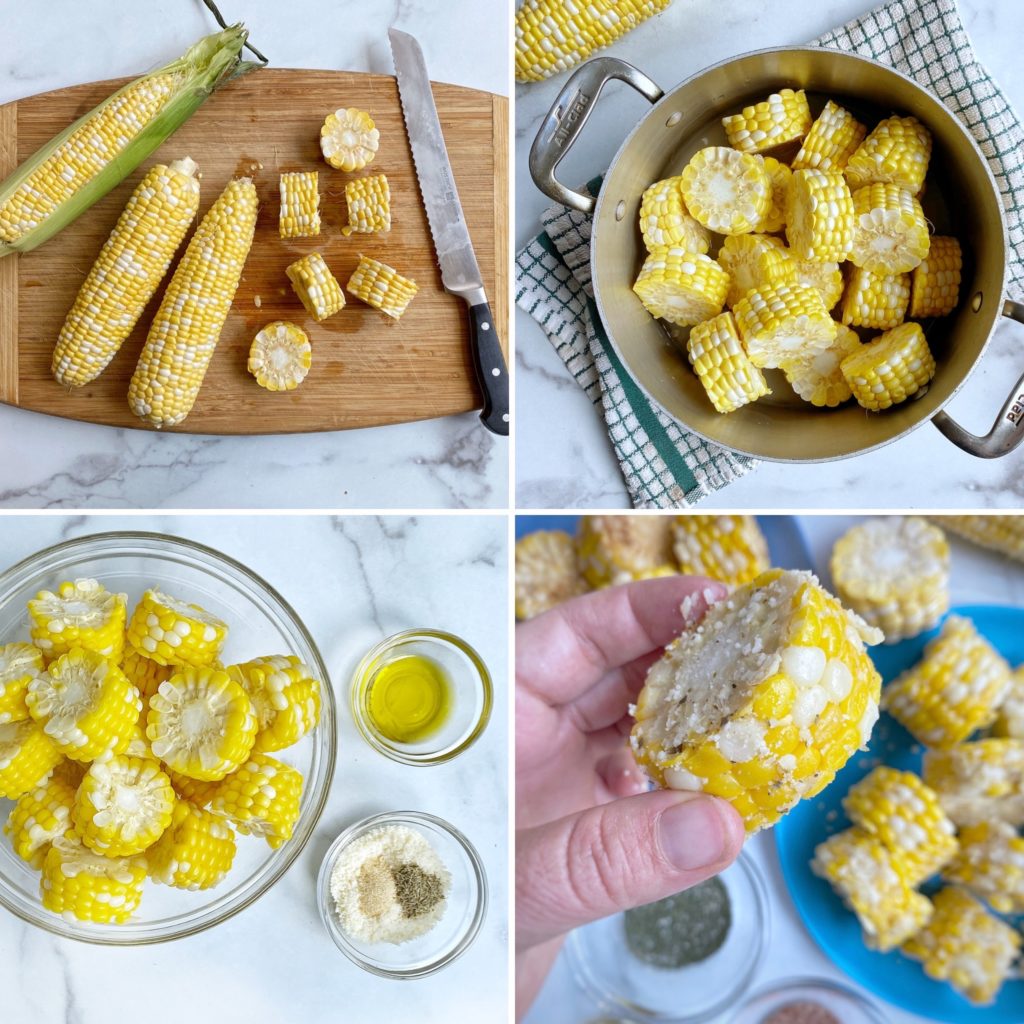 Corn "Wheels" 4 Ways: Kids in the Kitchen
Cut and steam the corn before you invite your kids to help with this recipe. You need a sharp, serrated knife to saw though the corn cob, so this is not a kid-friendly step.
Pick the favor: let you child help choose the kind of corn to make. Look at the pictures in this post and talk about which ones he would like to try.
Measure: not very many ingredients to in this recipe, but get out those measuring spoons and let your child scoop the seasonings into a bowl and mix them together.
Pour and toss: kids can add the oil/melted butter and seasoning mix on top of the corn and help mix everything all together.
Subs and Tips:
Get creative! There are so many great seasonings you could pair with fresh corn. Make a couple different seasoning mixes and sprinkle them on individual pieces of the corn so you can try different ones!
Dairy-free? I've give options for using either butter or oil in the flavor recipes below. The "pizza" flavor has parmesan cheese. If you want to make that recipe dairy-free, feel free to leave out the cheese or replace it with some nutritional yeast to add that "cheesy" flavor.
Butter or oil? These activities as the "glue" to help the seasonings stick to the corn wheels. As I mentioned above, you can use butter or oil in all the flavor recipes. I think butter adds so much flavor and is a classic combo with corn, but you can use whichever fat you'd like.
Salt? In the recipes below I call for "coarse salt" which can either be kosher salt or sea salt. I usually use kosher salt.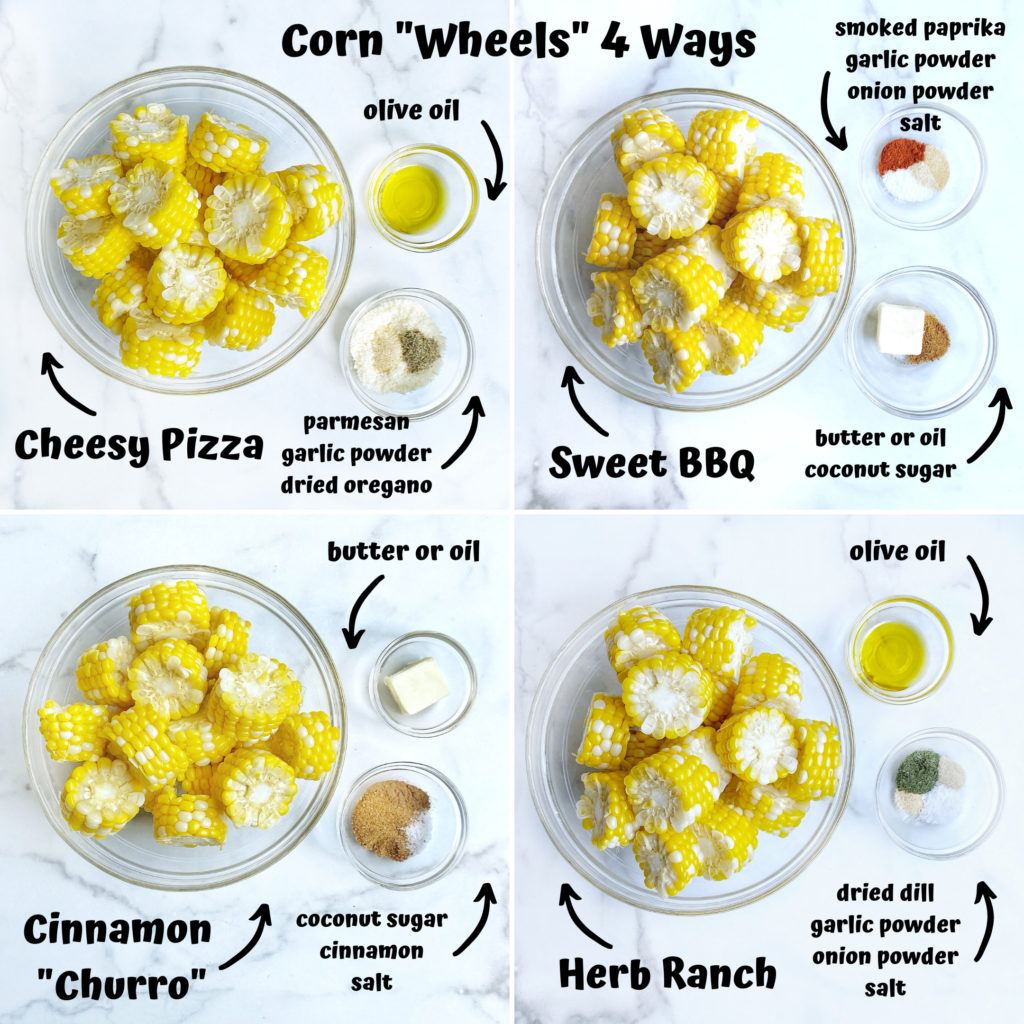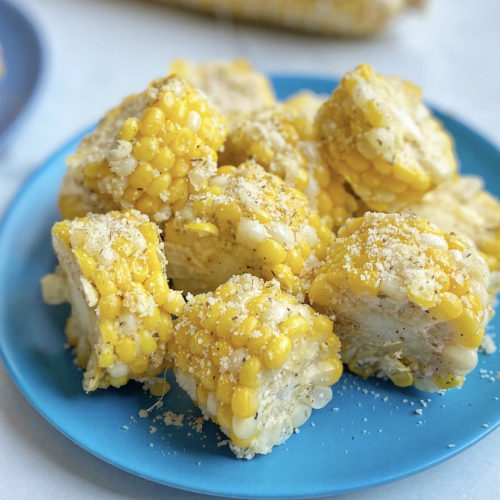 Corn "Wheels" 4 Ways
Fun little bites of corn on the cob in a variety of delicious flavors.
Ingredients
2

ears of corn on the cob, shucked

1/2

cup

water

1/2

tsp

coarse salt
Cheesy Pizza Corn Wheels
1

Tbsp

olive oil

1

Tbsp

grated Parmesan cheese

1/4

tsp

garlic powder

1/4

tsp

dried oregan or Italian seasoing mix
Herb Ranch
1

Tbsp

olive oil or melted butter

1/2

tsp

dried dill

1/4

tsp

coarse salt

1/4

tsp

garlic powder

1/4

tsp

onion powder
Sweet BBQ
1

Tbsp

butter or coconut oil, melted

1/4

tsp

smoked paprika

1/4

tsp

onion powder or garlic powder

1/2

tsp

coconut sugar or brown sugar

1/4

tsp

coarse salt
Cinnamon "Churro"
1

Tbsp

butter or coconut oil, melted

2

tsp

coconut sugar or brown sugar

1/4

tsp

ground cinnamon

1/8

tsp

coarse salt
Instructions
Cut corn into wheels: using a long serrated knife, trim about 1/4-inch off of each end of your corn cobs then cut into 5 to 6 rounds.

Steam corn: add corn wheels to a pot with water then sprinkle the salt over the top. Cover and bring water up to a boil. Lower heat to a simmer then cook corn until tender, 4 to 5 minutes. Drain corn and place in a large bowl.

Season: drizzle oil or melted butter over the corn then toss to coat. Mix dried seasonings in a small bowl then sprinkle half of the mixture over the corn, toss, then see if you want to add anymore of the seasoning. Enjoy warm!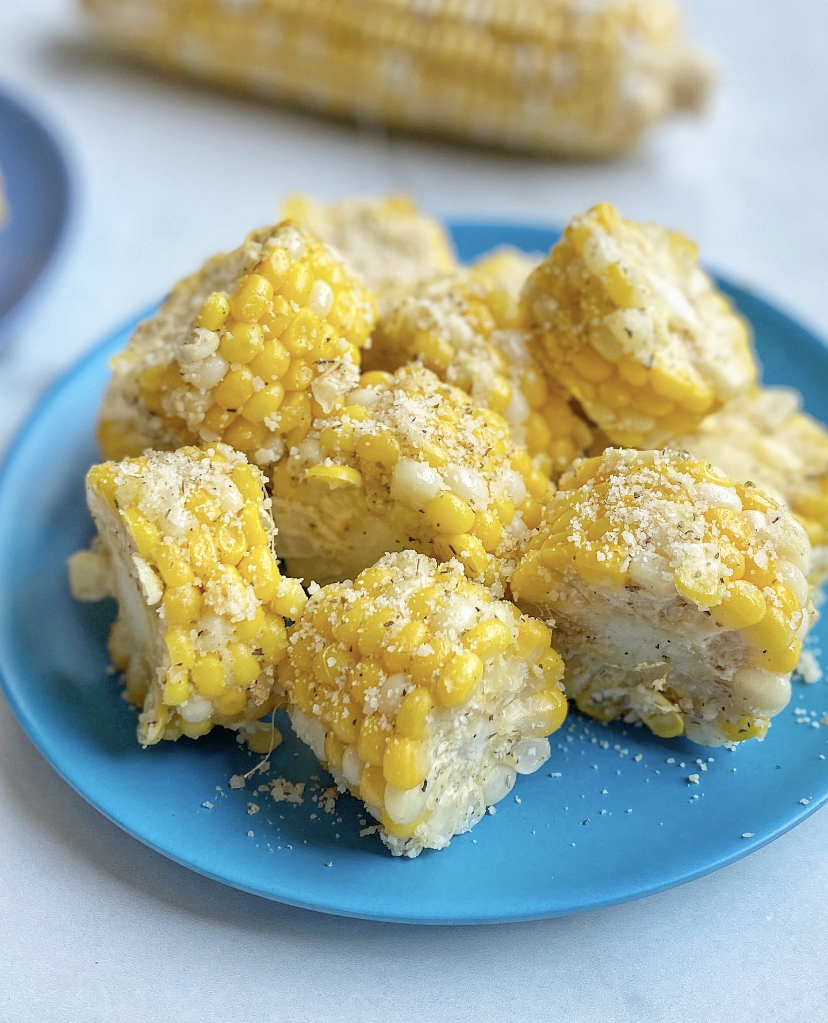 Save to Pinterest!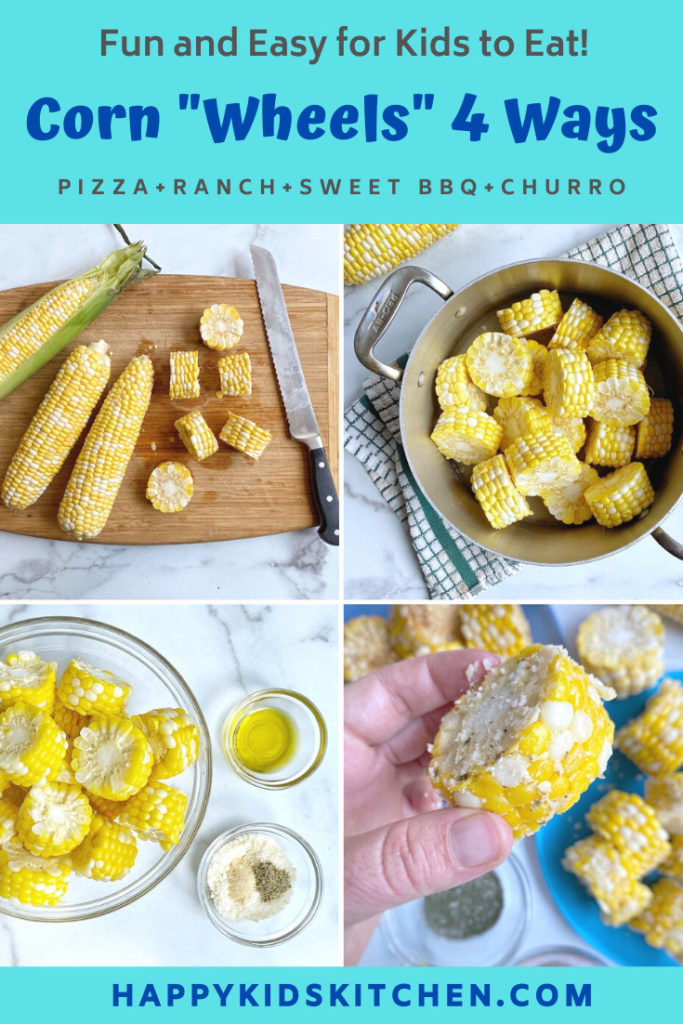 More Fun Veggie Recipes: