Zucchini…it can be a tough veggie for kids (and some adults) to enjoy. But these crispy, flavorful baked zucchini sticks are a crowd pleaser. We call them "pizza" zucchini fries because when my 5-year-old dipped one into marinara sauce and gave the zucchini fry a try he exclaimed, "Yum! They taste like pizza!" The zucchini gets rolled around in breadcrumbs flavored with garlic powder, Italian seasoning, and some Parmesan cheese. Therefore, the veggie "fries" aren't bland or soggy at all. We love to have tomato sauce for dipping but a dunk in ketchup can also be a great way for kids to enjoy this veggie side dish.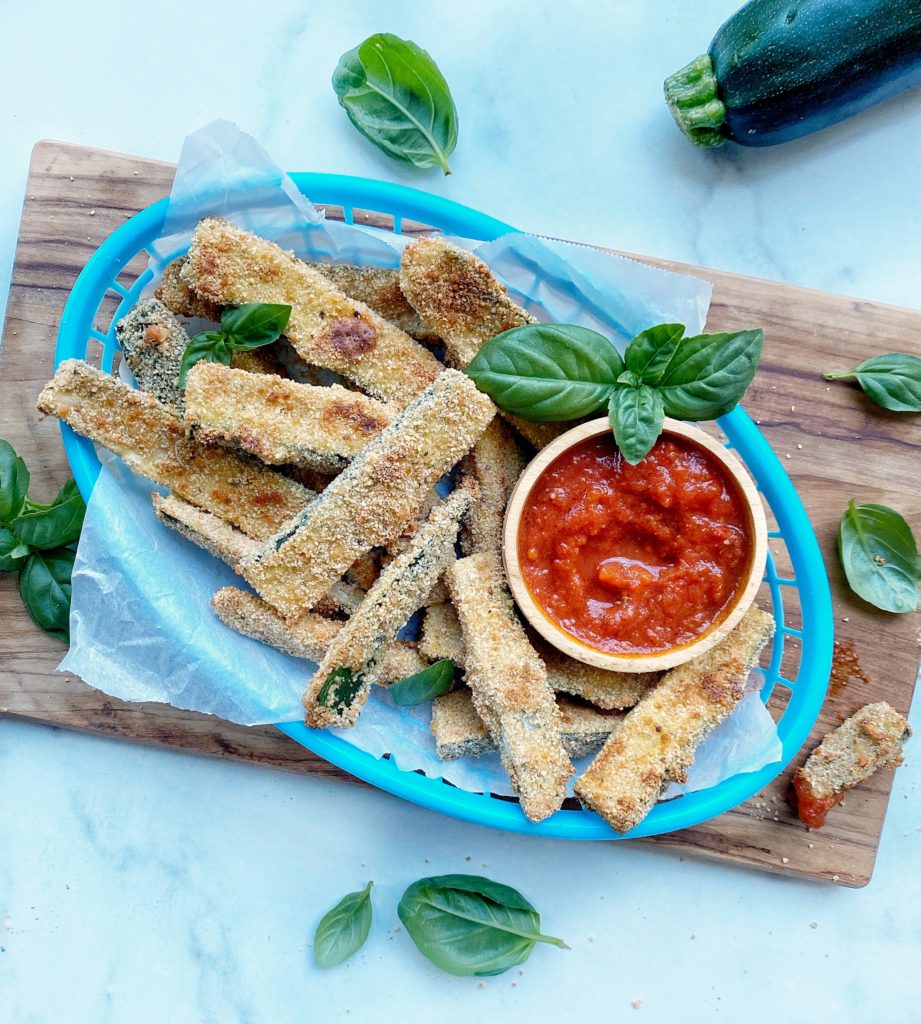 Kids in the Kitchen: "Pizza" Zucchini Fries
Prepping the zucchini: Start by having even the smallest chefs in your kitchen wash the veggie and then pat it dry. If your child wants to help cut the zucchini into fry shapes, I suggest cutting the veggie into quarters first. Then there will be a flat surface to place on the cutting board and the zucchini won't be rolling around while trying to cut it. Each quarter of the zucchini can then be easily cut into 4 "sticks".
Assemble the breading station: Measure the ingredients into 3 separate bowls. Flour into one and add some salt. Crack the eggs into the 2nd bowl. Then measure the breadcrumbs and flavorings into the 3rd bowl.]
Assembly line: coating the zucchini can get pretty messy so I have a few suggestions if kids want to help. 1. assign your child to only coat the zucchini in the flour then add it to the egg bowl and you take over from there. 2. if you don't mind using a zip-top plastic bag, add the breadcrumbs and seasoning to one and have your child shake the zucchini sticks to coat them. Make sure to seal the bag well first!
Subs and Tips:
Great for other veggies too! Have leftover coating or have different vegetables on hand? This technique can be used to make a delicious crunchy topping for eggplant, summer squash, green beans, and asparagus.
No egg? Mix 2 tablespoons of ground flax with 4 tablespoons of milk or water and use in place of the egg.
Gluten-free? You can sub any kind of flour (oat, gluten-free blend, rice…) for the wheat flour in this recipe. There are also many brands of gluten-free breadcrumbs in the store or you can use ground almond meal instead as well.
No cheese? No problem…use additional breadcrumbs and an extra 1/4 teaspoon of salt instead.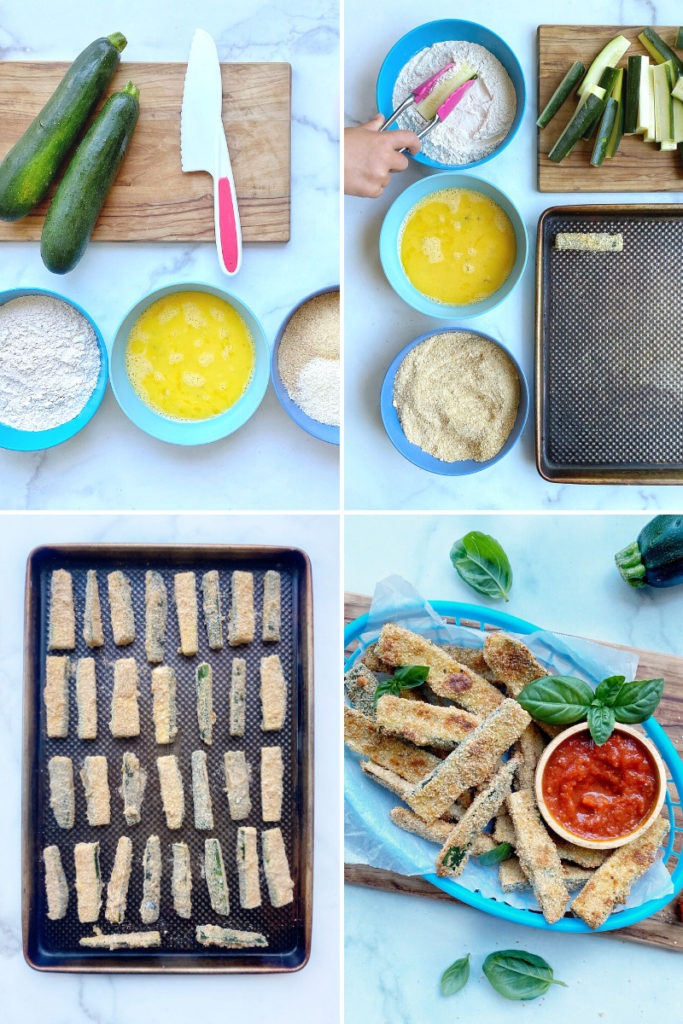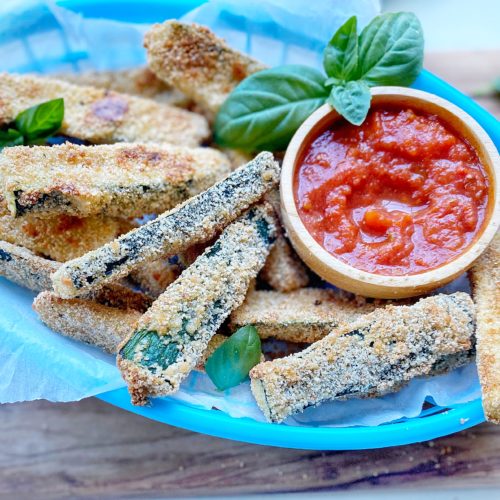 "Pizza" Zucchini Oven-Fries
Crispy baked zuccini sticks that taste like cheesy pizza.
Ingredients
2

medium-sized zucchini

1/2

cup

flour

all-purpose, whole wheat, or gluten-free

2

eggs

see post for sub

1/2

cup

fine breadcrumbs

whole wheat, white, or gluten-free

1/4

cup

finely grated Parmesan cheese

1/2

tsp

garlic powder

1/2

tsp

Italian dried herbs/seasoning

or dried oregano

1/4

tsp

coarse salt

marinara/tomato sauce for dipping

or other dip such as ketchup or ranch dressing
Instructions
Preheat oven to 450 degrees. You can line a baking sheet with parchment or foil for easy clean-up or leave it as is.

Cut the zucchini into fry shapes: Remove the ends then cut the zucchini in half across the center then cut each of those halves through vertically so you have four equal pieces with one flat side. Cut each quarter into about 4 long "sticks". If your zucchini is very thick, you may have to cut it into more pieces. You want the fry shapes to be about 1/2-inch thick. Repeat with the second zucchini.

Set up your "assembly line" style breading station. Use 3 shallow bowls or plates. Place the flour in one bowl. Crack eggs into the second bowl and beat with a fork to combine. Add breadcrumbs and remaining ingredients to the third bowl and stir together to combine. Place the three bowls in order next to your baking sheet.

This process can get messy so you may want to use tongs or have a fork in each bowl to help move the zucchini from one bowl to the other. To coat zucchini, add a couple pieces to the flour at a time and toss them around to coat. Shake off any excess then place in the beaten egg and roll them around. Finally, place the zucchini into the breadcrumb mixture and toss to coat completely. Transfer zucchini to the baking sheet. Repeat with remaining zucchini sticks.

Bake zucchini until golden brown, about 12 minutes. Allow to cool slightly then serve with marinara sauce or other dip of your choice. Leftover zucchini fries can be stored in the fridge then reheated in a 400 degree oven until crispy again.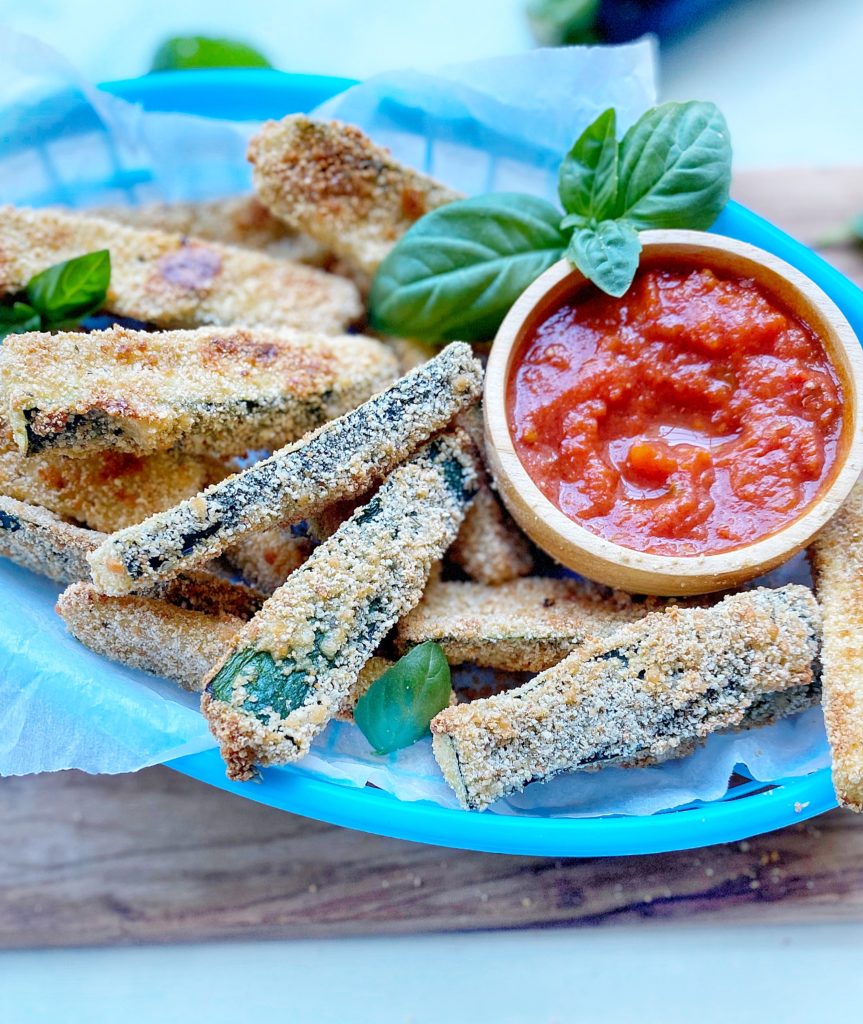 Save to Pinterest!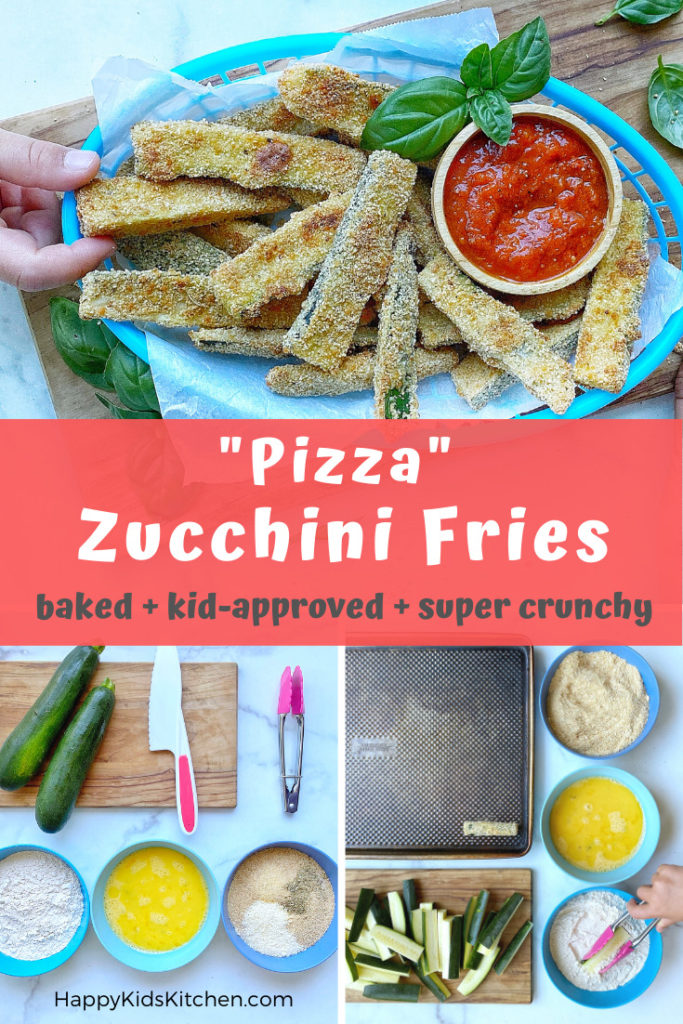 Other veggie recipes to try:
Butternut Squash Fries (Sweet or Savory!)