Kid-Friendly Chopped Cabbage Salad
Cabbage…do you ever buy it? I think it is often forgotten or over looked because we aren't sure what to do with the crunchy veggie. But I've come up with a way to use it that my kids love! Cabbage is very versatile and keeps in the fridge for weeks. You can roast it, sauté it, or chop it up and eat it raw. The key to making this Chopped Cabbage Salad so kid approved is lots of natural sweetness from apple and a touch of honey in the dressing. We love this salad as a side dish to any meal. Whether your child is a fan of crunchy veggies or still learning to like them, I'd definitely get in the kitchen and make this recipe together!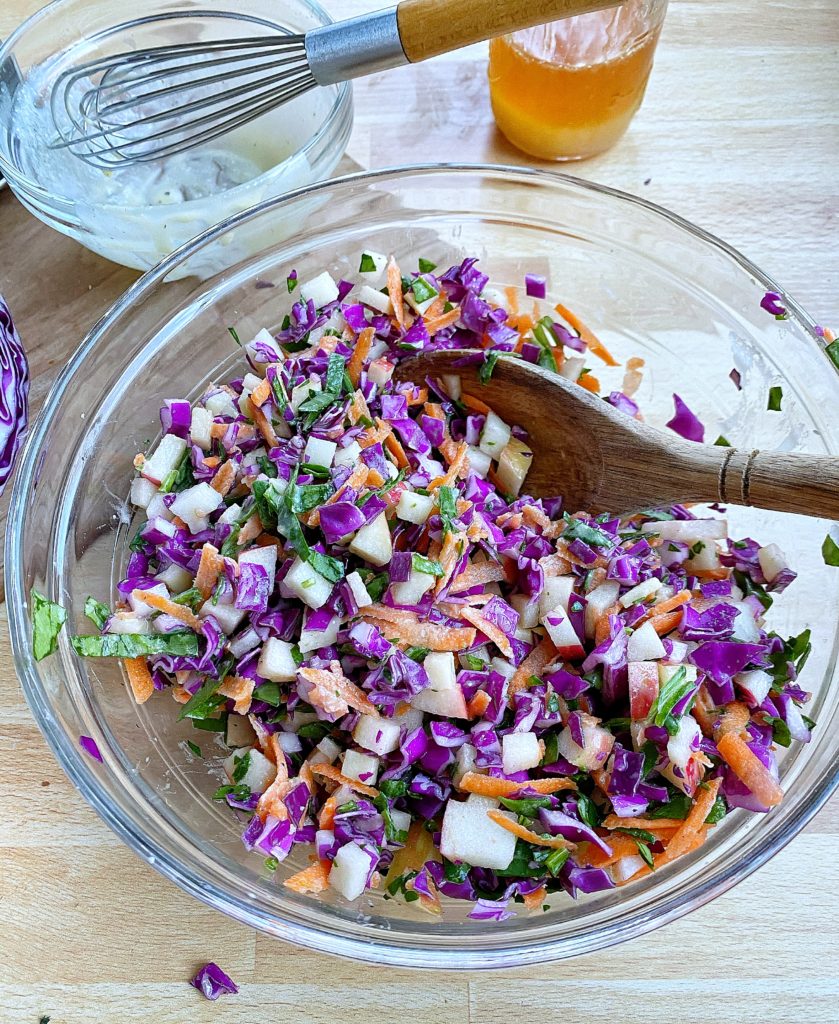 How kids can help make Chopped Cabbage Salad
Chop! Cabbage can be hard for child-safe knives to get through but you can finely slice it and give them a few pieces to saw through while you chop up the rest. Have your child help peel the carrot then hold it together and shred it up on the large holes of a box grater. Slice the apples into sticks then have your child cup them smaller into a dice.
Whisk! Add ingredients for the dressing to a bowl together then have your child slowly mix to make the dressing. Pour the dressing over salad and mix it up together.
Divide to taste. Child not convinced to try all the ingredients mix up in one bite? Have her pick out a piece of apple to try then maybe move on to trying a small bite of a different ingredient. Also, before mixing the salad together, keep a few ingredients separate so your child can have them on her dinner plate and mix them as she chooses.
Cooking isn't always about loving what you make. Remind your child that sometimes cooking is about serving others and not always enjoying the taste of every recipe we make. Sometimes we have to cook and try things several times and in several different ways before we can start liking the way they taste.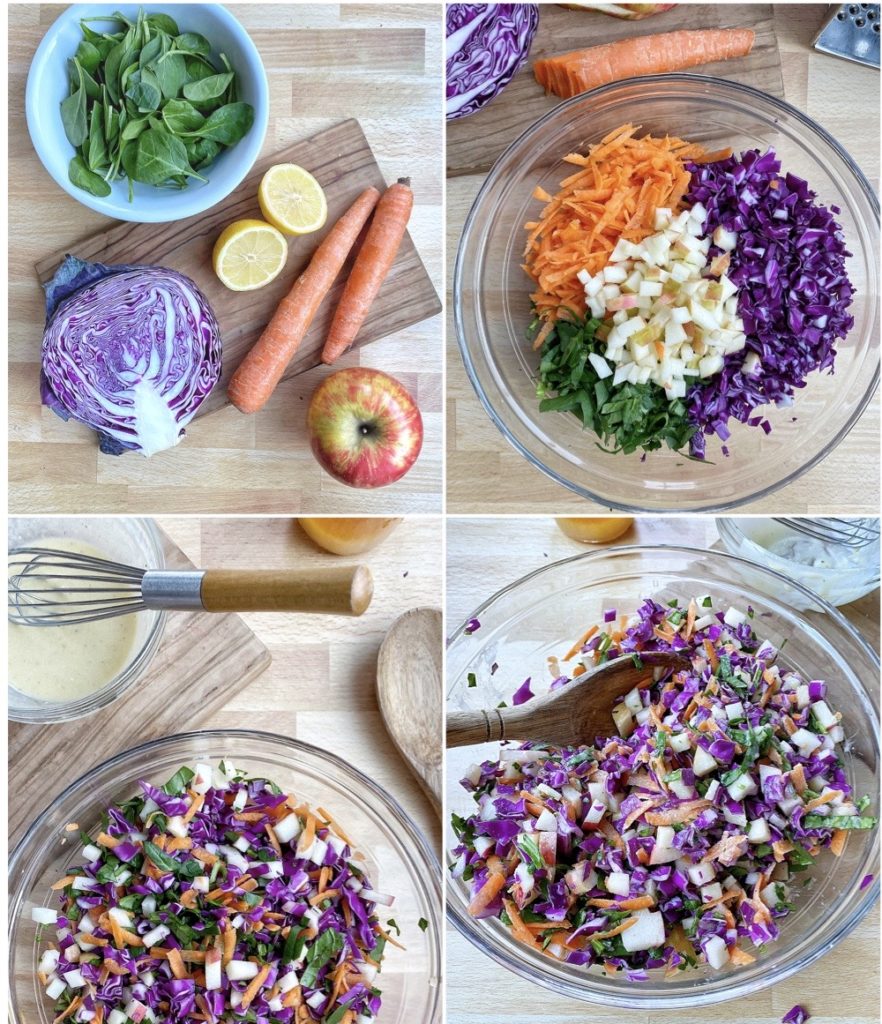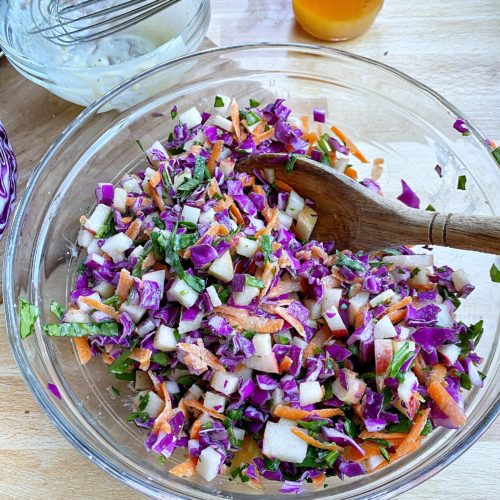 Kid-friendly Chopped Cabbage Salad
Sweet and crunchy salad that kids will love.
Ingredients
4

cups

finely chopped red or green cabbage

about 1/3 of a large head

2

large carrots, peeled and grated

1

small apple, chopped fine

2

cups

baby spinach, finely chopped

2

Tbsp

fresh lemon juice

2

tsp

honey

or other sweetener

2

tsp

Dijon mustard

or yogurt/mayo

3

Tbsp

olive oil

1/2

tsp

coarse salt

kosher or sea salt
Instructions
Add cabbage, shredded carrot, chopped apple, and spinach to a large bowl.

In a small bowl, whisk the lemon juice, honey, mustard, and olive oil until combined.

Pour dressing over veggies and toss until everything is well combined. Sprinkle with salt and toss again. Taste and add more salt or lemon juice as needed.

Serve immediately or store in fridge for up to a day.
Save to Pinterest!!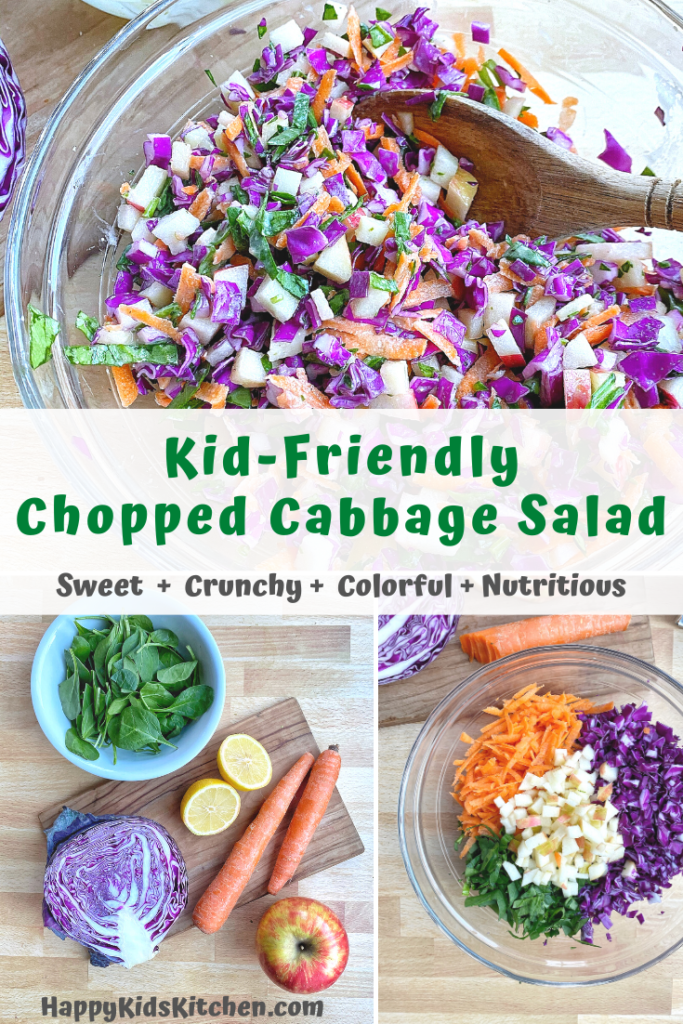 Other recipes you might like:
Baked Spaghetti Cups (with Veggies)