Perfect for lunch boxes and quick meals for kids, these Healthy Corndog Muffins are easy to stir up and are packed with nutritious ingredients. We love using salmon hot dogs made by Kvaroy Arctic for an extra boost of heart healthy Omega-3s. Plus, they taste great (not fishy at all!).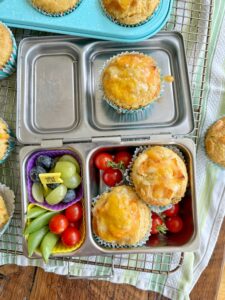 Kvaroy Arctic is sponsoring this recipe, but I am genuinely a big fan of their sustainably raised, delicious salmon.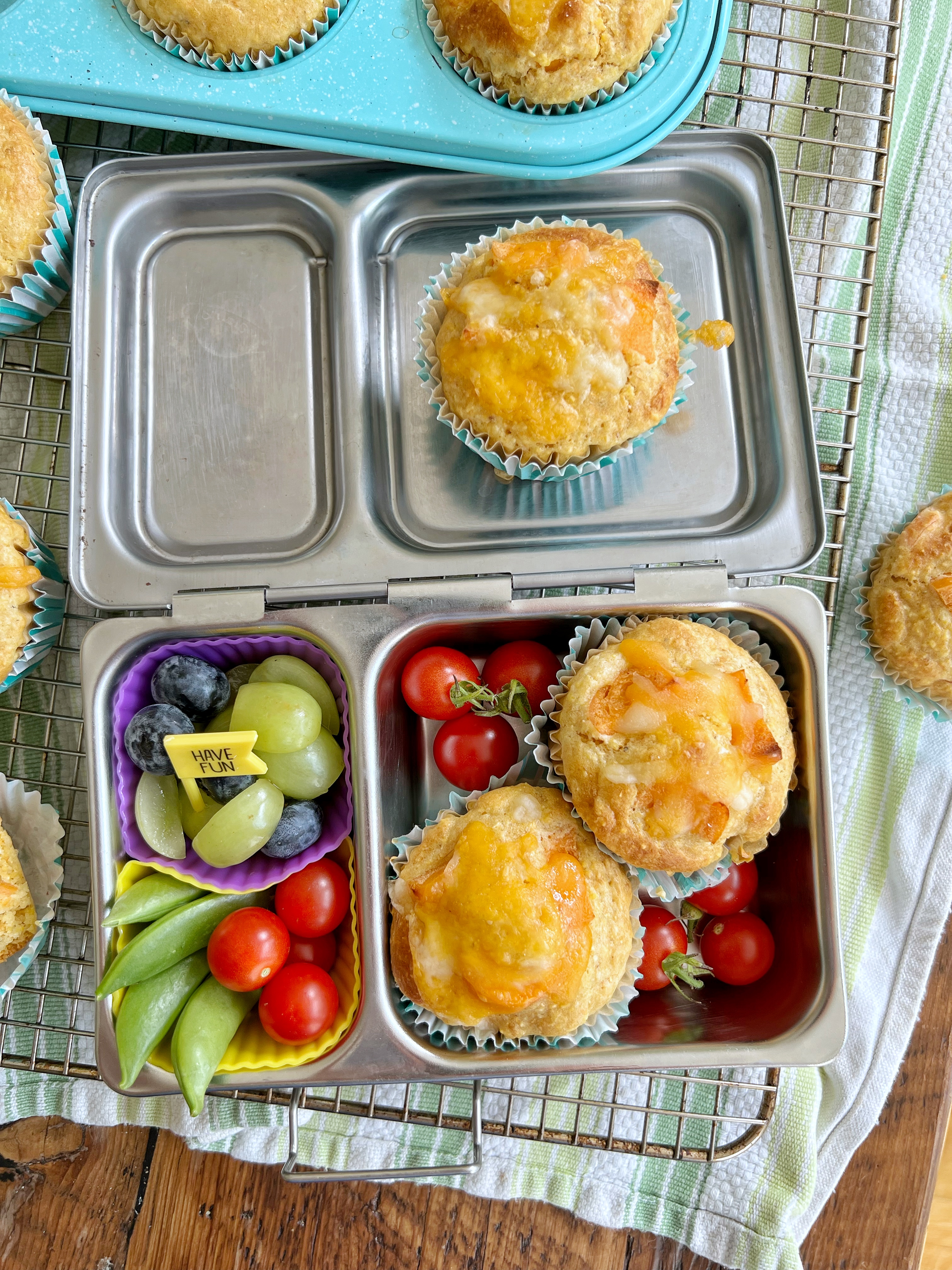 The salmon hot dogs I used in this recipe plus their salmon burgers, individually frozen fillets, and more can be easily purchased on Amazon. They truly make getting more healthy salmon into our families' bellies so easy! Kvaroy salmon is certified by the American Heart Association and has twice as much Omega-3s as other farmed salmon. I'm really impressed not only with the quality of the Kvaroy salmon, but with the company's standards and innovation in fish farming. For more information on the Kvaroy Arctic, head to their website HERE.
Also, Kvaroy just launched Kvaroy Kids, which features activities to encourage kids to be curious about where their food comes from, to experience sustainable aquaculture in a fun way, and to learn how sustainable food production supports the overall health of the ocean, planet, animals, and people. There are great coloring pages, science experiments and even more kid-friendly salmon recipes on their site. Check it out HERE.
Kids in the Kitchen:
Chop: the hot dogs are a great, easy food for kids to practice their knife skills. I suggest cutting the hot dogs in half lengthwise first, then placing them cut side down on a cutting board and having your child cut across into small pieces. Teaching Knife Skills to Toddlers and Kids
Measure: Muffins are awesome for kids to help make because they can measure and mix everything together. Depending on the age or your child and/or how much time you have to bake, you may want to measure many of the ingredients before inviting your child to bake with you. You can leave a couple things for your child to measure, such as the baking soda and salt.
Mix! Make sure to use a large bowl so spills are less likely.
Scoop: This is a tricky, messy job, so it's better for older kids. However, if drips and spills happen around the pan, that's ok! Just use a paper towel to wipe them up.
Top: An easy step for kids to help: Add a few pieces of chopped hot dog to the top of the muffin batter and, if using cheese, a pinch of cheese.

Subs and Tips for making Healthy Corndog Muffins:
Hot dogs: Although I highly recommend the Kvaroy Arctic salmon hot dogs for this recipe, I understand that not all kids or families are able to eat fish/salmon. For this recipe you can easily use any kind of hot dog you enjoy.
Vegetarian: to make these vegetarian, use a veggie hot dog variety.
Gluten-free: Use a cup-for-cup style gluten free flour blend, such as Bob's Red Mill, in place of the wheat flour
Egg-free: I have not tried using an egg replacer or flax egg in this recipe, so I can't guarantee the results. I might google a vegan cornbread recipe from a reputable source and use that instead.
Dairy-free: use a unflavored, unsweetened dairy-free milk, leave out the cheese and use oil in the recipe to make it dairy free.
Helpful tools: Unbleached parchment paper liners, large cookie scoop (in picture below), and my favorite muffin tin are listed in my Baking Essentials list on Amazon HERE.
Healthy Corndog Muffins
Ingredients
1 package (7 oz)

Kvaroy Arctic salmon hot dogs

or 2 to 3 hot dogs of your choice

1

cup

milk (any kind)

2

tsp

apple cider vinegar

1

cup

cornmeal

1/2

cup

all purpose flour

1/2

cup

whole wheat flour

or additional all purpose or use all gluten-free blend

1 1/2

tsp

baking powder

1/2

tsp

baking soda

1/4

tsp

fine salt

2

large eggs

1/4

cup

oil or melted butter

1

Tbsp

honey or maple syrup

optional

1/2

cup

shredded cheddar cheese

optional
Instructions
Preheat the oven to 375 degrees. Line a muffin tin with paper liners or grease well with oil.

Cut the hot dogs in half lengthwise then across into 1/4-inch pieces. Measure the cup of milk then stir in the vinegar and set aside for 5 minutes. (You just made buttermilk!)

In a medium-size bowl, whisk together the cornmeal, flour, baking powder, baking soda, and salt.

In a large bowl, whisk together the eggs, oil or butter, honey, and the milk-vinegar mixture

Dump the dry ingredients into the bowl with the wet ingredients and stir to combine. Stir in the chopped hot dogs and half of the cheese, if using.

Scoop a 1/4 cup of batter into each muffin cup. Sprinkle a pinch of the remaining cheese over the top, if using.

Bake until the tops of the muffins are golden brown and a toothpick inserted into the center of the muffins comes out clean, about 15 minutes.

Enjoy the muffins warm, room temperature, or cold. (My kids like them with ketchup.) Store in an airtight container in the fridge for 3 to 4 days or individually wrap and freeze for up to 2 months.
Save to Pinterest!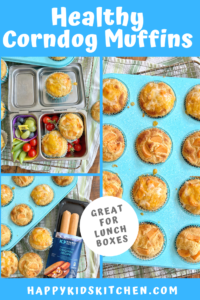 Other Salmon Recipes You'll Love:
Baked Salmon and Sweet Potato Nuggets
Pastry Wrapped Salmon and Veggies