Baked Salmon and Sweet Potato Nuggets
Only 4 simple ingredients in this super kid and toddler friendly finger food. Baked Salmon and Sweet Potato Nuggets are packed with nutritious salmon and sweet potato that's held together with an egg and some breadcrumbs. Egg-free and gluten-free variations included in the recipes below as well. Serve with your kiddo's favorite dip, and you've got a dinner that will put a smile on everyones' faces.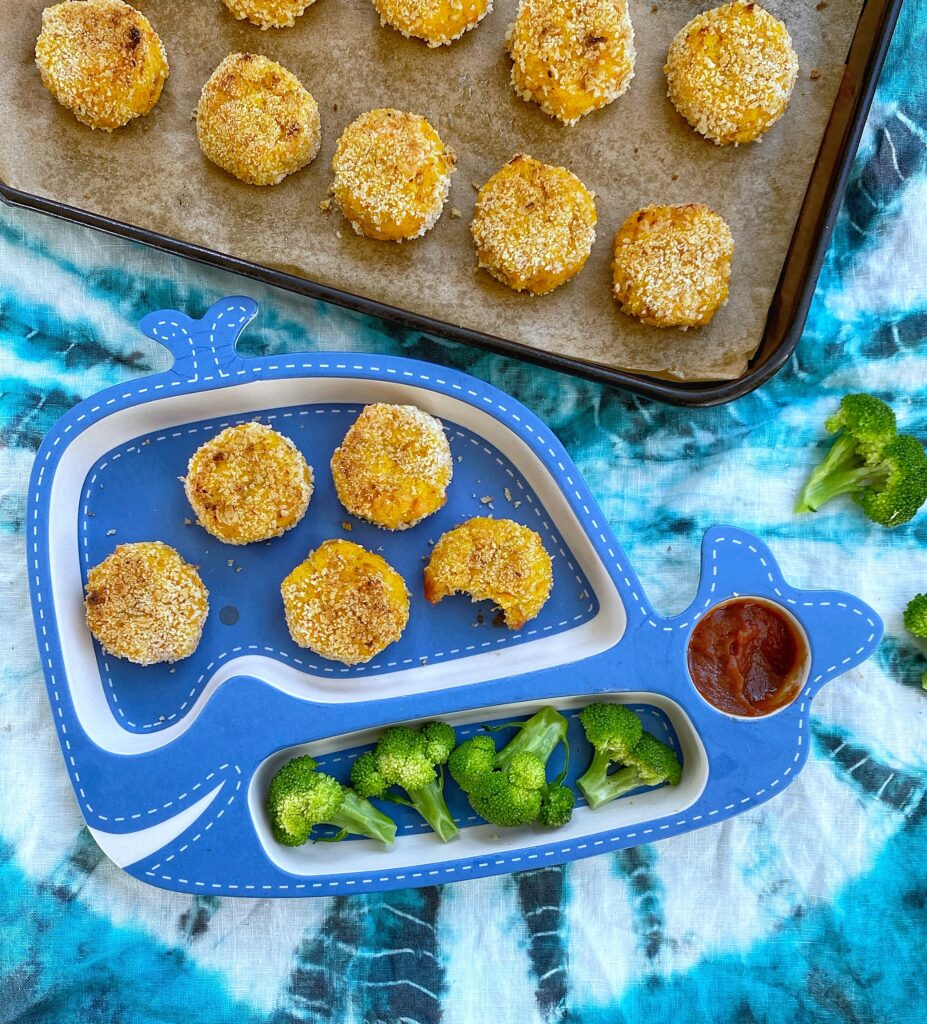 Kvaroy Arctic: The salmon used in this recipe was send to me by Kvaroy Arctic, a family-owned, sustainable salmon farm in Norway. Many Whole Foods stores throughout the US carry Kvaroy as their Atlantic salmon but you can also get fresh fish and other Kvaroy products shipped right to your door through FultonFishMarket.com. Kvaroy salmon is certified by the American Heart Association and has twice as much Omega-3s as other farmed salmon. I'm really impressed not only with the quality of the Kvaroy salmon, but with the company's standards and innovation in fish farming. For more information on the Kvaroy Arctic, head to their website HERE.
Also, Kvaroy just launched Kvaroy Kids, which features activities to encourage kids to be curious about where their food comes from, to experience sustainable aquaculture in a fun way, and to learn how sustainable food production supports the overall health of the oceans, planet, animals, and people. There are great coloring pages, science experiments and even more kid-friendly salmon recipes on their site. Check it out HERE.
Kids in the Kitchen:
Sprinkle on the salt! It's a super simple task, but it can make an impact on whether your child will try the salmon on not! No job is too small in the kitchen.
Mash the sweet potato! Get out that potato masher or a fork and let your child mash away. So much fun!
Mix then dunk in the crumbs: Kids can help stir everything together then you may want to take over when forming it into nuggets (that can get pretty messy). After the nuggets are formed, kids can help press them into the extra breadcrumbs to get the crunchy outside.
Plate them up! Let kids choose a dip and/or fruit and veggie for the side. Also helping pick the plate will help your child get more excited about mealtime.
Subs and Tips for making Baked Salmon and Sweet Potato Nuggets
Don't love sweet potato? You can use a mashed white potato instead. Since regular potato, like a Russet, is a little more starchy than sweet potato, you may need less breadcrumbs to hold it together. Start by adding a 1/4 cup then see if you need more.
Egg-free? Use whatever egg replacement you prefer, such as a flax "egg". Anything to help bind the mixture together will work.
Baby led weaning or feeding kids under 1? You can leave out the salt in the recipe or keep a portion of the mixture salt-free to feed your little one with minimal added salt.
Other seasonings? Feel free to add whatever dry seasonings you like. Paprika, taco seasonings, dried herbs like dill or parsley would all be great.
Dip? Ketchup loves will be happy dunking these! You can also make and easy Ranch-style dip by mixing Greek yogurt with a little garlic powder and dried dill.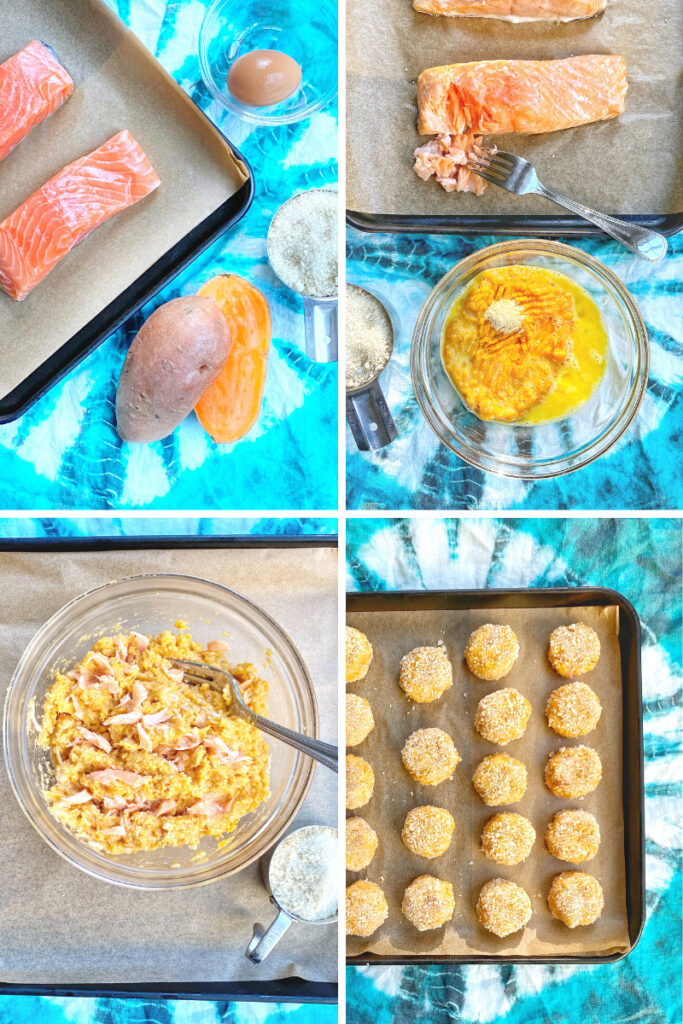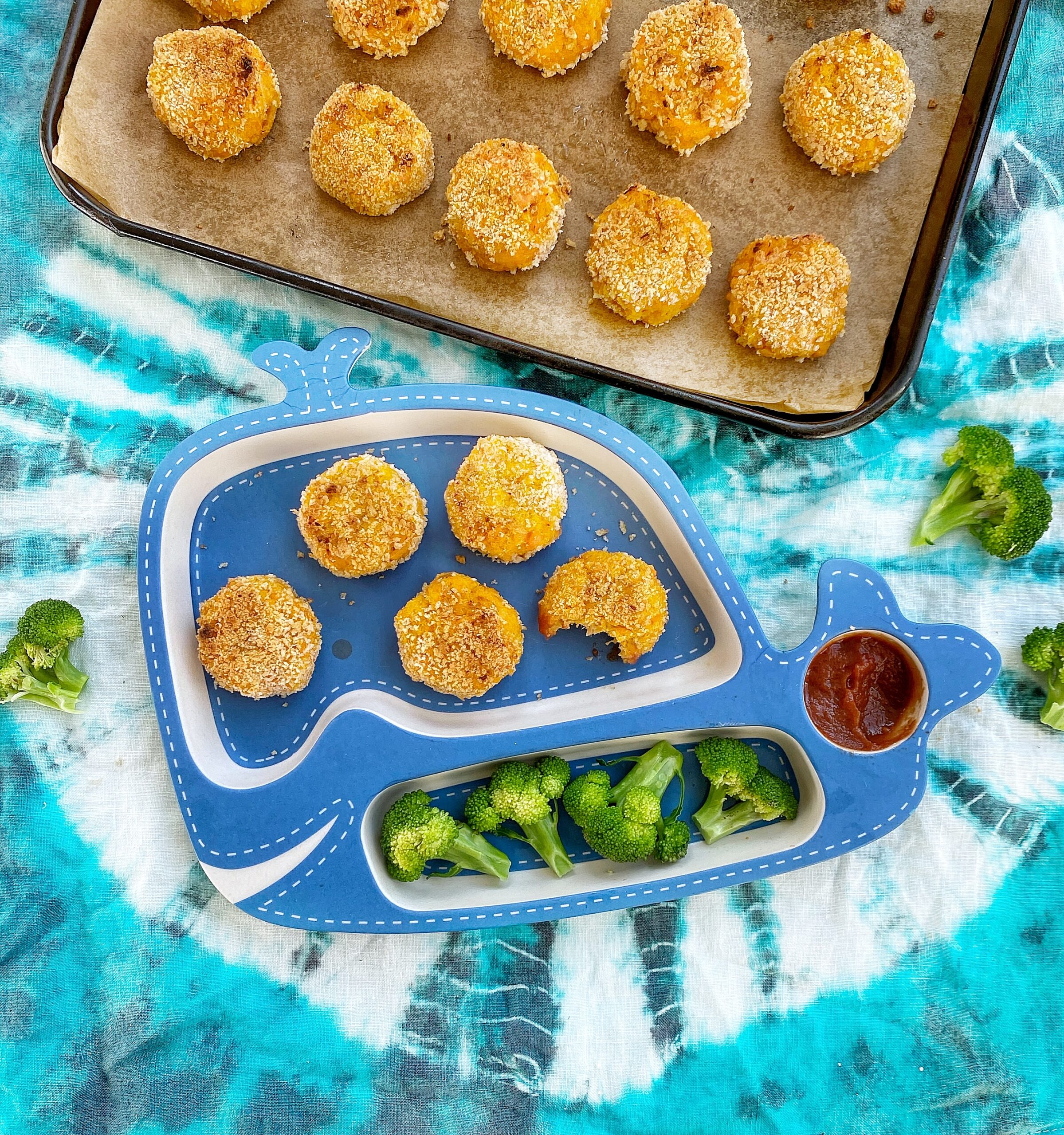 Baked Salmon and Sweet Potato Nuggets
A super nutritious finger food kids and toddlers will love.
Ingredients
10 to 12

ounces

fresh salmon

1

cup

mashed, cooked sweet potato

see note for cooking instructions

1

large egg or flax "egg" replacement

1

cup

Panko breadcrumbs or gluten-free breadcrumbs

1/4

tsp

salt

omit salt for babies

1/8

tso

garlic powder, optional

2

tsp

lemon juice, optional
Instructions
Preheat oven to 300 degrees. Sprinkle salmon with salt then place salmon on a foil or parchment lined baking pan. Cook salmon until it easily flakes apart, about 20 minutes (depending on thickness). Set aside to cool.

Place mashed sweet potato, egg, 1/2 cup breadcrumbs, salt, and other seasonings, if using, in a large bowl. Once salmon is cool enough to handle, remove the skin and break the salmon up into small pieces using a fork. Add about 1 cup of salmon to the bowl with the other ingredients. Stir to combine.

Preheat oven to 425 and line a baking sheet with foil or parchment paper or you can grease the pan lightly with oil.

Form the sweet potato mixture into small nugget shapes/patties then roll each one in the remaining breadcrumbs and place on the prepared baking sheet.

Bake until breadcrumbs are lightly golden brown, about 10 minutes. Serve warm with your favorite dip.
Notes
For easy mashed sweet potato: peel and dice 1 large or 2 medium sweet potatoes. Add to a pot with 1 cup water. Cover and steam until potato is easily mashed with a fork. Drain and cool then mash.
Save to Pinterest!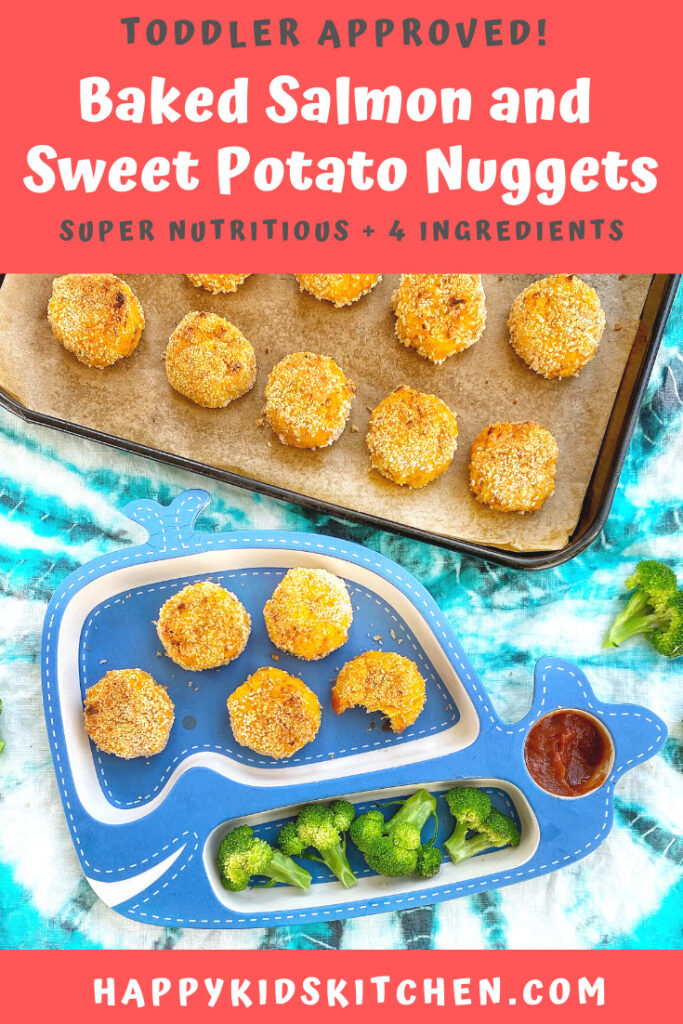 Other recipes to try:
Roasted Cauliflower Mac and Cheese