You can get this healthy salmon dinner on the table in under 30 minutes! Teriyaki Salmon Bowls are a quick and easy meal that adults, kiddos, toddlers, and picky eaters will enjoy. One meal for the whole family! The sweet, soy glaze is flavorful yet kid-friendly and it pairs well with rice or noodles and whatever veggies your family loves. Salmon is a highly nutritious protein option and I know this recipe will help you incorporate it into your dinner rotation more often.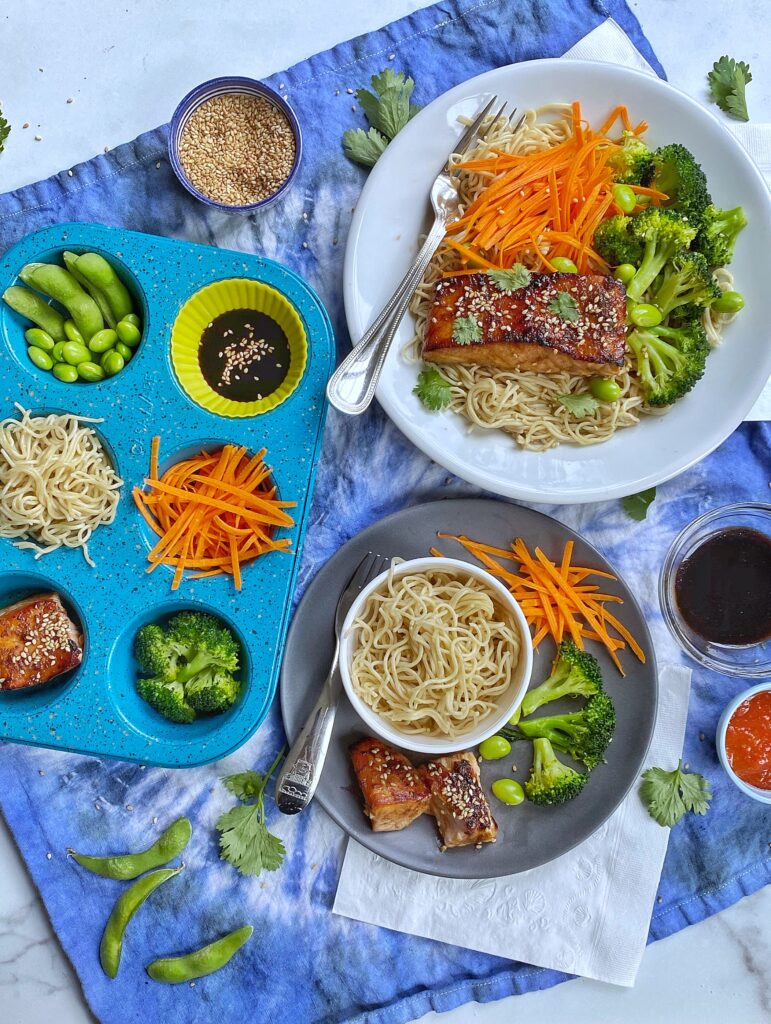 Kvaroy Arctic: The salmon used in this recipe was send to me by Kvaroy Arctic, a family-owned, sustainable salmon farm in Norway. Many Whole Foods stores throughout the US carry Kvaroy as their Atlantic salmon but you can also get fresh fish and other Kvaroy products shipped right to your door through FultonFishMarket.com. Kvaroy salmon is certified by the American Heart Association and has twice as much Omega-3s as other farmed salmon. I'm really impressed not only with the quality of the Kvaroy salmon, but with the company's standards and innovation in fish farming. For more information on the Kvaroy Arctic, head to their website HERE.
Also, Kvaroy just launched Kvaroy Kids, which features activities to encourage kids to be curious about where their food comes from, to experience sustainable aquaculture in a fun way, and to learn how sustainable food production supports the overall health of the oceans, planet, animals, and people. There are great coloring pages, science experiments and even more kid-friendly salmon recipes on their site. Check it out HERE.

Strategies to help kids enjoy Salmon:
Serve it Muffin-Tin Style: have a muffin tin or divided plate? Use it to put all the components of the meal into separate compartments. The novelty of eating out of something other than their usual plates makes the meal more fun. It also helps ease the anxiety of seeing an unfamiliar or disfavored food. Serve the sauce on the side so kids can choose if and how much they'd like with their meal.
Serve Family Style: more independence in any form leads to less struggle during mealtime. Place all the components of the meal on the table and let your child choose how much to put on her plate. Even if your child chooses to not add any salmon, she is still getting beneficial exposure from it being on the table and from the rest of the family eating it together.
Always serve with "safe" foods: this is the most important thing to consider when serving a new or non-preferred food to kids: start with what they already like and enjoy! If your child loves noodles, make that the star of his plate. If your family loves rice, use that as the base. Add some fruit or even a small treat as part of the meal to make it feel more exciting.
Let them help!: any little bit counts towards making your child feel more invested and excited about the meal. Even if your child helps cook the salmon and decides not to try it, the exposure and time spend in the kitchen will be impactful down the road. See below for more info on ways kids can help make this recipe.
Kids in the Kitchen:
Mix the sauce: kids can measure the soy sauce, vinegar, and honey into a bowl and whisk it together.
Choose the veggies and side dish: giving kids the choice between two things can be a simple and valuable way to get them excited about a meal. "Would you like rice or noodles with dinner tonight?" "I'm thinking we should have a green veggie with dinner. Can you look in the fridge and pull one out for me?"
Garnish! Sprinkling on some sesame seeds, cilantro, or sliced scallions at the end? Teach your kids the word 'garnish'. Adding a little something extra at the end of cooking boosts flavor, texture, and visual appeal. We eat with our eyes first! Even if they only put the garnish on your plate, that's important too!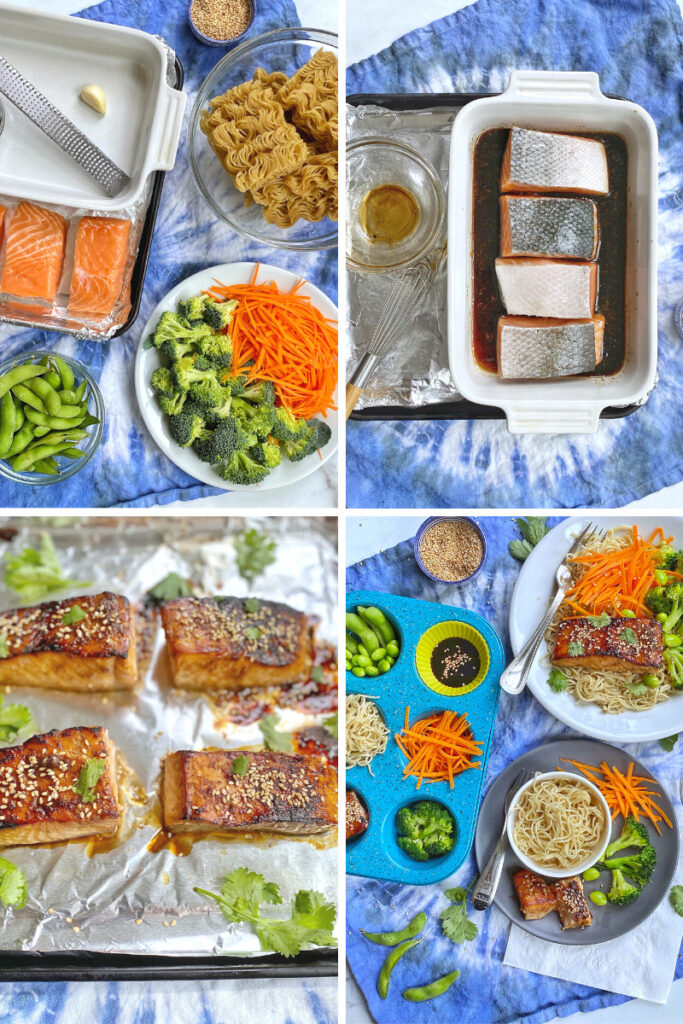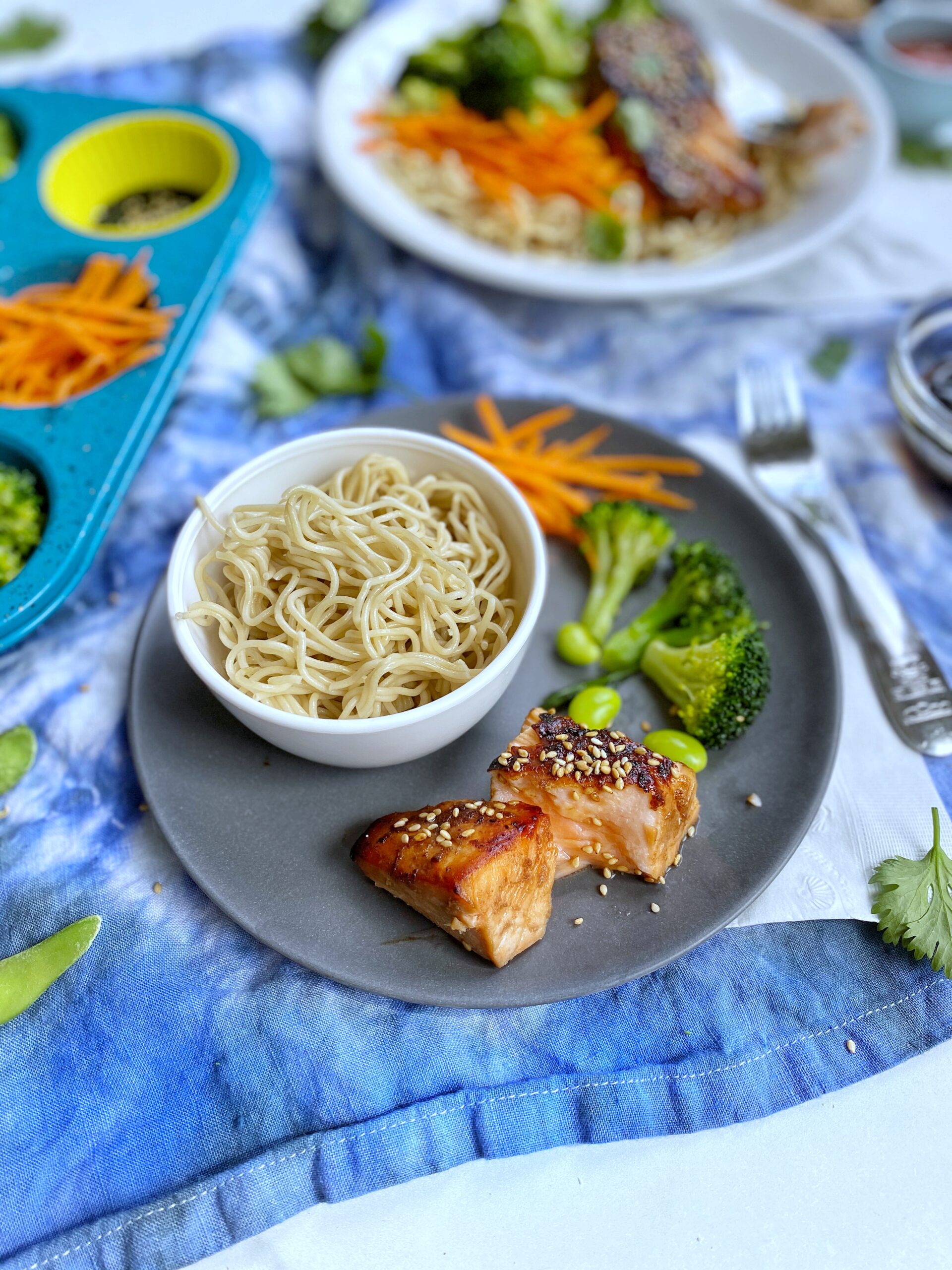 Teriyaki Salmon Bowls
A quick and healthy dinner for the whole family.
Ingredients
1/2

cup

low-sodium soy sauce, tamari, or coconut aminos

2

Tbsp

rice vinegar

3

Tbsp

honey or maple syrup

1

large garlic clove, minced or grated

1

tsp

grated fresh ginger, optional

4

6-8 ounce

fillets of fresh salmon, skin on

cooked rice or rice noodles, for serving

veggies such as steamed broccoli, grated carrot, and edamame

1

Tbsp

toasted sesame seeds or sliced scallions, optional
Instructions
Mix soy sauce, vinegar, and honey in a bowl until honey is dissolved and not sticking to the bottom of the bowl. In a shallow bowl or baking dish, combine half of the soy sauce mixture with the garlic and ginger, if using. Save remaining sauce to serve with the cooked salmon. Place salmon flesh side down into the marinade and spoon some over the top of each fillet to coat the sides. Set aside for 5 to 15 minutes.

While salmon marinades, prepare vegetable and/or side dishes such as rice or noodles. Place an oven rack at the top position in your oven and preheat the broiler to high. Place marinated salmon skin-side down on a baking sheet lined with foil (I don't suggest parchment because it could burn).

Broil salmon until caramelized, 8 to 10 minutes. Depending on the thickness of your salmon, it could be a little pink in the center still. That's ok! It will continue to cook as it rests. Serve salmon with extra sauce, side dishes and a sprinkle of sesame seeds and sliced scallions, if desired.
Save to Pinterest!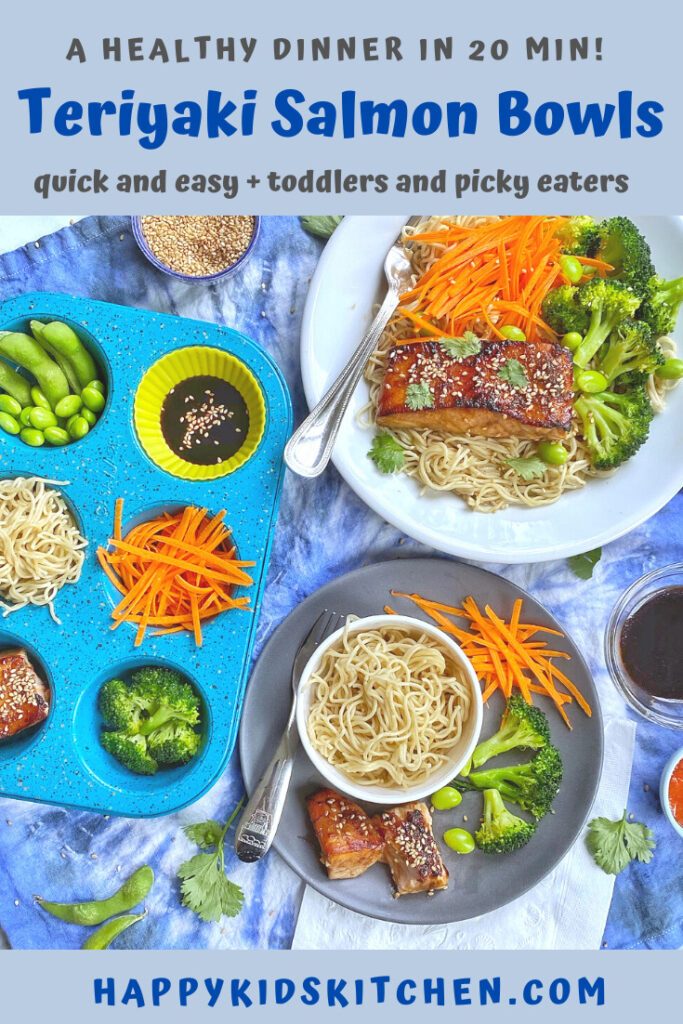 Other QUICK dinner recipes:
Teriyaki Turkey and Veggie Meatballs