Simple, easy, and fresh, this Slow-Roasted Salmon will become your go-to for a healthy weeknight dinner. Baking the salmon at a low temperature keeps the fish from drying out and getting too "fishy." If you have a seafood skeptic at home or you yourself aren't the biggest fish fan, this is the recipe you need to try!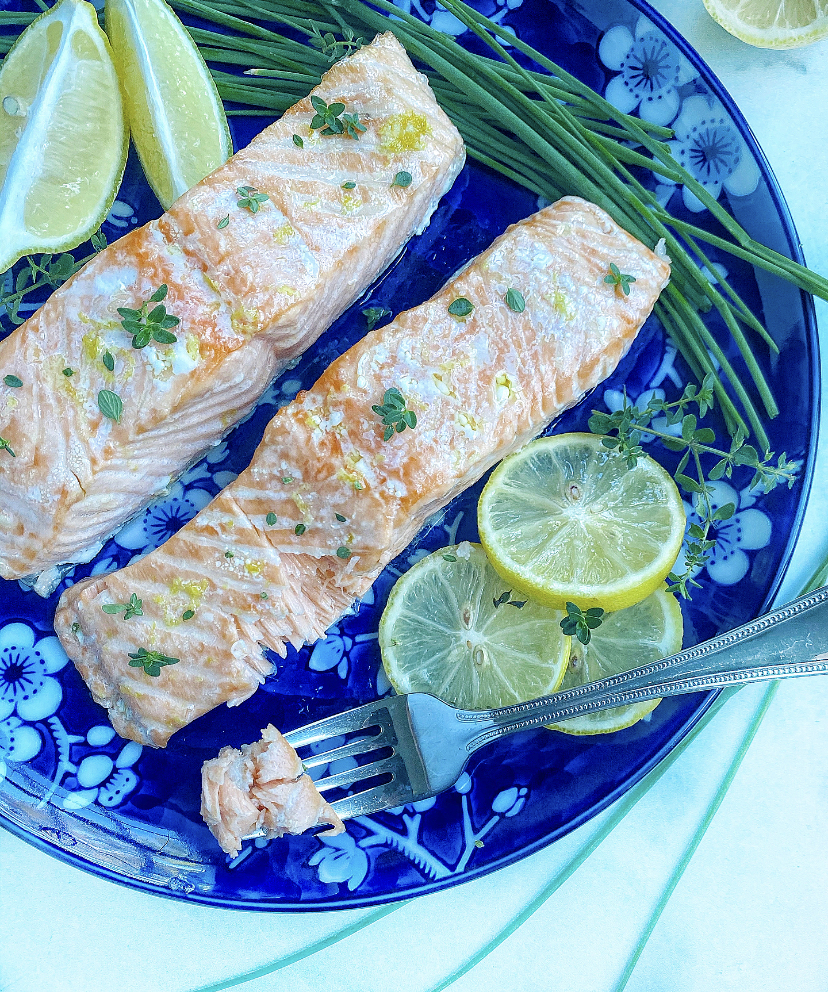 Kvaroy Arctic: The salmon used in this recipe was send to me by Kvaroy Arctic, a family-owned, sustainable salmon farm in Norway. Many Whole Foods stores throughout the US carry Kvaroy as their Atlantic salmon but you can also get fresh fish and other Kvaroy products shipped right to your door through FultonFishMarket.com. Kvaroy salmon is certified by the American Heart Association and has twice as much Omega-3s as other farmed salmon. I'm really impressed not only with the quality of the Kvaroy salmon, but with the company's standards and innovation in fish farming. For more information on the Kvaroy Arctic, head to their website HERE.
Also, Kvaroy just launched Kvaroy Kids, which features activities to encourage kids to be curious about where their food comes from, to experience sustainable aquaculture in a fun way, and to learn how sustainable food production supports the overall health of the oceans, planet, animals, and people. There are great coloring pages, science experiments and even more kid-friendly salmon recipes on their site. Check it out HERE.
Kids in the Kitchen: Slow-Roasted Salmon
The best way to get "picky" eaters more open to trying salmon? Let them help prepare it! This recipe is super simple so your child's involvement will be short but impactful. Also, serve the salmon alongside foods you know your child loves. Try some rice noodles with peanut sauce or pasta with cheese, whatever makes your family feel excited about sitting down to dinner.
Even a simple sprinkle of salt over the fillets will give your child a sense of ownership over the meal. Place a little in your hand first then let your child take a pinch from there so he doesn't grab too much.
Zesting the lemon is also a fun kitchen activity for kids. Hold the lemon and the zester together to keep little fingers out of the way.
Talk about the salmon together: what does it smell like? Feel like? Exploring the food together will make it less scary.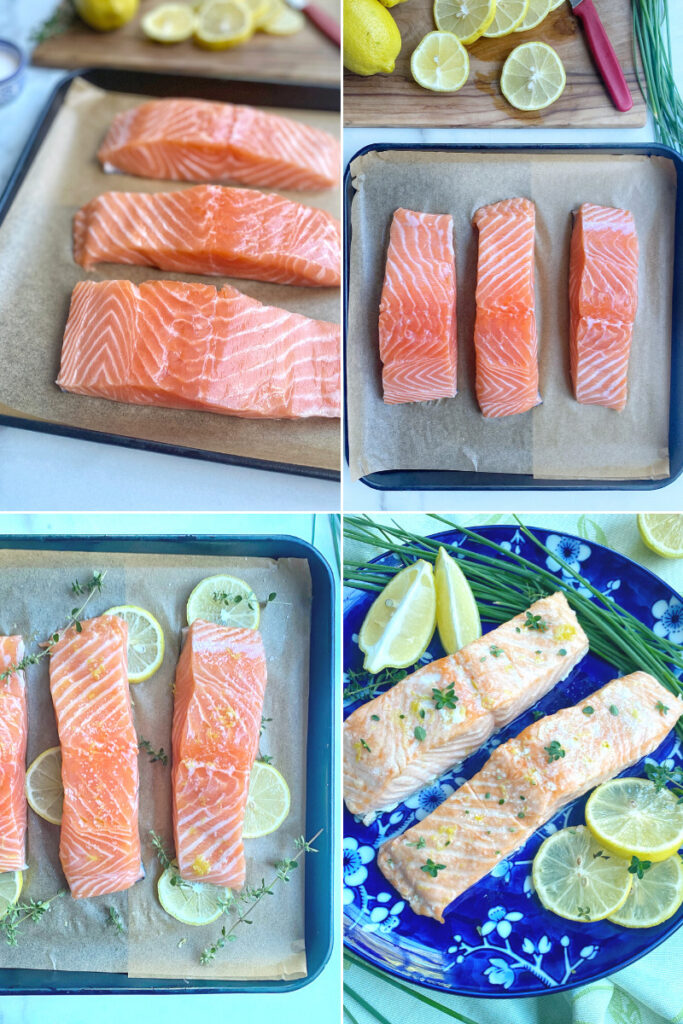 Subs and Tips:
Frozen Salmon? You can use frozen salmon for this recipe too. Defrost your salmon in the fridge overnight then pat dry with paper towels and follow the recipe below.
Other seasonings? Sure! You can really add anything you like to flavor the salmon: garlic powder, other dried herbs or spices, lime instead of lemon… I also love to add a glaze to the salmon such as a mixture of mustard and honey, spread it on the salmon and broil it for the last few minutes of cooking time. More recipes to come!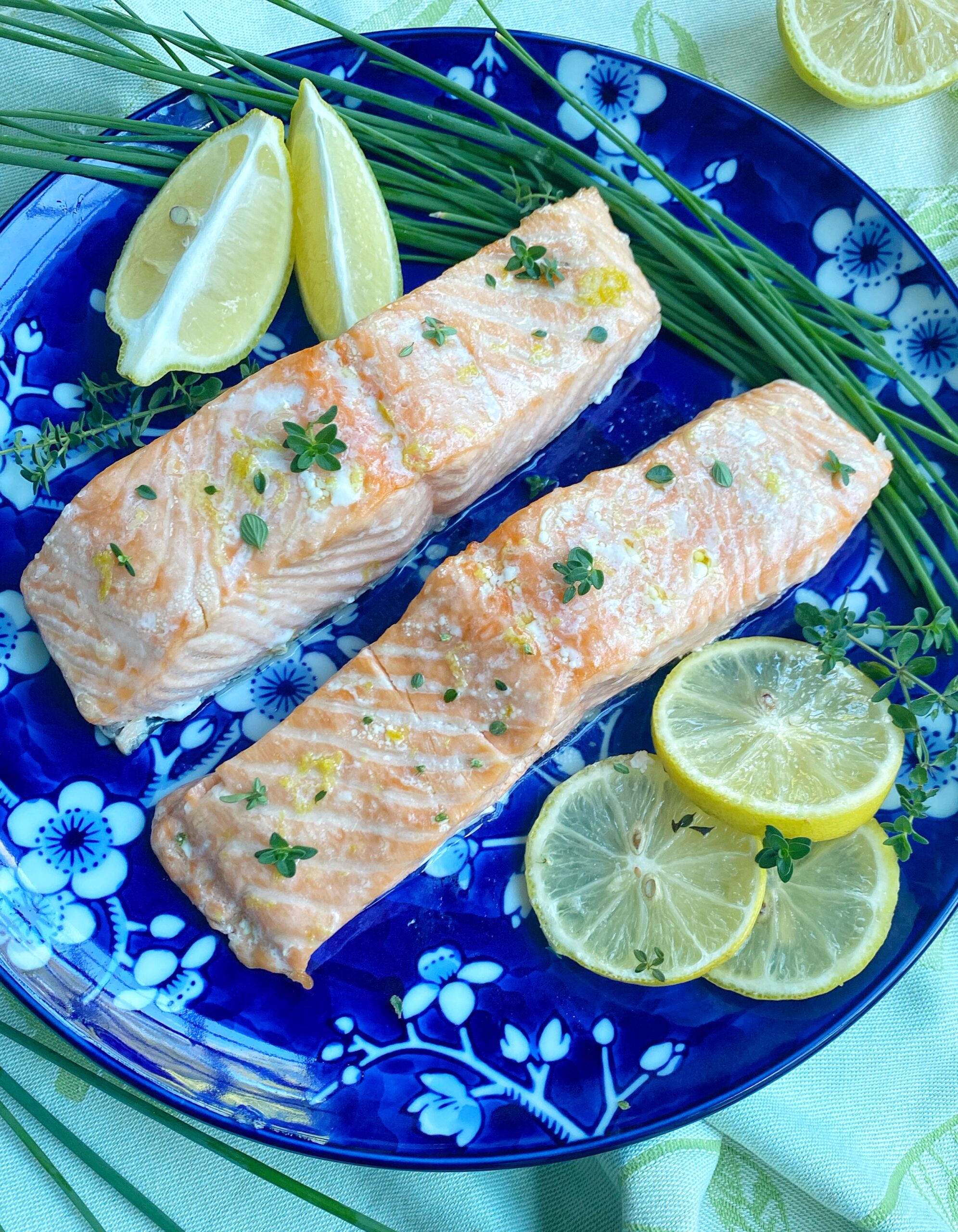 Slow Roasted Salmon
The very best way to cook salmon
Ingredients
4

6-8 ounce

fillets fresh salmon

1

tsp

olive oil

1/2

tsp

kosher or coarse sea salt

1

lemon

fresh herbs such as chives, thyme, or parsley

optional
Instructions
Preheat oven to 300 degrees. Line a baking pan with parchment paper or aluminum foil for easy clean-up.

Place salmon fillets, skin side down, on the prepared pan then rub the oil onto the salmon flesh. Sprinkle with salt. Remove the zest (only the yellow part) from the outside of about 1/2 the fresh lemon and sprinkle it evenly over the salmon. (You can skip this step the zest if you'd like but it adds lots of fresh flavor). Slice the lemon into thin rounds and place them around the salmon.

Bake salmon until still slightly pink in the center and just cooked though, 18 to 20 minutes. You know the fish is cooked when it easily flakes apart at the thickest area.

If using fresh herbs, finely chop then sprinkle over the cooked salmon. Enjoy warm. Leftover salmon can be refrigerated for 2 to 3 days. It's best eaten cold after refrigerating.
Save to Pinterest!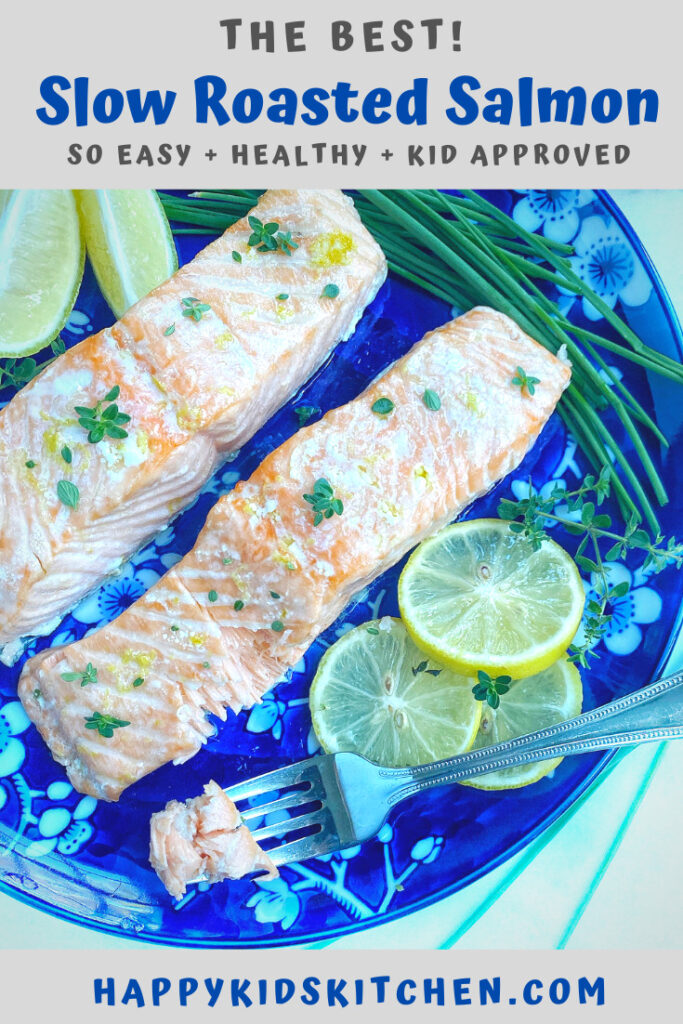 Other Dinner Recipes:
Teriyaki Turkey and Veggie Meatballs
Baked Spaghetti Cups (with Veggies!)