Pastry Wrapped Salmon and Veggies
A special, festive meal that's packed with heart-healthy salmon and the goodness of leafy greens! These Pastry Wrapped Salmon and Veggies shaped like little fish look fancy, but are easy to cook up any day of the week. An updated version of those "old school" French dishes, Beef Wellington or Salmon en Croute, you may have heard of, this recipe is one the whole family can get into the kitchen and make together.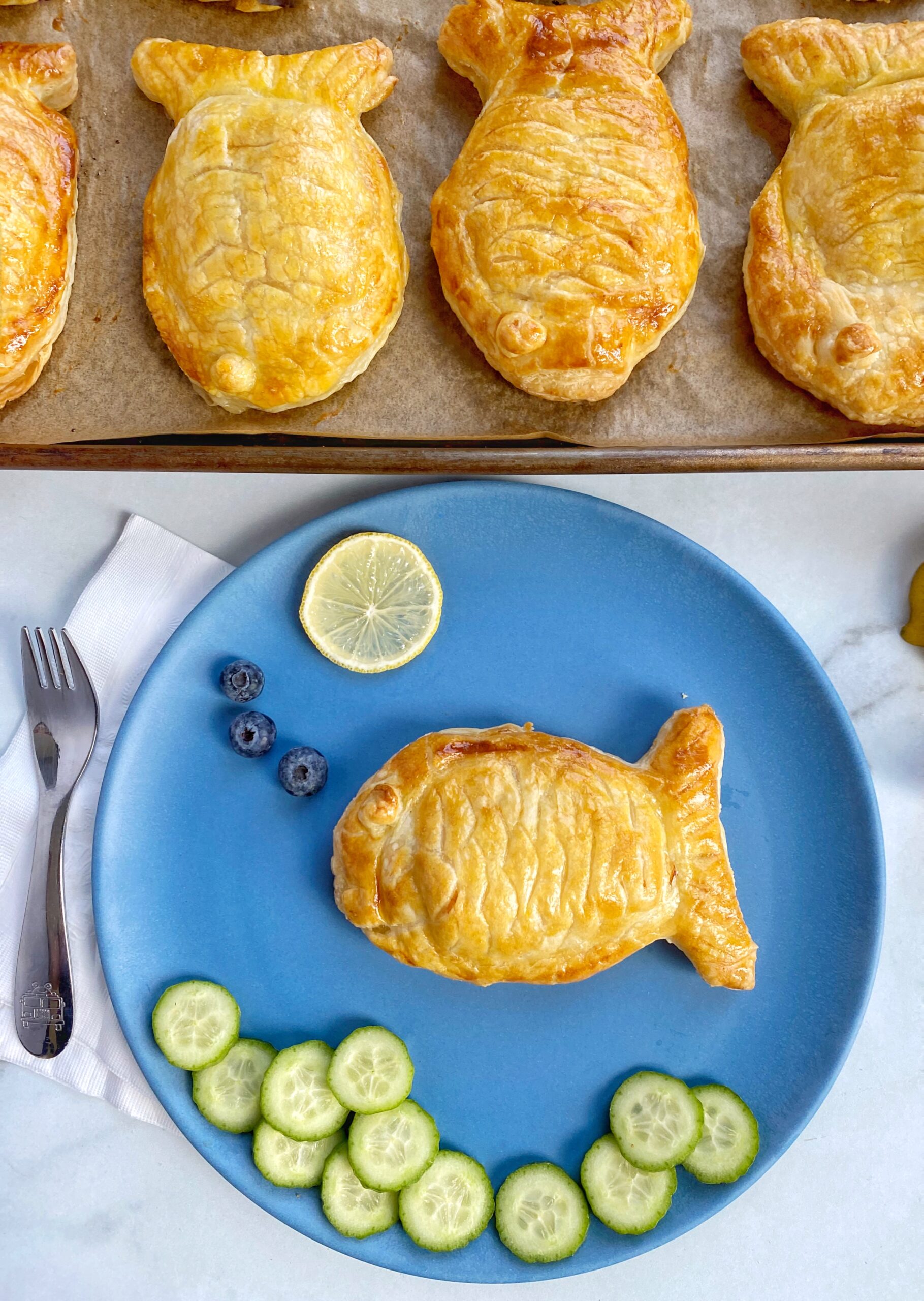 Kvaroy Arctic: The salmon used in this recipe was send to me by Kvaroy Arctic, a family-owned, sustainable salmon farm in Norway. Many Whole Foods stores throughout the US carry Kvaroy as their Atlantic salmon but you can also get fresh fish and other Kvaroy products shipped right to your door through FultonFishMarket.com. Kvaroy salmon is certified by the American Heart Association and has twice as much Omega-3s as other farmed salmon. I'm really impressed not only with the quality of the Kvaroy salmon, but with the company's standards and innovation in fish farming. For more information on the Kvaroy Arctic, head to their website HERE.
Also, Kvaroy just launched Kvaroy Kids, which features activities to encourage kids to be curious about where their food comes from, to experience sustainable aquaculture in a fun way, and to learn how sustainable food production supports the overall health of the oceans, planet, animals, and people. There are great coloring pages, science experiments and even more kid-friendly salmon recipes on their site. Check it out HERE.

Kids in the Kitchen: Pastry Wrapped Salmon and Veggies
Help prep the veggies: kids can help peel and grate the carrot, chop up the greens, and add everything to a pan.
Mix the sauce: super easy way to have a little on help with the recipe: add mustard and honey to a small bowl and stir it together with a spoon!
Cut the pastry together: this step might be best for older kids, since the pastry needs to be cut pretty precisely into 8 equal pieces. However, you can, for any aged child, hold the pizza wheel or knife together and make sure to guide it where you want it to go.
Decorate and top: if you are making a fish-shaped pastry, kids can help make the eye and make some scale decorations on the top. If you want to keep the pastry in rectangles, kids can use a fork to decorate the edges of the pastry
Subs and Tips for making Pastry Wrapped Salmon and Veggies:
What if I don't like mustard? Adding the honey makes the mustard taste very mild. However, if you don't want to use the mustard, you can use mayonnaise or simply season the salmon with salt and pepper. You could add dried or fresh herbs like dill or parsley too.
Gluten-free or dairy-free? There are some gluten-free puff pastry options these days, but they can be tricky to find. I might search online first to see which stores near you carry it. A lot of typical puff pastry you see in grocery stores, such as Pepperidge Farms, is dairy-free. Just be sure to check the ingredient list before buying.
Veggie options: the leafy greens make a great "bed" for the salmon but feel free to use other cooked vegetables instead. You could sauté some chopped mushrooms, broccoli, or whatever you like.
Frozen Salmon? You can use frozen salmon for this recipe too. Defrost your salmon in the fridge overnight then pat dry with paper towels and follow the recipe below.
Helpful tools:  pre-cut parchment sheets, pizza wheel, and a pastry brush are great kitchen equipment to have for this recipe. If you want my recommendations for any of those tools and more baking essentials, click HERE to see my Amazon store. (affiliate link)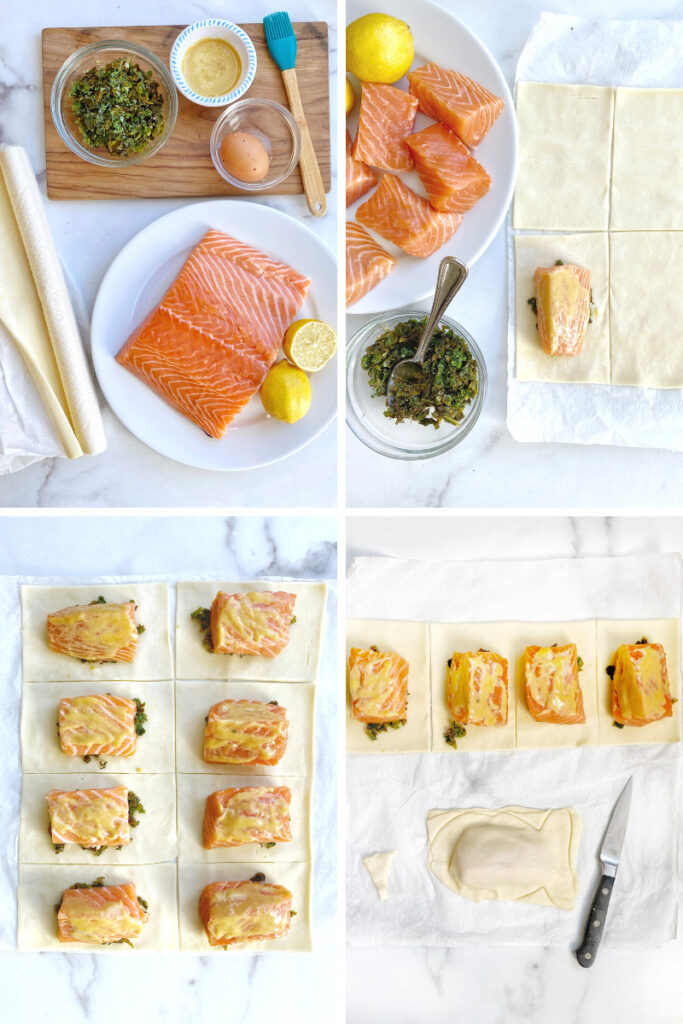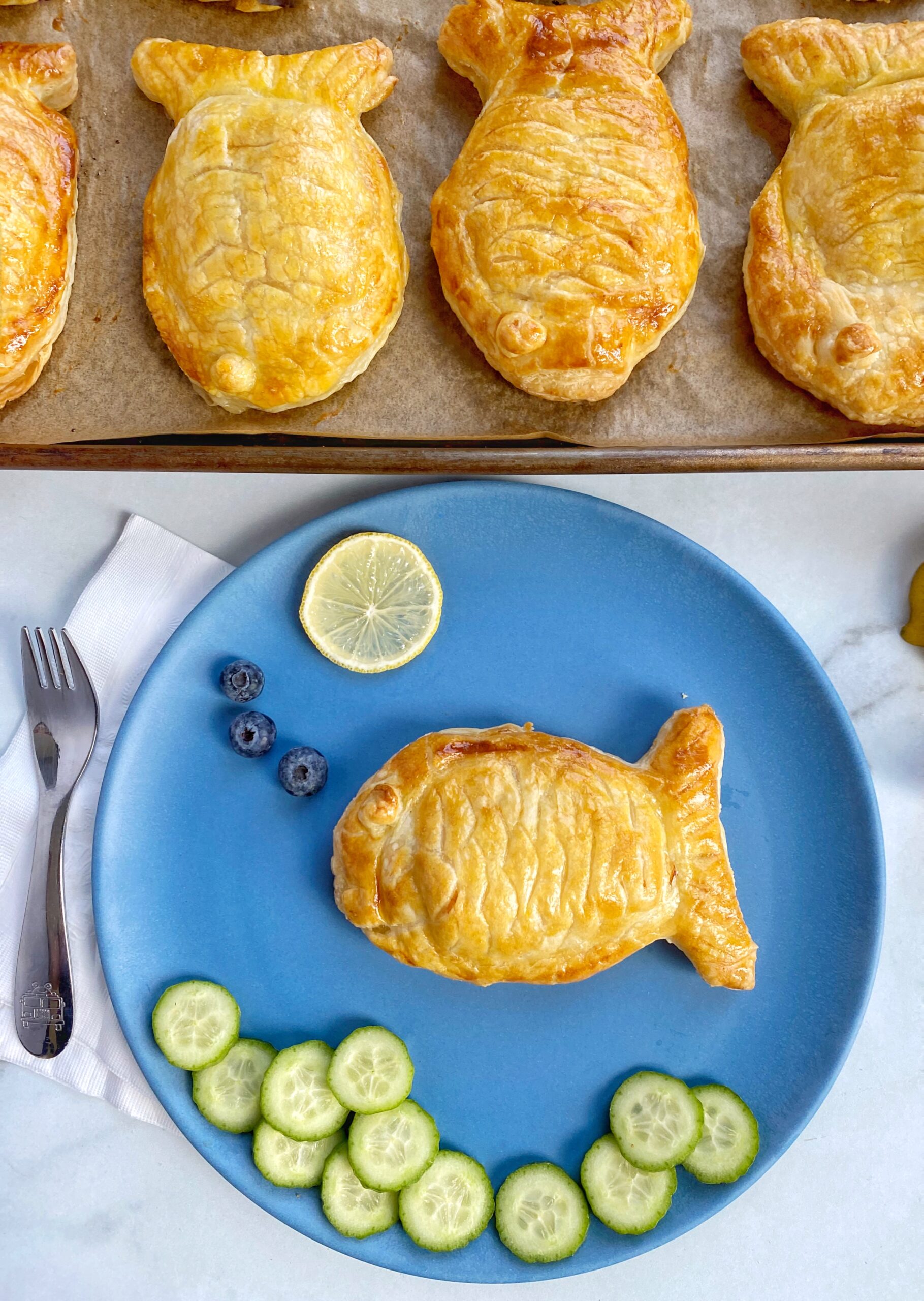 Pastry Wrapped Salmon and Veggies
A festive, fun meal packed with healthy salmon and veggies.
Ingredients
1

Tbsp

olive oil

1/2

cup

finely grated carrot

2

cups

chopped spinach or kale

1

garlic clove, minced

1

tsp

fresh lemon juice

1/2

tsp

sea salt or kosher salt

2

tsp

Dijon mustard

1

tsp

honey

optional

1

pound

fresh salmon, skin removed

1

package

puff pastry (2 sheets), defrosted according to package instructions

1

egg, lightly beaten
Instructions
Preheat oven to 400 degrees. Line a baking sheet with parchment paper or use a silicone mat.

Add oil to a skillet over medium heat. Add carrot, spinach/kale, and minced garlic. Cook until veggies begin to soften and the garlic is golden brown. If using kale, add a 1/4 cup of water to the pan and cook until water has evaporated and kale is soft. Season veggie mixture with a large pinch of salt and the lemon juice. Transfer to a bowl and set aside to cool.

Mix mustard and honey together in a small bowl. Cut the salmon into 8 equal pieces and place them on a plate.

Unroll one sheet of puff pastry on a work surface and cut it into 8 equal rectangles. I like to use a pizza wheel. Divide the cooked veggie mixture between the 8 pastry rectangles, leaving a boarder of the pastry uncovered. Place a piece of salon on top of the veggies. Sprinkle each salmon piece with a pinch of salt then spread the honey-mustard over the surface.

Uroll the second sheet of puff pastry and cut it into 8 equal rectangles as you did with the first piece. Place a piece of the pastry on top of each piece of salmon to create a package. If the salmon is thick, you may need to stretch the second piece of pastry a little to fit. Press the edges of the pastry together to seal.

At this point, you can make a decorative edge by pressing a fork all around the edges of the pastry or make a fish-shaped pastry. To make a fish, use a pairing knife to cut a fish shape around the pastry (see pictures above). Roll some of the excess pastry into a small eyeball and place that on the fish then use the tip of your knife to make semi-circles along the fish's body to make the scales. Or you can decorate the top of the pastry however you'd like. To make sure any steam inside the pastry pocket can vent, poke a small in the pastry.

Brush the beaten egg over the top of each of the pastry bundles. Bake until golden brown, 15 to 18 minutes. Serve warm.
Notes
-Pastry wrapped salmon can be made a day ahead without the egg wash and stored in the fridge until ready to bake. Brush on the egg wash then bake according to recipe. Bake time may be a few minutes longer.
-Leftover baked pastry wrapped salmon and be refrigerated for 2 to 3 days.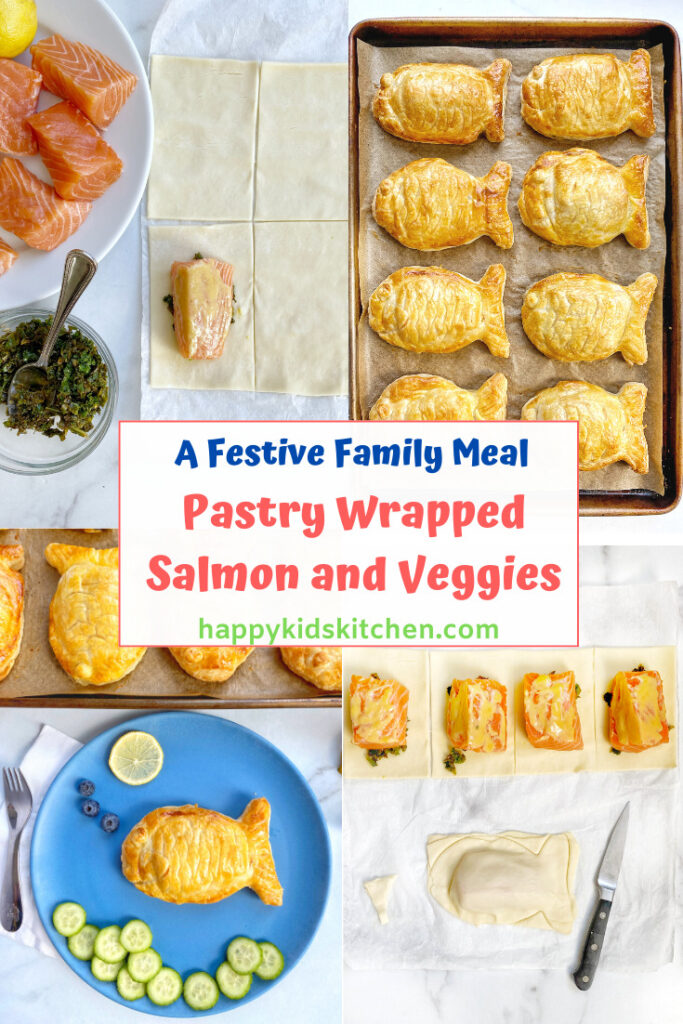 Other Awesome Salmon Recipes:
Baked Salmon and Sweet Potato Nuggets