Want to get more veggies into the day and have fun in the kitchen at the same time? These Rainbow Bagel Pizzas are the ultimate healthy recipe to cook with kids. Of course, you don't need every color or vegetable option for your pizzas –two or three colors are great. Plus, I included a recipe for a quick, no-cook pizza sauce that also has vegetables stirred right in. Chewy, delicious, whole wheat bagels make the perfect canvas for sauce, beautiful veggies, and melty cheese.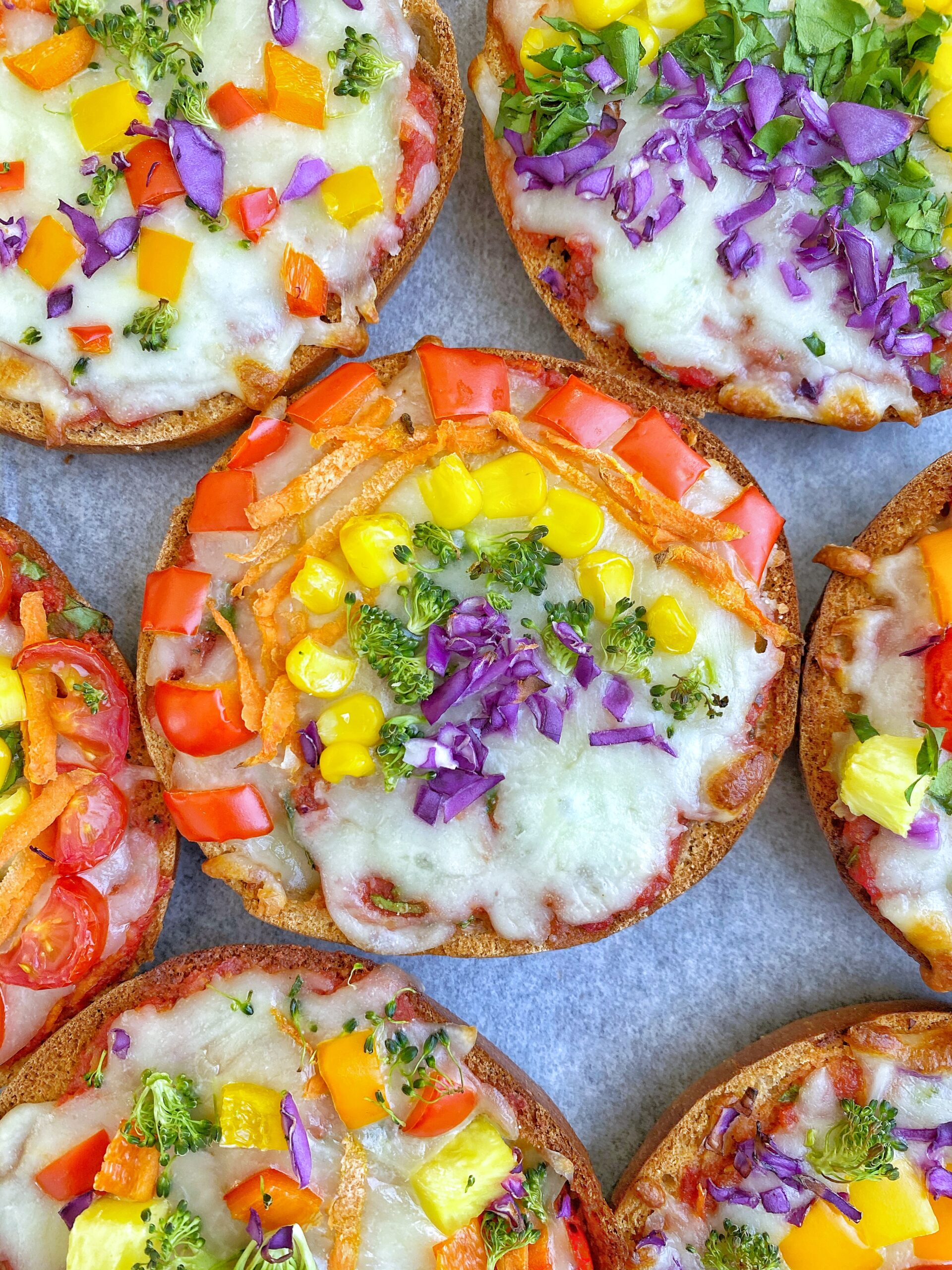 Looking for the BEST bagels to be delivered right to your door? I have a discount code for you!
One Mighty Mill, freshly milled whole wheat bagels are made from organic wheat that's milled right down the street from me in Lynn, Ma. OMM bagels contain top notch ingredients and no preservatives. I also love the One Mighty Mill tortillas, pretzels, and always buy the bags of freshly-milled flour to use in my own baked goods.
Click HERE and use the code Happy15 to get 15% off your first purchase of One Mighty Mill. I highly recommend getting the "Mighty Fresh Value Box" for the best variety and price.
This post is not sponsored, but I do get a small commission if you purchase anything from the OMM website through my link. I only talk about OMM products because I'm so passionate about them and have been purchasing them myself for years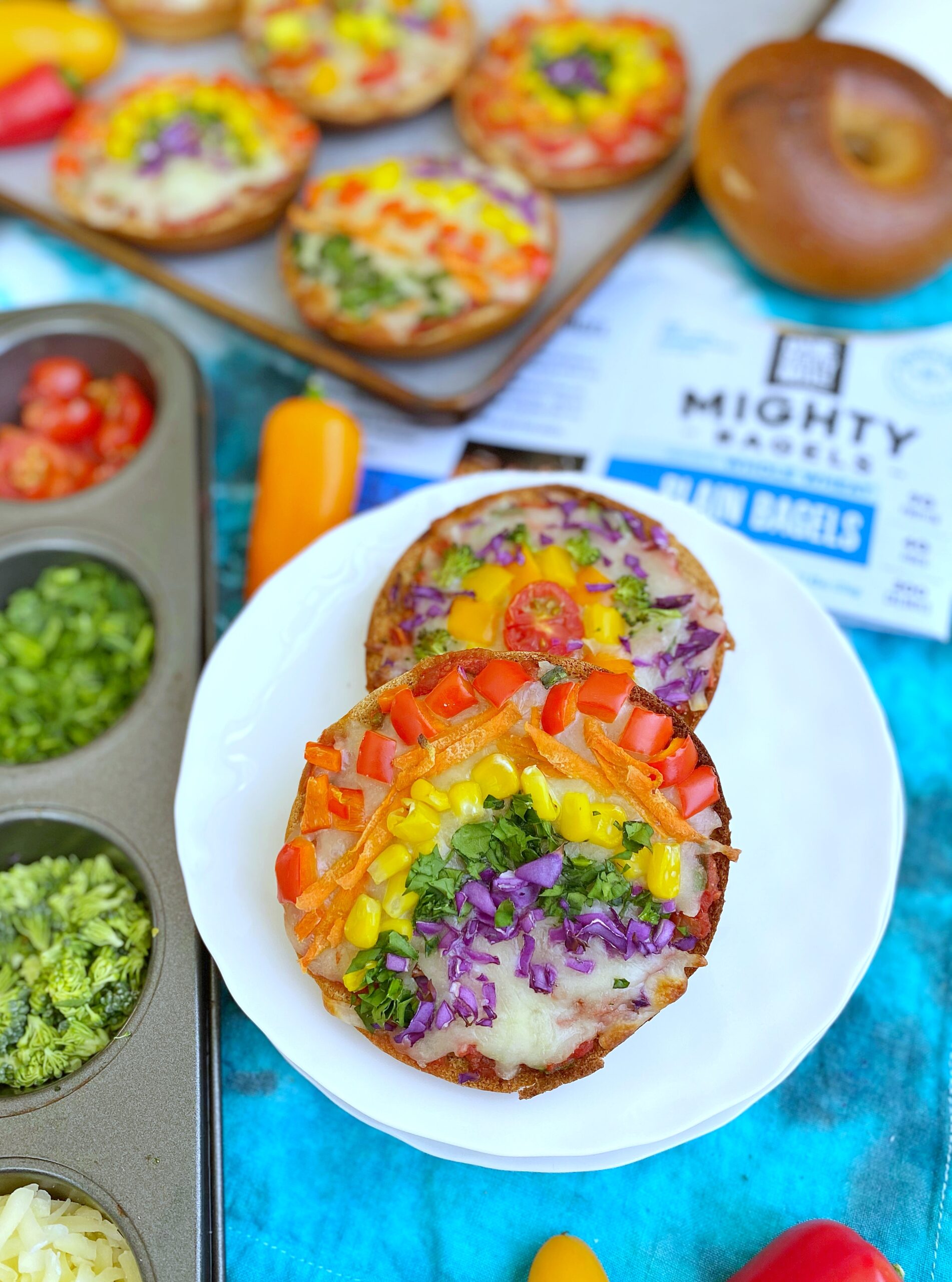 Kids in the Kitchen: Rainbow Bagel Pizzas
A note on picky eating and cooking: Want kids to be more excited about vegetables and less apprehensive about trying new foods? Getting them involved with preparation and assembly of meals. Make sure your little one has the opportunity to add the veggies to the sauce…don't hide them! Start with a small amount then have your child work her way up to using more. If your child doesn't know the vegetables are in his food, then he won't be able to get more comfortable with them.
Make the sauce: if you are trying out my no-cook pizza sauce recipe, kids can make the whole thing from start to finish. Measure and add the salt and spices to the tomatoes, grate or chop the veggies, and stir everything together.
Chop! Cut the peppers into strips or break some broccoli florets into smaller pieces then let your child cut everything into a small dice. Check out my blog post, Teaching Knife Skills to Toddlers and Kids, for a child-safe knife recommendation and tips on using a knife with kids.
Get creative! Get all the vegetables and toppings ready and set up then have a decorating party. Some kids will want to make an elaborate pattern or a rainbow and some kids will want to randomly place toppings…that's ok! If your child doesn't seem to have much interest putting topping onto the pizzas, start asking questions about the colors and shapes you see.

Subs and Tips for Making Rainbow Bagel Pizzas:
Use a muffin tin for toppings: Instead of putting the pizza toppings in lots of little bowls (that you then have to wash), I like put everything into a standard muffin tin. Not only does it cut down on the mess, but it's also easy to pass around between kids.
Dairy-free: Use a dairy-free shredded cheese such as Daiya Foods.
Sauce options: I love using the no-cook homemade sauce recipe I included below. Even if kiddos don't choose to add veggies on top of their pizzas, there is some in the sauce! However, you can also stir some extra veggies into a store bought sauce or simply use a jarred sauce as is.
Veggie toppings: Here is a list of the toppings I used for the pizzas you see in the pictures. However, you can really use whatever you like on pizza. Leftover cooked/roasted vegetables are great on these pizzas too. I used: grape tomatoes, red, orange, and yellow bell peppers, grated carrot, frozen corn (defrosted), pineapple, finely chopped spinach, raw broccoli chopped into tiny "sprinkles", and finely chopped red cabbage.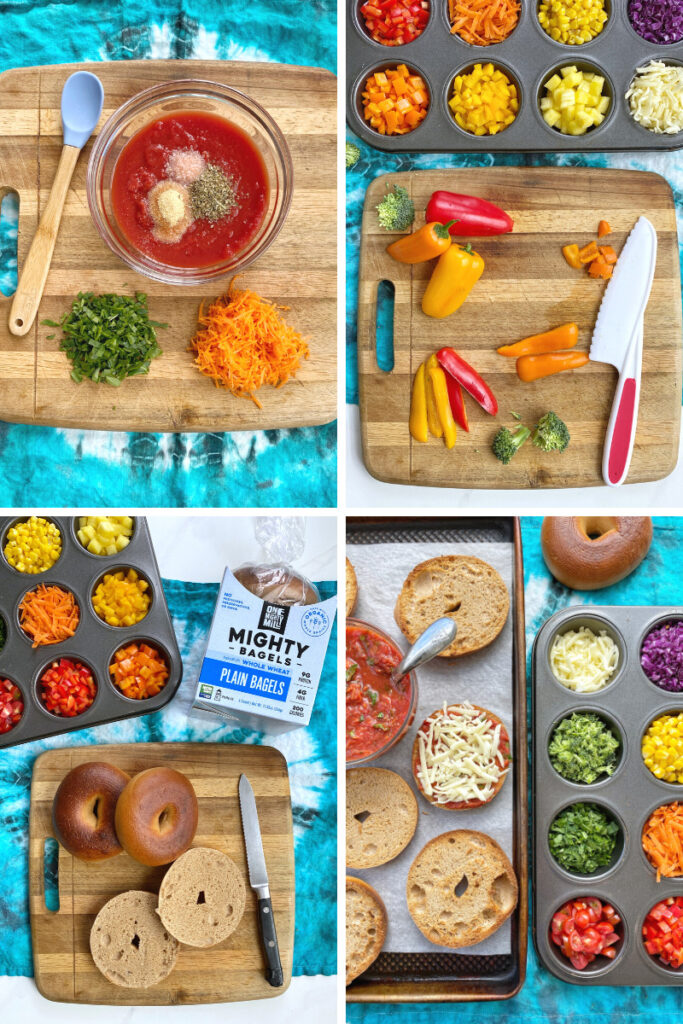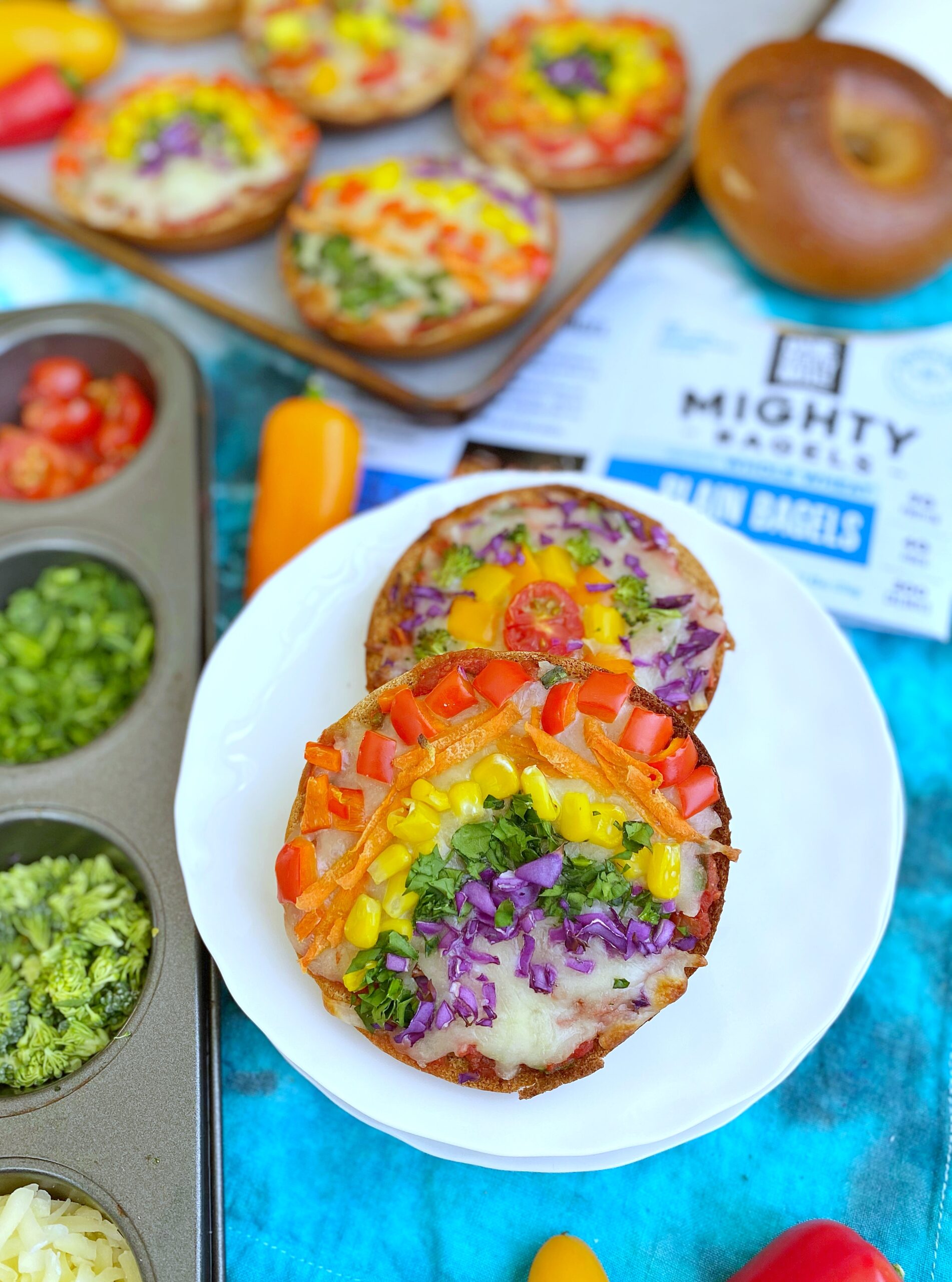 Rainbow Bagel Pizzas
A fun and healthy meal for kids to make! Plus an easy veggie pizza sauce.
Ingredients
8

plain whole wheat bagels

1

cup

no-cook veggie pizza sauce or any pizza sauce

recipe below

2

cups

shredded mozzarella cheese

several different vegetables, chopped small

see notes for details
No-Cook Veggie Pizza Sauce
1 (14 oz) can

crushed tomatoes

1/2

tsp

kosher salt

1

tsp

garlic powder

1

tsp

dried oregan or Italian seasoning

3/4

cup

finely grated carrot

1

cup

finely chopped baby spinach

or a mixture of any chopped vegetables you like
Instructions
Preheat oven to 400 degrees. Line a sheet pan with parchment paper or foil.

Slice bagels in half. Place bagel half on the baking sheet and cook in the oven until lightly toasted, 3 to 4 minutes. Set aside.

Top bagels with a couple tablespoons of sauce, about a 1/4 cup of cheese, and then decorate with the colorful chopped veggies as desired.

Bake until cheese is melted, about 10 minutes. Serve warm.
No-Cook Veggie Pizza Sauce
Add crushed tomatoes to a large bowl and stir in the salt, garlic powder, and dried herbs.

Stir in the vegetables. (You can use as much or as little as you'd like.) Store in a jar or airtight container in the refrigerator for 7 to 10 days.
Notes
***Any fresh, frozen, or cooked vegetables will work well on pizzas. Topping ideas: grape tomatoes, bell pepper, pineapple, fresh spinach, broccoli, cabbage...
Save to Pinterest!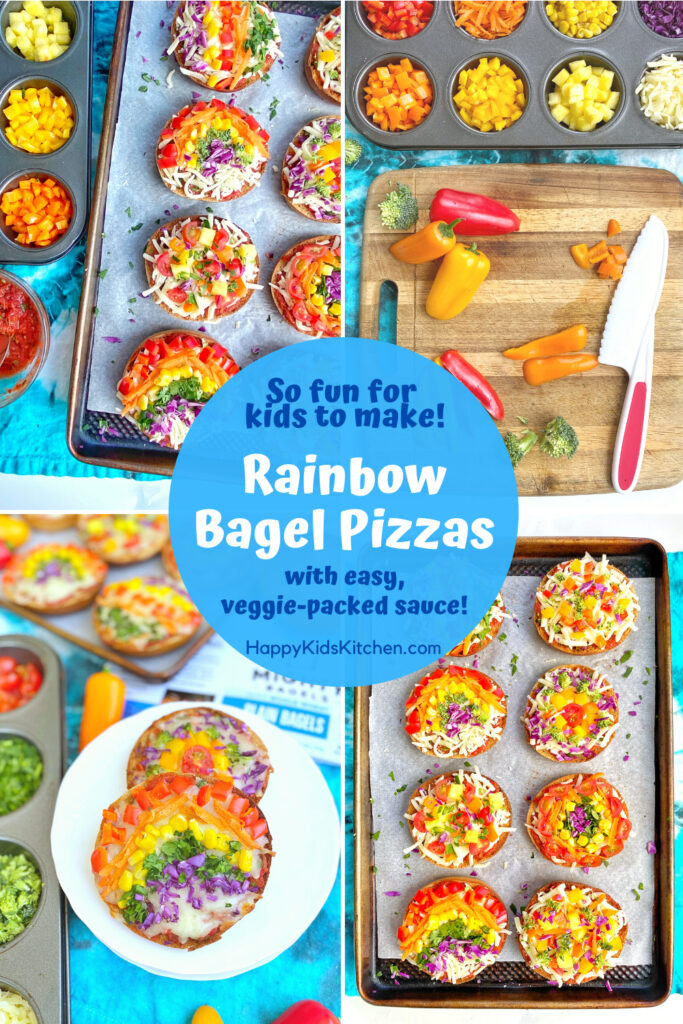 Other FUN recipes to try:
Stuffed Pizza Bites (with veggies!)