Healthy Homemade Chicken Nuggets
Have chicken nugget lovers at home? You have to try these Healthy Homemade Chicken Nuggets. The breadcrumb coating is crunchy and super toddler and kid approved, but also packed with nutritious flax and hemp seeds. The baked nuggets are great for dinner (I love them on top or a salad) or packed up in a lunch box. You can easily make this recipe gluten-free and egg-free.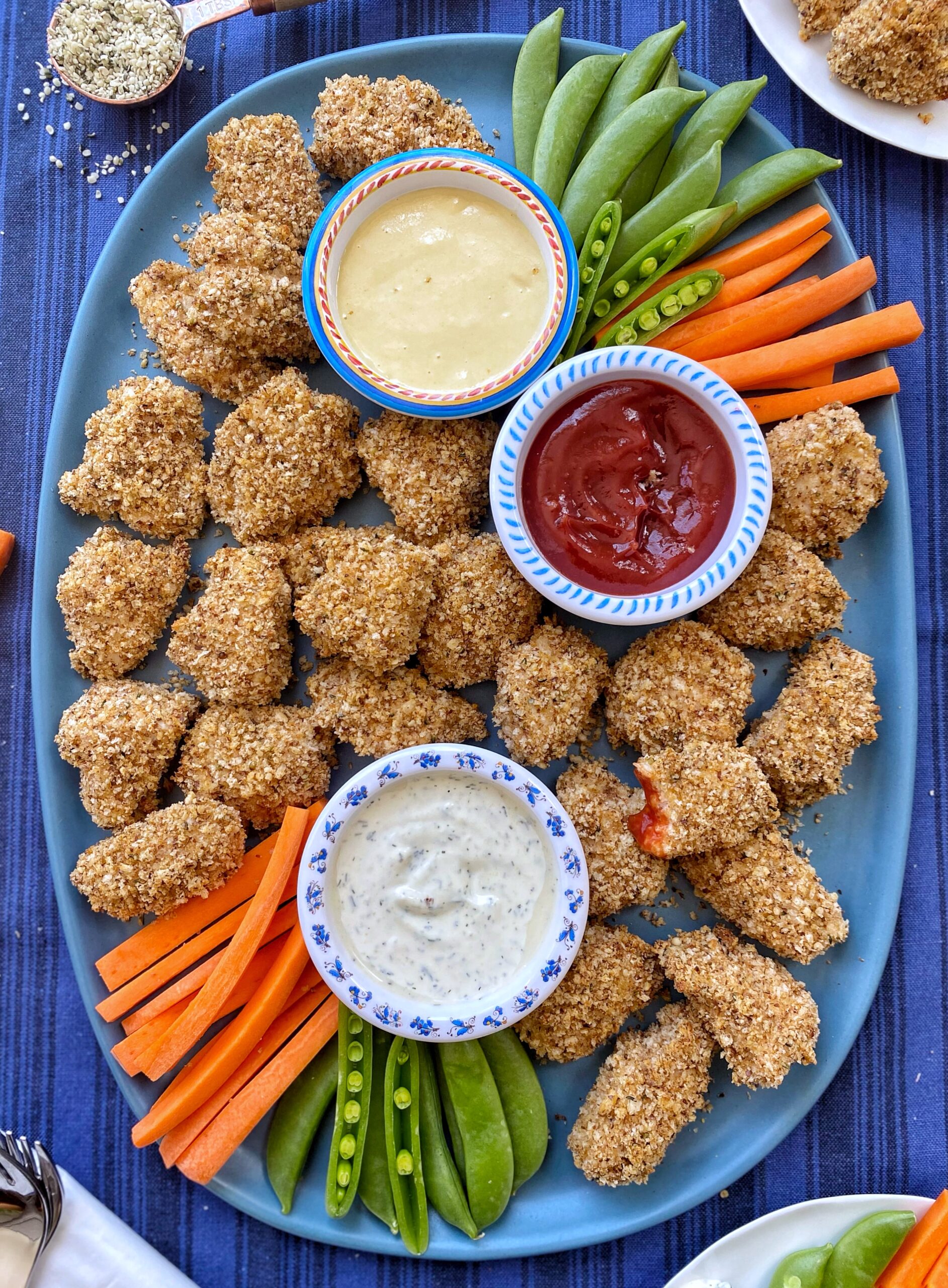 Why add seeds like hemp and flax to the chicken nugget coating?
Good question! Well, first taste is most important here at Happy Kids Kitchen, so I love the nutty taste and crunchy texture the seeds give the chicken nuggets. Also, I'm all about adding a nutrition boost to recipes whenever I can and the seeds add extra fiber and healthy goodness like Omega 3s and 6s. If you are interested in learning more about the nutritional benefits of these seeds, click Here for an article.
Kids in the Kitchen:
Kids and raw chicken: It can be tricky! So with kids under 4 I would have them measure the coating ingredients and maybe crack the egg. If you do the "shake and bake" method, that's a great way to avoid touching the chicken. How I like to explain it to kids: "Uncooked chicken can make us sick so we never put our hands on our faces or in our mouth after touching it. Can you be my big helper and remind me to wash our hands if we touch the chicken?" If you think your child understands this concept and won't have trouble following the instructions, I think it is totally fine to let your child touch the raw chicken.
Measure and mix: the breadcrumbs, seeds, and spices are great ingredients for kids to measure and mix together in a large bowl or zip-top plastic bag. Place salt and spices in containers or small bowls so they are easier to measure.
Crack the egg: have your child crack the egg into a small bowl and then mix it up with a fork.
Tongs! Let kids use your tongs or get some mini tongs so kids can easily transfer the chicken from the egg to the breadcrumb mixture. If you are comfortable with your child touching the raw chicken, it's ok to use hands to do this too. Click Here for my list of favorite cooking tools for kids, including some tongs.
Shake and bake: It's more wasteful to use a plastic bag, but it is fun and a great way to make this recipe with kids. Make sure to close the bag tightly before shaking up the chicken. We don't want the breadcrumbs to fly all over the kitchen!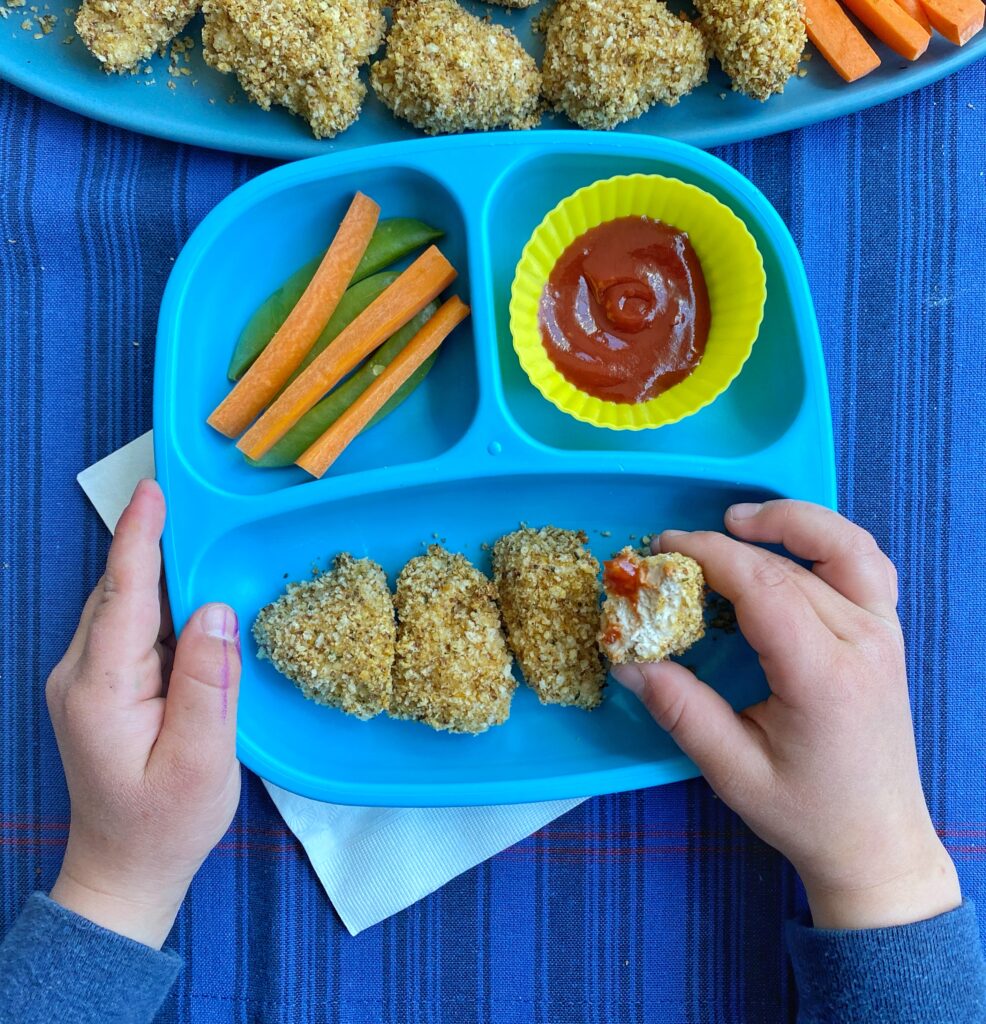 Subs and Tips for Healthy Homemade Chicken Nuggets:
Egg-free: You can definitely make this recipe with an egg substitute, such as Just Egg or a flax egg mixture. I have not tested it, so I can't guarantee the results. Let me know if you try it!
Seeds and nuts: I've only ever made this coating with the flax and hemp seeds. However, you can experiment with using other types like chia, sesame, and sunflower. You could also add nuts to the coating. If you are using nuts or larger seeds, I would grind them up in the food processor before using them as a coating.
Gluten-free: There are lots of gluten-free bread crumbs in stores these days. You could also grind up your favorite gluten-free crackers and use those too!
Dip ideas: ketchup is very popular at my house, but we also like Ranch dressing or a homemade honey mustard made with a little mayo, Dijon mustard, and a few teaspoons of honey.
Freezing instructions: You can freeze these chicken nuggets before or after baking, depending on how long you want to spend cooking them after being frozen (you'll have to bake the uncooked chicken all the way thought from the freezer so that will take longer). Either way, it's important to freeze the nuggets on a sheet pan until solid and then transfer them to a storage bag or container. Freezing them separately will ensure they don't stick together in one solid mass in the freezer. To bake from frozen, add 3 to 5 more minutes of bake time.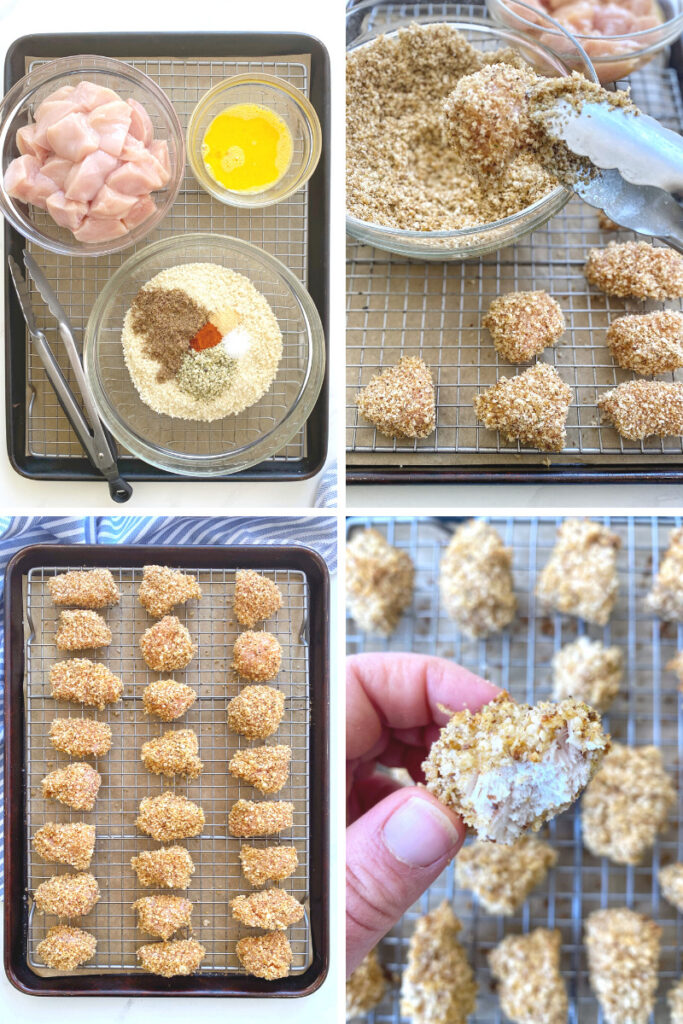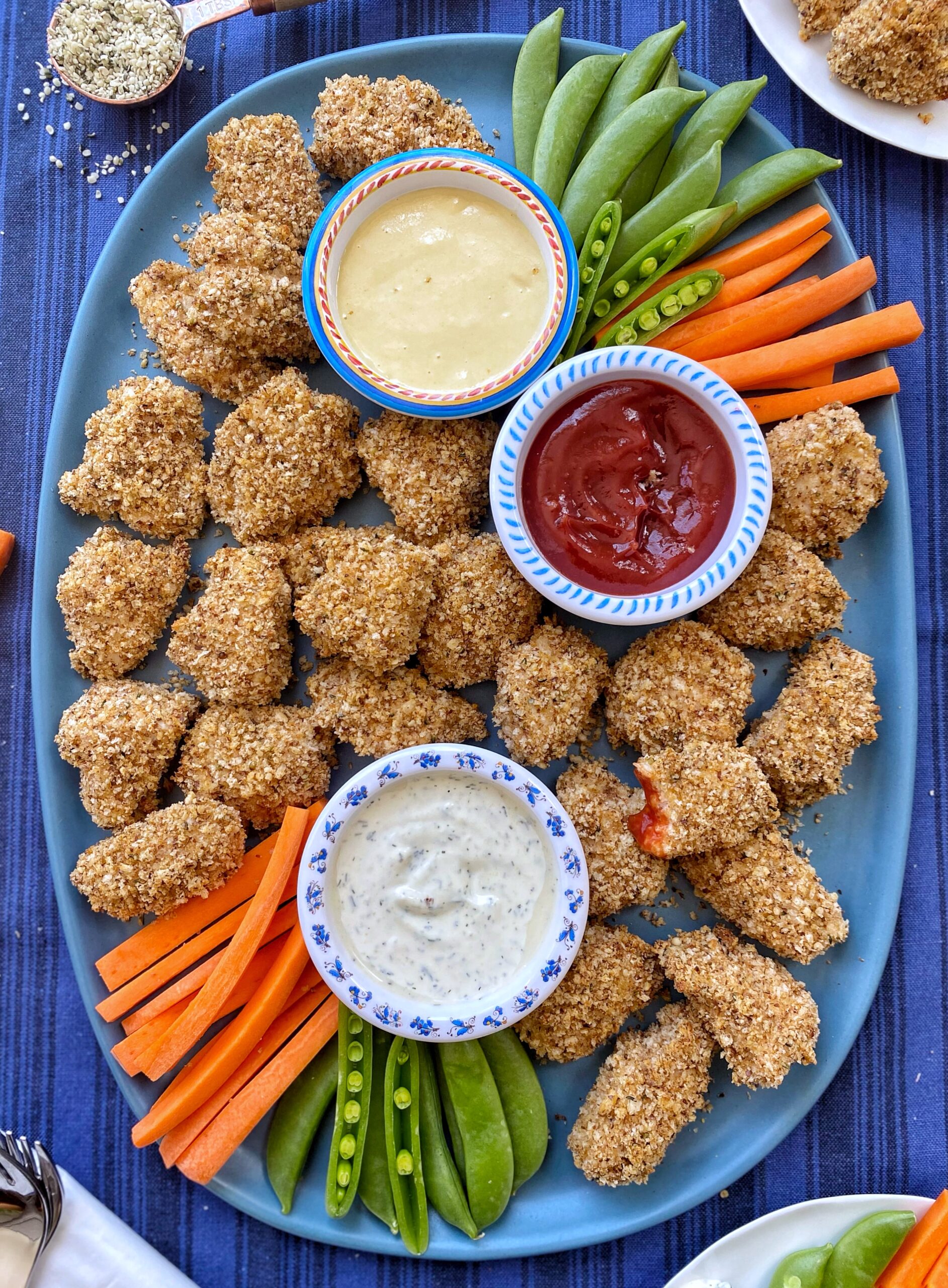 Healthy Homemade Chicken Nuggets
Made with flax and hemp seeds! Crunchy, nutritious, tender chicken that kids love.
Ingredients
1 1/2 to 2

lbs

boneless, skinless chicken breasts, cut into 1-inch pieces or chicken tenders

1

tbsp

cornstarch

1

egg, lightly beaten

or liquid egg replacement

1 1/2

cups

Panko breadcrumbs or gluten-free breadcrumbs

1/4

cup

ground flax seed (flax meal)

1/4

cup

hemp seeds

1/2

tsp

kosher salt

1/2

tsp

garlic powder

1/2

tsp

paprika

2

Tbsp

olive oil
Instructions
Preheat oven to 425 degrees. Place a cooling rack/baking rack on top of a sheet pan and set aside.

Place chicken pieces in a large bowl. Sprinkle the cornstarch over the top and mix to coat the chicken. Pour beaten egg over the chicken and stir to coat.

In a large bowl or in a large zip-top plasic bag, add breadcrumbs, flax, hemp seeds, salt, garlic powder, and paprika and mix to combine. Drizzle the oil over the breadcrumb mixture. Mix and rub the oil into the breadcrumbs to distribute the oil as evenly as you can through the mixture.

Using tongs, transfer 5 to 6 pieces of chicken to the breadcrumb mixture. Toss the pieces around to coat them on all sides. You can press the breadcrumbs in if you'd like to get them to adhere even better. One by one, grab the coated pieces with tongs (or your fingers) and give them a little shake to knock off any excess crumbs and place the chicken on the baking rack. Continue process with the remaining chicken pieces.

Bake until breadcrumbs are golden brown and chicken is cooked through, about 15 minutes.

If making chicken nuggets ahead, reheat them in a 400 degree oven/toaster oven until warm, 5 to 10 minutes. You can also microwave them to reheat, but they will not be as crispy.
Save to Pinterest!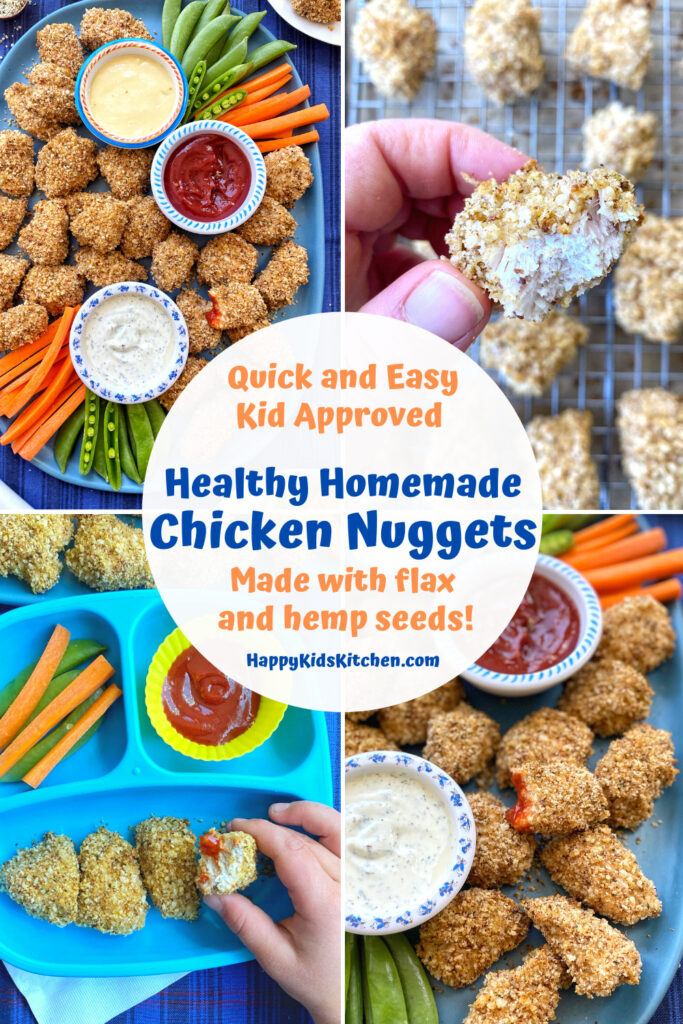 Other Nugget Recipes to Try:
Baked Salmon and Sweet Potato Nuggets