Easy Pesto Turkey Burgers (with veggies!)
This healthy and quick dinner recipe is perfect for grilling season. Easy Pesto Turkey Burgers are packed with flavor and green veggies. Adding chopped spinach and grated zucchini to the ground meat not only makes these burgers really nutritious, but also ensures they never dry out. Store-bought pesto is my secret, shortcut ingredient, making this delicious dinner only have 4 ingredients. Serve burgers on buns, on a salad, or cut up into small pieces for toddlers.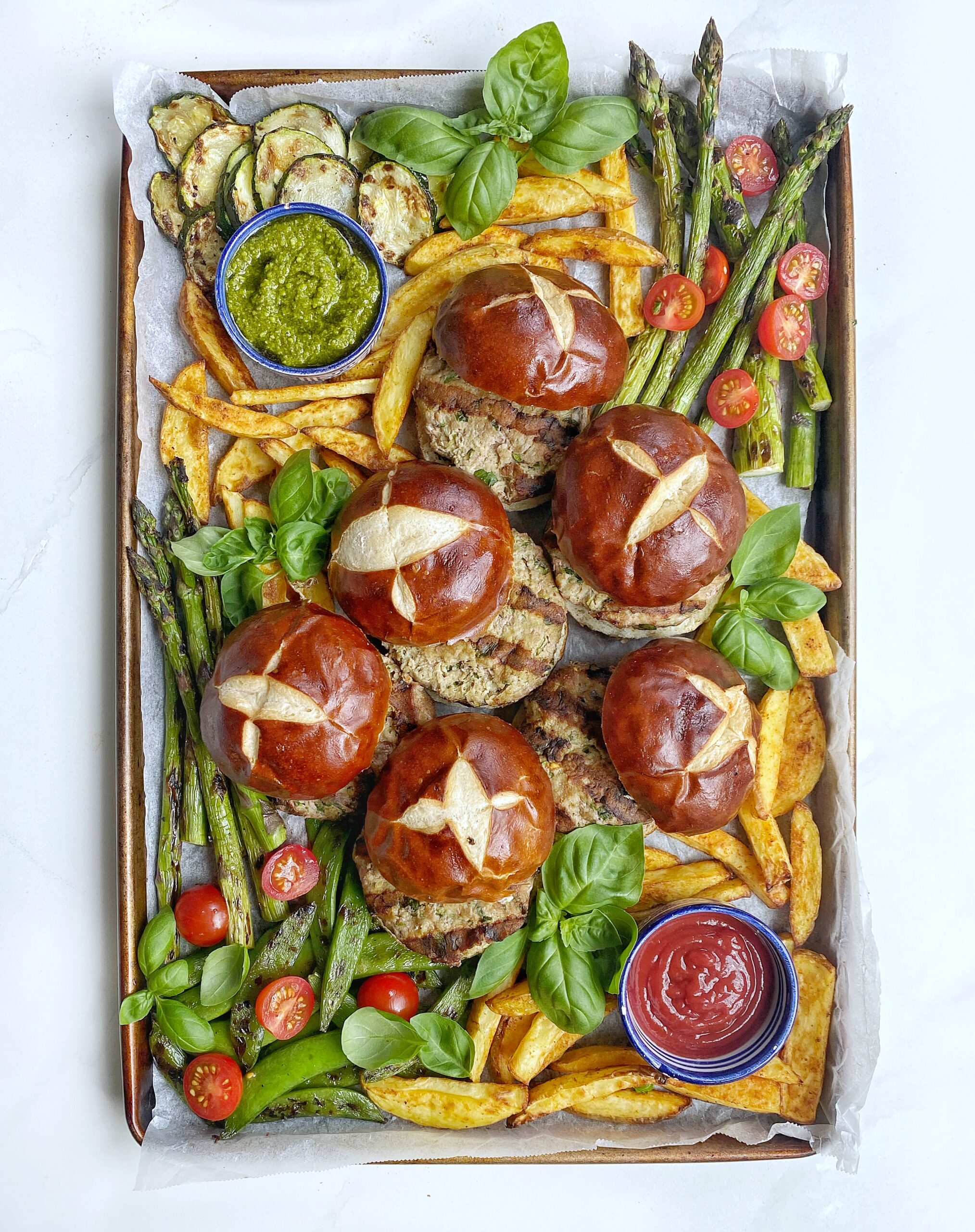 Kids in the Kitchen:
Grate it up! Shred up the zucchini on the box grater together. Don't worry, if you hold both the grater and the zucchini together, your little one won't get hurt. Place your hand in front of your child's hand when holding the zucchini. Prepping the veggie together is great exposure and practice.
Add and mix: Kids can dump everything into the bowl and help start to mix. (You'll need to take over at some point since there is a lot to mix in the bowl.)
Raw meat?: Before your child helps stir or handle the ground turkey, make sure he or she understands that we can't touch anything or put our hands in our mouth after touching the raw meat. If you aren't comfortable with your child helping with the meat, that's totally fine. Skip that part and work on setting the table or helping with the side dishes.
Subs and Tips for Making Easy Pesto Turkey Burgers:
Pesto: Any kind of pesto will work well for this recipe. If you make your own, you can make it dairy-free and/or nut-free if you prefer.
Ground turkey or other meat: I like to use a "dark" meat, higher fat turkey or a mix of white and dark meat because it makes for a less dry burger. However, you can use any kind of ground meat you'd like –ground chicken, ground beef, or ground bison are all great.
Dairy-free: Make sure to buy of make a dairy-free pesto.
Serving suggestions: My kids love these burgers on mini pretzel buns. Any kind of buns you like, including a gluten-free version. I also love eating these burger on a salad and with grilled veggies. Feeding younger toddlers or packing lunches for daycare or school? Chop these burgers into bite-sized pieces and serve with a dip if your child enjoy that (my kids love ketchup).
Feeding less people? I use two pounds of meat for this recipe because I love having leftover burgers for lunch (and sometimes my kid eat more than one burger). However, you can easily halve the recipe and make fewer burgers.
Picky eaters? Serving kids (or grown-ups) that aren't quite used to having "green stuff" in their burgers? Start with a small about of the veggies mixed into the meat then work your way up to adding more.
Easy Pesto Turkey Burgers (with veggies!)
A healthy, veggie-packed weeknight dinner the whole family will love.
Ingredients
2

cups

grated zucchini

about 1 medium zucchini

2

cups

baby spinach, finley chopped

2

pounds

ground turkey

1/3

cup

store-bought or homemade pesto

1/2

tsp

kosher salt

1/4

tsp

ground black pepper

12 slider buns or 6 regular-sized buns, for serving
Instructions
Place grated zucchini in a kitchen towel and squeeze as much liquid out as you can. Add the zucchini to a large bowl. Add spinach, ground turkey, and pesto to the bowl then sprinkle salt and pepper over the top. Use a large spoon to mix all the ingredients evenly into the ground meat.

Use your hands to make 12 smaller burger patties or 6 larger burger patties. Place the patties on a plate or on a sheet pan. Place the burgers in the fridge until ready to cook. If your turkey meat is very soft, place patties in the freezer for 10 minutes to firm up before cooking or grilling.

For grilling, cook on medium heat 4 to 5 minutes per side. For the stove-top, cook burgers in a skillet over medium heat for 4 to 5 minutes per side. The center of the burgers should be 165 degrees on an instant read thermometer.

Serve burgers on buns or on a salad. I also love to cut the burgers up for kids to serve for dinner or in a lunch box.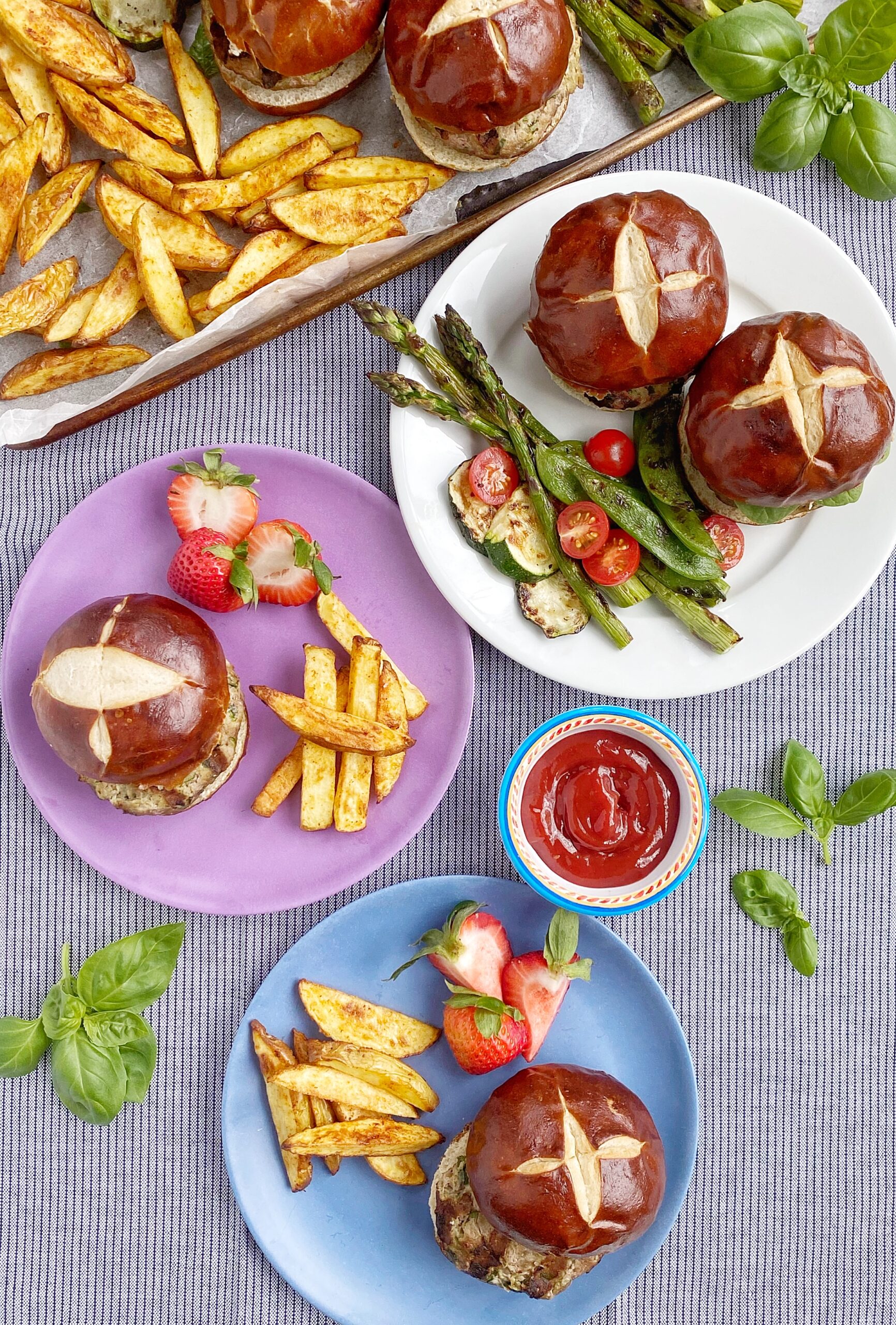 Save to Pinterest!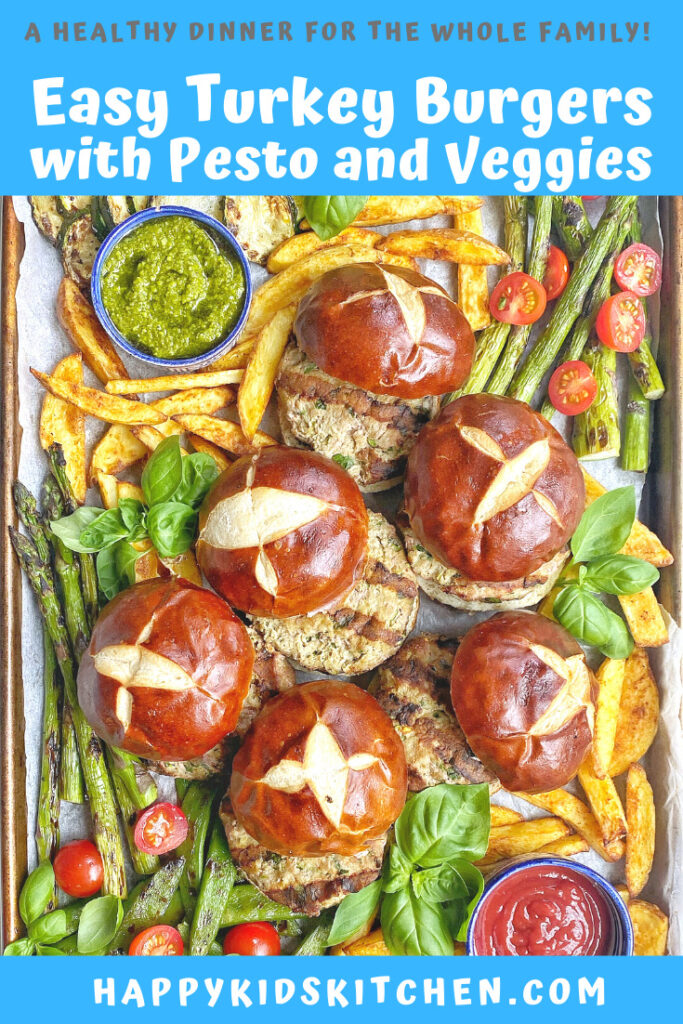 Other Dinner Recipes to Try:
No-Boil Pasta Bake with Veggies
Teriyaki Turkey and Veggie Meatballs
Easy Black Bean and Veggie Enchilada Casserole