What are the best bento lunch boxes for kids? With so many kids bento-style lunch box choices out there, it can be really overwhelming to figure out the right one for your child! I've spent a lot of time doing the research and testing a ton of options so you don't have to.  Below are 5 questions you should ask yourself before purchasing a lunch box as well as reviews on the bento-style lunch boxes we own and use. Please don't hesitate to leave a comment or question below. I'm happy to help!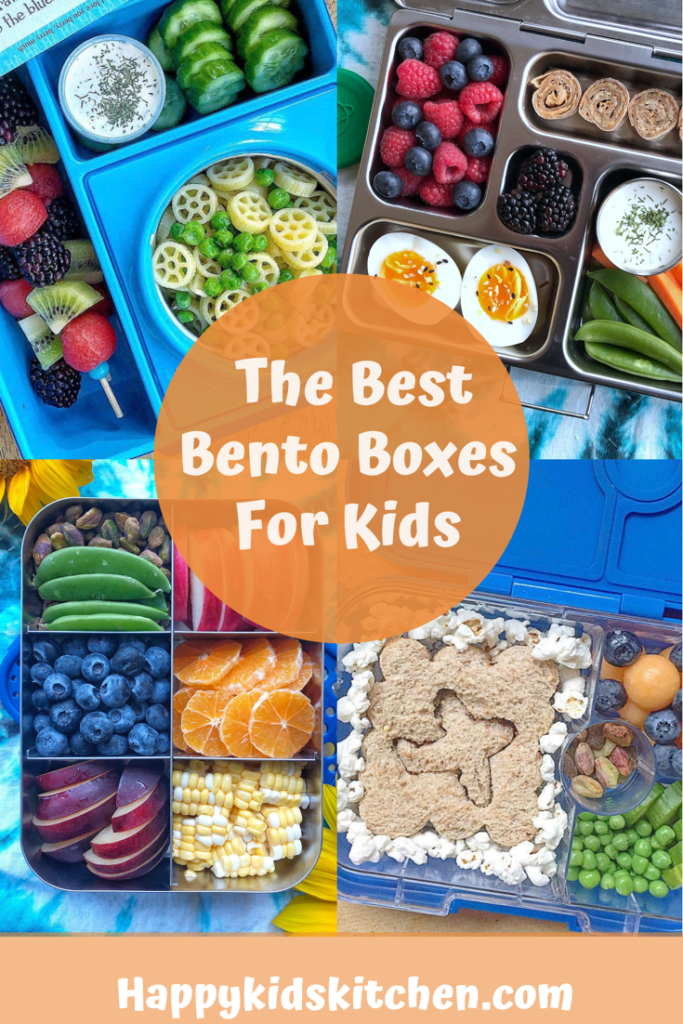 My boys have been going to daycare or preschool at least a couple days a week since they were very little, so over the years I've acquired quite a collection of bento lunch boxes. I've also worked with some companies that have gifted us a few additional lunch boxes, but all my reviews are based on our use of the products and are completely honest.
Why choose a Bento-style lunch box?
Bento boxes allow kids to see all their options for lunch without having to open a bunch of different containers. Carrots, blueberries, pretzels...all food get equal attention and opportunity to be eaten! Using one large container also cuts down on plastic bags or other disposable packaging lightening our footprint on the environment. Packing lunch in a bento doesn't mean lunches need to be fancy. All the options are laid out in a visually appealing way without any extra effort, and simple foods like fruit, veggies, proteins, and "fun foods" can be packed up for a balanced and healthy lunch.
How do you keep lunches cold and fresh?
To keep the food cold and fresh, I place these lunch containers into a lunch bag with an ice pack. The Yumbox Panino and Original, Bentgo Kids, Planetbox Shuttle, and Omie fit into the bottom of one of my favorite lunch bags the Funkins Large Lunch Tote. The Pottery Barn Kids "Cold Pack Lunch Bag" and the "Dual Compartment Lunch Bag" (Not the Classic Lunch Bag) also fit the boxes mentioned above. We use the Planetbox carrying case for the Planetbox Rover.
Water bottles, reusable snack bags, and lunch bags?
Most of the products seen here, plus more lunch packing needs like water bottles and fun accessories, are listed in my Amazon store 'lunch box' section: Amazon Store  (Amazon links are associated with an affiliate program and I do get a small commission when you buy from them. There is no additional cost to you. No pressure at all to purchase. I just find it an easy way to keep all my product recommendations in one place. However, if you do purchase from my link, thank you so much for the support!)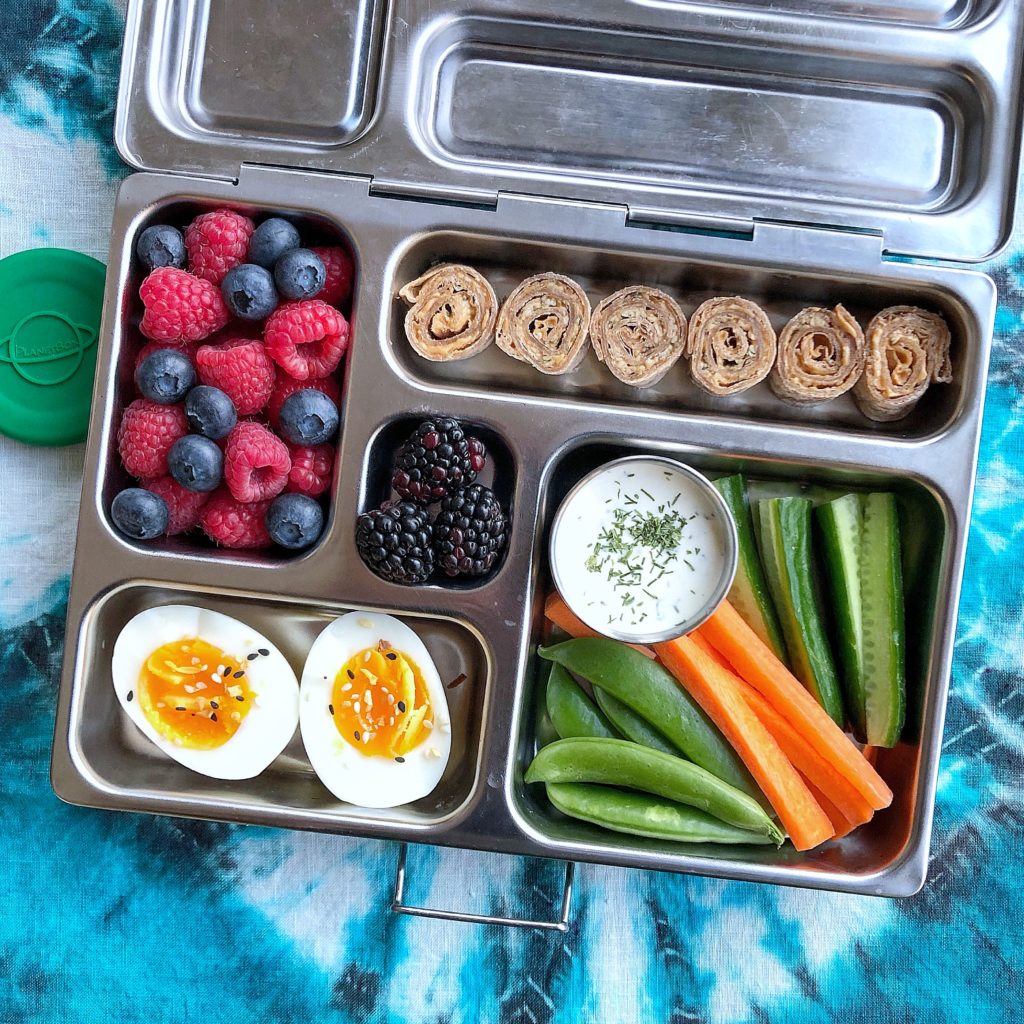 Want more lunch box inspiration?
If you are on Instagram, visit my story highlights to see me talk through the different lunch boxes we have. I also post lunch box ideas to my feed and on my stories weekly. There are so many wonderful accounts that share healthy lunches and easy packing tips! Never enough lunch packing inspo, right?
How to Choose a Lunch Box
Questions to ask yourself to figure out the best lunch box for your child's needs.
Plastic or metal? There are pros and cons to both materials. Many people feel strongly about not using plastic in their homes. Personally, I like having both options to use. Stainless steel lunch boxes are very durable and don't hold smells or stains but can be heavy and more cumbersome for little ones to handle.
How old is my child and how big is his/her appetite during lunchtime? My four-year-old eats about three times as much as my six-year-old at lunch. He's just hungrier during that time of day and I think my older son also prioritizes talking to his classmates over eating. Either way, they like very different lunch boxes. Younger children might need a box that is easier to open and/or carry on their own if they have to.
What kind of foods does my child like to eat for lunch? Some boxes are better for sandwich packing and some are better for "snacky" type lunches. Is packing dips or yogurt important? Look for boxes with small compartments or leakproof areas. Does your child prefer hot foods or more "main course" options like pasta salad or soup? Check the lunch box website, social media page, or Amazon photos to see what kinds of foods they are packing in the box to see if they match up with the kinds of foods your child likes for lunch.
How much do I want to spend? The stainless steel lunch boxes are more expensive than the plastic options. I think they are more likely to stand the test of time and last most of your child's lunch box packing career. However, if your child is younger, you aren't sure which lunch box you will like most, or if you'd like to use multiple lunch boxes, you might not want to invest in a more expensive box.
How much time and/or space does my child have during lunch time? When my son Jack went to Kindergarten we discovered that he had very little time to eat, had to carry his own lunch box in his backpack (so it had to fit comfortably), and he sat at a pretty crowded lunch table (with lots of friends to chat with!), therefore he felt more comfortable with a smaller, lightweight lunch box. The Yumbox Original is his favorite. Henry (4) is still in preschool and doesn't bring anything but his lunch box to school. He likes the layout and space of the Planetbox Rover the best.
Our Favorite Lunch Boxes
These are the lunch boxes we own and use. They all have pros and cons, but this will hopefully get you a little closer to finding the lunch box that will work best for your child. Please reach out if you have any questions!
Planetbox is a stainless-steel lunch box brand that we have been using for many years. They make three different sizes to accommodate different packing needs (Two of the three pictured below). I really like that they are easy to clean. I usually hand wash them, but you can remove the decorative magnets and place the whole box in the dishwasher if you prefer. These are not available on Amazon but are sold on their website where you can pick the magnets and carrying case (water bottles and accessories also available).
Pros: stainless steel, super durable, will last years and years, easy to clean, 3 different sizes, comes with leakproof dip/food containers. Lid is attached and easy to open and close.
Cons: one of the more expensive options, not leakproof, heavy, Rover size doesn't fit in most standard lunch bags so need to buy the carrying case.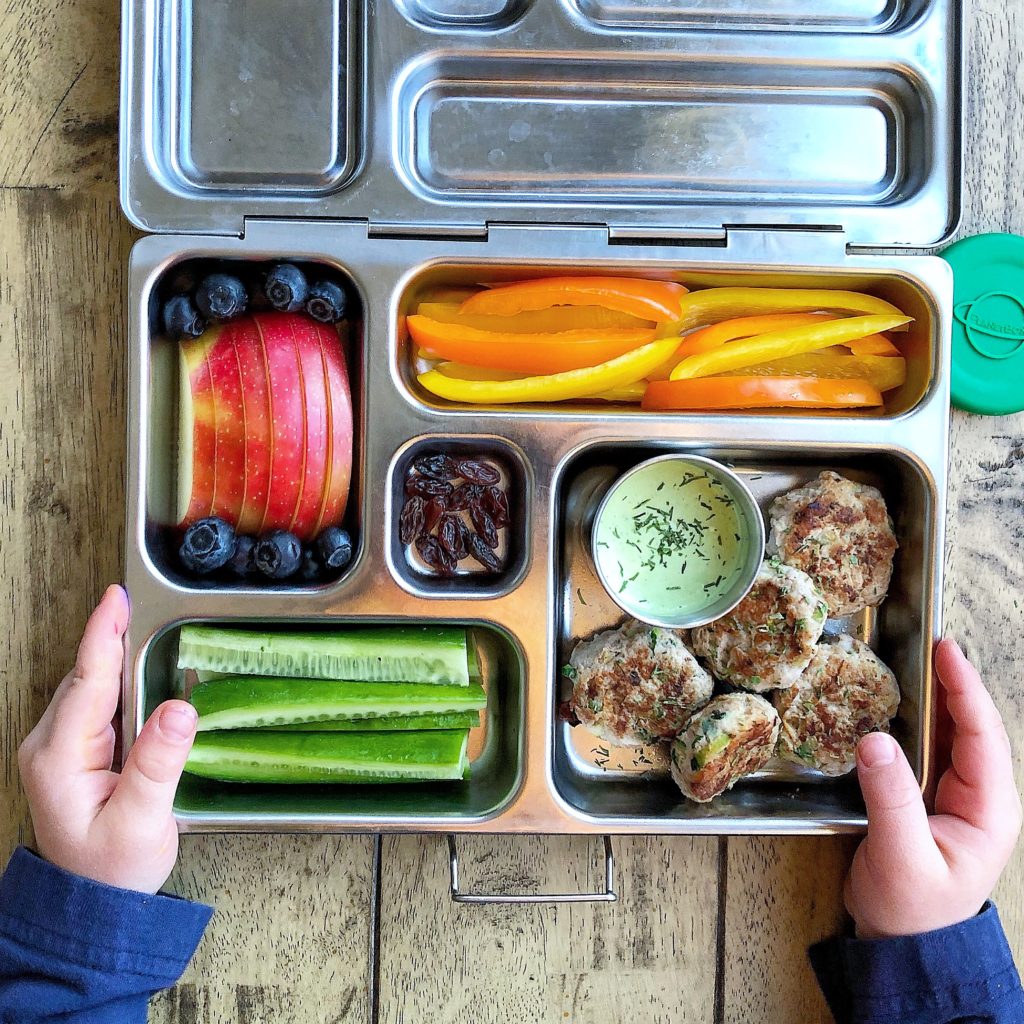 Planetbox Rover: lots of space for options.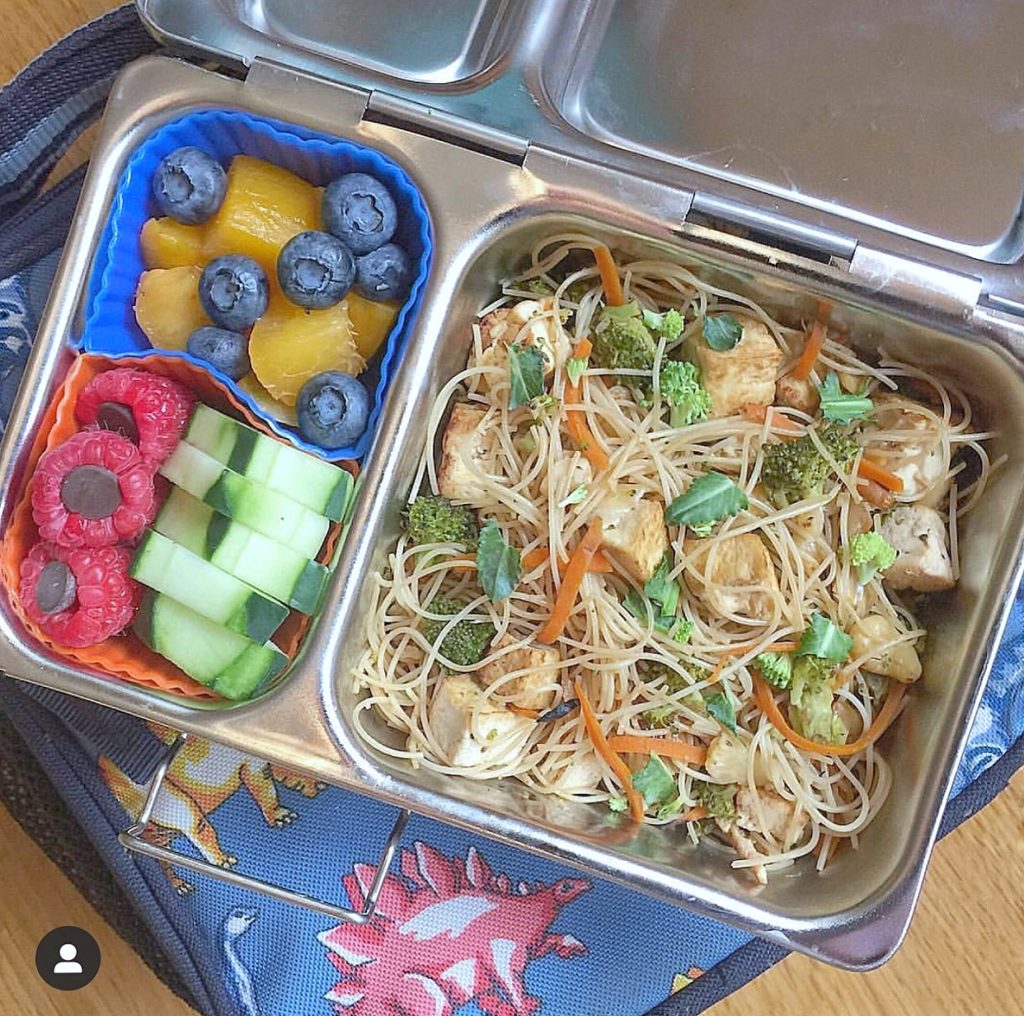 Planetbox Shuttle: better for smaller appetites
We own 4 styles of the Yumbox brand lunch containers. All are made from BPA-free plastic and have a removable insert that can be cleaned in the dishwasher. The case should be washed by hand. One insert comes with the purchase of the lunch box, but you can buy additional inserts separately.
Pros: Overall, I find the Yumbox brand to be very sturdy. The Yumbox containers are the most leakproof boxes I have found on the market. If you pack yogurt or a dip in one compartment it will not leak into the other areas.
Cons: the decorative designs on the back of the insert have scratched off which doesn't really bother me since it is on the side that doesn't touch the food. The silicone part of the lid can get a little bit stained or retain smells if not cleaned and dried fully.
I've broken down the different sizes and box styles here: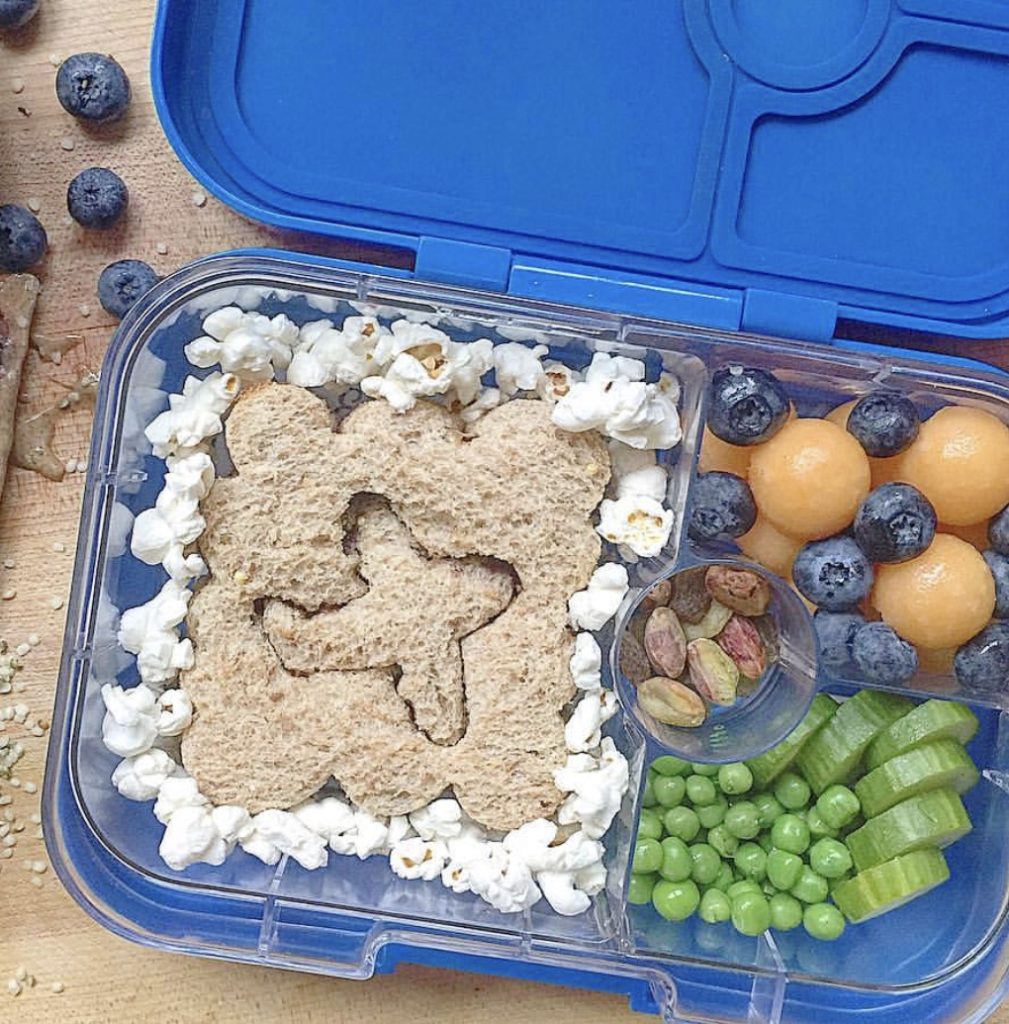 Yumbox Panino: Great for sandwich lovers. You can use silicone muffin cups to divide up the larger area if desired. Best for preschool or elementary aged kids.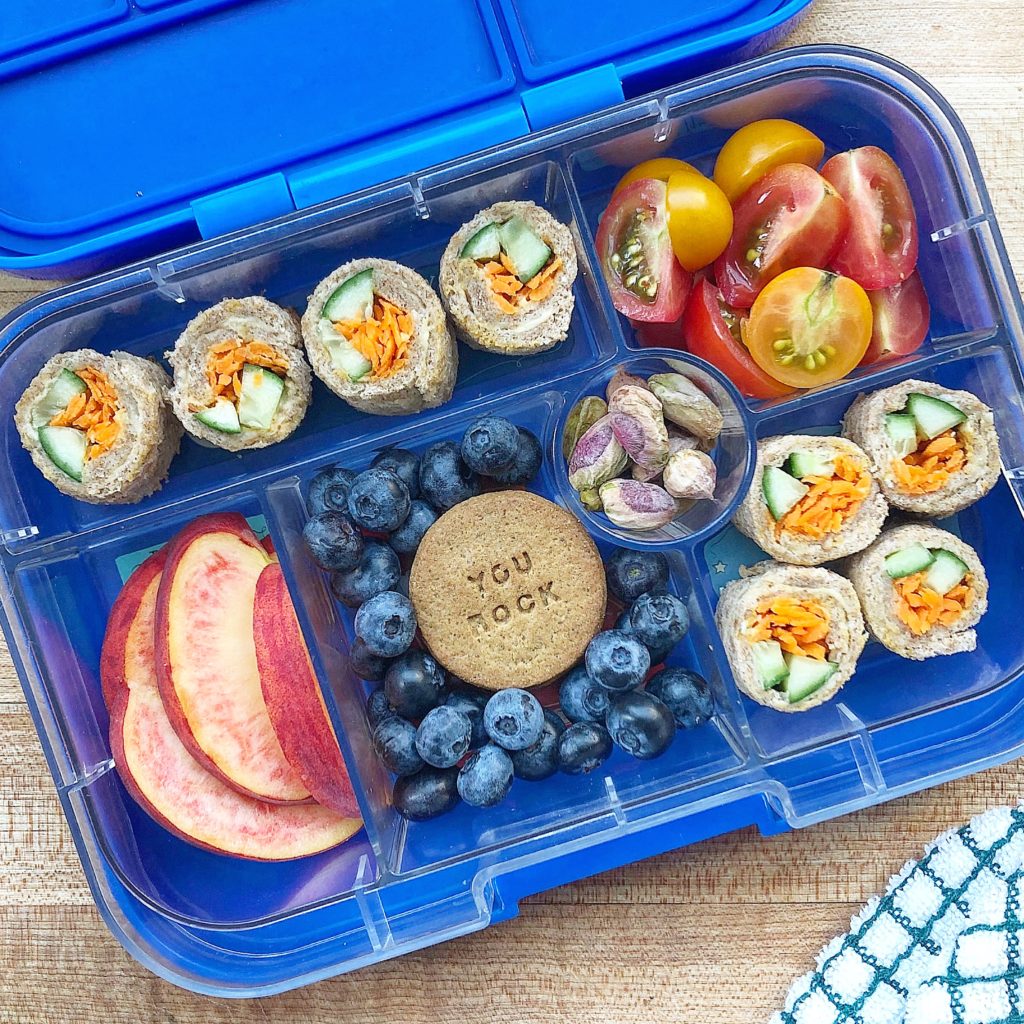 Yumbox Original: Same size as the Panino above but space is divided into more compartments. Great for "snacky" lunches or kids that like lots of options.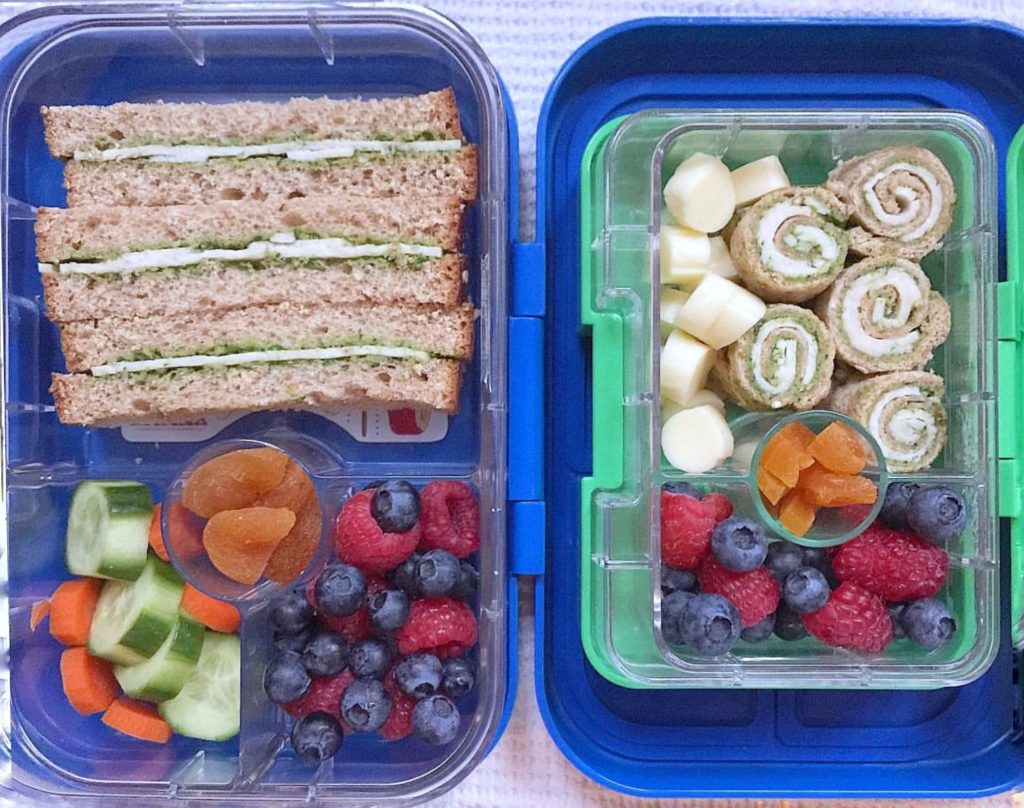 Yumbox Mini (seen on the right): Smallest size. Great for toddlers or snack packing.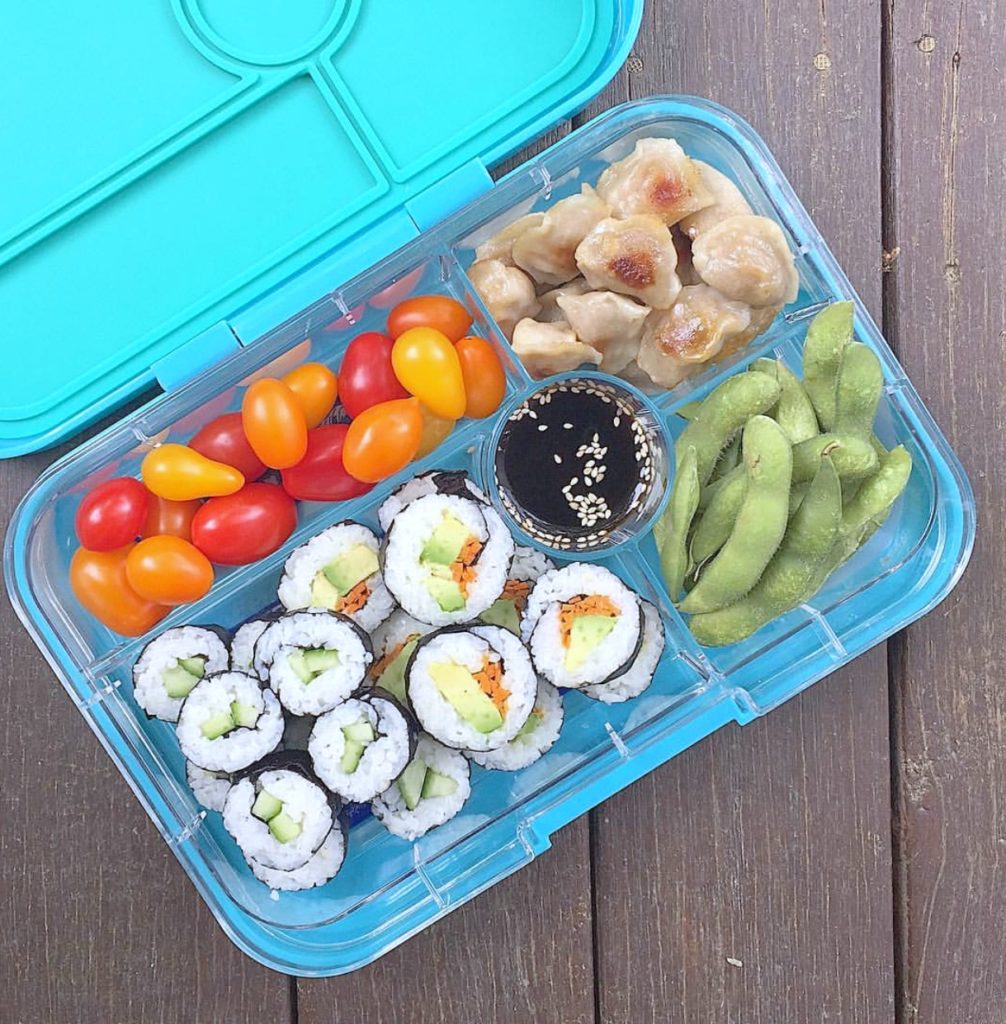 Yumbox Tapas: Largest size. Great for older children or adults.
This lightweight and easy-to-use bento is great for toddlers and preschoolers just starting to have lunch time away from home. It was our first lunch box purchase when my older son was 2 years old and I still use it for my 4-year-old today. I like that there is room for a nice selection of different foods and that the silicone liner at the top holds everything in place. A sandwich can be cut in half to fit into the largest compartment. The Bentgo boxes seen below are the classic colors but they are available in many more fun colors and patterns now.
Pros: holds a good amount of options but not too much for younger kids. Has a spot for dip or a small treat. Lightweight and easy to open. Dishwasher safe. Mostly leakproof: good for juicy fruit or dip.
Cons: plastic can get smelly or stain over time. Hinges slightly less durable than Yumbox.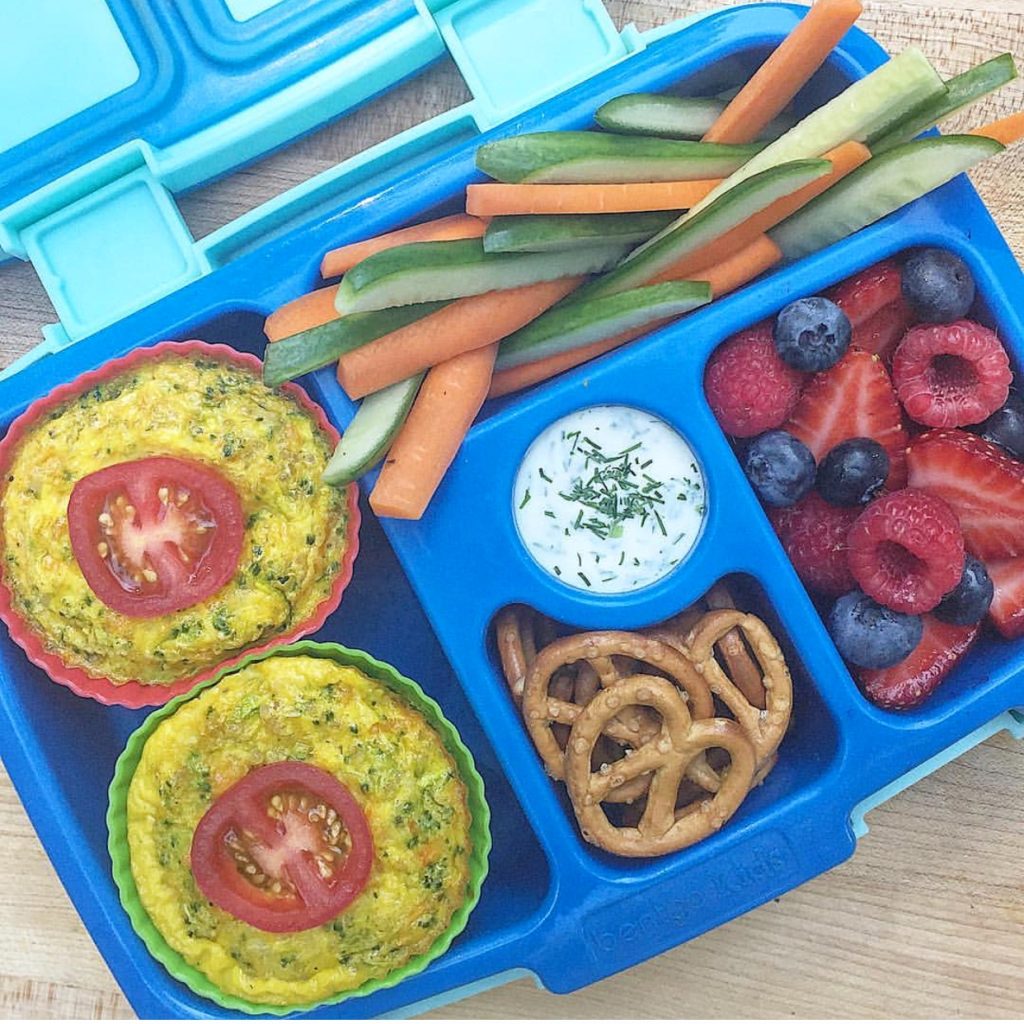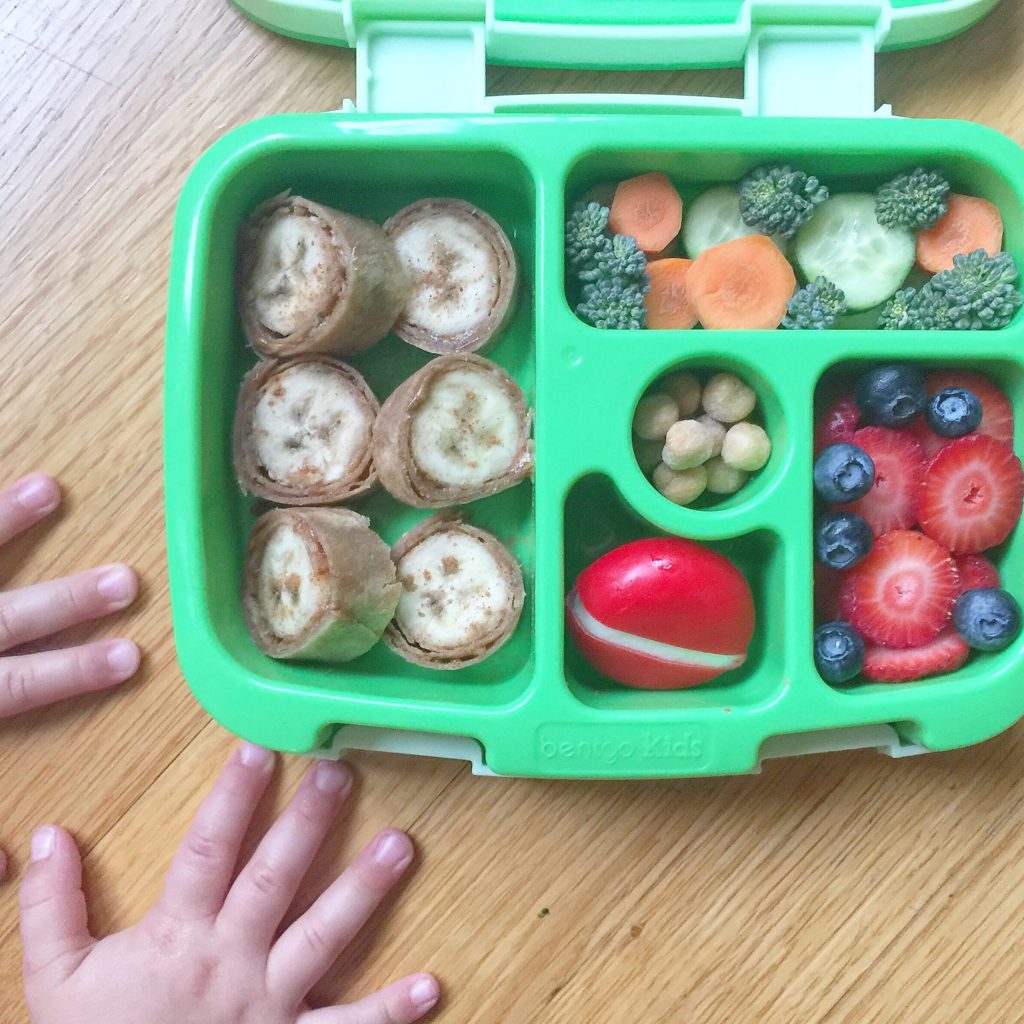 Bentgo Stainless Steel
These new bento boxes by Bento came out this year (2020) and I love them. I think of them as a cross between a Planetbox and a Yumbox because they have a stainless steel interior with a silicone lid which makes food in each compartment stay in place better. I have only used them for a couple month now, so I can't speak to the way the silicone holds up or how easy it is to clean after a while. However, I love the versatile space inside the box. It holds enough food but isn't too much space for younger kids. Check website for availability HERE.
Pros: Easy to open and close, stainless steel is easy to clean, comes with a silicone divider cup, seals well, leak resistant, colorful choices.
Cons: not dishwasher safe, silicone can stain and be harder to clean, heavier than all plastic boxes, more expensive than plastic bentos.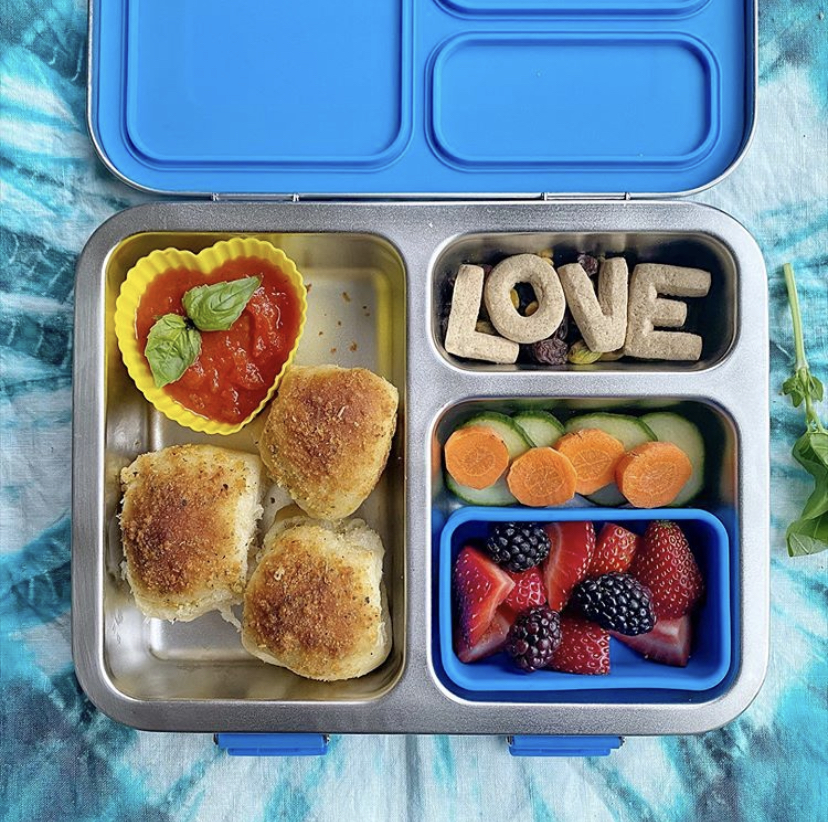 The Omie is the only bento-style lunch box with a thermos insert to keep food warm or cold. If your child loves pasta or soup for lunch this is a great option. We have also used it to keep yogurt cold for a parfait lunch. The thermos compartment can be completely removed as well in case you want to pack something else like a sandwich or other foods. The Omie also comes with one removable piece to divide the two outer compartments.
Pros: Versatility: can pack a wide variety of foods. Great for soup, pasta, or hot food lovers.
Cons: My kids find this box hard to open and close without help. A little larger in size than some other options.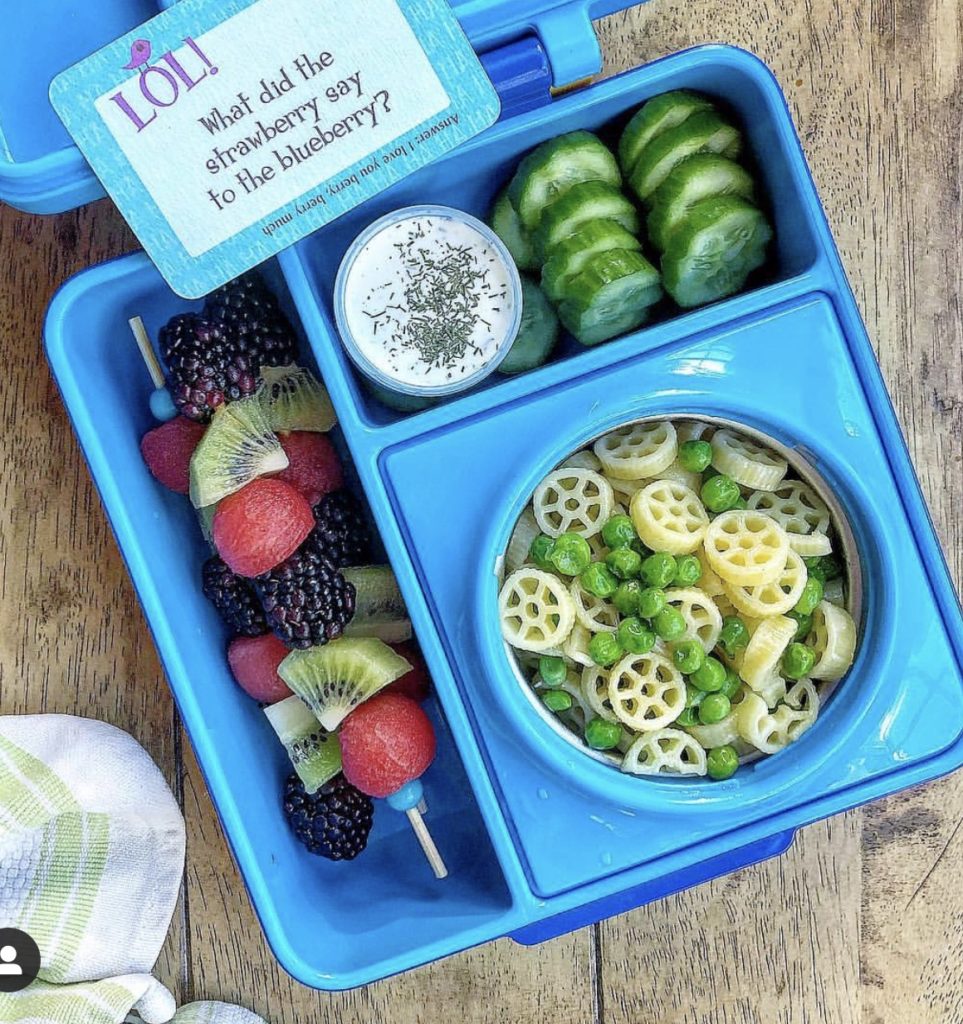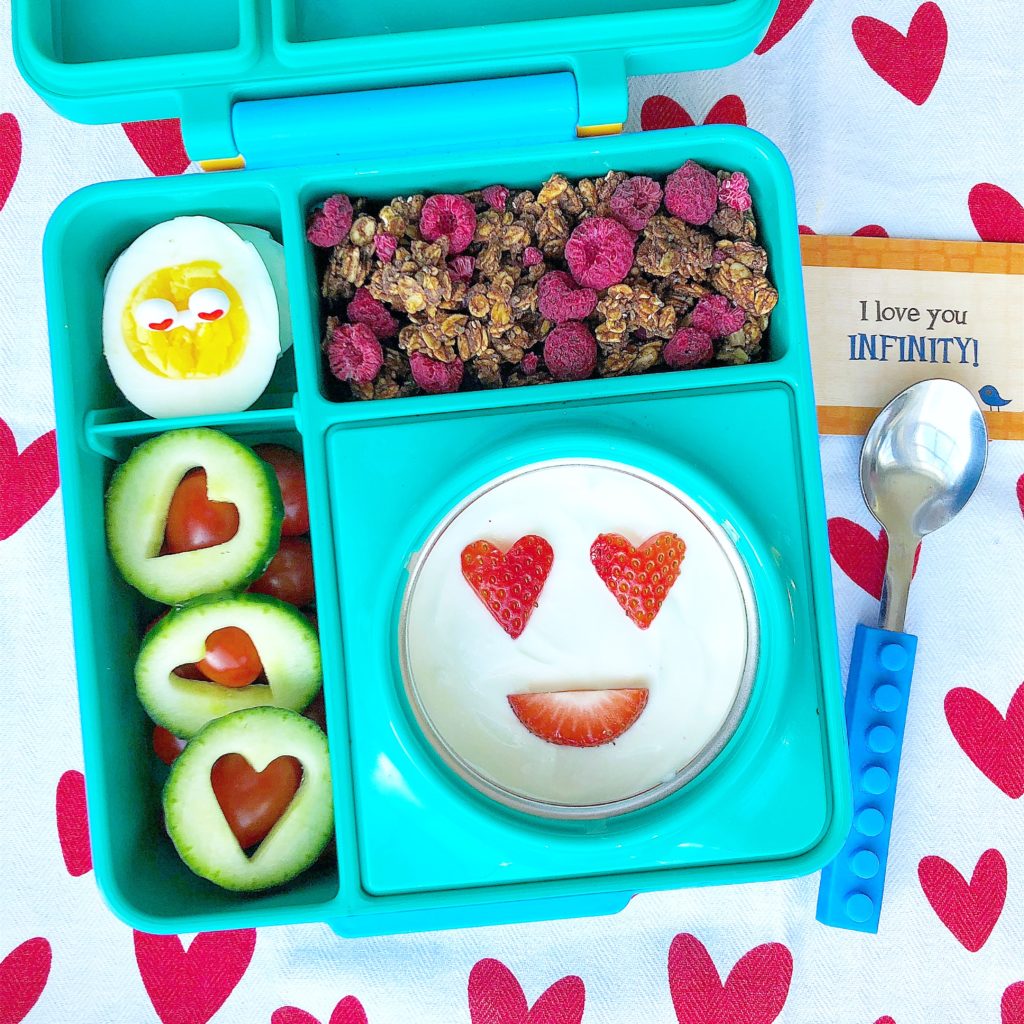 The Lunchbots Large Cinco Bento is the newest addition to our lunch box family. We haven't used it much yet but I do have the Large Snack Tray (pictured below) from this company and I love how sturdy and easy to use it is. It is not leakproof but the set comes with small containers and silicone liners (or you can purchase them separately) that can be used for dips or juicier fruits (like watermelon). Lunchbots also makes smaller bentos and containers if you are looking for snack or toddler lunch containers. Edit: We love the Cinco Bento and I am planning on purchasing another one soon.
Pros: stainless steel, easy to clean, durable, compatible with leakproof containers and liners, fits into most standard lunch bags.
Cons: heavier, lid not attached, not leakproof on its own.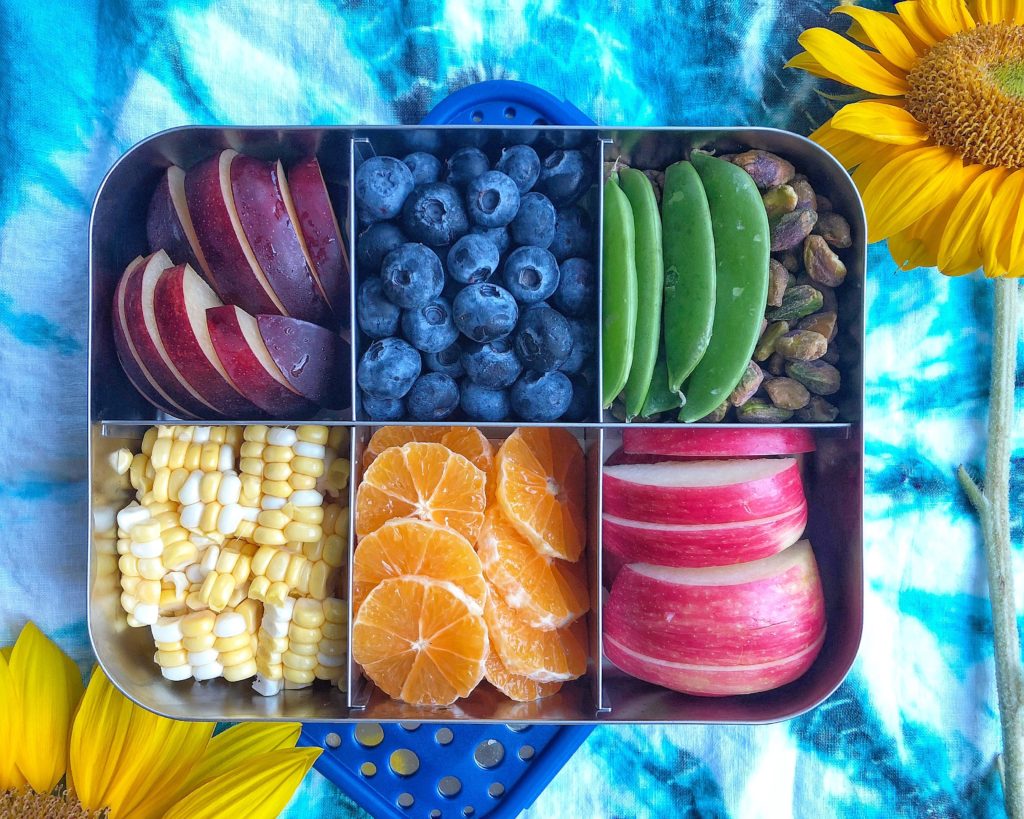 This mom-run company that makes both BPA-free plastic and stainless steel lined bentos in a variety of sizes as well as lunch bags and ice packs. Their very affordable bento boxes are a best seller on Amazon. We have just received our Kinsho boxes and are liking them so far. The plastic ones are very lightweight and were easy for my kids to open and close. All the bentos also come with custom fitting spork or fork and spoon which I think is a nice addition. The small bento is great for snack packing or toddler meals. The larger bentos are great for elementary aged kids and adults too. I really like the Kinsho ice packs and would definitely purchase them again.
BPA-free Plastic Pros: leakproof design, multiple compartments, very lightweight, multiple styles and sizes to choose from, bottom is dishwasher safe, 3 sizes and many colors/fun styles to choose from
Cons: lid not attached and all sides have latches (but were easy for my kids to open), lid is hand wash recommended (to maintain leakproof seal)
Stainless Steel Pros: leakproof individual compartments, attached lid, well insulated to keep food cool and fresh, one piece (no removable pieces), 2 sizes and multiple colors/styles to choose from
Cons: a little heavy and bulky, hand wash only (to maintain seal)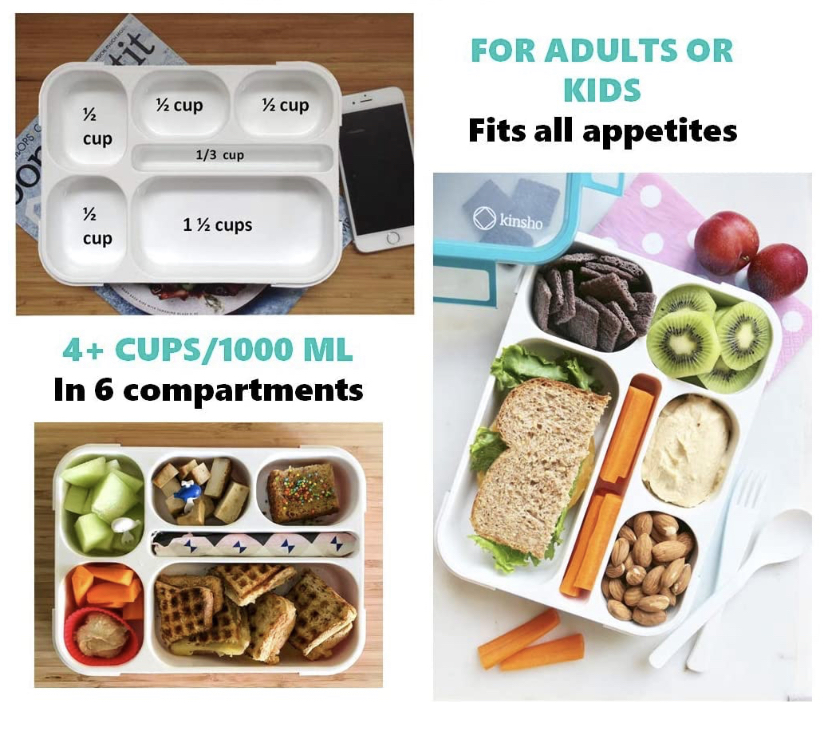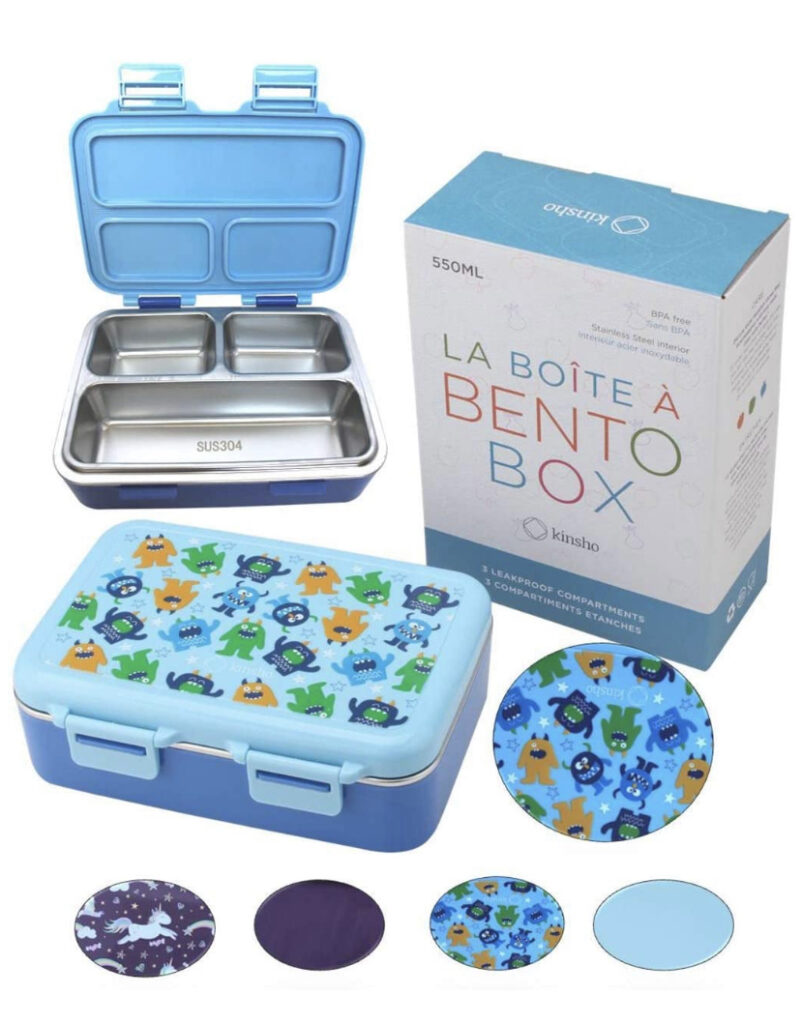 Want some recipes that are great packed up in a lunch box AND perfect to cook together? Check out my blog post 75 Best Recipes to Cook with Kids.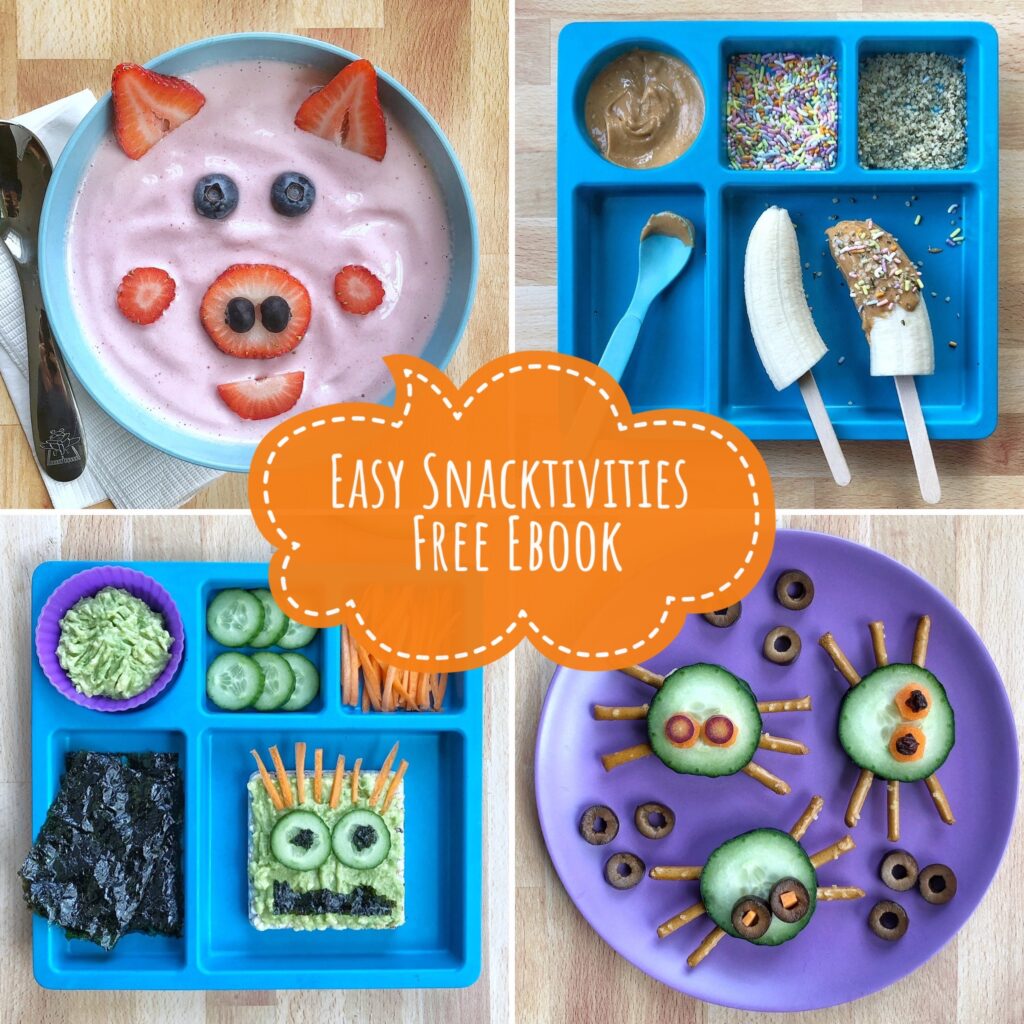 I have a FREE ebook for you! Click HERE to get Easy Snacktivities: Small Meals to Make Healthy Food Fun