Homemade School Snacks (Nut-free and Nutritious)
Whether your toddler is going to daycare/preschool or your big kid needs fuel in the middle of the school day, providing snacks is a big part of feeding our kids. Of course, we are also fans of buying typical schools snacks–not saying we should make everything from scratch. However, making homemade school snacks, like muffins, bars, healthy cookies, and no-bake bites, when we have the time can be a great way to get extra nutrients into the day. Plus, they taste great too!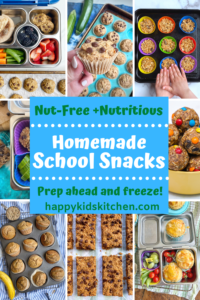 Packing Homemade School Snacks:
Storage and Freezing: All of the recipe linked in this article will have instructions for storing and freezing the homemade school snacks. If you are making a big batch of something to have in the freezer, I find it best to individually wrap the muffin or bar in plastic wrap and then place them in a freezer bag. Make sure to label the snacks with the contents and date.
Temperature: Most of these recipes will be fine at room temperature for the day. Unless it is super hot out (especially if there are any chocolate chips), muffins, cookies, etc. are safe to store in a bag or container in a backpack or lunch bag. If you are packing snacks or other foods that you'd like to keep chilled, using a separate bag with an ice pack is a great option or use a freezable bag like this one HERE.
Containers: I often pack these homemade snacks in my kids' lunch boxes as a homemade treat or addition to lunch. However, if I am packing the snacks to be eaten at snack time or after school, sometimes a reusable sandwich bag or plastic bag can be ok. If I pack a muffin or something more delicate, then I would consider using a plastic container or something that can't be easily squished. Do your kids throw their backpacks around like mine do? There are some smaller bento boxes on Amazon that would be great for packing snacks. HERE is a list on my Amazon storefront (affiliate links).
Quick Tips for Making Homemade School Snacks:
Make mini muffins instead of large ones. They are easier to pack and store. Plus, they are more fun!
Have kids help pick out snacks they'd like to try and have them help make them (or at least help with one or two of the steps). All the recipes have a 'Kids in the Kitchen' section to make it easy for you to get little chefs involved.
Don't stress if you can't make homemade snacks all the time. It's ok to buy snacks and then make them when you can.
Combine homemade snacks with other things your kids love like fruit, veggies with a dip, and crackers/pretzels. Having a variety makes kids less likely to get bored or feel like they aren't getting snacks that other kids might have.
The Recipes: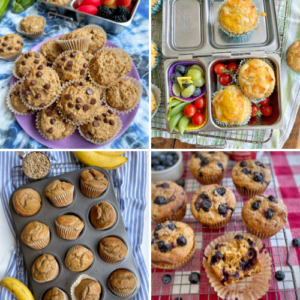 Homemade School Snacks: Muffins
Most kids LOVE muffins and they can be super nutritious is you make them at home. We can lower the sugar and pack in veggies, seeds, protein, and more. Also, don't just think about sweet muffins. Savory muffins can be a great addition to snack time or lunch.
Banana Protein Muffins: packed with plant-based protein and fiber thanks to lentils. But I promise you can't taste the lentils at all! Bake up these muffins with your kiddos and enjoy them for breakfast, snack, or pack them up for school.
Zucchini Cottage Cheese Muffins: Filled with whole grains and protein packed cottage cheese, these little muffins are a nutritious snack for toddlers and kids. Zucchini Cottage Cheese Muffins are egg-free and nut-free and you can easily make them gluten-free as well.
Blueberry Cottage Cheese Muffins: similar to above but the sweet blueberry version. Made with whole wheat flour and naturally sweetened, these are a baked good you can feel good about serving any time of day. They happen to be egg-free too.
Healthy Strawberry Banana Muffins: Easy, nutritious, lower in sugar, and perfect for toddlers and kids. These Healthy Strawberry Banana Muffins are going to be a staple in your home for snacks and breakfast. Since the muffins come together in one bowl and have minimal, wholesome ingredients, they are a great recipe to cook with kids.
Banana-Pumpkin Blender Muffins: nut-free, dairy-free, and if you use gluten-free oats, gluten-free as well. You throw all the ingredients into a blender so they are super easy to make, especially if you have little helpers with you in the kitchen. Banana adds natural sweetness so only a little maple syrup is needed to make this recipe perfectly sweet without much added sugar.
Healthy Cranberry Orange Muffins: Wholesome, sweet, and full of festive cranberry and citrus flavors. Perfect to bake up for a snack or breakfast treat. Can be made from whole wheat or gluten-free flours, and can easily be vegan too. Perfect quick recipe to cook with kids and get some antioxidant-rich cranberries into the day.
Savory Muffins:
Healthy Corndog Muffins: Perfect for lunch boxes, snacks, and quick meals for kids, these Healthy Corndog Muffins are easy to stir up and are packed with nutritious ingredients. Use vegetarian hot dogs, turkey dogs, or the salmon dogs I use in the post–any kind works well.
Savory 3-Veggie Muffins: A great recipe from my friend The Natural Nurturer. Full of healthy ingredients and are a perfect way to get more veggies in at any meal! Loaded with 3 different veggies (carrot, broccoli, zucchini), they are great for breakfast, in lunch boxes, or as a snack or a side to dinner!
Pizza Lunch Box Muffins: I have a great recipe for these in my cookbook, Kid Kitchen. It's easy for kids to make and includes veggies and whole grains, but tastes like pizza! Also, you can find a similar version on TNN HERE.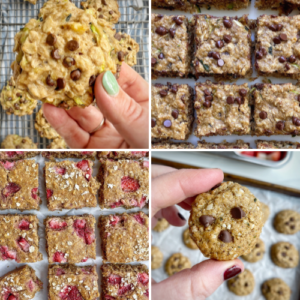 Homemade School Snacks: Cookies and Bars
Mini Chocolate Chip Snack Cookies: A healthy little chocolate chip cookie that's perfect for toddler snacks or lunch box treats. These Mini Chocolate Chip Snack Cookies are made in one bowl. They are nut-free, whole grain, and packed with nutritious ingredients like high-protein hemp seeds. The bite-sized cookies are vegan (dairy-free and egg-free) and easy to make gluten free too.
Zucchini Oatmeal Chocolate Chip Cookies: Soft, flavorful cookies wholesome enough for breakfast and snacks, but delicious enough to crave any time of day. These Zucchini Oatmeal Chocolate Chip Cookies come together in one bowl! They are naturally egg-free, dairy-free, whole grain, and low in added sugar.
Sweet Potato Snack Bars: Have a granola bar lover at home? I think we all do! These Sweet Potato Snack Bars are the perfect healthier alternative to store-bought oat bars. Plus, they have a ton of added nutrients and fiber from mashed sweet potato, ground flax seed, and hemp or chia seeds.  Add in some mini chocolate chips and the healthy snacks feel like a sweet treat!
Chocolate Chip Zucchini Bread Bars: A healthier baked good that's naturally sweetened, full of whole grains, and has added veggies? Yes! These bars are are easy to make and a great way for veggie skeptics to get on board with zucchini. These treats are lower in added sugar and naturally sweetened with banana and maple syrup. However, if you are cooking for toddlers or younger kids, you can omit some or all of the chocolate chips to reduce the added sugar even more.
Strawberry Oatmeal Snack Cake: Cake at snack time? Yes! Or really, any time of day because Strawberry Oatmeal Snack Cake is made from super wholesome ingredients and easy enough to stir up before breakfast. I love the combination of sweet strawberries and comforting oats in this cake. However, you can really use any fresh or frozen fruit you have on hand. As always, this is a great recipe to get kids in the kitchen to measure, mix, and taste!
Apple-Cinnamon Snack Cake: Apples, cinnamon, honey, and oats…the perfect combination for a sweet and nutritious Fall treat. This Apple-Cinnamon Snack Cake is great to bake-up post apple picking or whenever you have a couple apples to use up. Kids will love helping stir together this easy, one-bowl recipe with you.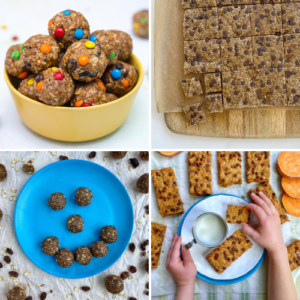 Homemade School Snacks: No-Bake Bites and Balls
Quick to make and easy to
Monster Cookies Energy Balls: Snack time will never be boring when you make these Monster Cookie Energy Balls. Another sneak peek recipe from my new kids cookbook, Kid Kitchen! Super easy to stir together and customize, kid chefs will be making these on repeat. Use sunflower seed butter or other nut butter alternative to make these nut-free.
Healthy Cookie Dough Bites: vegan, gluten-free, nut-free and packed with goodness. Oats, dates, and seeds make these bites high in fiber and antioxidants. Roll the dough into balls for an "energy ball" type snack or press the dough into a pan and cut into squares for a no-bake granola bar alternative. If you want the bites to be even lower in sugar and only fruit sweetened (dates), omit the chocolate chips and they will still be sweet and delicious.
Oatmeal Raisin Cookie Dough Bites: Use tahini or sunflower seed butter to make these nut-free. Only sweetened with raisins!
No-Bake Trail Mix Cups: A healthier granola bar alternative that you can make at home! These are super easy to customize with whatever ingredients you have on hand. Crushed pretzels, cereal, seeds, dried fruit…you coat them all in your choice of nut/seed butter and a little sweet honey to stick all the yumminess together. Get the kiddos into the kitchen to help stir it all up and press it into muffin cups.
No-Bake Chocolate Avocado Bites: Just 7 wholesome ingredients stand between you and these healthy, no-bake Chocolate Avocado Bites– a vegan, nut-free and Paleo recipe that is a perfect treat to whip up when it is too hot to cook.
Let me know what other kinds of snacks you'd like to see here! I'll update the list as I create new recipes.
Save to Pinterest!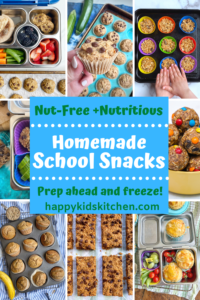 Other Helpful Posts:
Master List of Healthy Lunch Box Ideas
The Best Bento Lunch Boxes for Kids