Turkey and Veggie Shepherd's Pie
This easy weeknight dinner is the ultimate healthy comfort food. My Turkey and Veggie Shepherd's Pie is packed with 4 different vegetables and crowned with a light and fluffy potato topping. The turkey filling is savory, flavorful and hearty without being too heavy. You can make it super easy and cook up and save the whole dish in a skillet. Or you can make it a little fancy and bake up the pies in little individual ramekins. Either way, your family is going to request this meal over and over again.
Kids in the Kitchen
Veggie prep: If your child does nothing else to help with this dinner recipe, have him wash the veggies! It's a simple task that a child of any age can do. Plus, your child will feel a part of the cooking process without much effort on your part. If you want to go further, you can peel and grate the carrot together or have your child hold the zucchini as you shred it on a box grater.
Stir the pot: Kids can help add the ingredients to the sauté pan and hold the spoon with you to stir as it cooks.
Mash those potatoes: Taking care not to touch the hot pot (you may want to transfer the cooked potatoes to a large bowl if kids are helping), kids can use a potato masher to squish the potatoes. They can then add some of the remaining ingredients and help stir those in too.
"Picky" eater tips: If you toddler or child isn't into lots of food mixed together yet, feel free to "deconstruct" the meal and leave some of the filling and potato separate. The child will then have the opportunity to try the components and mix them as she'd like.

Tips and Subs for Turkey and Veggie Shepherd's Pie
Vegetarian?: You can totally make the filling vegetarian by using cooked lentils instead of the meat. Some chopped mushrooms would also be a great addition. I would use 3 cups of cooked lentils. Make sure to taste and adjust the seasoning as needed.
Dairy-free: The potato topping is easy to make dairy-free if you'd like. Use olive oil, skip the cream cheese or use a dairy-free yogurt or cream cheese, and use an unsweetened dairy-free milk.
Veggie options: You can use pretty much any vegetables you like in this filling. I love kale, but any green will work or you can leave the greens out entirely. If you are looking to serve this to more people and use less meat, finely chopped mushrooms, such as cremini or portobello, would be a great way to bulk up the filling. Pulse a pound of mushrooms in a food processor until finely chopped and saute them with the other vegetable in the recipe.
Use a different meat?: I really like using organic dark meat turkey for this recipe. However, any ground meat you like will work well.
Skillet: I'm using a 12-inch Lodge cast iron skillet in this recipe. Any cast iron or oven-safe skillet will work well.
Individual: You can use any over-safe ramekins or dishes you have to bake up these Shepherd's Pies. The dishes in the photographs in this post are Le Creuset Mini Cocottes (they were a gift), but there are similar and more affordable options on Amazon. Both are on my list HERE.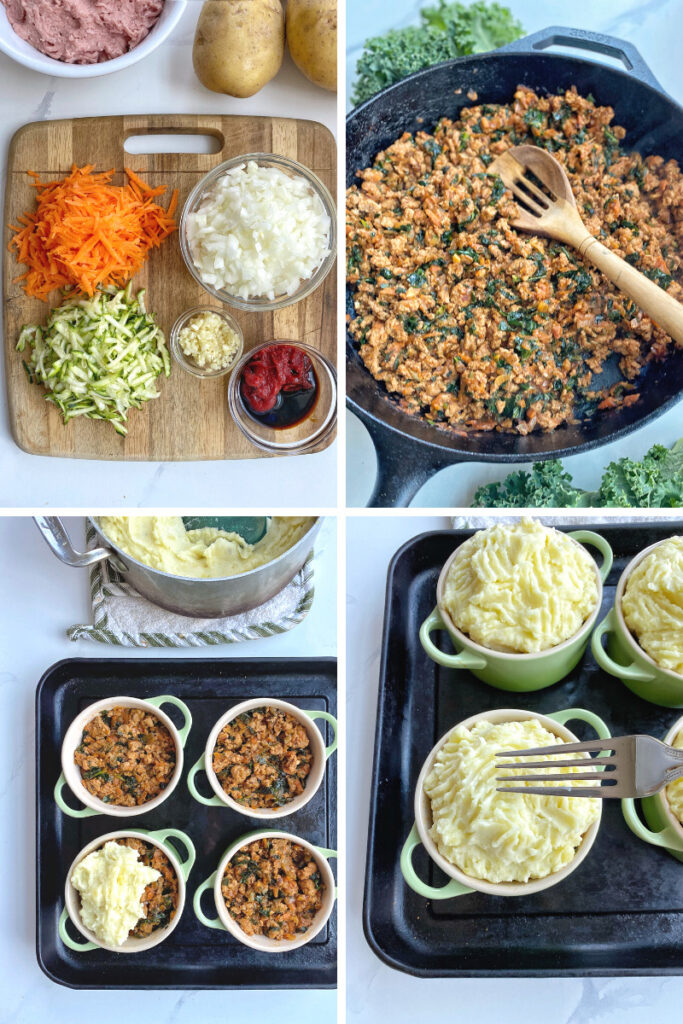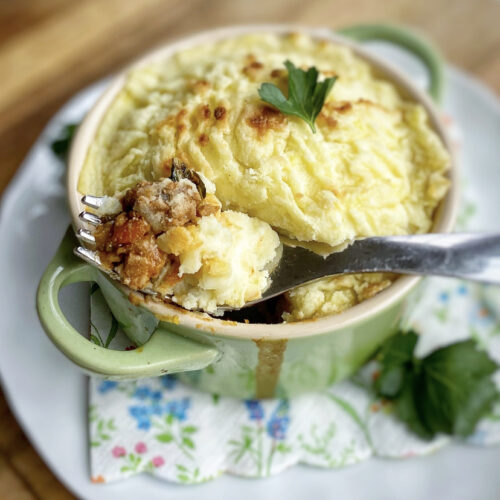 Turkey and Veggie Shepherd's Pie
Healthy comfort food the whole family will love.
Ingredients
Mashed Potato Topping
2

pounds

Yukon Gold or Russet potatoes

1 1/2 to 2

tsp

kosher or sea salt, divided

2

Tbsp

olive oil or butter

1/4

cup

cream cheese or plain Greek yogurt

1

cup

milk (any kind)
Turkey and Veggie Filling
2

Tbsp

olive oil

1/2

large sweet onion, finely chopped

2 cups

1 1/2

tsp

kosher or sea salt, divided

1

cup

grated carrot

1 medium

1

cup

grated zucchini

1 small

2 to 3

garlic cloves, minced

2

Tbsp

tomato paste

1

tsp

dried thyme or poultry seasoning

1

Tbsp

Worcestershire sauce

1

Tbsp

low-sodium soy sauce, tamari, or coconut aminos

1

pound

ground turkey

preferably dark meat but light works too

2

packed cups

chopped kale or spinach

1

Tbsp

balsamic vinegar

ground black pepper, to taste
Instructions
Mashed Potato Topping
Peel potatoes then cut into a large dice. Place in a large pot and cover with cold water. Stir in 1 teaspoon of salt then place on the stove top and bring to a boil. Lower heat to a simmer and cook potatoes until fork tender.

Drain potatoes in a colander then place back in the pot. Mash potatoes with a potato masher. If you prefer a very smooth potato topping, use a potato ricer. While still warm, stir in the olive oil/butter, cream cheese, and milk. Season with remaining teaspoon of salt and freshly ground pepper to taste. If you potato mash is very thick, add a little more milk at a time until you get the texture you want. Taste again and add more salt as needed. Set aside.
Turkey and Veggie Filling
Preheat oven to 425 degrees. Add oil to a large (10 to 12-inch) cast iron or other oven-safe skillet and heat over medium-high heat.

Add onion and sprinkle with 1/2 teaspoon of salt. Cook, stirring occasionally, until golden brown and softened. Add carrot and zucchini and cook until softened, about two minutes. Stir in garlic and cook until fragrant, about 1 more minute. Stir in tomato paste and dried herbs and cook for about 30 seconds.

Add ground turkey to the pan and cook, breaking it up with your spoon or spatula, until fully crumbled and cooked through. Stir in Worcestershire sauce, soy sauce, and a cup of water or broth. Scrape the bottom of the pan to release and brown bits (those are lots of flavor!).

Add kale, cover your pan, and allow to simmer until kale is wilted and softened. Add more water and broth as needed to create a sauce. Stir in balsamic vinegar and season with additional salt and pepper to taste.

If using the skillet to bake the pie, top the turkey mixture with your mashed potato topping. Spread evenly then use a fork to create texture on the top.

If using individual ramekins, spoon the turkey filling between into 4 to 6 ramekins (6 to 8 oz). Top with a generous amount of the mashed potato topping. Use a fork to create a texture.

Bake until golden brown on the top and the filling is bubbling, about 15 to 20 minutes. Serve warm.
Save to Pinterest!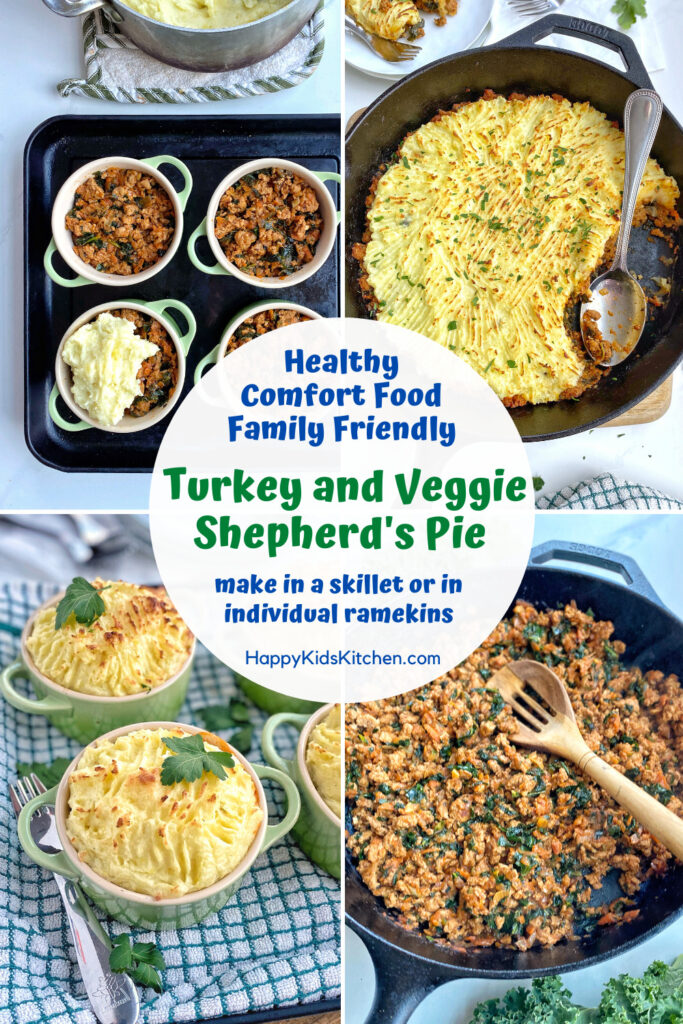 Other great DINNER recipes:
No-Boil Pasta Bake (with Veggies!)
Orange Sweet and Sour Stir-Fry