Crispy Rice and Veggie Fritters or Waffles
We always have leftover rice in the fridge. You too? These Crispy Rice and Veggie Fritters or Waffles are a great way to use up the rice and get some veggies into the day too. Plus, you only need 4 ingredients and 15 minutes–it's so quick and easy!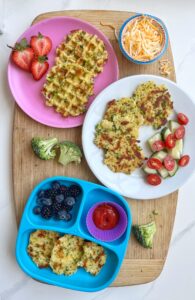 Kids in the Kitchen:
Kids can help with every step of this recipe.
The easiest step to help with would be just adding everything to a bowl and giving it a stir.
Have your child crack the eggs into a separate bowl before adding them to the rice. That way, you can avoid getting a egg shells in the rice mixture.
Have younger kids hold your hand that's holding the spatula while flipping the pancakes.
Subs and Tips for Making Crispy Rice and Veggie Fritters or Waffles
Use any leftover rice you have. You can use brown rice (or even quinoa or other cooked grains). The rice should be cold or a room temp.
You can leave out the cheese or use a dairy-free cheese to make this dairy-free.
I haven't tried this recipe with an egg substitute, so I can't recommend a good way to make these egg-free.
I love the combination of broccoli, rice, and cheese. However, you can really use any finely chopped vegetables you'd like. Grated carrot, grated zucchini (squeezed dry), riced cauliflower, or diced bell pepper would all be good additions.
For making the rice waffles, I like using a mini waffle maker. However, you can also use a regular waffle maker to make larger waffles and then cut them into pieces. The mini waffle maker I have is HERE.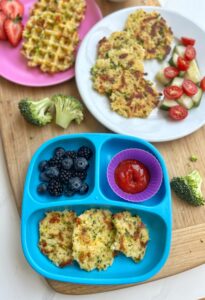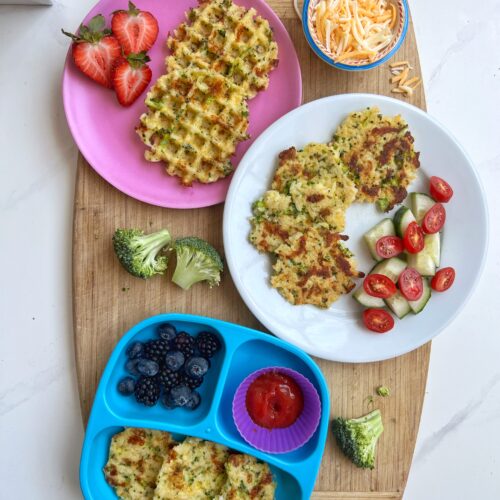 Crispy Rice and Veggie Fritters and Waffles
Use leftover rice to make these easy, 4-ingredient pancakes and waffles that kids and adults will love.
Ingredients
1 1/2

cups

cooked rice

cold or room temp

2

large eggs

1/2

cup

finely chopped broccoli

or any veggie

1/3

cup

shredded cheese

1/4

tsp

kosher salt

1/4

tsp

garlic powder (optional)

oil spray or oil, for cooking
Instructions
Add rice to a large bowl and break up any clumps.

Stir in the eggs, broccoli, cheese, and seasonings. As the mixture sits the egg tends to settle at the bottom of the bowl, so be sure to stir every so often when making the fritters/waffles.

To make fritters, heat a large skillet or griddle over medium heat and grease with oil. Scoop about a tablespoon of the rice mixture to make pancake shapes. Cook each fritter until browned on each side, about 2 minutes. Remove the cooked fritters to a plate and continue making the pancakes with the remaining rice mixture. Serve warm.

To make waffles, heat your waffle maker and grease with oil. Scoop the rice mixture into the waffle maker and press down to cook. (The amount of rice mixture you use will depend on the size of your waffle maker. I use a heaping spoonful to fill my mini waffle maker.) Cook until well browned and crispy. Remove the cooked waffle to a plate and continue making waffles with the remaining rice mixture. Serve warm.

You can serve the fritters/waffles with ketchup or other dipping sauce of your choice. Store leftovers in the fridge for 2 to 3 days.
Save to Pinterest!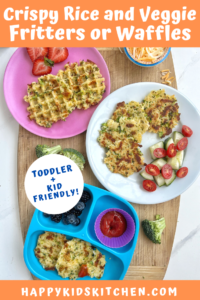 Other Recipes to Try:
Zucchini Oatmeal Chocolate Chip Cookies
Blender Cottage Cheese Pancakes
Kid-Friendly Make Ahead Breakfasts