Easy Cinnamon Rolls with Maple Yogurt Glaze
Yeast-free cinnamon rolls means no waiting for the dough to rise or proof! You can having these warm, homemade treats on your table in less than an hour. Not only are these Easy Cinnamon Rolls simple to bake, but they made from wholesome ingredients and are lower in sugar. Yogurt is the key ingredient in both the dough and glaze, making the dough healthier and more tender and the glaze naturally sweet and tangy. These buns are perfect for a special holiday breakfast or weekend brunch.
This post is sponsored by Stonyfield Organic, but all recipes, opinions, and words are 100% authentic and my own.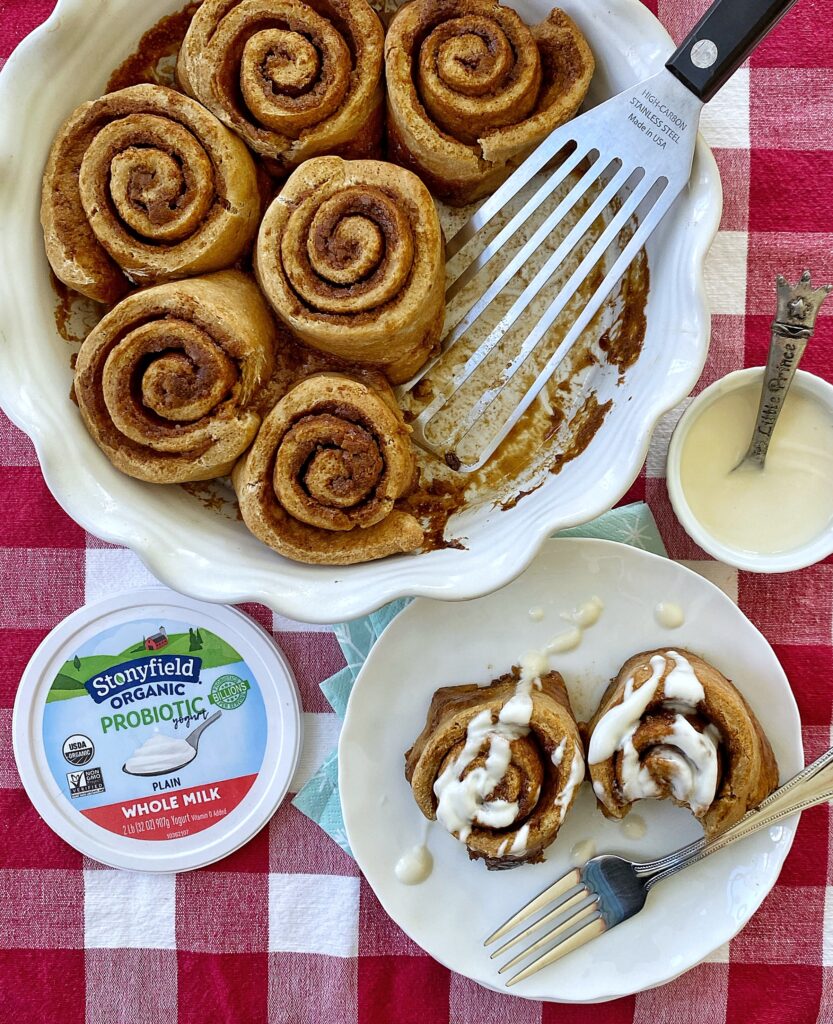 Kids in the Kitchen:
Measure: To make the process quick and easy with kids, measure most of the ingredients before starting then let your child help measure one of two things, such as the baking powder and salt.
Mix the filling: Kids will love to mash the butter and sugar together for the filling. Put the ingredients into a bowl and then use a back of a spoon to mush them together.
Roll: This job is best for an older child or a child with good listening skills because rolling out dough can be a little tricky and take some patience. Go slowly and make sure to be gentle with the dough so it doesn't get too thin.
Make the glaze: Such a easy job for kids. Add some yogurt to a bowl, measure in the maple syrup and vanilla, and then stir them together.

Tips and Subs for Easy Cinnamon Rolls:
Gluten free: You can use a cup-for-cup style gluten-free flour blend instead of the regular flour. I haven't tried it, so you may need a little more flour in the dough to make it less sticky. Comment below if you try it.
Egg free: I have not made this dough without the egg yolk. However, I feel like you could sub the egg yolk with an additional tablespoon of melted butter and an extra 1/2 tsp of baking powder.
Make ahead: These cinnamon rolls are best made fresh and eaten soon after they are made. However, they are good made a day ahead then gently reheated in the microwave or oven. Make sure to only drizzle over the glaze right before eating.
Texture: Because these cinnamon rolls are made without yeast, they are not as chewy or light and fluffy as traditional cinnamon buns. Think of them as a cross between and cinnamon roll and a biscuit. Still so delicious, just a little different.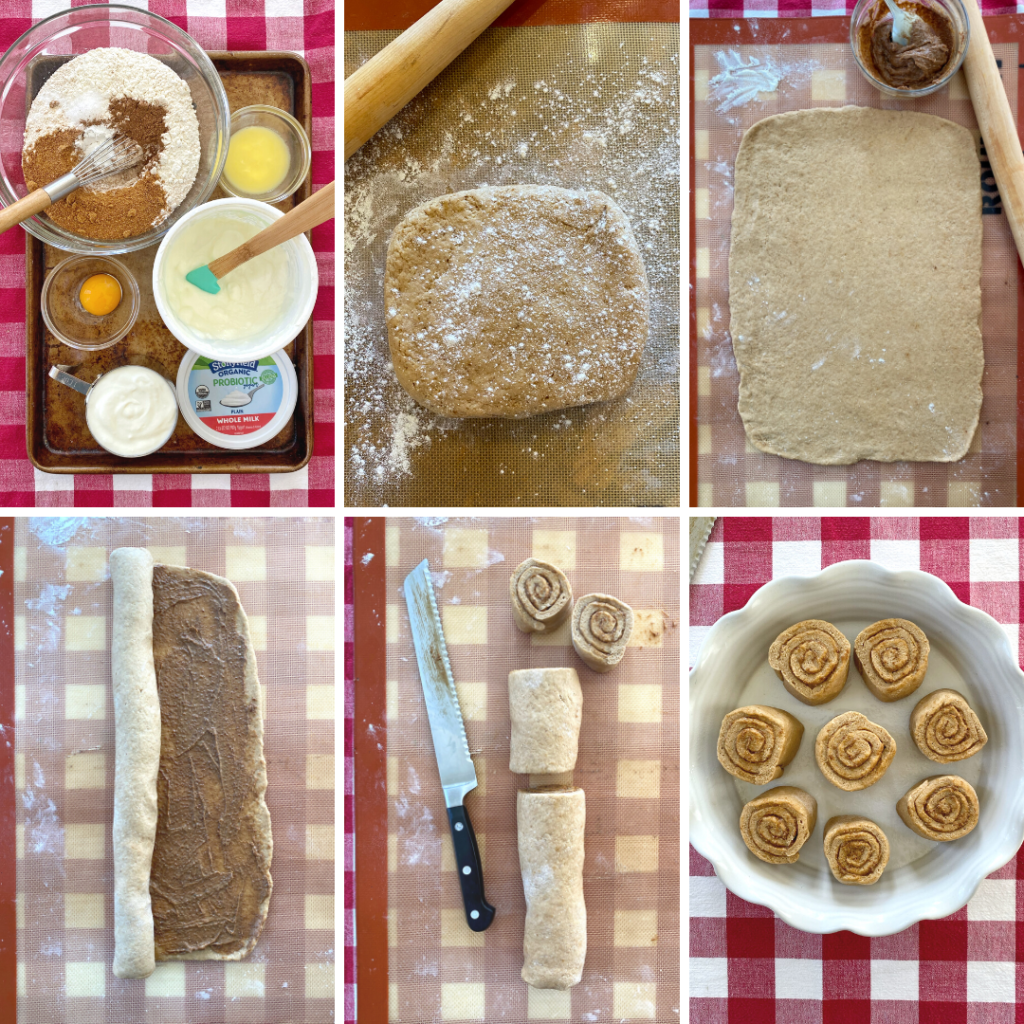 Easy Cinnamon Rolls with Maple Yogurt Glaze
Healthier cinnamon rolls, made with yogurt and less sugar. No yeast means quick and easy!
Ingredients
Cinnamon Roll Dough
1 1/4

cups

all-purpose flour

plus more for rolling

1 1/4

cups

white whole wheat or regular whole wheat flour

1 1/2

tsp

baking powder

1

tsp

baking soda

1/2

tsp

salt

1

tsp

cinnamon

1/4

cup

coconut sugar or granulated sugar

2

Tbsp

unsalted butter, melted

1

egg yolk

1

tsp

vanilla extract

1

cup

plain, whole milk Stonyfield Organic yogurt
Cinnamon Roll Filling
3

Tbsp

unsalted butter, softened

1/3

cup

coconut sugar or light brown sugar

1/2

tsp

cinnamon
Maple Yogurt Glaze
1/4

cup

plain, whole milk Stonyfield Organic yogurt

1

Tbsp

maple syrup

1/4

tsp

vanilla extract
Instructions
Cinnamon Roll Dough
Preheat the oven to 350 degrees. Lightly grease a 9 to 10-inch round baking dish, cake pan, or pie pan with oil or non-stick spray.

To make the dough in a food processor or stand mixer, add all the flour, baking powder, baking soda, salt, cinnamon, and sugar to your food processor or mixer bowl and pulse or stir for 10 seconds to combine.

To make dough by hand, add the flour, baking powder, baking soda, salt, cinnamon, and sugar to a large bowl. Whisk together until all the ingredients are combined.

In medium bowl, stir together the melted butter, egg yolk, vanilla, and yogurt. Pour the yogurt mixture over the dry ingredients. Stir everything together, in your food processor or mixer, or mix by hand until a smooth dough forms. If the dough is still way too sticky to form a ball, mix in tablespoon or two of extra flour. The dough should be slightly sticky. If you add too much flour, the buns could turn out tough or dry.

Dump the dough out onto a work surface dusted with flour. Knead the dough into a smooth ball for about a minute. Set dough aside to rest while you make the filling.
Cinnamon Roll Filling and Assembly
Mix the butter, sugar, and cinnamon together in a small bowl until all the ingredients are well combined and you have a soft paste.

Dust your work surface with a little more flour. Pat your dough out into a flat rectangle then use a rolling pin to roll the dough into a rectangle roughly measuring 16X8 inches. Sprinkle dough with flour as needed to prevent sticking.

Spread the filling evenly over the entire rectangle of dough. Starting with the longer edge, tightly roll the dough into a log. Using a serrated knife, trim about a 1/4-inch off the end of the log then cut the dough into 8 equal pieces.

Place one bun swirl side up into the center of your pan then place the remaining buns in a circle around it. Bake until golden brown, about 20 minutes. At this point the buns will still be slightly "doughy" and tender in the middle. If you want the buns more dry in the center and crunchy on the outside, cook for an additional 5 to 8 minutes.

Serve the cinnamon rolls warm with the maple yogurt glaze drizzled over the top before serving or serve on the side. They are best eaten the day they are made, but can be covered and stored at room temperature for a day. Rewarm before serving.
Maple Yogurt Glaze
In a small bowl, stir the yogurt, maple syrup, and vanilla together until combined.

Refrigerate until ready to serve. The glaze can be made two days in advance and stored in the fridge.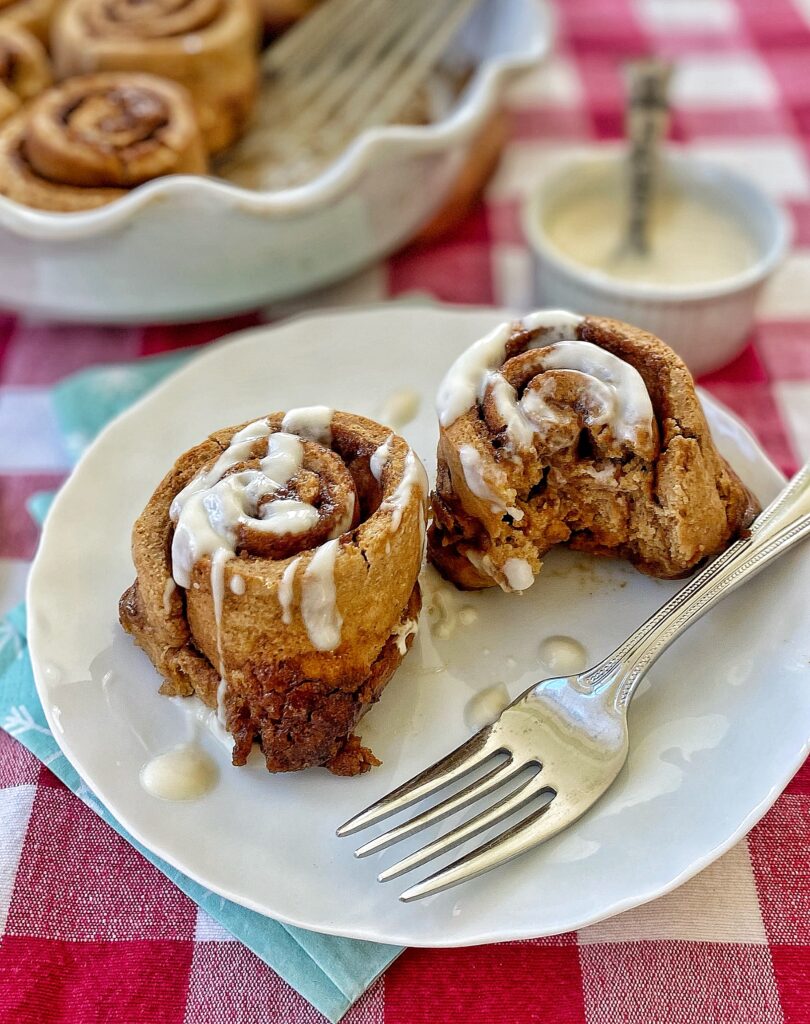 Save to Pinterest!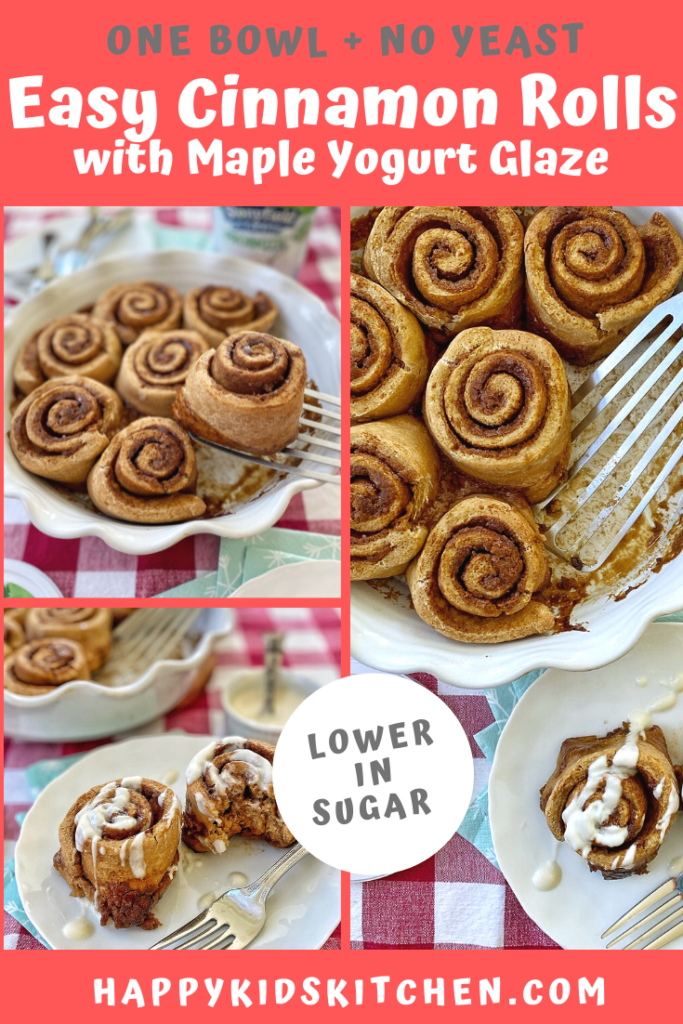 Other Healthy Baking Recipes:
Blueberry Pancake Breakfast Cobbler