Easy Skillet Latke (Crispy Potato Pancake)
Love crispy, crunchy potato latkes but don't want to stand in front of the hot stove all night? This Easy Skillet Latke is the answer to all your oil-splatter problems! The giant potato pancake makes the perfect side dish for a holiday dinner or centerpiece to your Hanukkah celebration.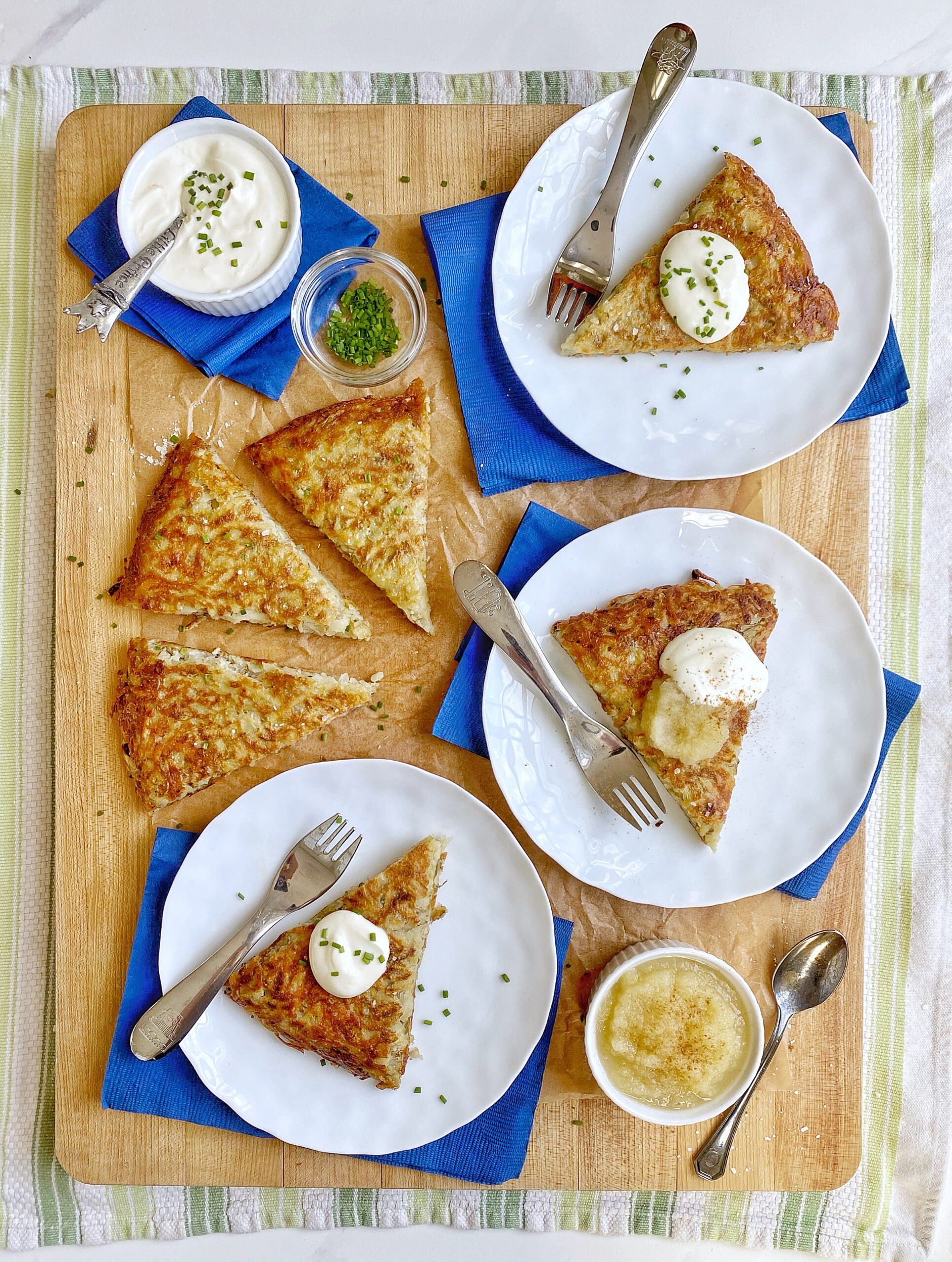 Kids in the Kitchen:
Shred the potatoes: my kids love to help use the food processor to shed the potatoes. If you use a box grater, you child have help hold the grater and place a hand on top of yours while you grate.
Crack eggs: crack them into a separate bowl in case you need to remove any pieces of shell.
Measure and Mix: there are only a few ingredients in this recipe, so have your little chef measure and mix them into the shredded potatoes.
Serve: while the latke is cooking, prepared and condiments and  set out the toppings, plates, utensils, and napkins.

Subs and Tips for making Easy Skillet Latke:
Shortcut: Don't want to go through all the fuss of grating the potatoes? Buy some pre-shredded frozen ones! The package will say for hash browns. Defrost the potatoes fully then squeeze the heck out of them to remove any excess moisture. I would use two 1-pound packages for this recipe.
Egg free?: To make this egg-free I would use a liquid egg substitute such as Just Egg.
Gluten-free? Use cornstarch or arrowroot flour in this recipe to make it gluten-free. Amount is in the recipe instructions below.
Toppings: Sour cream and applesauce are classic latke toppings. I also sometimes use plain Greek yogurt instead of sour cream. You could also add a little freshness with some minced fresh herbs or a sprinkle of snipped chives.
What pan should I use?: I use my non-stick Greenpan but a cast iron pan would be a great option for this recipe too. Any oven-safe skillet will work well.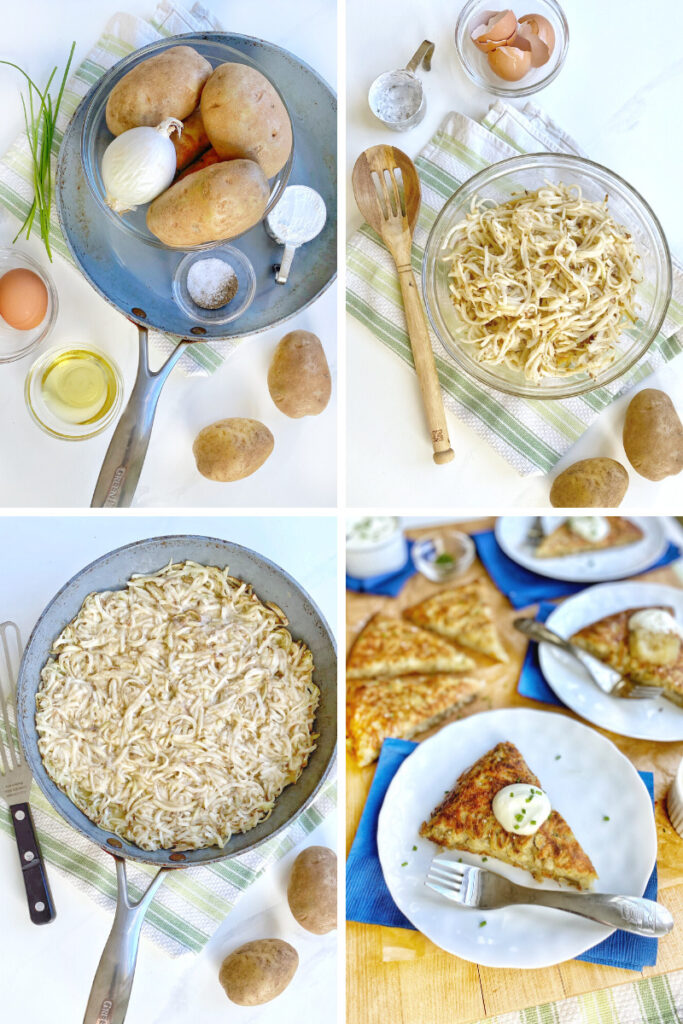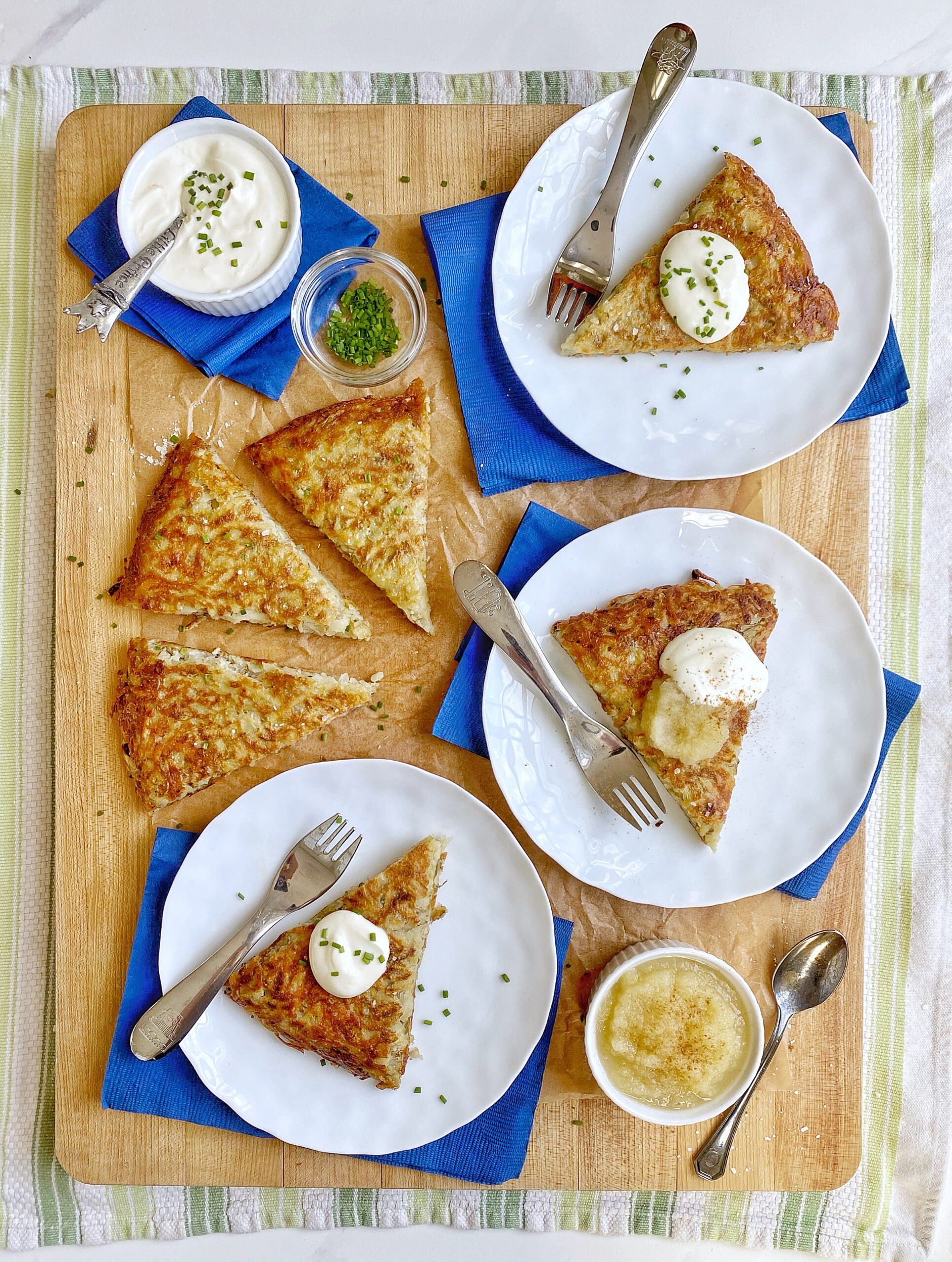 Easy Skillet Latke
One big crispy potato pancake. So easy!
Equipment
10-to-12-inch oven-safe skillet
Ingredients
1 1/2

pounds

Russet potatoes

1

tsp

kosher salt

1

small onion

2

large eggs

1/4

cup

flour, cornstarch, or arrowroot flour

1/4

tsp

ground black pepper

4

Tbsp

avocado or vegetable oil

sour cream/Greek yogurt and applesauce, for serving
Instructions
Preheat oven to 425 degrees. Wash and scrub the outside of the potatoes or peel them if you'd prefer. Grate potatoes on the large holes of a box grater or in the food processor using the grating attachment. Place grated potato in a large bowl and toss with a 1/2 tsp salt. Set aside for 5 minutes.

Finely chop or grate the onion. Drain any excess liquid from the grated potatoes then place them in a large kitchen towel and squeeze out as much liquid as you can.

Mix grated potato with onion, eggs, remaining 1/2 tsp salt, flour/corntarch, and pepper in a large bowl until well combined.

Add 2 tablespoons of oil to a 12-inch skillet or cast iron pan over medium-high heat. (A 10-inch pan will work too but your pancake will be thicker.) Make sure oil is hot by placing a tiny peice of potato in the pan. If it sizzles, it's ready to go. Toss the potato mixture together one more time to make sure all the ingredients are well combined and any egg that settled to the bottom in reincorporated. Spoon potato mixture evenly in the pan then press down with the back of a spatula. Turn heat down to medium and cook until the edges of the pancake look golden brown, about 5 to 8 minutes

Drizzle remaing 2 tablespoons of oil over the top of the pancake then place in the oven. Bake for 15 minutes then broil the top until it's very well browned. Flip the big latke onto a serving plate or cutting board. Sprinkle a pinch of coarse salt over the top while it's still warm. Slice into wedges and serve with sour cream or plain Greek yogurt and applesauce.
Save to Pinterest!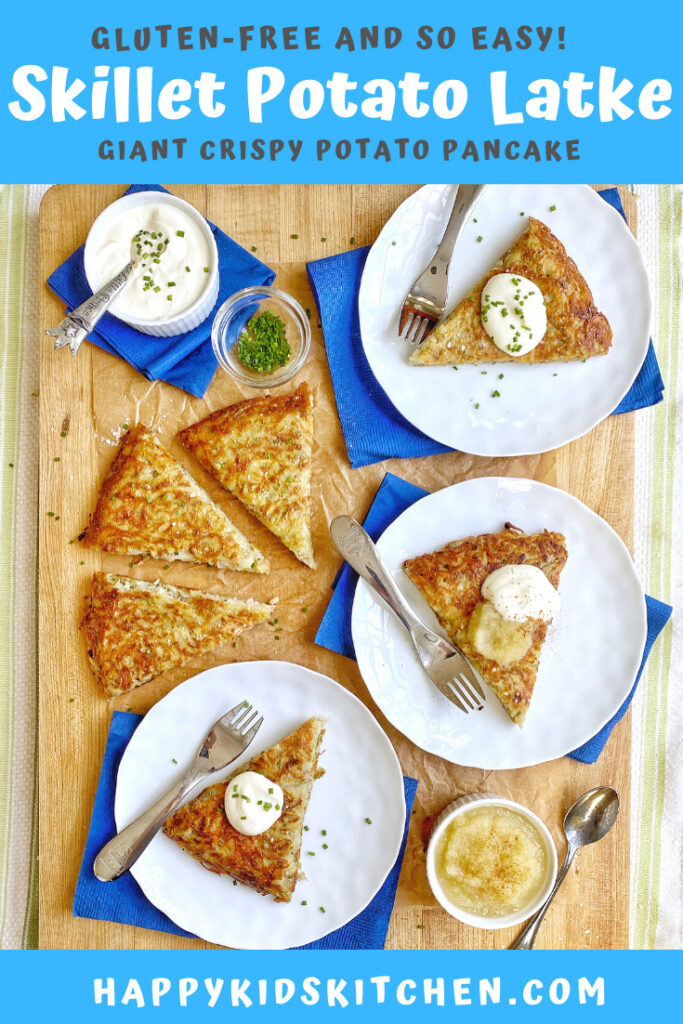 Need any awesome and easy applesauce recipe? If you don't want the cranberry flavor, you can simply leave them out.  It's such a fun dish to make with kids!
Cranberry Applesauce (Stovetop, Instant Pot, and Slow Cooker)
Pastry Wrapped Salmon and Veggies