All the flavors of a Summer shrimp boil, but super quick and easy! This Sheet Pan Shrimp Boil is a healthy family dinner that you can get to the table in 30 minutes. Roasted potatoes, sausage, corn, green beans, are roasted until golden brown and tender. Then the shrimp are laid on top and bake up until perfectly cooked.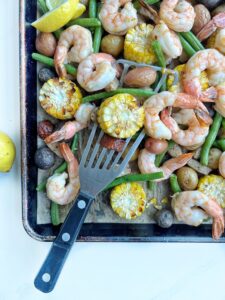 Kids in the Kitchen:
Prep veggies: Kids can help shuck the corn (maybe outside?) and trim the ends of the green beans, either with small scissors or an age-appropriate knife.
Drizzle oil and season: Kids can measure out the oil and seasonings, then add them to the pan and toss with their hands.
Make a sauce: If you are serving a sauce with this (one included in the notes section of the recipe), kids can easily mix those ingredients together.
Tips and Subs for making Sheet Pan Shrimp Boil:
No Shrimp? If your family doesn't eat shrimp, you can leave it out or replace it with some boneless, skinless chicken breast cut into bite-sized pieces. Chicken will need about 15 min to cook, so pull the pan out of the oven to add it after 15 minutes.
Meat free: You can leave out the sausage.
Seasoning: Old Bay is the classic seasoning mix used for shrimp boils and many seasoning dishes. However, if you don't have it, you can use a mix of paprika and celery seed (or just paprika).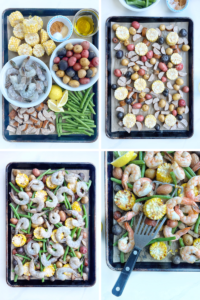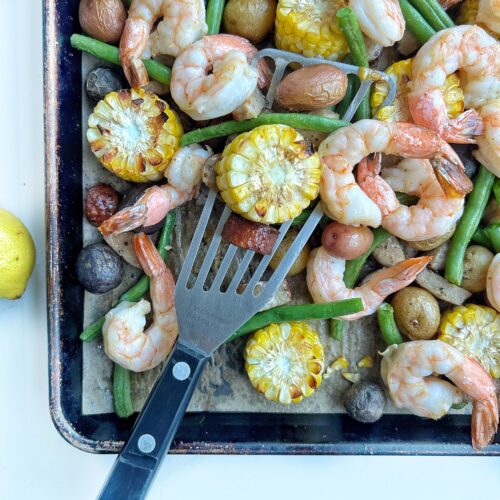 Sheet Pan Shrimp Boil
All the summer flavors of a shrimp boil, but made in the oven in 30 min! Such a delicious and easy weeknight dinner.
Ingredients
1

pound

tiny baby potatoes or small potatoes cut into ¼-inch dice

2 to 3

ears

fresh corn, shucked and cut into 1-inch rounds 

I do this with a serrated knife

12 to 16

oz

turkey kielbasa or other smoked sausage, cut into ½-inch dice

6 to 8

oz

green beans, ends trimmed

3

Tbsp

olive oil, divided

3/4

tsp

kosher salt, divided

3/4

tsp

Old Bay seasoning, divided

or seafood seasoning or paprika

3/4

tsp

garlic powder, divided

1

pound

peeled and deveined medium shrimp

about 22 to 25 shrimp

1/2

tsp

lemon zest

lemon wedges and/or chopped fresh parsley, for serving

optional
Instructions
Preheat oven to 425 degrees. Line a sheet pan with parchment paper or lightly grease with oil or oil spray.

Place potatoes, corn, sausage, and green beans in the center of your sheet pan. Drizzle with 2 tablespoons of oil then sprinkle with ½ teaspoon salt, ½ teaspoon Old Bay, and ½ teaspoon garlic powder. Spread ingredients into an even layer then place in the hot oven.

Meanwhile, in a bowl, toss shrimp with remaining tablespoon of oil, ¼ teaspoon Old Bay, ¼ teaspoon garlic powder, lemon zest, and a pinch of salt.

After 15 to 20 minutes (potatoes should be almost cooked through), remove pan from oven and scatter shrimp over the top. Return to oven and bake until shrimp is pink and curled, about 8 to 10 minutes.

Sprinkle with chopped parsley if desired and serve with fresh lemon wedges to squeeze on top.
Notes
If your green beans are thin or you like a more crunchy green bean, leave them off the sheet pan during the initial roast. Toss them with a little oil and a sprinkle of salt then scatter them over the pan after the other ingredients have been cooking for 10 minutes. Let them cook for 5 to 10 minutes and then add the shrimp.
A seafood dip I love to eat with this: mix 1/4 cup mayo, 1 tbsp Dijon mustard, and a squeeze of fresh lemon juice.
Save to Pinterest!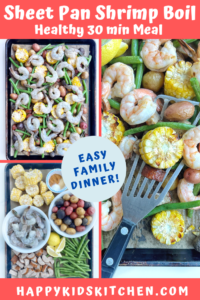 Other summer dinners: