The Easiest Soft Sugar Cookies
So you want to bake up some cookies, but you don't want all the mess and fuss? This recipe for The Easiest Soft Sugar Cookies is for you! The dough is stirred together in one bowl –no mixer, no chilling, and no rolling involved! It's the perfect fun and easy cookie to make with kids. The dough also happens to be egg-free, and can easily be dairy-free, vegan, and gluten-free if needed. Roll the dough into colorful sprinkles for a festive, sweet treat that will put a smile on anyone's face.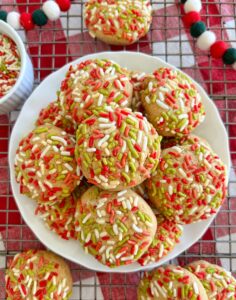 Kids in the Kitchen:
Measure and mix: If you want to make this recipe super quick and easy for kids to help make, measure some or even all of the ingredients ahead of time. That way you can just melt the butter and then have the child dump all the ingredients into the bowl and help mix them together.
Scoop and roll: This dough is pretty soft and sticky, so it's a little tricky for little hands to roll. I suggest scooping the dough yourself and then letting your little one dunk the dough in sprinkles.
Sprinkles: Place a small amount of sprinkles into a larger, shallow dish so they don't go flying everywhere when kids dunk them inside.
Give! Package them up as a gift! Giving what you bake is a great lesson about kindness. Cooking isn't always about eating but about sharing what you've made.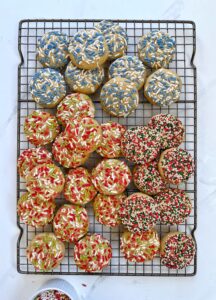 Subs and Tips for making the Easiest Soft Sugar Cookies:
Dairy-free and Vegan: Use a dairy-free butter substitute or refined coconut oil for this recipe to make it completely dairy-free and vegan (since there's no egg in the recipe).
Gluten-free: Use a cup-for-cup gluten free flour blend. I recommend starting with 1 1/2 cups but you might need to add 1/4 cup more since the gluten-free flour absorbs less liquid than wheat flour.
Sprinkles: I love getting my dye-free sprinkles from Whole Foods. Sometimes they have containers out, but if they don't, I just ask them to pack me up some at the bakery counter. There are also great options on Amazon. You can really use any kind of sprinkle that you like.
Helpful Equipment: Parchment Paper Sheets: these precut, unbleached parchment paper sheets make clean-up a breeze and ensure your cookies never stick to the pan. Plus, cutting the right sized piece of parchment paper from the roll is such pain! That's why I can't live without these sheets that fit perfectly in a baking pan. Cookie Scoop: make your cookies look more uniform and professional by using a portion scoop to measure the dough. It makes scooping the cooking dough so much easier and kids love to help use these tools too! I really recommend investing in a high quality scoop because the less expensive ones tend to break really quickly. You can also buy a set of three scoops to use for all kinds of baking projects.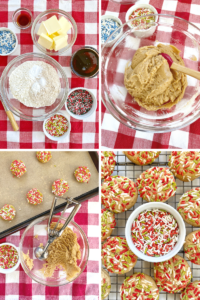 The Easiest Soft Sugar Cookies
No fuss cookies prefect to bake up with kids. Lower in sugar and easy to make vegan and gluten free if needed.
Ingredients
1/2

cup (1 stick)

unsalted butter

or dairy-free butter substitute

1/2

cup

maple syrup

1

tsp

vanilla extract

1/4

tsp

almond extract

optional but recommended

1/2

tsp

baking powder

1/4

tsp

salt

1/2

tsp

baking soda

1

cup

all-purpose flour

1/2

cup

whole wheat flour

or additional all-purpose flour or use a total 1 1/2 cups gluten-free flour blend

1/2

cup

sprinkles
Instructions
Preheat oven to 350 degrees. Line a sheet pan with parchment paper or grease lightly with oil/oil spray.

Cut butter into 8 tablespoon pieces and place in a large microwave-safe bowl. Heat butter until mostly melted. You want the butter to be soft but not too hot. If it does melt all the way, that ok. Just set it aside to let it cool until room temp. (I use the microwave, but you can also melt it in a small pot on the stove.)

Add the maple syrup to the butter and whisk to combine. (It's ok it if looks a little lumpy.) Stir in the vanilla and almond extracts, then the baking powder, salt, and baking soda until well combined.

Add the flour then use a rubber spatula or large spoon to stir until the flour is just incorporated.

Roll the dough into tablespoon-sized balls. Press one side of the balls into sprinkles then place the dough balls sprinkle side up on the baking sheet, placing them about an inch apart.

Bake cookies until lightly golden brown around the edges and on the bottom, 12 to 14 minutes.

Allow the cookies to cool completely on the sheet pan or on a cooling rack. Once cool, store cookies in an airtight container at room temperature for up to 5 days. Cookies can also be frozen for up to 1 month.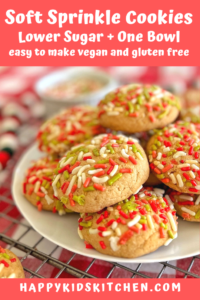 Other Cookie Recipes to Try:
Chewy Ginger Cookies (Vegan and Gluten free)